3 Reasons Roger Federer Still Has More Major Winning to Do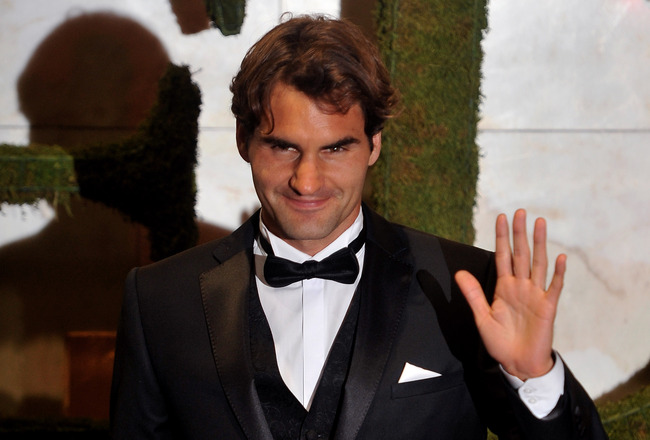 Bethany Clarke/Getty Images
He is about to turn 31 in less than one month, but that does not seem to be having any affect on Roger Federer. It seems, at the moment anyway, there is no stopping the Federer Express from still being a dominant figure in the world of tennis.
There will come a time, however, that he will eventually have to step aside and make way for younger and more talented players. So far, however, there have not been any tennis phenoms who have been able to knock off the pecking order of "The Big Three."
Even though Federer has collected a vast amount of worthy accomplishments during his time as a professional, he still has time to add to that.
There is a lot more opportunity out there for Federer to take advantage of, and he seems willing to scoop up as much of it as he can. He is back at his usual world No. 1 ranking, and he will be fighting hard to defend it.
So, here are three reasons why Roger Federer still has plenty of gas left in the tank to do some major winning.
The Golden Moment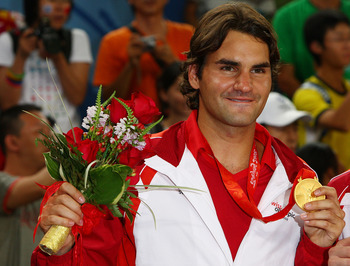 Clive Brunskill/Getty Images
The only thing missing from Roger Federer's trophy case is an Olympic singles gold medal. Last Olympics he was able to bring home a gold medal but in doubles with fellow Swiss compatriot Stanislas Wawrinka.
With the Olympics coming up in only a matter of weeks and the tennis portion of it being played at Wimbledon, there is no questioning the fact that this will be Federer's best, and possibly last, opportunity to win the gold medal.
In fact, winning gold this summer would mean Federer would achieve a Career Golden Slam, which consists of winning all four major tournaments, as well as an Olympic singles gold medal.
Michelle Kaufman of the Miami Herald (Via The Montreal Gazette) writes that Federer is seriously thinking about winning the gold medal, as well as being a genuine family man:
He will not stay in the Athletes Village, choosing instead to stay in the same house he rents for Wimbledon, which is near the grounds. A house is more comfortable for Mirka and their twin daughters, who turn 3 this month.
Although it seems that Federer may be doing this for his daughters and the general comfort of his whole family, it also seems like a way for Federer himself to be more comfortable. Federer knows Wimbledon like the back of his hand, and staying in a place that he is also familiar with shows his state of mind.
He sees this Olympics as possibly his last chance to win the elusive gold medal, and he is going to pull out all the stops in order to reach that goal. He is going to mimic his time at Wimbledon and treat it just like he does any other tournament at the All England Club.
This dedication to winning is one reason why Federer still has some major winning to do before he finally puts down his racket.
Resilient to Injuries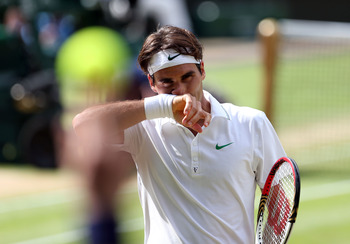 Julian Finney/Getty Images
For a player who has played at such a high level for so long it is pretty astonishing how few times during his career Federer has been dogged by injuries.
You would think that the amount of work his body goes through every year would somehow catch up to him, but it just seems to never stop Federer.
Even when an injury does start to show signs, such as at Wimbledon when Federer played with an ailing back, he just plays it off very coolly, says Kevin Garside of The Independent:
"The back is OK," he said. "Over 15 years on tour the back hurts sometimes. You hope it doesn't strike in a big match. I was in a lot of pain and I was in big trouble at 6-5 when he served for the first set. The treatment and painkillers helped. If this is as bad as it gets, I'm happy."
What is even more amazing is the fact that when Federer plays in a tournament he is most likely to play more than just one match. Week in and week out he is always competing for the title, meaning many more grueling matches.
Still, however, he does not complain about a minor back injury but rather accepts it as another challenge to work through. Federer knows that injuries are just a routine part of being a professional tennis player. There is nothing you can do about them but rather make sure you are healthy and know which ones you can battle through, which is something Federer does as well as anyone.
It does not seem like Federer's career is going to be cut short by any means due to an injury, and because of that he will still have time to do some major winning before he calls it quits.
More Singles Titles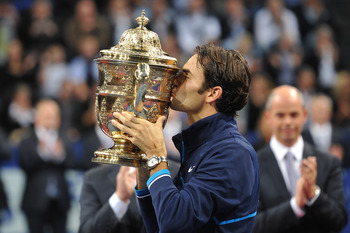 Harold Cunningham/Getty Images
If there is one thing in the record books that Roger Federer has not been able dominate, it is the amount of singles titles that he has been able to win. After winning Wimbledon, his career titles won in singles reached a very nice 75.
That number in itself is pretty astonishing, but it is still many titles away from the tennis leader in that category. Although it may be a stretch to consider Federer as able to catch Jimmy Connors, and the 109 career singles titles that he was able to win, it is the only real record he is still chasing.
| | |
| --- | --- |
| Player | Career Singles Titles |
| Jimmy Connors | 109 titles |
| Ivan Lendl | 94 titles |
| John McEnroe | 77 titles |
| Roger Federer | 75 titles |
No one knows how long Federer will play the game or how many more singles titles he will be able to win. One thing for sure is he should be able to move past John McEnroe for third place on the list if he can manage just three more titles before he retires.
The Tampa Bay Times shows Roger Federer is content with the status of his career, but also not nearly done:
"I'm so happy I'm at the age I am right now, because I had such a great run, and I know there's still more possible," Federer said. "I wouldn't want anything to change."
He knows that what he has been able to achieve throughout his career is amazing, but he also knows that he has more left in the tank. Again, reaching the record held by Connors for most career singles titles would be a tough task, but if Federer keeps playing then the chances of him breaking that record will always be brought up.
This is, yet again, another reason why Federer is still primed for some major winning before his career is done—he still has records to chase.
Keep Reading