Fantasy Baseball 2012: Top 10 2-Start Pitchers for July 16-22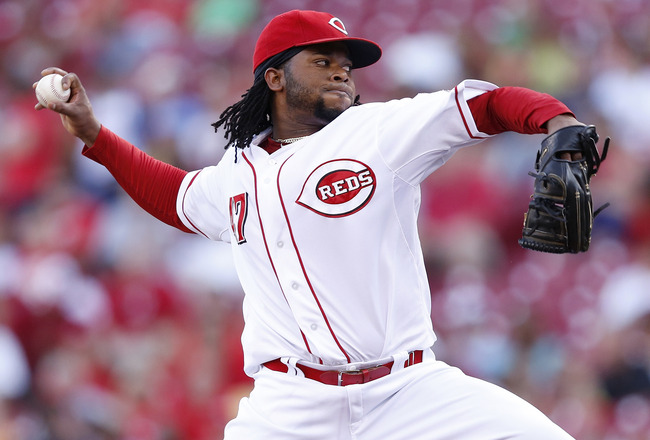 Reds ace Johnny Cueto (10-5, 2.39 ERA, 1.16 WHIP), a top-15 starting pitcher in fantasy circles, has home dates with the Diamondbacks and Brewers this week.
Joe Robbins/Getty Images
The following slideshow is a top-10 ranking of two-start pitchers for the week of July 16-22.

The listing does not necessarily account for a pitcher's season-long prospects, nor does it promise sustained dominance from this point forward. It's merely an educated guess of which starters will shine the brightest over the next seven days.

For a full listing of two-start pitchers, click here.

Enjoy the show!
10: Jonathon Niese, New York Mets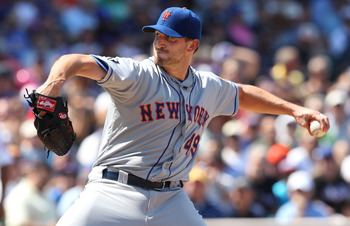 Scott Halleran/Getty Images
From a 30-day (3.82 ERA, 1.10 WHIP) and seasonal standpoint (7-4, 3.73 ERA, 1.23 WHIP, 91/32 K-BB ratio), Jon Niese has been a low-key, yet resourceful asset in fantasy leagues.

That trend should continue this week against the Nationals (road) and Dodgers (home).

Speaking of trends, let's hope last week's implosion against the Cubs (seven runs, nine hits allowed) doesn't rear its ugly head again.

Weekly targets: One win, 3.25 ERA and 11 strikeouts.
9: Wade Miley, Arizona Diamondbacks
Brian Kersey/Getty Images
I didn't make any bold declarations of long-term greatness with Wade Miley when he was flourishing in the season's first half and locking up a spot on the National League All-Star team.

On the flip side, I won't be overreacting to Miley's struggles from the last two outings—12 runs, 16 hits allowed in his 10.1 innings.

With few exceptions, second-year pitchers are prime candidates for extreme highs and deflating lows throughout a baseball season; and by all accounts, Miley cannot escape this standard rite of passage.

For Miley's sake, along with his jittery fantasy owners, let's hope he gets back on track against the Reds (away) and Astros (home).

Weekly targets: One win, 3.10 ERA and 12 strikeouts.
8: Phil Hughes, New York Yankees
Mike Stobe/Getty Images
So much for Phil Hughes (9-7, 4.33 ERA, 1.30 WHIP, 92/23 K-BB) experiencing a regression after collecting his first complete-game victory against Detroit on June 3.

Of his last seven starts, including the gem against the Tigers, Hughes has surrendered three or fewer runs six times; and in that span, he's a perfect 7-for-7 in yielding three or fewer walks.

Will the good times keep rolling this week against the Blue Jays (home) and Athletics (away)? If Hughes can pass this test with flying colors, he might be one of the more coveted assets before fantasy-trade deadlines expire in early August.

Targets: One win, 2.95 ERA and 12 strikeouts.
7: Trevor Bauer, Arizona Diamondbacks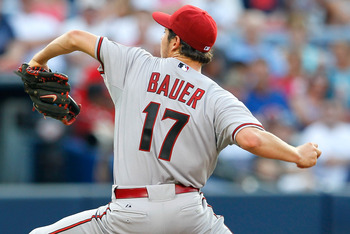 Kevin C. Cox/Getty Images
Very few young pitchers can match the fantasy ceiling of Trevor Bauer, the 21-year-old dynamo who has drawn favorable comparisons to Justin Verlander and Zack Greinke at similar stages of their careers.

And while there's no guarantee that Bauer will fulfill that promise in his first MLB season, there's little risk in acquiring him off waivers, or by reasonable trade.

Especially after last week's sterling outing against the Dodgers, when Bauer allowed zero runs and two hits, while collecting the victory and six strikeouts.

Here's one more reason to love Bauer: In two minor league seasons, he posted a 12.1 K-9 rate.

Targets: One win, 3.15 ERA and 15 strikeouts.
6: Scott Diamond, Minnesota Twins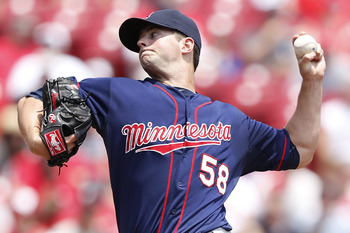 Joe Robbins/Getty Images
There's plenty to love about Scott Diamond—from his 2.62 ERA and 1.18 WHIP to the season-long streak of 12 outings of two or fewer walks.

From a track-record standpoint, we can also fall back on a June 30 start against Kansas City, as Diamond allowed two runs and fanned four batters in eight solid innings (he earned the victory, too).

As Twins starters go, Diamond is the closest thing to a fantasy lock these days; and he'll have a great chance to post solid numbers this week against the Orioles (home) and Royals (away).

Targets: One win, 2.60 ERA and 12 strikeouts.
5: Lance Lynn, St. Louis Cardinals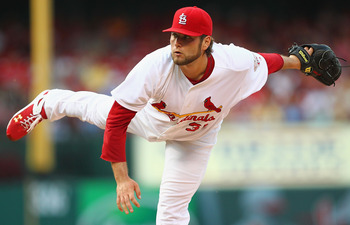 Dilip Vishwanat/Getty Images
I'm choosing to ignore Lance Lynn's absolutely brutal stretch from June 19-30, when he got plowed for 17 runs in just 15.1 innings.

Instead, I'll fixate on Lynn's 13-game explosion from April 8-June 13, a run that included 12 outings of three or fewer runs, 10 victories in 12 decisions and four games of eight or more strikeouts.

For good measure, Lynn yielded only three runs in three April starts against the Brewers and Cubs—this week's opponents—while collecting three wins.

Targets: One win, 2.70 ERA and 13 strikeouts.
4: CC Sabathia, New York Yankees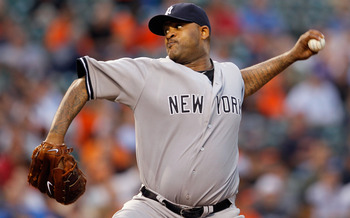 Rob Carr/Getty Images
If CC Sabathia wasn't making the first start back from a stint on the disabled list on Tuesday, perhaps he'd rank as the No. 1 asset in this countdown.

But it's wise to inject some conservative reality into Sabathia's standing.

Even elite pitchers need a start or two to find their rhythm after a prolonged absence from the mound. (Sabathia's 30-pitch simulated game from last week doesn't necessarily count.)

And just like Yankees teammate Phil Hughes, Sabathia draws starts against the Blue Jays (home) and Athletics (road) this week.

Targets: Two wins, 2.90 ERA and 13 strikeouts.
3: Michael Fiers, Milwaukee Brewers
Jonathan Daniel/Getty Images
In his last three starts, spanning 20.2 innings, Michael Fiers has a 0.89 ERA, 0.94 WHIP and 26 strikeouts.

Yes, Fiers (2.31 ERA, 1.07 WHIP, 50/9 K-BB) only has three major league victories to his credit, and yes, he's just now experiencing his first significant taste of The Show at age 27.

But just like Brewers teammate Marco Estrada, Fiers has the type of talent that shines through the TV, that easy grace of a sustainable fantasy pitcher.

Of similar importance, the Milwaukee coaches have exhibited total confidence in Fiers's game, allowing him to eclipse 100 pitches in each of the last four outings.

Targets: Two wins, 2.80 ERA and 14 strikeouts.
2: Chris Capuano, Los Angeles Dodgers
Victor Decolongon/Getty Images
Of his last seven outings, Chris Capuano (9-5, 2.75 ERA, 1.14 WHIP, 103/36 K-BB) has surrendered three or fewer runs six times; and in that span, he also has six outings of three or fewer walks with the Dodgers.

But Capuano's high countdown ranking goes deeper than a sustained run of runs/walks proficiency.

With matchups against the Phillies and Mets this week, he's probably the best candidate to amass 16 strikeouts in the seven-day window.

Targets: One win, 2.95 ERA and 16 strikeouts.
1: Johnny Cueto, Cincinnati Reds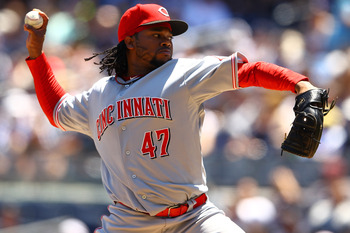 Al Bello/Getty Images
For this countdown, I'm going to accept Johnny Cueto's word that he has healed from a blister on his finger.

Assuming full health, Cueto (10-5, 2.39 ERA, 1.16 WHIP, 91/27 K-BB) is the strongest play of Week 16's two-start pitchers.

He's also the group's best candidate for a sub-2.30 ERA...especially with home clashes against the Diamondbacks and Brewers this week.

(Fingers crossed on Cueto's, uh, blister-free fingers.)

Targets: Two wins, 2.25 ERA and 14 strikeouts.
Keep Reading