Minnesota Twins: 5 Things to Take Away from the Oakland Athletics Series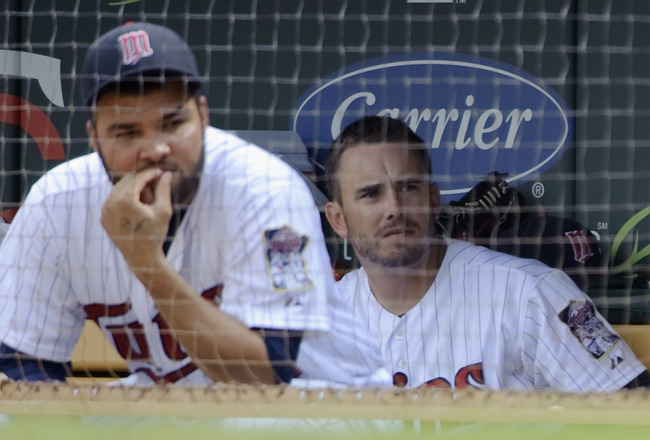 Hannah Foslien/Getty Images
It's a sweep. The Minnesota Twins were outscored 24-10, used 11 bullpen pitchers in their last two games and couldn't pick up wins despite out-hitting the Oakland Athletics in the first two.
"Not very good," manager Ron Gardenhire simply stated.
Starter Brian Duensing threw over 40 pitches in the first inning, giving up two runs and only lasted two innings, forcing a depleted bullpen to carry a heavy load.
It now becomes paramount that Scott Diamond and Co. go seven-plus innings against the Baltimore Orioles, otherwise this four-game series could become a disaster.
"Another ballgame where our starting pitcher had a hard time," said the skipper. "We had a couple chances, but really the game was all in their hands."
It wasn't all Duensing's fault. The A's hit nine homers off the Twins in the series and could now contend for an AL wild-card spot.
Casey Fien provided three solid innings of relief (giving up only a hit), but the rest of the bullpen didn't fare well against the Oakland hitters, and Minnesota was forced to use Glen Perkins in relief—a bad omen if there ever was one.
"When you go that deep in your bullpen, you're in a lot of trouble," said Gardenhire.
Offensively, the Twins have been fine. They out-hit the A's in the first two games. Ben Revere and Joe Mauer are both hitting above .300, and Josh Willingham went off against his old team, hitting three home runs in the series.
The key, however, is getting hits at the right time.
"We've left a lot of guys on base," said shortstop Brian Dozier, who had a home run in the second game. "We've got to come up with some big hits."
"Our offense had a couple of moments," said Gardenhire, trying to find a silver lining, "but not really a lot."
"It's just three games," said third baseman Trevor Plouffe. "We didn't play really well and we're going to put that behind us."
Josh Willingham Tortured His Old Team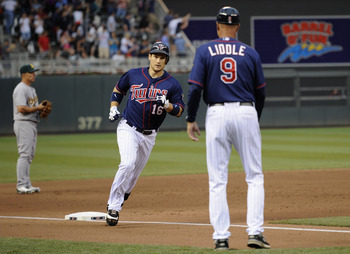 Hannah Foslien/Getty Images
Three home runs in three days?
That ain't bad.
"I got a couple of good pitches to hit and I sure did," Willingham said of Game 1 pitcher A.J. Griffin. "I was just seeing all of his pitches."
Willingham had two jacks off of Griffin and added another against Game 2 starter Tommy Milone.
Francisco Liriano's Value Is as High as It's Going to Get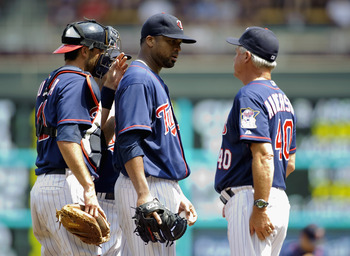 Hannah Foslien/Getty Images
Fifteen strikeouts in one game?
That's not too shabby either.
"His work speaks for itself," said catcher Drew Butera, who has developed a strong relationship with Liriano.
The pitcher has been at his best when Butera is catching.
"He was aggressive, went right after them, and that's as good as I've seen him."
He also gave up a grand slam to Jonny Gomes in Game 1.
Some things never change, I guess.
Still, his value is as high as it's going to be right now.
Denard Span is Making Mental Errors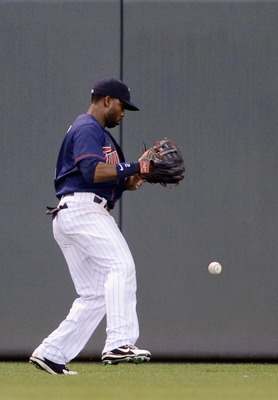 Hannah Foslien/Getty Images
Whether it's on the basepaths or in the field, Span is wreaking unnecessary havoc in both the top and bottom halves of innings.
He has committed two fielding and three baserunning errors in the first two games.
"Silly outs on the basepaths a few times," said Gardenhire after Game 2, when Span, Revere and Ryan Doumit all made baserunning errors.
Gardenhire also criticized Span after he miffed a routine fly ball in Game 1 and made a sloppy relay in Game 2.
Span did not play in Game 3.
StarTribune writer Jim Souhan suggested on Twitter that he might have gotten lost on the way to the park.
There are Still (Gaping) Holes in the Pitching Rotation
Hannah Foslien/Getty Images
Cole De Vries was coming off two quality starts when he made his sixth start against Oakland in Game 2, but he struggled to keep the ball down and ended up getting lit up—giving up two homers and seven runs in five innings.
"[We] needed some innings out of him," said Gardenhire after the start, "and we got that out of him the best we could, but he just didn't have a good feel for it."
That hardly sounds like a vote of confidence for the Eden Prairie native.
Duensing hardly established himself as a starter, too.
In the first inning of Game 3 he struck out Josh Reddick, but gave up an RBI to Yoenis Cespedes and walked in a runner while throwing 41 pitches.
"I got shelled," said Duensing of his start. "That's about it."
In the second he gave up a two-run home run to Gomes and a pair of dingers to Cespedes and Chris Carter, who hit the screen below the cheap seats in right-center.
There's Promise in the Lineup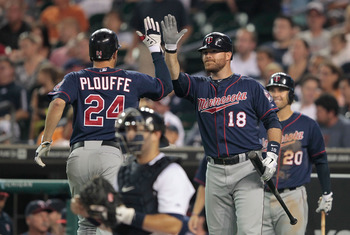 Leon Halip/Getty Images
The Twins out-hit the A's in the first two games. Willingham is taking pitchers deep, as I alluded to earlier, and Revere and Mauer are both batting over .300.
There is some concern, however, with Justin Morneau and Plouffe. Both are on a 13-game hitting streak and can hit the long ball, but Morneau's are only coming against righties (nine with righties, as opposed to two against lefties), and 16 of Plouffe's 19 homers came with nobody on.
"Great teams do that," said Plouffe in reference to getting hits with men on base. "They get the hit with runners on and score runs. We gotta do that."
All quotes were obtained first-hand.
Tom Schreier writes a weekly column for TheFanManifesto.com.
Follow him on Twitter @tschreier3.
Keep Reading

Minnesota Twins: Like this team?