New York Giants: Predicting What Each WR Will Do in 2012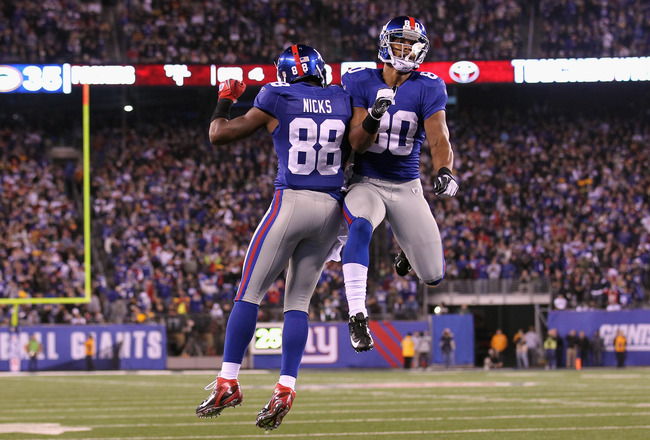 Nick Laham/Getty Images
Eli Manning will rely on a strong wide receiving corps led by Hakeem Nicks and Victor Cruz to propel the New York Giants to another Super Bowl.
Formerly regarded as a ground-and-pound offense, the Giants adapted to the NFL's growing trend of high-powered passing offenses and inflicted most of their damage through the air. Despite possessing the league's worst rushing attack, New York won the Super Bowl on the strength of a premium passing game.
Manning proved himself as an elite quarterback, but Nicks and Cruz also emerged as one of the league's best receiving duos. Since Mario Manningham, who provided the Giants with late-game heroics in Super Bowl XLVI, signed with the San Francisco 49ers, the G-Men will need their two studs to step up.
The depth chart's remaining spots are all up for grabs in a roster featuring an eclectic mix of players fighting for playing time. All of these wideouts will fight to win the No. 3 slot or become the next unheralded pass-catcher to make a game-saving catch in the Super Bowl.
With a returning veteran, an oversized underachiever, an undersized underachiever, a bright rookie looking to become the next Nicks and an undrafted rookie attempting to climb the ladder a la Cruz, there are plenty of Giants receivers to watch this season.
Hakeem Nicks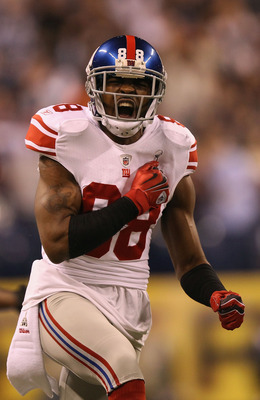 Ezra Shaw/Getty Images
Health is the only thing that can derail Nicks from dominating the league.
Despite playing under Cruz's shadow, Nicks still amassed 76 receptions for 1,192 yards and seven touchdowns last season. A remarkable postseason reminded the world that Nicks is still New York's top wideout. In four playoff games, Nicks tallied 444 yards and four touchdowns, including a Hail Mary touchdown catch to close the first half against the Green Bay Packers that he made look way too easy.
With great size, good speed, freakishly large hands and crisp route-routing ability, Nicks offers the complete package. Unfortunately, Nicks also seems to be a game-time decision every week and faces a much greater injury concern this season.
Nicks underwent a surgery in late May after fracturing the fifth metatarsal in his right foot. A 12-week timetable sets his estimated return dangerously close to their season opener on Sept. 5 against the Dallas Cowboys.
While the Giants will exhibit caution with their star receiver, they have been no reported setbacks to place his season debut in doubt.
As long as Nicks can play, he should re-emerge as New York's top producing receiver with defenses now well aware of Cruz's capability. Don't be shocked if Nicks misses a game or two throughout the year, but Nicks could easily produce well over 1,000 yards with double-digit touchdown catches if he participates in most games.
Victor Cruz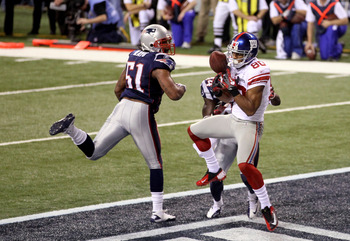 Jeff Gross/Getty Images
During his first season receiving NFL action, Cruz burst on the scene in major fashion, leading the team with 82 catches, 1,536 yards and nine touchdowns.
A year ago, the Giants were placed in a similar search for a No. 3 wide receiver to complement Nicks and Manningham. Cruz earned a spot on the club after an impressive preseason, and an injury to Domenik Hixon gave him a chance to shine, which he immediately did against the Philadelphia Eagles in Week 3.
After reeling in a 74-yard touchdown catch and a game-winning 28-yard score to top the G-Men's bitter rivals, Cruz firmly grasped his position on the club and never let go. Scouts never thought the New Jersey native offered enough size or speed to succeed in the NFL, but Cruz proved them wrong last season. He especially demonstrated more than enough quickness with four scores of more than 70 yards, including a 99-yard touchdown against the New York Jets.
Cruz will no longer receive the benefit of sneaking by unknown as defenders will look to blanket him just as much as Nicks. But with two stud receivers, doubling either of them is a risky proposition. The multiple long touchdowns and the franchise-high yardage total will be hard to repeat, but this does not mean that Cruz was a one-year wonder.
Even if Cruz takes a step back, he could pile up 1,200 yards with five or six touchdowns. Fantasy owners might not appreciate the dip in end-zone salsa dances, but the Giants will be perfectly satisfied with that output.
Rueben Randle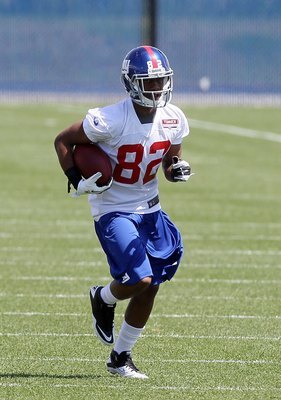 Jim McIsaac/Getty Images
The Giants are pretty good at finding talented young receivers. They just might have struck gold again with Rueben Randle.
Somehow New York snagged Randle, a young receiver often compared to Nicks, in the second round of this year's draft. By landing with the Giants, Randle could start immediately if Nicks misses time or emerge as the third stooge to complete a trio of the three best friends receivers that anybody can have.
Let's see what the rookie brings to the table. Size? Check. Randle is listed at 6'4'' and 210 pounds with the ability to utilize his physicality. Speed? He showed that too, clocking a 4.42 time during his pro day 40-yard dash.
Just imagine how much fun Manning would have running an offense with Nicks lined up on one side, a Nicks clone standing on the other end and Cruz running rampant in the slot.
Combine his tremendous athletic talent with an elite quarterback and the potential for instant playing time, and Randle could outperform all other rookie wideouts this year. A season with 700-800 receiving yards and seven or eight touchdowns is well within Randle's reach.
Domenik Hixon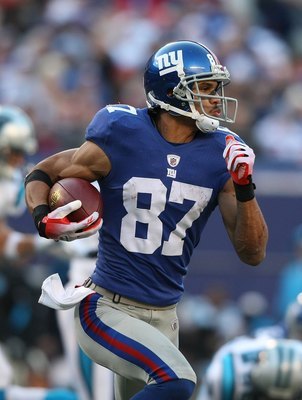 Nick Laham/Getty Images
While Hixon certainly will not pass Cruz on the depth chart, he could regain his role as the No. 3 receiver.
Just when Hixon looked to have a chance to play in hand, the 27-year-old tore his ACL for the second time directly after scoring a touchdown.
Hixon, who joined the G-Men in 2007, is the squad's longest tenured wide receiver. Besides the 2008-09 season when Hixon picked up 596 passing yards, he has not consistently factored into the Giants' passing game.
He is, however, the veteran of a young group who knows the playbook well and can contribute when they call his number. Hixon has also carved out his niche with the Giants by returning kicks and punts.
If healthy, Hixon will likely serve as New York's third or fourth receiving option, depending on Nicks health and Randle's development. He won't overpower defensive backs like Nicks or maneuver through secondaries for extensive plays like Cruz, but Hixon could provide Manning with another dependable target.
Recovering from a second ACL tear surely creates an obstacle for Hixon, but he could see plenty of action if he stays off the injury list. At the least, he can re-assume his returning duties and keep the slot position warm until one of the younger guns steps up.
Jerrel Jernigan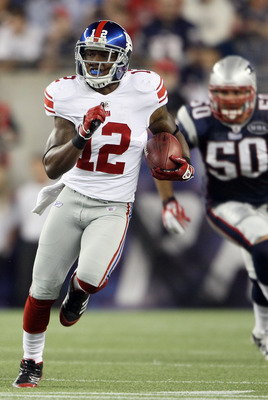 Elsa/Getty Images
Before Cruz emerged as a star slot receiver, the Giants thought they could create a spark at the position by drafting Jerrel Jernigan, who finished with 1,536 fewer receiving yards than the undrafted free agent.
Jernigan, a 5'8'' wide receiver out of Troy, caught zero passes during his rookie season while sparingly returning kicks. While the 23-year-old hardly dazzled in the role, he showed progress at the end of the year, recording a 34-yard return during the Super Bowl.
His potential as a dynamic kick returner should secure his presence on the roster, but Hixon could steal his opportunity to stick as a returner and receiver. If Hixon returns healthy and can stay on the field, Jernigan will likely be the odd man out.
Ramses Barden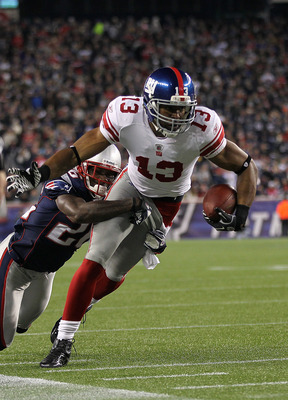 Jim Rogash/Getty Images
How many chances will Ramses Barden receive before he is finally written off as a viable candidate to produce for the G-Men?
Throughout three seasons, Barden has only played in 17 games, catching 15 passes for 174 yards. The Giants thought they found an end-zone threat to replace Plaxico Burress when they drafted Barden in 2009, but the 6'6" receiver has yet to score a touchdown during his career.
Manningham's departure again opens the door for Barden to earn playing time for the Giants, but don't expect him to deliver. Despite his size advantage, Barden fails to create distance from defenders, and on the rare occasions when he does break away, he often struggles to hold on to the ball.
Barden eventually must step up in order to preserve his spot on the team. Although Barden will likely rest on the bottom of the team's depth chart, this could be the year New York finally parts way with the tall wideout.
Brandon Collins
An undrafted free-agent receiver is making a splash in training camp. According to Kieran Darcy from ESPNNewYork.com, offensive coordinator Kevin Gilbridge said he displays "good speed" and "great quickness."
Sounds familiar.
Brandon Collins is looking to take a page out of Cruz's playbook and sneak on to the Giants' roster. The receiver caught 61 passes for 746 yards and five touchdowns with Southeastern Louisiana last season and is now making a strong case to snatch one of the team's final coveted roster spots.
Most of Collins' shortcomings stem from off the field issues. Collins displayed potential playing at Texas before getting expelled from the team following two arrests, according to the Daily News.
If Collins can stay out of trouble and impress throughout training camp and the preseason, he could make the team. Collins will more than likely start the season on the practice squad, but an injury or two could open the door for him to play in the NFL.
Keep Reading

New York Giants: Like this team?