Kim Kardashian and Ronda Rousey Drama Is a Good Thing for MMA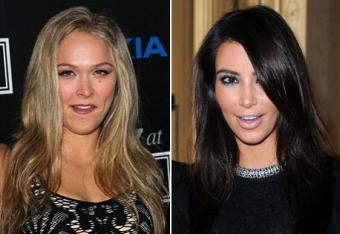 Photo credit: Zap2It

Me-OW.
You know that's what you were thinking when you first heard that Ronda Rousey and Kim Kardashian were exchanging verbal salvos.
But this is no ordinary catfight. When arguably the most famous female in America finds herself in the crosshairs of arguably the most dangerous female in America, it's like two mountain lions doing battle for the last, you know, goat haunch or whatever they eat.
In case you missed it, Rousey called out Kardashian, asserting that the celebutante was only famous for her, eh, carnal exploits:
You know what? I would beat the crap out of Kim Kardashian actually. Any girl who is famous and idolized because she made a sex video with some guy and that's all that you're known for...I think it's pretty stupid, sorry, but it's true.
Kardashian responded by bolting underneath the nearest velvet divan, calling Rousey "really pretty" and leaving it at that. Rousey was not appeased:
This girl should be selling lube or something like that instead. Why is she selling shoes?...I like her reaction. It's all right, but I mean, what is she going to say? What could she say? I think the best move for her is to not piss me off more.
Whoa. No space between those lines.
The knee-jerk reaction to this from many MMA fans was predictable. Roll the eyes. Question the news value. And that's understandable. It's not wrong, of course, and it feels good to play armchair anchorman, steepling your fingers and pronouncing "Who cares?"
And yeah, this isn't exactly on par with the latest TRT revelation or frame-by-frame dissection of Anderson Silva's use of the Thai plum, but it's a good thing for MMA nonetheless. Why?
Forget about the sex appeal. Yes, both women are hot. Hot enough that both have accepted invitations to take it all off for high-profile magazine spreads (interestingly, Rousey's spread for ESPN The Magazine's Body Issue came out just last week). That certainly adds sizzle to the story. But that's not why it's good for MMA.
Forget also about the fact that Rousey holds the Strikeforce women's bantamweight title, which is probably the most glamorous belt in women's MMA. She has definitely taken Gina Carano's crown as the face of women's MMA. This little exchange has meant Internet inches for Rousey—and, by extension, the sport of mixed martial arts—in media outlets that wouldn't normally touch MMA with a rolled-up copy of Gracie Mag.
For example, TMZ has, as a result of the feud, given play to a sport it normally only notices when the wrong person gets spotted fleeing the scene of a night club brawl. Scoff all you want, but TMZ's going to get 20 million visits a month whether you like it or not. For a sport that, unfortunately, tends to find itself on the dark side of the gossip pages, this exposure is a welcome shot of limelight. But that's not why it's good for MMA, either.
This is good for MMA because of the comments themselves. This is a society of sound bites, of words and phrases strung together for maximum meaninglessness. The less you can say, the better—lest you risk losing control of the message. Sport is a prime offender, and it puts a wall between fans and the groups and athletes they support.
Rousey's comments are a refreshing jolt to the one-game-at-a-time sports news cycle. Regardless of your opinion of her actual comments (if you care, I found them funny, smart and accurate), her candor was exciting, and it made people take notice.
If MMA can gain a reputation as the sport where athletes don't pull punches inside their sport or out, that's an advantage. People recognize and respond to honesty, just as they do dishonesty. If fighters gain reputations for candor as well as toughness, it's just another injection of rocket fuel into the fastest-moving engine in the sports race today.
Scott Harris is a featured columnist for Bleacher Report MMA. He also has a new and, so far, reasonably entertaining Twitter feed. Follow along @ScottHarrisMMA.
This article is
What is the duplicate article?
Why is this article offensive?
Where is this article plagiarized from?
Why is this article poorly edited?