8 MLB Studs Sure to Avoid Second-Half Slumps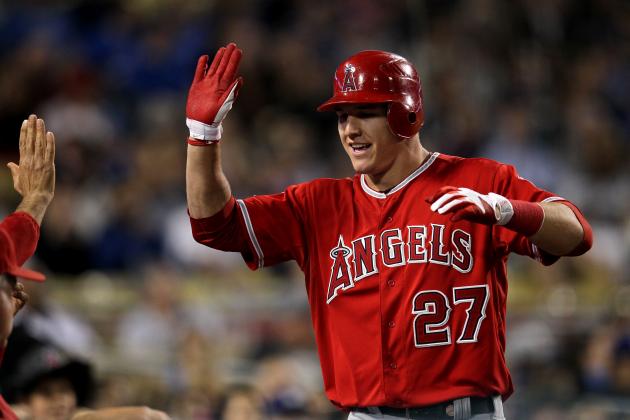 Stephen Dunn/Getty Images

Avoiding a second-half slump can be difficult to do as the grind of the MLB season wears on players, but each of these eight studs will continue his torrid pace deep into September and possibly October.
These players range in age from 20 to 36 years old, and the list includes four position players, three pitchers and one designated hitter.
Though their paths have been different, they all have made a big impact both on the team and in the league they play.
Did your favorite player make the list? Read on to find out.
Begin Slideshow

»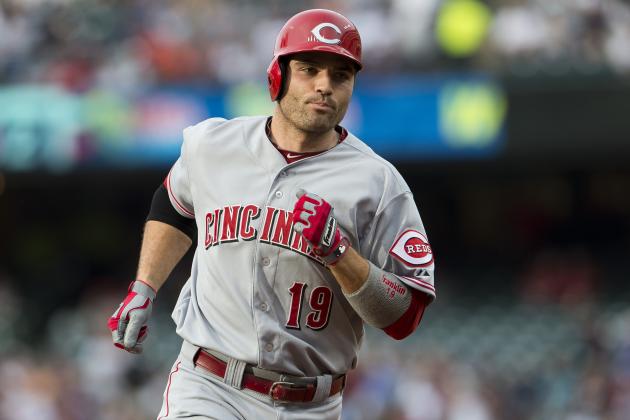 Jason Miller/Getty Images

The season being turned in by Joey Votto is simply amazing.
His .342/.465/.604/1.069 slash line is part of that, but what is more amazing are his numbers in clutch situations.
Votto is batting .371 with runners in scoring position, .500 with the bases loaded (1-for-2 with a grand slam) and 11 of his 14 home runs have either tied the game or given the Reds the lead.
He is one of the game's best clutch hitters, and without him Cincinnati have trouble competing night-in and night-out. His 4.3 WAR says so.
Votto-matic will continue to crush pitchers in the most clutch of situations down the stretch, and he will guide the Cincinnati Red Stockings into October.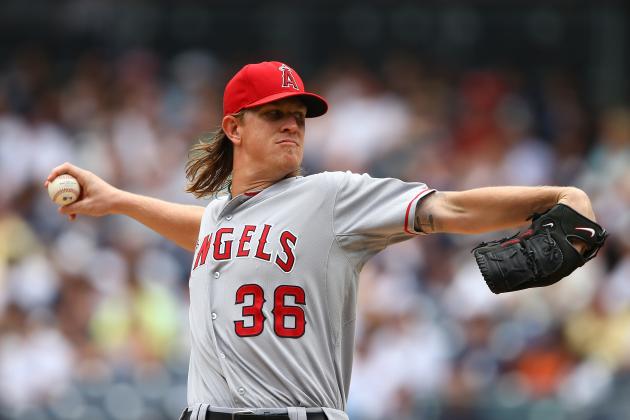 Al Bello/Getty Images

Jered Weaver is 11-1 with a 2.26 ERA this season.
He threw a no-hitter on May 2 against the Minnesota Twins.
His dominance has been widespread and unbiased. He beats everyone. His only loss this season was a 3.1-inning, eight-run struggle against the Texas Rangers, and that's a lineup not many have shut down in 2012.
He is an impressive 28-18 with a 3.19 ERA against his AL West opponents. If he avoids another stint on the DL—he missed three weeks in May and June with a lower back problem—and pitches every fifth day, he will face those opponents eight more times.
That includes four against Texas (9-7 career, 3.77 ERA) and two each against Seattle (12-4, 3.08) and Oakland (7-7, 2.63).
Weaver has been a workhorse for the Angels during his time in the majors, and he will continue his league-wide success as his team inches closer to postseason play.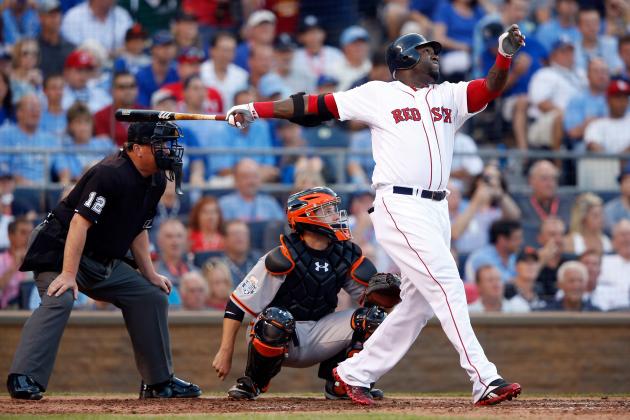 Jamie Squire/Getty Images

David Ortiz has found the fountain of youth.
Despite being the oldest player on this list at 36, he is playing as if he were 26.
Ortiz is on pace for 42 HR, 106 RBI, 117 R, 46 2B and 180 hits. His .315/.413/.612/1.025 slash line is the best he's produced since 2007 when he put up .332/.445/.621/1.066—the most recent year the Red Sox won the World Series.
He's hitting like his old self once again in 2012, and this will not stop. Ortiz has been Boston's offensive cornerstone for the better part of nine years, and Big Papi will carry them on his back once again.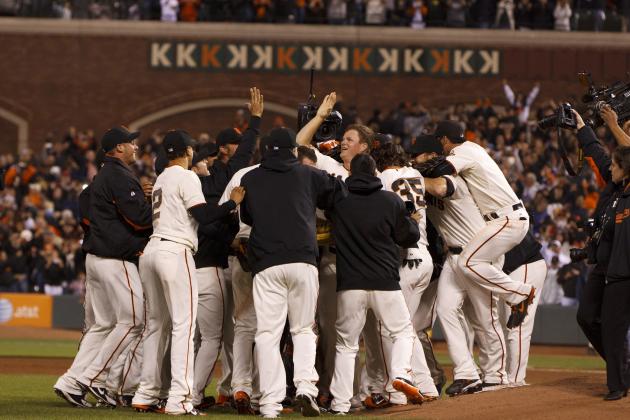 Jason O. Watson/Getty Images

Since his perfect game on June 13, Matt Cain has toed the rubber four times, compiling a 1-1 record with a 4.26 ERA and a 7.1 K/9 ratio.
One might think that with a bloated ERA and shrinking strikeouts per nine ratio, Cain has succumbed to the perfect game curse. After all, Philip Humber has been awful since his perfecto on April 21.
In 10 starts since then, Humber is 2-4 with a 7.47 ERA.
But Humber is not the pitcher Cain is. San Francisco's 27-year-old current ace will rebound from his mini slump and dominate teams during the second half.
It may have started with the All-Star game.
The National League's starter for the mid-summer classic went the front two innings, striking out a batter and surrendering only one hit—to Derek Jeter leading off the first.
He's had a good career against the NL West, posting a 33-32 record with a 3.38 ERA. Remember, Cain historically gets some of the worst run-support in MLB, so his win-loss record is deceiving.
If there are no alterations to the rotation and he pitches every fifth day, he would face his NL West opponents in nine of what could be 15 starts during the second half.
That's good news if you're a Giants fan.
Jonathan Daniel/Getty Images

.345/.438/.553/.991 | 11 HR, 59 RBI, 4.9 WAR
.307/.362/.502/.864 | 8 HR, 30 RBI, 1.5 WAR
The top stat line belongs to David Wright. The other belongs to Pablo Sandoval, the NL's All-Star starter at third base.
Yes, All-Star voting is flawed. But regardless of that, Wright is having one the best seasons in the history of the New York Mets franchise.
He has turned himself into one of the best all-around players in the game today, doing it not only with the bat, but with the glove as well. He makes difficult plays look easy every day.
There is no stopping Wright this season. He seems to get better the more intense the situation.
He bats .358 with runners in scoring position this season. That number goes all the way up to .424 in the same situation with two outs.
And it's no small sample size.
He's 14-for-33 with three doubles, one homer and 16 RBI. He's as clutch as they come. And playing at Citi Field where the outfield is huge, he thrives by routinely driving mistakes into the gap.
Wright will continue his battery of pitching, and the later the Mets are still in the hunt for a playoff spot, the better he will be when they need him.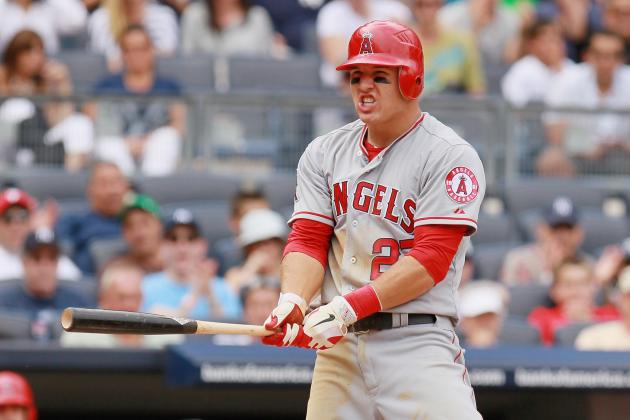 Mike Stobe/Getty Images

Mike Trout's rookie season has been beyond historic.
His path of destruction has been unbelievable to watch, and there seems to be no way of stopping him.
Trout leads all rookies in batting average (.349), hits (95), runs (60), RBI (41) and stolen bases (30), and his .349/.403/.574/.977 slash line leads all rookies as well.
He is the major-league leader with a 5.0 WAR.
Not only is he the headliner for AL Rookie of the Year, he may be the front-runner for AL MVP. If he wins both awards, he will become just the third player in major-league history to do so, joining Ichiro with Seattle in 2001 and Fred Lynn with the Boston Red Sox in 1975.
He has been better than teammate Albert Pujols—a perennial MVP candidate—has been, and he's been arguably the best player in MLB this season. He's certainly the most exciting player to watch.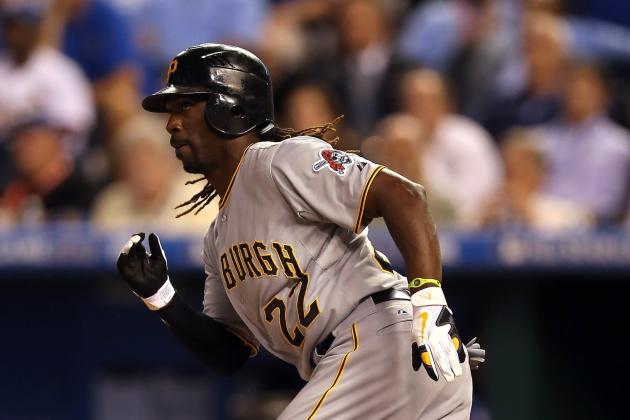 Jonathan Daniel/Getty Images

While Mike Trout is the likely choice for AL MVP, Andrew McCutchen is the leader for the NL MVP race.
He leads MLB with a .371 batting average and a .651 slugging percentage, and he has hit 21 HR and driven in 64 runs while scoring 61 more.
McCutchen has led the Pirates to prominence for the first time since what seems like the dawn of time (OK, not that long—1997).
Pittsburgh's centerfielder has been outstanding in the field also, posting a .995 fielding percentage. They will be in the hunt for a postseason spot deep into September, and they could make their first appearance since 1993.
For that to happen, McCutchen will have to be at the forefront of the attack. He will be, and the Pirates will return to meaningful October baseball.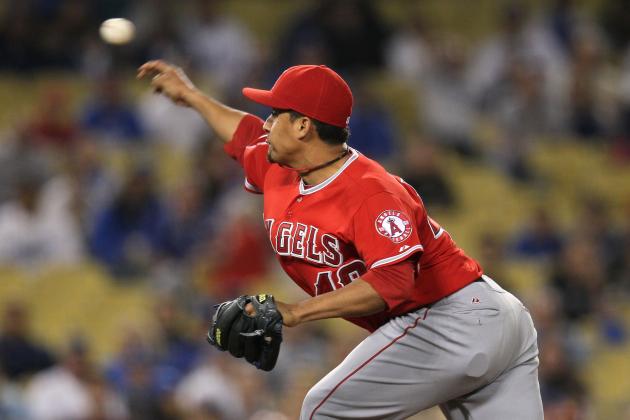 Stephen Dunn/Getty Images

Ernesto Frieri was pitching well with the San Diego Padres, posting a 2.31 ERA in 11 appearances as a set-up reliever.
Then he was traded to the Angels, and he didn't give up a run until Sunday against the Yankees.
He has dropped his season ERA to 0.71 during his 28.0-inning scoreless streak, 26.1 of which has come in an Angels uniform. It now stands at 1.42
Frieri is 11-for-11 in save opportunities since taking over the closer role on May 23. It's hard to see this trend changing, as he has been nearly unhittable since the May 3 trade.
Los Angeles will need Frieri to be great down the stretch to stay in the race for the AL West. They remain close at 5.0 games back of Texas.