Jeremy Lin to Houston Rockets? 7 Greatest Moments from Lin's Breakout Year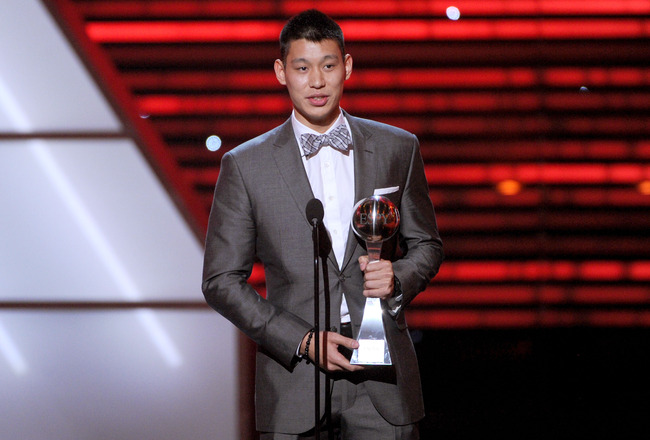 Kevin Winter/Getty Images
Entering the 2012 period of free agency, it appeared as if the New York Knicks were certain to retain the services of Jeremy Lin. In a shocking turn of events, however, the Knicks have reportedly chosen the more affordable services of Raymond Felton over Linsanity.
Y! Sports story:"Highly doubtful" Knicks match Lin's offer sheet after acquiring Felton.Lin's HS coach says PG stunned. tinyurl.com/7qsws26

— Marc J. Spears (@SpearsNBAYahoo) July 15, 2012
Rather than pondering what could have been, it is important that we remember what was. While some will lash out in hatred over the events that made Linsanity, there may never be a period in time quite as exciting as that month-and-a-half.
So what was it that made it so thrilling?
7. Jeremy Lin Wins an ESPY

Jeremy Lin wins an ESPY

Love him or hate him, you have to feel good for a kid who's made it this far. He received the ultimate recognition, by ESPN's standards, as he took home the award for Best Breakout Athlete.
As long as you get to wear a bow tie, that means you had to have done something right.
6. Jeremy Lin Provides the Spark
The hype was building and the doubts were growing. Fans and analysts alike were uncertain as to how well Jeremy Lin could play alongside Carmelo Anthony. To answer the heat, Jeremy Lin stepped up and led the Knicks to victory over the defending champion Dallas Mavericks.
This steal and dunk set off the fireworks.
5. Jeremy Lin Throws It Down
It's rare in basketball that we can pinpoint a turning point to just one individual player. More times than not, we look toward buzzer-beaters and game-winning jump shots as the time in which a player makes "the leap." For Jeremy Lin, that moment came with a dunk against the Washington Wizards.
From that point onward, Lin was considered one of the best point guards in the NBA. Whether he truly is or not is still up for debate, of course, but how can one deny that the hype was there?
4. Linsanity Begins

And so it begins...

For New York Knicks fans, there were few moments that were quite as exciting as the day it all began. The thoughts of "What are we witnessing?" stretched well beyond the typical feelings toward a player's first breakout game.
This was the beginning of something special, and Knicks fans knew it. The only thing they were truly unaware of was how far it would go.
3. Yes, He Is a Point Guard

Lin drops 14 dimes

Entering the Knicks' showdown with the Dallas Mavericks, the popular theory was that Jeremy Lin was a scoring guard who had no business running the point. As the Dallas Mavericks will testify to, that couldn't be further from the truth.
Linsanity dropped 14 dimes on the defending champions, causing everyone to swallow their pride for a split-second and end the debate: The kid can run point. He can run point very damn well.
2. The Kid Can Kill It in the Clutch

Jeremy Lin buries the Raptors with 0.5 remaining.

In the eyes of Knicks fans, Jeremy Lin could do it all. He was an elite scorer who could dish out assists like no one's business. He was a menace in the passing lanes, a floor general and a potential superstar.
And then he opened up those ice-cold veins to the Toronto Raptors.
1. Lin Battles Kobe

Jeremy Lin takes on our generation's greatest.

Are words needed to describe this act of glory? In a game that resembled the storied Iverson vs. Jordan showdown in 1996, Jeremy Lin took it to Kobe and the Lakers.
Although Derek Fisher was the incapable defender for most of the night, going blow for blow with our generation's greatest is a significant feat. Sit back and enjoy.
Keep Reading

New York Knicks: Like this team?