Jeremy Lin: Analyzing Impact Linsanity Will Have on Houston Rockets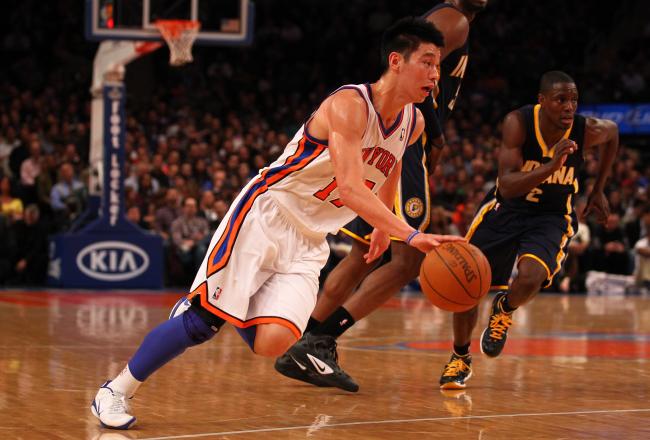 Al Bello/Getty Images
According to ESPN New York, the New York Knicks will pass on the option to match the Houston Rockets' contract offer and let Jeremy Lin walk.
Having played in just 35 games last season, Linsanity looks to have been as short-lived in the Big Apple as Tebowmania was in Denver.
Assuming the Knicks do not match and Lin takes his talents to Houston, he will be joining a roster in serious need of some offensive punch.
In their wild pursuit of Magic center Dwight Howard, the Rockets have blown up their roster over the last couple weeks.
GM Daryl Morey made various moves to net Houston three first-round picks in last month's draft, dealt tough point guard Kyle Lowry for a future first-round pick and forward Gary Forbes, and amnestied consistent big man Luis Scola to open up more cap space for Howard.
Given the state of the Rockets' roster, fans will be looking to Jeremy Lin to carry this young squad.
Here's a breakdown of the impact Lin will have on the Rockets.
Guard Game
Despite his perceived success in New York, numbers indicate that Lin is not a stellar pure point guard.
Al Bello/Getty Images
While he does a nice job in the pick-and-roll and distributed over six dimes per game last season, he commits a staggering amount of turnovers.
Last season Lin averaged 3.6 turnovers per game. His assist-to-turnover ratio was underwhelming, at just 1.71.
In a stacked division featuring the San Antonio Spurs, the Memphis Grizzlies and the Dallas Mavericks, this should be concerning to the Rockets.
Just as a reference, the Spurs' Tony Parker put up 7.7 APG in the regular season and gave it up just 2.6 times per game. The Grizzlies' Mike Conley was comparable. In Memphis' first-round series against the Los Angeles Clippers, Conley had an impressive assist-to-turnover ratio of nearly 7:2.
While Lin is no Parker or Conley, the amount of money that he is signing for suggests that he will be able to deliver in a big way.
Playing in the Wild Wild West will be an adjustment for Lin, as he will need to control the ball if the Rockets have any chance of making some noise in the conference.
Go-to Guy
Unless the Rockets make some serious roster moves, Lin will likely take on the role of go-to guy for Houston.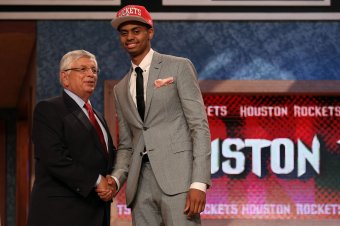 Elsa/Getty Images
On a team full of young guns, it wouldn't be too surprising for the Rockets to become Lin's team.
He will be put alongside rookies Jeremy Lamb, Terrence Jones and Royce White, not the most potent squad in the league.
Playing third fiddle behind Carmelo Anthony and Amare Stoudemire might have been a blessing in disguise for Lin.
His game suggests that he is not the best No. 1 option for a team, and he will need to work diligently with the Rockets coaching staff if he hopes to become one.
A lanky defender similar to the Grizzlies' Rudy Gay or the Spurs' Danny Green might be enough to slow Lin down in the half court.
If coach Kevin McHale hopes to find some offensive success next season, then pushing the transition game could be the bread and butter for Lin and Co.
Filling the Stadium
Arguably Lin's greatest asset, his popularity amongst everyday fans will have him packing the Toyota Center next season.
With memorable games against the Raptors and the Lakers last season, Lin became an NBA phenomenon in Manhattan almost overnight.
If he has a similar sort of impact in Houston, then Rockets brass might forgive his on-court deficiencies.
Still, Lin could seriously benefit from some added star power.
If Daryl Morey has another trick up his sleeve and can make a deal to acquire Dwight Howard, Linsanity and Superman could be the hottest ticket in town next season.
This article is
What is the duplicate article?
Why is this article offensive?
Where is this article plagiarized from?
Why is this article poorly edited?

Houston Rockets: Like this team?