Predicting the 2012 Award Winners for the Philadelphia Eagles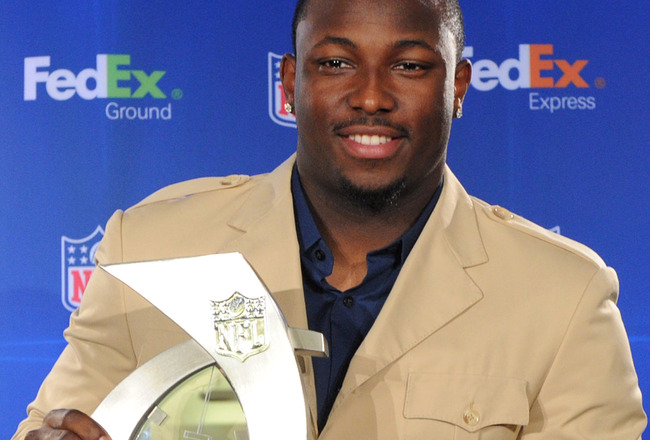 Rick Diamond/Getty Images
It's preseason awards time! It's that special time of the year where we predict which players on the Philadelphia Eagles will win which awards. Obviously the Eagles players aren't going to win more than a league award or two, so these will all be team awards.
This season there is depth everywhere on the Eagles roster. Just about every team award will have about five or six serious contenders. There are play makers and capable starters everywhere. This is a team that is really hard to find a weak link on.
The difference between this season and seasons past for the Eagles is that the team awards will really mean something. The MVP on a 4-12 team isn't much of an honor. The MVP of a 12-4 team is something worth being proud of.
Here are my predictions on seven regular season awards on the Philadelphia Eagles.
Offensive Rookie of the Year- Bryce Brown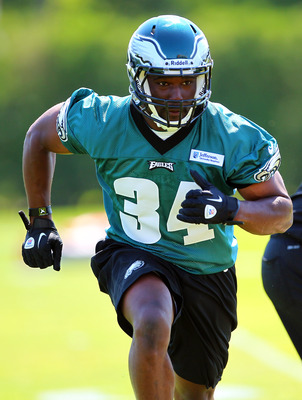 Rich Schultz/Getty Images
The Eagles had a pretty defensive orientated draft last April. They didn't draft a offensive player until the third round, quarterback Nick Foles, and they didn't draft a skilled position player who has a chance to contribute right away until the sixth round.
The contenders for offensive rookie of the year in Philadelphia are sixth round pick Marvin McNutt and seventh round pick Bryce Brown. The Eagles also drafted two offensive linemen, Dennis Kelly and Brandon Washington, but both players are more of developmental projects who won't see much action in 2012.
McNutt, a wide receiver from Iowa, is a solid possession receiver who will fight just to make the roster. At best, he is the fifth receiver on the Eagles roster behind DeSean Jackson, Jeremy Maclin, Jason Avant and Riley Cooper. If he shows he can be a really good red zone target in training camp he should make the roster.
Bryce Brown is a completely different story despite being far less accomplished in college. Brown is one of the most physical gifted running backs in this year's rookie class. He just isn't as polished or proven as a Trent Richardson.
Brown looked like a future 1,000 yard back at mini-camp. At the very least, he will be a solid third string running back on the Eagles roster who should rack up at least 200 yards this season. That will probably be enough to be the best offensive rookie in Philly. He has the potential to win the backup role and contribute around 500 to 700 yards this season.
Either way, he will be the offensive rookie of the year in Philly.
Defensive Rookie of the Year- Mychal Kendricks
Rich Schultz/Getty Images
Defensive rookie of the year for the Eagles will have a lot more serious competition than the offensive rookies. Fletcher Cox and Vinny Curry should make an immediate impact as pass rushers. Brandon Boykin will also make a huge impact as the projected nickel back.
Neither of these players will be the Eagles defensive rookie of the year. They will make a big impact on the 2012 season, but only Mychal Kendricks will be on the field for almost every single snap this season. He is the projected strong side linebacker and will be the outside linebacker in nickel packages as well.
Kendricks main responsibility will be to cover tight ends. Most critics of Kendricks will point out the fact that he is only 5'11, but when your vertical leap is 39.5 inches, it doesn't really matter.
Kendricks was the defensive player of the year in the PAC-12 last season. He is a lot more than just a coverage linebacker. He is also outstanding against the run and plays with a certain level of intensity that Eagles fans will love for years to come.
Most Improved Player/Comeback Player of the Year- Brandon Graham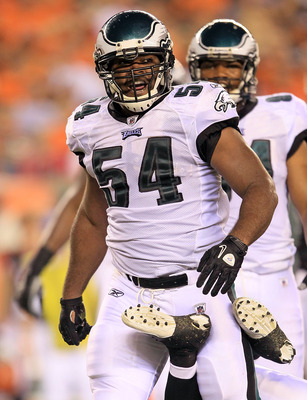 Andy Lyons/Getty Images
In just two short years Brandon Graham has gone from the 13th overall pick in the 2010 NFL Draft to being one of the biggest busts from that draft class. 2012 will be the season where he throws that bust label to the ground and stomps it into submission.
Graham is in the best shape since before his ACL tear back in December of 2010. While he was rehabbing from his ACL surgery last summer, he got up to 286 pounds at training camp. He was out of shape and clearly wasn't the same player. He played in just seven games in 2011 and didn't record a single sack.
This time around at training camp, Graham should be right around 270 pounds. Not only is he in the best shape of his playing career, but he has that focus of someone that is just on a mission to do great things.
Graham won't be overtaking Trent Cole or Jason Babin for a starting job, but he should be an outstanding reserve end in Jim Washburn's defensive line rotation. Somewhere between seven to 10 sacks wouldn't be so crazy for a former first round draft pick that most fans have already given up on.
Newcomer of the Year- DeMeco Ryans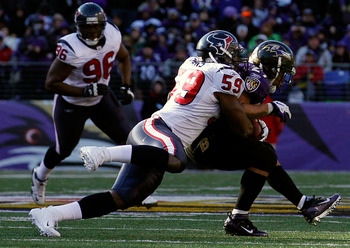 Rob Carr/Getty Images
The impact that DeMeco Ryans will have on this defense has yet to be fully realized. He adds a great deal of stability to a defense that last season had none. They had all the talent, but more times than not, looked completely lost.
Now the defense has a true leader. Ryans will keep everyone on the same page. That is a skill that you can never over estimate. It makes the defensive coordinator look really smart and it will eliminate the majority of the mistakes we saw on defense last season.
Ryans is also a stout run defender. He can run around blockers with his athleticism and strength and also has the field awareness to put him in a position to make the stop consistently. The Eagles finished 16th against the run in 2011. Middle linebacker was the reason for this. Both Casey Matthews and Jamar Chaney were really outmatched last season against the run.
Ryans, when healthy, has been one of the top middle linebackers in the league. Getting back with a 4-3 defense with more talent around him than he ever has been a part of in a 4-3 defense will do wonders for him. Ryans defense should make this a top 5 defense in 2012. Remember, they were eighth in total defense last season. Imagine where they will be with a Pro Bowl caliber middle linebacker.
Offensive Player of the Year- Jeremy Maclin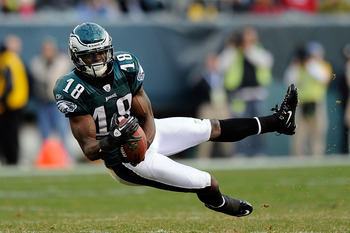 Patrick McDermott/Getty Images
Last season Eagles running back LeSean McCoy went from being a quality starter to becoming a flat out superstar. McCoy had over 1,600 total yards and 20 touchdowns. This season should produce another breakout star that will become the offensive player of the year in 2012.
Jeremy Maclin should become that player. It shouldn't surprise most Eagles fans to see Maclin mentioned on most breakout star lists. Last summer he had a major cancer scare, but still managed to rack up over 600 yards through the first eight weeks.
Hamstring and shoulder issues really hampered him during the second half of 2011. This summer Maclin is 100 percent healthy and stronger than ever. He looks noticeably bigger this season and should weigh somewhere around 205 once training camp gets underway.
Maclin isn't your typical speed receiver. He is really more of a possession receiver with lot of speed and athletic ability. He has all the physical tools and route running ability to be a really good wide receiver in this offense. He will greatly benefit from having a deep threat lined up opposite of him, DeSean Jackson, and one of the most dangerous home run threats lined up in the backfield, LeSean McCoy. Defenses can't afford to double team Maclin. He will have ample opportunities to make plays while the defense is more concerned with McCoy and Jackson.
It wouldn't be a major surprise to see Maclin racked up 1,300 yards and 10 touchdowns this season. Injuries may be the only issue that could derail his breakout season.
Defensive Player of the Year- Nnamdi Asomugha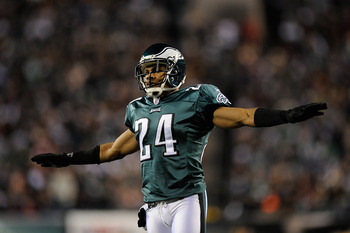 Patrick McDermott/Getty Images
The Nnamdi Asomugha that the Eagles came out of nowhere and signed last summer will make his first appearance with the Eagles in 2012. Last season Juan Castillo tried to turn him into a Charles Woodson type of defensive back. It didn't work out and now the defense will be playing a more suitable press coverage for Asomugha.
He played primarily in press coverage as an Oakland Raider. That is where his skill set is best utilized. He has the strength and long arms to be a great press corner, but what makes him really great at pressing receivers right at the line of scrimmage is his ability to time the snap count. He gets a great jump on the receiver and really disrupts the timing of the route before it has a chance to get started.
What Asomugha does for a defense is take away one of the top two receiving options. That leads to more coverage sacks from the defense. This is good news for a Eagles defensive line that put up 46 sacks in 2011 with a very inconsistent secondary. Imagine what does guys will do in 2012 with a All Pro taking away half the field.
MVP- Michael Vick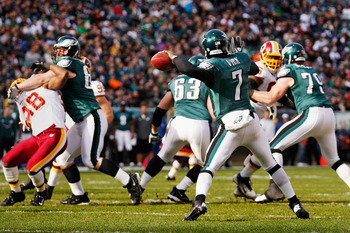 Rob Carr/Getty Images
This one is usually pretty easy for figure out. The most valuable player is almost always the quarterback, at least during a playoff year. The quarterback touches the football on every single play. Whether he is handing the ball off to the running back or hitting his receivers in the passing game, the quarterback is the most important player on the field.
Unless a running back or wide receiver has a monster season, the quarterback is always the MVP of the team. Michael Vick will be no exception. Even more than most quarterbacks because he makes as many plays with his legs as he does his arm.
Vick won't just be the MVP of the Eagles, he will be a serious contender for the league wide award. He had an MVP type season in 2010 when he had 21 touchdowns and just six interceptions. We probably won't see an interception total quite that low in 2012, but the touchdowns should be much higher.
Keep Reading

Philadelphia Eagles: Like this team?