Is John Calipari Expanding Kentucky's Tradition or Ruining It?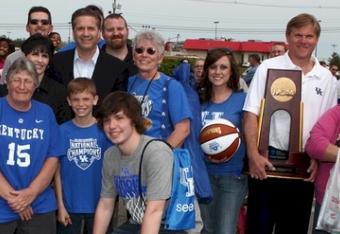 Courtesy of Kentucky Basketball Forum

In the span of four months, John Calipari has taken the Kentucky program on a wild roller-coaster ride in terms of fan approval and satisfaction.
On the first Monday in April, he led his top-ranked Wildcats team to its eighth national championship in school history by defeating the Kansas Jayhawks 67-59. For Kentucky fans across the nation, it was a time of celebration, excitement and reflection on what has been an immensely successful three-year run under Coach Cal.
Then, the coach did something that no previous UK head coach had done before and took the national championship trophy on a state-wide tour to share with the fans. Making stops in mountain towns, blue-collar communities and big cities, Calipari shared all of the glory and excitement of a national championship with perhaps the most passionate fanbase in the country. In terms of connecting with fans, this was an unprecedented event that proved to be extremely popular and well appreciated.
However, the tide has seemed to turn as the offseason kicked in gear and the focus shifted toward the future of the program. The first major event was the press conference of Kentucky's five starters from the championship team. All five players decided to declare for the NBA draft, chasing their dreams and leaving behind a decimated roster. The move was expected, but there were plenty of fans hoping that one or two of the players would return for another season. Instead, they all left while they were on top.
Then the focus shifted toward next year's schedule. Indiana and Kentucky were pitted to play against each other in Rupp Arena for what was sure to be one of the biggest games in the series' history. However, Kentucky wanted to extend the series beyond next season and desired to play IU on neutral courts. Their reasoning was to play in larger venues to cater to more fans, while also bringing in more revenue for both schools involved.
Do you believe that John Calipari is good for UK basketball?
Indiana University balked at this idea and wanted to keep the series as a home-and-home setup. Kentucky was of the thought that the two schools had reached a general agreement on neutral courts, but the Hoosiers then backed out and vowed not to extend the series unless it returned to the home court schedule of the previous few seasons. Neither side could reach an agreement and the Indiana-Kentucky matchup was erased from next season's schedule.
Also of note is the series with North Carolina. The contract had expired this offseason, and both schools decided to put the series on hold for one season. They will not play during the 2012-13 season, but have already agreed to revive the series again in the 2013-14 basketball season. Therefore, this is only a one-year absence on the schedule, but it is a lost marquee game that fans will miss.
Looking toward the future, there appears to be some changes to some of the fundamental traditions of Kentucky basketball. First of all, John Calipari has placed an emphasis on playing in larger venues, beginning with this season's matchup versus Maryland in the new Barclays Center, the future home of the NBA's Brooklyn Nets. In the 2013-14 season, the Wildcats will square off against the Baylor Bears in the Dallas Cowboys' football stadium, which seats over 100,000 people and could set a new attendance record for a college basketball game.
These new games have appeared to split the fanbase. On one hand, they are exciting venues to play in and can seat thousands more fans from both schools than a home game could handle. They should also bring in more national exposure and an increase in revenue to each university.
What would be your preference for marquee non-conference games?
However, this also takes away marquee matchups from the home schedule. For season ticket holders who cannot travel across the country to watch their Cats, the home games are their only way to see Kentucky in action.
Another trend that has developed is the retention rate of the basketball players. In essence, Kentucky players are no longer staying at the school for three or four seasons and etching their names in the career record books. Instead, players are staying for one or two seasons and leaving after that to declare for the NBA draft.
At the same time, not everyone agrees that this is a bad thing. There have been more talented and exciting players coming through this program in three years then there were in the previous decade. Kentucky has now produced a consensus National Player of the Year and two players drafted first overall, something which never happened before in school history.
Also of note is that these players have produced an incredible amount of success and have led the program to a national title, two Final Four appearances and multiple SEC championships. At the same time, more Wildcat players are achieving their dreams of playing professionally and the NBA is full of young Kentucky prospects, making it more exciting to follow the league now than ever before.
With all of this being said, it appears that Kentucky fans are approaching a crossroads in their opinion of the program's direction. The traditionalists miss the "good old days" when they could follow a player's career for three or four seasons, become more attached to each player and see more exciting home games.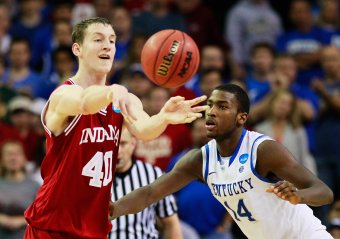 Kevin C. Cox/Getty Images
Meanwhile, the modern fans have embraced the new model and are excited that more talent is making its way to Lexington. The program is back on top of the college basketball world, and the tradition of success and pride has continued under head coach John Calipari. The program is going through a recruiting period that will likely never be matched again, and there is excitement coming from the new games occurring in large, high-capacity venues.
Where do you stand on this issue? Do you believe that Coach Cal has expanded the tradition of Kentucky basketball and added a unique and exciting chapter to the school's history? Or do you long for the tradition of old that made it easier to become more connected with certain players and watch more exciting games at home?
Be sure to share your thoughts in the comments section below, as the discussion should be an interesting take on where modern fans view the current direction of the Kentucky basketball program.
This article is
What is the duplicate article?
Why is this article offensive?
Where is this article plagiarized from?
Why is this article poorly edited?

Kentucky Wildcats Basketball: Like this team?