UFC 149 Preview: Free Fights from Urijah Faber and Renan Barao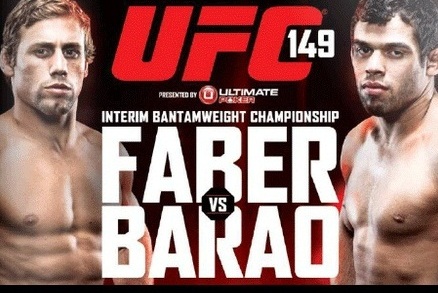 After receiving a great response from posting free fights for UFC 148 combatants, the UFC is at it again! So far, the official UFC channel on YouTube has uploaded some of the best fights of UFC 149 main-event fighters Urijah Faber and Renan Barao.
The Barao selection is a little lighter than you might like, but he still only has a few fights under the Zuffa banner.
Let's enjoy some of the best fights from the two men battling for the UFC Interim Bantamweight Championship.
Begin Slideshow

»
When Urijah Faber and Dominick Cruz met for the first time, they did battle in a different organization and weight class. At WEC 26, Faber looked to defend his Featherweight championship against the undefeated Cruz.
Who won the initial encounter? Watch for yourself.
At WEC 38, Urijah Faber made his first appearance since losing the Featherweight championship to Mike Brown. The man standing across the cage was none other than the man who pushed him for 25 minutes during an epic 2008 title defense: Jens Pulver.
Lil Evil was a former UFC Lightweight champion who knew that he belonged at 145 pounds. A win over Faber would earn him a crack at Brown.
When Mike Brown lost the UFC Featherweight Championship to Jose Aldo, Urijah Faber saw a window of opportunity open. With a new title holder, Faber would be able to earn another crack at the belt if he could earn an impressive win in his next fight.
At WEC 46, he did just that when he took on top-10 fighter Raphael Assuncao. Check the fight video above to see the action in it's entirety.
Renan Barao made his UFC debut at UFC 130 in a battle against former WEC champion Cole Escovedo. The bout marked a step-up in competition for Barao, who had spent much of his Brazilian career fighting less-than-notable competition.
How would Barao do now that he was given a chance to show the UFC that his impressive winning streak was not a fluke? Watch the video above to find out.
At UFC 138, Renan Barao made his fourth appearance under the Zuffa banner when he met Brad Pickett in Birmingham, England.
Could Barao get past the former Cage Rage champion? Or was "One Punch" too much for the Brazilian? Whether you know the result or not, this Fight of the Night winner is worth the watch.
Don't miss out on all the action of UFC 149 this Saturday night when Faber and Barao get it on to crown a UFC Interim Bantamweight Champion. Stay tuned to Bleacher Report for live updates on the event, previews and post-fight recaps.