NASCAR Live Blog: Lenox 301 at New Hampshire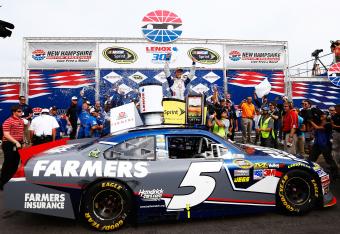 Jared Wickerham/Getty Images
The drivers have been introduced, the national anthem has been sung, and the second half of the 2012 NASCAR Sprint Cup Series begins momentarily here at New Hampshire Motor Speedway with the Lenox Industrial Tools 301.
Kyle Busch will lead the field of 43 drivers to the green flag and we'll be with you here at Bleacher Report to cover the race from flag to flag. Stay tuned for updates throughout the race!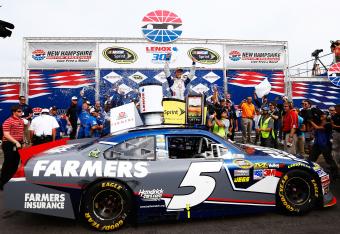 Kahne and Kyle Busch are now the two wild cards. Kahne is the only driver between 11th and 20th with two wins, while Busch holds the advantage on the second spot over Newman by nine points. 11th place Carl Edwards is 46 points out of the top 10.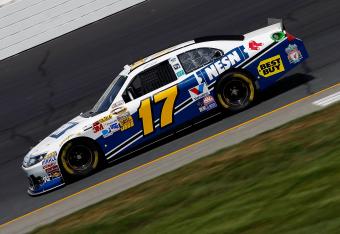 Matt Kenseth will retain the points lead with 707, while Dale Earnhardt Jr. closes the gap between them from 25 points to 16.
Finishing positions 31-43: Schrader (seven laps down), Leicht (eight laps down), Reutimann (out), Ragan, Stremme, Mears, Wise, Nemechek, Blaney, McDowell, Riggs, Bires, Yeley.
Finishing positions 21-30: Burton, Hornish Jr., Labonte, Kurt Busch (two laps down), Montoya, Smith (three laps down), Gilliland, Almirola, Cassill (four laps down), Kvapil.
Finishing positions 11-20: Truex Jr., Stewart, Kenseth, Logano, Vickers, Kyle Busch, Menard, Edwards, Ambrose, McMurray (the first driver a lap down).
Hamlin, Bowyer, Earnhardt Jr., Keselowski, Gordon, Johnson, Harvick, Biffle, Newman complete the top 10.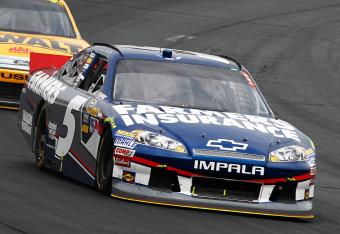 Hamlin overdrives into the corner and backs off. Kasey Kahne wins the Lenox Industrial Tools 301, his second win of the Sprint Cup season!
Kahne's lead is now under a second.
How quickly things change. Lapped traffic has allowed Hamlin to shave the interval to 1.3 seconds with eight laps to go.
With 14 laps to go Hamlin has made little progress in catching up to Kahne. The gap is still 2.6 seconds. He may need a caution.
And Hamlin takes second from Bowyer with 23 to go. He's got 2.856 seconds to make up on Kahne.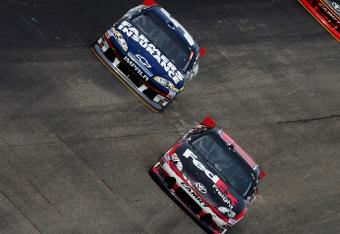 Hamlin watch: 31 to go, 3.290 seconds behind Kahne.
Denny Hamlin is back into the top five with 42 laps to go. He's 4.6 seconds behind Kahne in the lead.
So much for that. Newman is getting passed by a bunch of cars, including a surging Hamlin, who is up to seventh.
Defending race winner Ryan Newman is up to fifth.
On the restart, Kahne and Bowyer have pulled away from the field. Earnhardt Jr. remains third.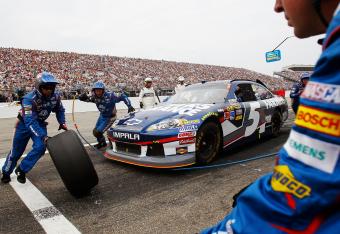 Race off pit road: Kahne, Earnhardt Jr., Harvick, Bowyer, Keselowski, Newman, Gordon, Biffle, Edwards, Logano. Denny Hamlin took four tires, not two, and lost a lot of ground.
Terrible timing for Kyle Busch on that caution. He'll have to take the wave around after falling a lap down during green flag stops and Jimmie Johnson getting the lucky dog.
Third caution for fluid coming from David Reutimann's car.
Jimmie Johnson and Kyle Busch both make their final pit stops. Busch barely overshoots the front line.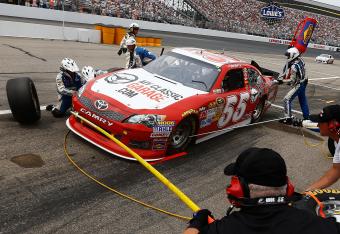 Hey guess who snuck into the top 10 at yet another race on his limited schedule? Brian Vickers is in sixth.
Busch is doing well to hold onto second place, but he's giving teammate Hamlin a great opportunity to extend his lead. He's already padded it by over a second in the past ten laps.
We're through 200 laps and Denny Hamlin still leads. Kyle Busch is still second but about to be passed by Jimmie Johnson and Kasey Kahne.
Restart top five will be Kyle Busch, Hamlin, Kahne, Johnson, and Keselowski.
Jeff Gordon is reportedly claiming to feel a drizzle. If he's right, and it gets worse, Kyle Busch could be alright after all...
This article is
What is the duplicate article?
Why is this article offensive?
Where is this article plagiarized from?
Why is this article poorly edited?