Strikeforce Rockhold vs. Kennedy Results: Jason High Gets Jobbed Not on TV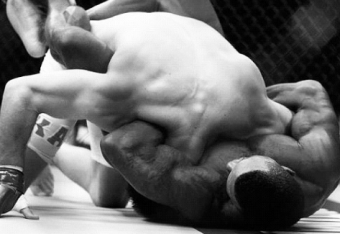 Via Jason High's instagram.

It was one of the funniest jokes on twitter. Adding the hashtag #SinceJasonHighLastFought to tweets about current events of various levels of importance. We did it partly because it was a travesty that Jason waited almost a year for a fight and partly because many of us consider Jason a friend, if only through twitter.
I'm one of those people. I make absolutely no bones about being friendly with Jason. He was one of the first professional fighters to truly embrace the medium and use it to interact with fans and media. He's so good at it that many considered him the all-star of last year's fighter summit, as he kept us all in the loop about the various Zuffa happenings.
He's currently on a seven fight win streak and has been undefeated in almost two years. In that time frame he's defeated Japanese MMA legend Hayato "Mach" Sakurai and Jordan Mein. Yes, the same Jordan Mein whose fight was aired last night on Showtime.
He's now 3-0 in Strikeforce yet I'm not sure there's actually any video evidence to support this. I'm pretty positive I remember him fighting Quinn Mulhern on television, but I couldn't actually say this with 100 percent confidence.
It's obvious that Jason's annoyed at this as well. He's everything a promoter asks for in a fighter. He's great with fans and won't ever make a rape joke. He'll interact with anyone who tweets at him and drop some next level knowledge whenever asked. And they'll never have to worry about a failed drug test as Jason is outspoken when discussing PED usage in sports (he's against it).
So back to the original point, if Jason High fights and no one sees it, did it really happen?
I'd like to think it did. He apparently won his fight in 26 seconds by what he calls a "gullytine". It's a guillotine that's just mad gully. For those that need a definition, gully means either hood or real.
And here's the realness: Jason got jobbed last night.
Showtime apparently didn't even bother recording the choke. I'm only guessing but with it only going 26 seconds, you'd figure they'd at least have time to add it to a video package or montage. I'm upset about that but the biggest travesty is that they couldn't even mention him in the graphics.
That's dirty and Jason has every right to be upset. I hope this was just an honest mistake where all the cameramen left the lens caps on their cameras totally by accident. And then the graphics guy at Showtime Sports forgot to add him to the list of wins from the broadcast. And then Pat, Mauro, and Frank also all happened to miss the fight so they couldn't mention it at any point during the broadcast.
It's plausible. Right?
This article is
What is the duplicate article?
Why is this article offensive?
Where is this article plagiarized from?
Why is this article poorly edited?