London 2012: Projecting Team USA's Chances for Winning Olympic Tennis Gold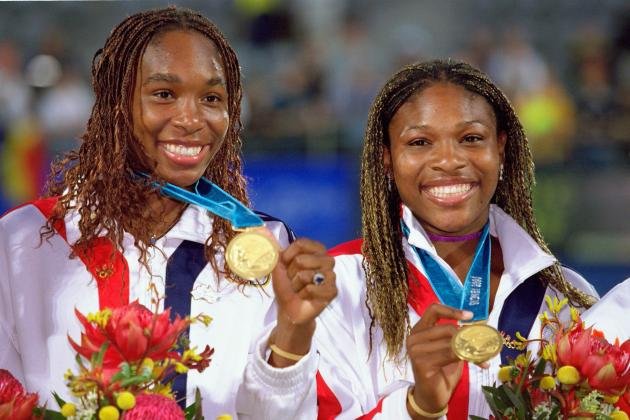 Gary M. Prior/Getty Images

Starting in 1988, the Olympic Committee decided to return tennis to the Summer Games, which was sadly missing from the international event since 1928.

Since the re-emergence of tennis as a sport in the official Olympic program, the United States has captured the most medals in tennis—17 in all. Ten were gold.

Leading them all is former world No. 1 Venus Williams, who earned a gold medal in singles at the 2000 Summer Olympics held in Sydney, as well as two gold medals in doubles earned with her sister Serena in Sydney with another following in Beijing in 2008.

Serena also won two gold medals, both earned in doubles with older sister Venus in 2000 and 2008. The youngest Williams sister, however, has yet to win a gold medal in the singles competition.

In 1996, the United States won three out of four gold medals awarded in tennis, as Andre Agassi won a gold medal in men's singles while Lindsay Davenport did the same in women's tennis. Also adding gold that year were Gigi Fernandez and Mary Jo Fernandez, picking up the gold in women's doubles.

Zina Garrison had a great year in 1988, winning bronze in singles as well as teaming with fellow American Pam Shriver to win gold in doubles at the Summer Olympics in Seoul.

Also in 1988, tennis pros Ken Flach and Robert Seguso won gold for the United States in men's doubles.

In Barcelona in 1992, Jennifer Capriati defeated Germany's Steffi Graf to win gold in women's singles for the United States.

The United States also has two players who each won a silver medal, one step short of gold. The first was earned by Tim Mayotte in Seoul in 1988, and the second was earned by Mardy Fish in Athens in 2004.
Begin Slideshow

»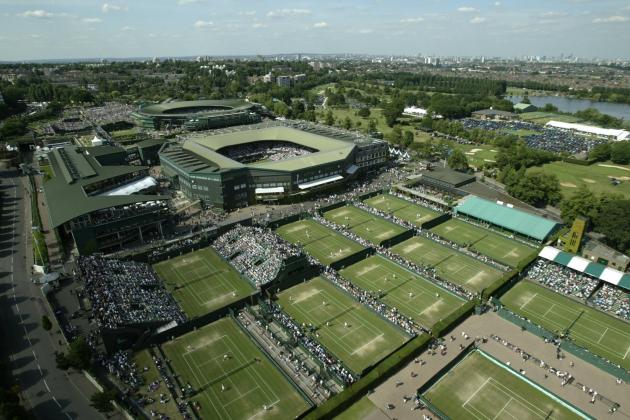 Getty Images/Getty Images

In 2012, tennis at the Summer Olympics will be held at the All England Tennis and Croquet Club at Wimbledon, an annual tournament that concluded just a few weeks ago.
There are 172 players eligible to enter the competition, in all five events—men's singles, women's singles, men's doubles, women's doubles as well as mixed doubles.

Each event will award gold, silver and bronze medals (to each player), which means that there be a total of 24 medals awarded for tennis events at this year's Summer Olympics—with only five gold medals available for all 172 players or teams of players who all wish desperately to win the grand prize.

Each country is limited to 12 players, including four men and four women in singles, with two doubles teams for the men, women and mixed doubles. Play will get underway on July 28, 2012.

The question is, of the 12 men and ladies from the United States heading to London to contend in tennis, which ones have the best chance of securing a gold medal?
Clive Brunskill/Getty Images

The United States is sending Donald Young, one of their young guns, to London for the 2012 Summer Olympics, where he will compete in men's singles at the All England Club.
Much was expected of Young, who had one of his best years on tour in 2011, reaching a career-high No. 39 in the ATP rankings.

Young emerged from an outstanding "juniors" career in tennis, where he achieved the No. 1 ranking at the age of 16 years, five months—the youngest in juniors history. It is understandable that the tennis world is waiting to see all that potential talent unleashed.

This year so far, the young man has had difficulty winning matches. Young has compiled a 2-15 record after a first-round loss to Mikhail Youzhny at Wimbledon.
Perhaps making the Olympic field will give Young the needed impetus to begin his climb to the top of the men's game.

Grass, however, has never yielded good results for the American, although Young says that it is his favorite surface. With his quickness around the court and at the net, grass should prove to be his element.

Best Projected Finish: Round 2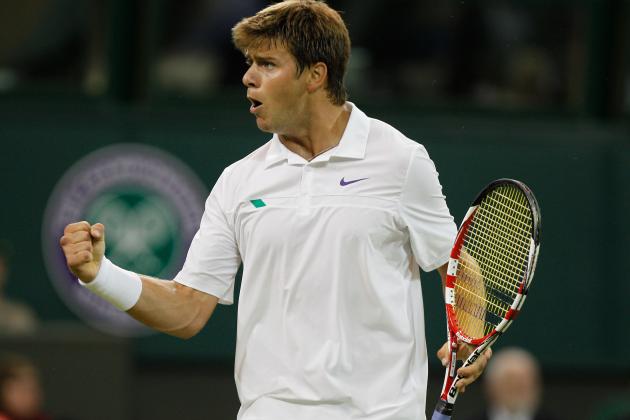 Paul Gilham/Getty Images

Ryan Harrison is one of a new wave of players from the U.S. with seemingly unlimited potential.
Currently ranked inside the men's Top 50, Harrison is still waiting to win his first ATP career title in men's singles. He is getting closer, with several semifinal appearances helping him climb the rankings ladder.

This year on grass, Harrison reached the semifinals at Eastbourne but was bounced in the second round at Wimbledon when he had to face the No. 1 seed, Novak Djokovic. He lost that match in straight sets 6-4, 6-4, 6-4.

In 2011, Harrison had to qualify to reach the main draw. That year he also went out in the second round to No. 6 David Ferrer, in a match that went the distance with Harrison losing 7-6, 1-6, 6-4, 3-6, 2-6. The Spanish dynamo Ferrer simply wore the American out.

Harrison's best years no doubt lie ahead of him, but participating in the 2012 Summer Olympics will prove to be an additional incentive for the young man who is making significant progress on court.

Best Projected Finish: Round 3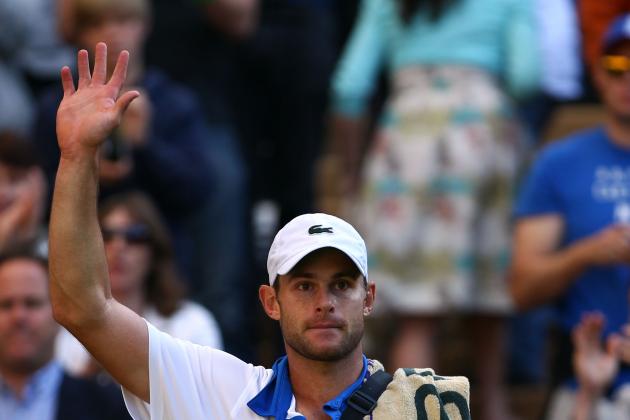 Clive Brunskill/Getty Images

Most feel Andy Roddick's best tennis is behind him. For years, U.S. fans looked to Roddick as America's great tennis hope, certain that Roddick would follow in the footsteps of the recently retired Pete Sampras, in 2002.
Greatness did happen briefly in 2003 when Roddick won the U.S. Open and ascended to the No. 1 ranking.

But after that, Roddick never climbed quite so high again, although the American remained in the men's Top 10 for most of his career.
Having advanced to the championship match three times in 2004, 2005 and in 2009, Roddick has valuable experience in getting to finals at the All England Club.
Out for most of 2012, Roddick made a comeback this summer on the grass. The American had a good run at Wimbledon in 2012 until he met David Ferrer in the third round. Roddick started out strong, winning the first set, but he ultimately fell in four.

Still, Roddick looked good and may have a chance in 2012 to medal.
It would be a real stretch to think Roddick could win a gold medal, but caution dictates that you never count Roddick out of any tournament held on grass. Nonetheless, this year Andy will fall short.

Best Projected Finish: Quarterfinals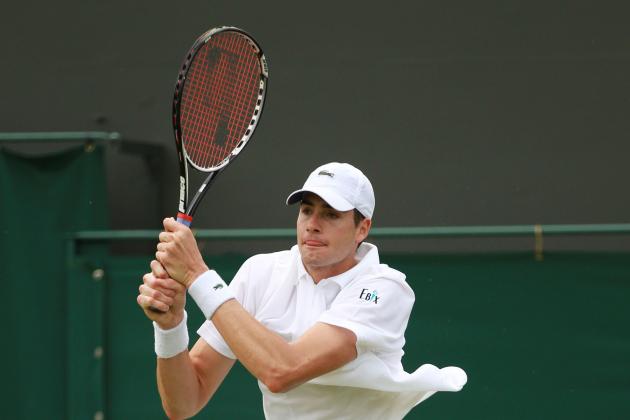 Clive Brunskill/Getty Images

Entering the 2012 Summer Olympics as the No. 10-ranked player in the world, American John Isner is beginning to take advantage of the power of his game. Aided by a wicked first serve and a powerhouse forehand, Isner will be the best hope for a gold medal in men's singles for the U.S.
But big-serving Isner was upset in the opening round of this year's Wimbledon tournament by Columbian Alejandro Falla in five sets. In fact, Isner has never advanced beyond the second round at the All England Club.

Yet anyone who has observed the big man knows that he has one of the best serves in the game. Nothing aids victory more on grass than a potent first serve, so Isner has an excellent chance of advancing a long way, assuming he can get through the first two rounds.

Isner can play on grass, as his record at Newport attests. A winner in 2011, Isner worked himself into the 2012 Newport final where he faced veteran Lleyton Hewitt for the championship. Isner won the tournament for the second year in a row.
That means Isner will be hot coming into the Olympics, giving the American a second chance for glory at Wimbledon—this time in the form of a gold medal?
Not quite, but Isner will do well making it to the latter stages at the 2012 Olympics.

Best Projected Finish: Bronze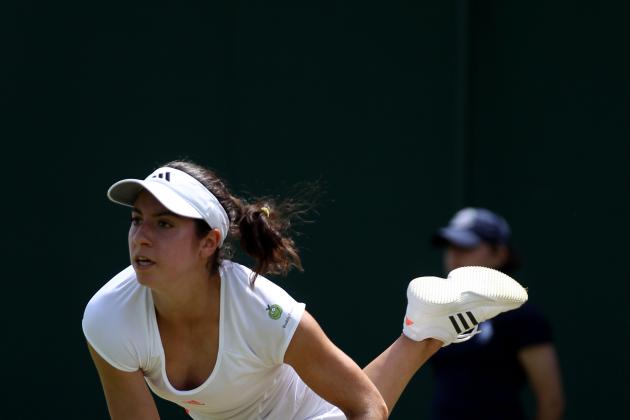 Clive Rose/Getty Images

At age 20, Christina McHale will be traveling to London to participate in the 2012 Summer Olympics, representing Team USA in women's tennis. It is, of course, her first time to participate for her country in the Summer Games.

To date, McHale has completed an impressive year, climbing to No. 29 in the WTA rankings. She has managed to reach the third round of the last four majors and has posted a winning record in 2012, standing 20-13 at the conclusion of Wimbledon.

She is one of the bright new stars in women's tennis for the United States. The experience of participating in the summer games will add to McHale's tennis resume and hopefully provide the young lady with some additional confidence as she heads into the last half of the tennis season.

Best Projected Finish: Round 2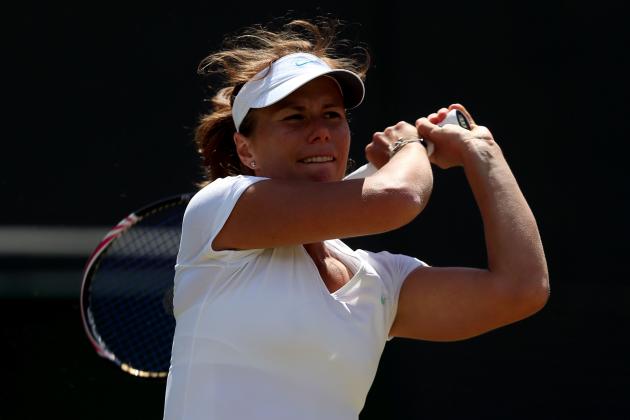 Clive Rose/Getty Images

It sounds more a like a movie script than a tennis bio. Varvara Lepchenko's quest to become a citizen of the United States took many twists and turns as the young lady did battle on the tennis courts after arriving here from Uzbekistan.
She struggled equally as hard to learn English and bring her family together here in the United States. In 2011, Lepchenko was awarded U.S. citizenship.
Almost at once, her tennis began to improve dramatically. Now she gets the chance to represent the United States at the 2012 Summer Olympics. The prospect both delights and challenges her.

Ending 2011 ranked No. 110 by the WTA, Lepchenko climbed all the way to No. 44 in 2012, earning herself a spot on Team USA in the process.
Earlier this month she advanced to the third round at Wimbledon, where she lost to defending champion Petra Kvitova in straight sets.

Best Projected Finish: Round 3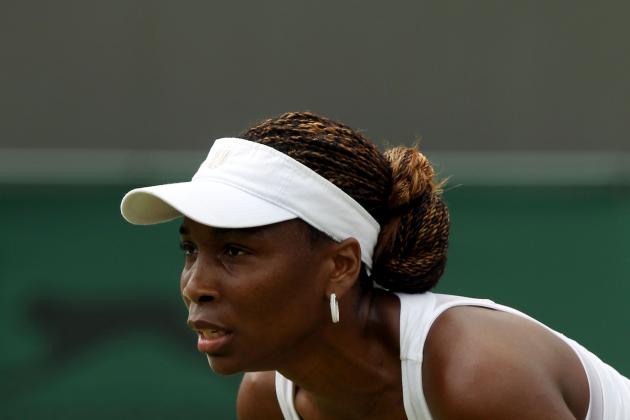 Clive Rose/Getty Images

If there was ever a surface created for the benefit of one player, it was grass for Venus Williams. With her powerful serve and her long reach, grass remains Venus' best surface.
That explains why Wimbledon was the scene of her greatest accomplishments. The American won five singles titles there, often dominating opponents on the other side of the net.

Recently, however, Venus was diagnosed with Sjogren's syndrome, an autoimmune disease which robs her of energy and stamina, two ingredients sorely needed when one plays professional tennis. Venus has struggled to manage the disease while continuing to play.
Even though she lost early at Wimbledon in singles, Venus teamed with sister Serena to capture the Wimbledon title in ladies' doubles.

It is hard to imagine that Venus could win another gold medal in singles—which she did 12 years ago at the Games in Sydney—but it is not preposterous to suppose Venus, teamed with her sister, could win another gold medal in doubles.

Best Projected Finish: Quarterfinals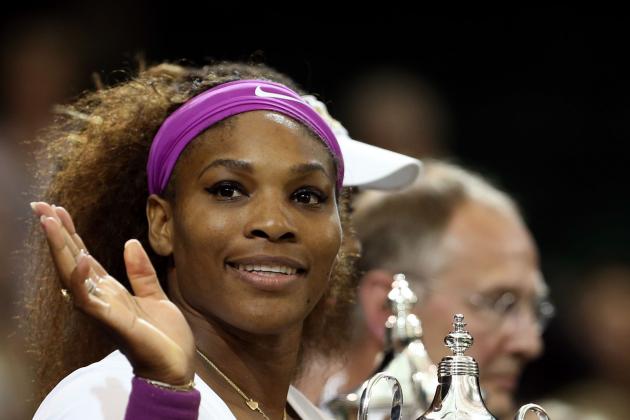 Julian Finney/Getty Images

Serena Williams must be regarded as one of the favorites to win gold in women's tennis going into the Summer Olympics. She just recaptured the 2012 Wimbledon title less than a month ago in both singles and in doubles with her sister Venus.

There is no reason to doubt that Serena has every intention to do the same in London for the Olympics.
Although Serena holds two Olympic gold medals in doubles, strangely enough the youngest Williams sister has never won a medal in singles.

In 2008, Serena lost in the quarterfinals to eventual champion Elena Dementieva of Russia with sister Venus also going out in the same round. But together they won the gold in doubles.

One must suspect that this will be the Williams sisters' last act on the Olympic stage, and with the dramatic flair that has highlighted Serena's tennis career, going out in a blaze of gold would be a fitting end.

Best Projected Finish: Gold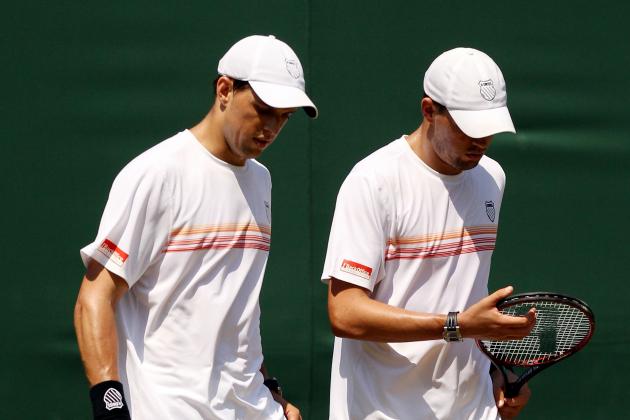 Oli Scarff/Getty Images

The Americans will field the doubles team of the highly successful twin Bryan brothers, Bob and Mike, who captured Olympic bronze four years ago in Beijing.
Additionally, Team USA will send out big-serving John Isner and Andy Roddick, both of whom will do their utmost to advance in order to win an elusive gold medal.

The only time the United States captured gold in men's doubles was in 1988 when Ken Flach and Robert Seguso defeated the Spanish team of Emilio Sanchez Vicario and Sergio Casal in five grueling sets.

Bryan and Bryan is the No. 2-ranked team in men's doubles behind the ATP No. 1-ranked team of Max Mirnyi and Daniel Nestor, who, of course, will not be playing together since they hail from different countries.

This gives the Bryans a distinct advantage at this year's Olympics. The best tennis players in the world will be competing together for a gold medal, but Bob and Mike Bryan bring years of experience playing together on the fabled grass courts of Wimbledon.

Best Projected Finishes

Bryan Brothers: Gold
Isner and Roddick: Quarterfinals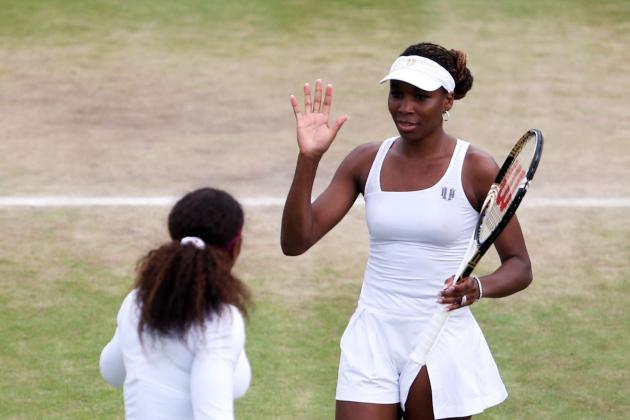 Julian Finney/Getty Images

Women' doubles in tennis will surely bring home gold from the 2012 Summer Olympics. Fielding two top-notch U.S. women's doubles teams, it seems inevitable that one of them should win it all in London.

First on this short list are the doubles-winning Wimbledon champions and reigning Olympic gold medalist Williams sisters. Serena and Venus won the gold medal in women's doubles in Beijing in 2008. They also won the top prize in doubles at the Summer Games in Sydney in 2000.

Joining them in the field of 32 teams is the top-ranked women's doubles team of Liezel Huber and Lisa Raymond. The two have teamed since April of 2011 and won the doubles title at the 2011 U.S. Open.

At this year's Wimbledon, Raymond and Huber lost to the Williams sisters in the semifinals. After winning the open set the pair lost the final two, giving the Williams sisters a ticket to the final—which they won.

Best Projected Finishes

Venus and Serena Williams: Gold

Lisa Raymond and Liezel Huber: Silver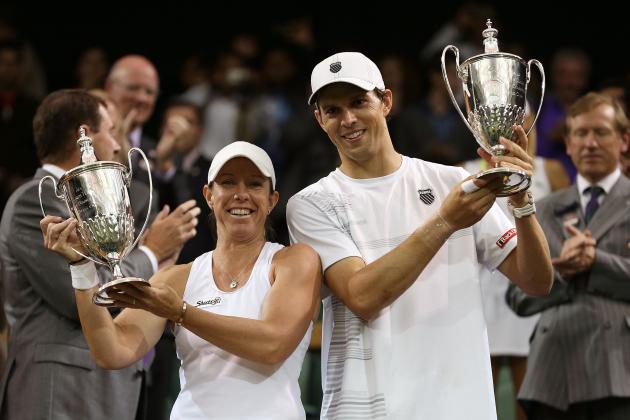 Julian Finney/Getty Images

This marks the first year since 1924 that mixed doubles will be included in the Summer Games as an official part of the tennis program.
The field will include 16 teams that will be determined once the players reach London. Team USA will be selected from the pool of tennis players representing the United States.

It seems very likely that the team of Mike Bryan and Lisa Raymond, who won the mixed doubles title at Wimbledon, will be one of the pairs entered in this year's field.
Having tasted victory on the green lawns earlier this summer, they appear to be strong contenders for the gold.
We might also see Liezel Huber team with Bob Bryan for a shot at a gold medal in mixed doubles.

Depending on her health, there has also been talk of Andy Roddick teaming with Serena Williams in this competition. But at this point, not knowing, we can only speculate.

Best Projected Finish: Mike Bryan and Lisa Raymond, Gold