Washington Redskins Complete 2012 NFL Preseason and Training Camp Guide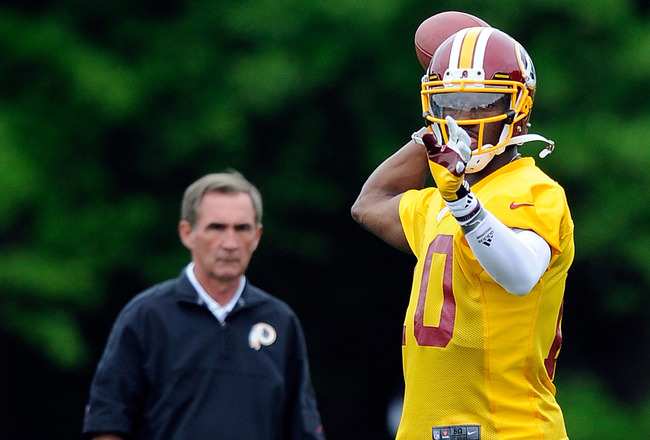 Patrick McDermott/Getty Images
With 2012 being the most highly-anticipated Redskins season in decades, this year's camp has all the makings of an entertaining offseason.
Aside from drafting college football's most electrifying player and Heisman Trophy winner, head coach Mike Shanahan enters his third season in Washington with a firm establishment of his guys.
Unlike the Redskins' typical summer, free agency held some sort of financial responsibility, as the team opened their wallet but acquired only what was necessary.
Another solid draft out of Shanahan continues to form a positive locker room—injecting leadership and character—while in the meantime adding necessary depth to key positions.
And did I mention that RG3 guy?
The following Redskins' training camp guide contains all the information you need heading into this offseason and through the preseason. From players on the roster bubble to introducing the undrafted free agent class, this guide has you covered.
Looking to attend Redskins' training camp in person? Look no further than slides five and six, providing you with all the info you need and answering all your frequently asked questions before heading to Redskins Park.
Here's to an entertaining offseason. Enjoy! And hail to the Redskins.
The Biggest Question Marks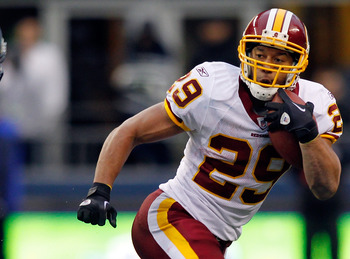 Jonathan Ferrey/Getty Images
Even reigning Super Bowl Champions have questions entering camp, and the Redskins are far from champions at this point.
While not all questions are necessarily negative, they're still a concern.
Who Steps Up at Wide Receiver?
If there were ever a good question for the Redskins to have heading into this season, it likely comes by way of the receiver position.
As one of the team's most currently crowded positions, the Redskins have enough talent to know that there will be someone that steps up and breaks out. It's simply a matter of who.
If Hankerson can stay healthy after his injury from last season, he has the physical makings of a solid receiver. If Pierre Garcon can reestablish himself in a new offense in a new setting, then he's due to have his best season as a pro.
If Josh Morgan has made a full recovery and can settle in with his hometown team, than he's a dangerous threat in the slot. And if veteran Santana Moss can return to his old ways at the ripe age of 33, then Robert Griffin III has likely found a new sense of comfort.
While we can't expect all of these things to happen, it'd be extremely hard to find a number of fans that would bat an eye at one or two of these guys pulling through this season in a big way.
To Live and Die By the Offensive Line
As I've mentioned in previous writings, the 2012 Washington Redskins will live and die by their offensive line. And even more so than the talent of the guys up front, it's the health of the offensive line that raises the most question.
Will Kory Lichtensteiger make a full recovery and return to early 2011 form? Can Jammal Brown stay healthy? Does anyone consider the center position an established one with Will Montgomery as the starter?
Welcome to the league, Rook
The question marks surrounding last year's Heisman Trophy winner are obvious. Any time a stud college player enters the NFL, fans inject the hype, teams gush with excitement and expectations run high.
For Robert Griffin III, imagine all of that and then some.
Perhaps it's not a question mark, but rookies are never sure things. Given what the Redskins surrendered in order to make RG3 their guy, all eyes are on his play. And they will be all season.
Avoiding Extracurriculars
Arguably one of the biggest questions this season: How will Fred Davis hold up? And ironically, that question isn't formed with any regard to health. Quite frankly, Davis just needs to grow up and act like a professional athlete. If he can conduct himself off the field, his potential on the field is through the roof.
Runner By Committee
In a backfield operated by Mike Shanahan, trying to name the "starter" isn't exactly necessary.
Shanahan—given his stable in Washington—will likely use every back for his strongest suits. The question remains, however, does versatility reign supreme?
Would Shanahan lean heavily towards the do-it-all style of Roy Helu? Or would he opt to go for a downhill presence like Evan Royster?
And not to harp on health, but questions remain regarding Tim Hightower and his recovery from ACL surgery. He's a good runner and a great blocker, but that's knee permitting.
Secondary Under Raheem Morris
The secondary has the making of a platoon position for the Redskins in 2012. Although there are a lot of names on the roster, it says nothing about the overall talent.
DeAngelo Hall is technically still the team's No. 1, but Josh Wilson's abilities are actually more deserving. Is there a chance that Hall moves to the inside to make better use of his gambling playmaking abilities?
Who sifts through the camp battle? How much of a presence does new position coach Raheem Morris have on the defensive unit?
The Other Inside Man
Some will say it's a simple call, but camp has its way of making things interesting.
With the outside linebacker positions held down by Ryan Kerrigan and Brian Orakpo, veteran London Fletcher helps to hold down the middle. But who lines up alongside him?
Perry Riley may seem like the early favorite, but counting out guys like Lorenzo Alexander and Jonathan Goff is a mistake.
The Best Foot
Graham Gano has held his position for a couple years, but not without severe criticism. This summer, veteran Neil Rackers was brought in to battle with Gano, and the fight doesn't appear to be easy. Gano may have the power, but can he find some consistency and hold off Rackers?
Players on the Roster Bubble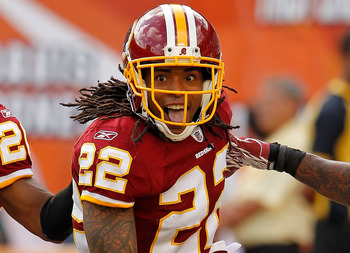 Mike Ehrmann/Getty Images
If it were up to coaches, I'm sure they'd keep every player on the camp roster and probably go out and sign a few more. But NFL rules allow only 53 men, which in turn places rookies and veterans alike on the bubble.
Running Back
Guys like Lennon Creer, Tristan Davis and Antwon Bailey are likely just roster-fillers. The bigger name on the bubble would be 2012 draft pick Alfred Morris.
Depending on how Shanahan envisions the bruiser in the offense, Morris may very well become a practice-squad player for his rookie season.
Wide Receiver
With a position as crowded as the Redskins' receiver group, cuts and releases are guaranteed.
Terrence Austin and Aldrick Robinson may be battling each other, as they are both good slot receivers with the ability to return kicks. Austin has shown talent when given the chance, while Robinson appeared to impress coaches as part of the practice squad last season.
After injuries led him to a disappointing season last year, Anthony Armstrong is far from a sure thing this camp. Although he offers the vertical speed to get behind defenses, the Redskins have other receivers this season who can do the same.
One guy to keep an eye on is Lance Lewis—a rookie out of East Carolina. Lewis has a unique blend of size and football IQ that could make him a great fit for the slot position. Unfortunately for Lewis, the Redskins invested in Josh Morgan for the sole purpose of the slot receiver spot. Needless to say, it won't be easy for Lewis.
Brandon Banks has become a fan favorite since joining the Redskins two years ago, but this season could be Banks' toughest roster challenge yet.
Due to his small stature, Banks has been unable to contribute in areas other than kick/punt returns. With the current roster shape, Banks will need to develop more as a wide receiver and/or offensive specialist if he wants to remain with the Redskins. His electricity as a returner simply won't be enough.
Offensive Line
Redskins fans are accustomed to poor offensive-line play. Whether it be lack of talent or endless injuries, the Redskins can never seem to throw together a decent bunch in the trench.
In Shanahan's system, the offensive line could be the best fans have seen in quite some time. For the first time in a while, some Redskins casualties could actually be added benefit for other teams.
At the center position, it's safe to say that starter Will Montgomery is better off as a backup. But for now, he remains the starter. His backup? Erik Cook and UDFA Grant Garner likely battle for that spot, without room for both of them.
Maurice Hurt came in last year to fill a vacant guard spot, but his play was suspect. Not that we've seen what rookie Josh LeRibeus can do at the NFL level, but I'd be willing to bet he's better than Hurt. And that doesn't bode well for Hurt's chances of remaining on the roster.
Tyler Polumbus and rookie Tom Compton are both tackles that (I believe) could be valuable backups for the Redskins in 2012. Polumbus showed some tenacity last season, and Compton brings with him a pretty impressive collegiate resume. Both guys are large enough, yet fluid. But is there roster room for both?
Defensive Line
The Redskins' defensive line is one of the team's strongest positions, toting five names in the first six-deep that could compete for a starting position with other teams. That means that things won't be easy for backups like Kentwan Balmer, Darrion Scott and Doug Worthington.
Linebackers
With the signing of Jonathan Goff and the drafting of Keenan Robinson, the linebacker position got a lot tougher for Chris Wilson, Markus White and Rob Jackson. However, pass-rushers are a hot commodity in Jim Haslett's defensive scheme, so there could be a few surprising keeps amongst the position.
Cornerbacks
As a big question mark for the Redskins this season, the coming and going of the secondary will be an entertaining piece of camp.
Since being drafted by the team, Kevin Barnes has struggled with consistency. He's not a great cover man, but his ability to play both the nickel and safety positions increases his value. But added roster potential this season at the cornerback position doesn't help Barnes' chances.
After spending a majority of his rookie season on the practice squad last year, Brandyn Thompson has a good chance of making the team this season. That's not to say it will be easy. Even with a lot of talent, Thompson is undersized, and he'll have his work cut out for him.
Rookies Chase Minnifield and Richard Crawford have good and decent chances of making the roster, respectively. But it's far from a promise.
Minnifield was an UDFA who watched his second-round draft grade slip more than any other prospect due to injury. If he's fully recovered, he makes this team. If he can't get (and stay) healthy, it's a very unfortunate situation for a very talented football player.
Crawford, on the other hand, was a late-round draft pick who the front office obviously thought could come in and compete for depth. Although he isn't a flashy corner in the secondary, Crawford is physical and has some room to grow.
Finally, fellow rookie Jordan Bernstine could be a long shot to make the roster. Battling injuries of his own, Bernstine does have the added ability to return kicks that could make him slightly more valuable when coaches put him head-to-head against another corner.
Safety
Assuming that Brandon Meriweather, Tanard Jackson and Reed Doughty make the team, Maryland alum Madieu Williams may find himself on the outside looking in.
The safety position is another one where the starting gig appears up for grabs, so predicting how camp plays out for that specific spot is nearly impossible.
Kicker
As mentioned on the previous slide, Neil Rackers was brought in to battle with current kicker Graham Gano, so each guy should be considered "on the bubble" through the preseason.
Players to Watch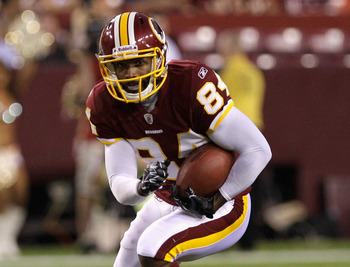 Rob Carr/Getty Images
With a team like the Redskins—whom we'd all like to believe is on the rise—every man competing for a roster spot is considered a player to watch closely. But, naturally, it's the rookies and newcomers that grab our attention the most.
Keenan Robinson
Although physically best-suited as an outside linebacker, this rookie has incredible read-and-react that could go a very long way if he works to learn playing the inside of a 3-4 scheme. Having a mentor like London Fletcher probably isn't a bad way to go, either.
Lance Lewis
Maybe more than anyone else, I'm a big fan of the undrafted rookie from East Carolina. Lewis isn't flashy, and he doesn't necessarily fit the mold of a YAC receiver or playmaker, but he's reliable. He has good size for a potential slot receiver position, plays physically, possesses good body control, understands the game and has very good hands.
With likely more than a dozen receivers entering camp, Lewis will have his hands full. But if there's any sort of surprise that could develop over the course of the preseason, Lance Lewis could be it.
Josh LeRibeus
Some questioned the Redskins' strategy when they selected the SMU guard in the third round, so his rookie camp will be closely observed. Not to mention, LeRibeus is thought to be one of the cornerstones in the Redskins' developing offensive line of the future.
Niles Paul
As an official member of the very informal fan club, I am most excited about Niles Paul and his future with the Redskins.
After being drafted as a wide receiver last season, Paul was switched to tight end during the offseason and has been working there ever since. And after Mike Shanahan referred to Shannon Sharpe when asked about Paul's potential at the new position, it's easy to label him an intriguing hybrid receiver.
Paul plays very physical and with good speed, as well as committing himself as a blocker. For all aspects of his game, perhaps Paul is best suited for tight end.
Chase Minnifield
Once considered a borderline first-round pick in the 2012 NFL draft, Chase Minnifield fell off of draft boards solely due to injury.
The Redskins were lucky enough to snag Minnifield as an UDFA, and he has serious potential at the next level.
With obvious health concerns, the important part is to watch just how skillful Minnifield is while participating in camp. If he can stay healthy, he makes this team.
Jonathan Goff
Entering his fourth NFL season after spending his first three years with the New York Giants, Goff has all the tools to be a productive starter in the NFL.
Coming from a well-coached defense in New York, Goff has valuable experience and is also accustomed to winning. With an inside linebacker position to compete for, Goff should be fun to watch.
Adam Gettis
Although likely drafted for the purpose of depth, rookie Adam Gettis could become a starter. He comes from a zone-blocking scheme in college, and he may even get some looks at center.
Tom Compton
While I don't think Compton has quite the lateral quickness/movement to become a starting left tackle, I do think he has potential on the right side.
Compton has NFL size, he's strong and he understands the game. Shanahan and the coaching staff will look to improve Compton's technique and see how he matches up against much better competition after playing college ball in the FCS.
Terrence Austin
Austin has been one of my favorite receivers on the team since joining the Redskins two years ago as a late-round pick.
Although Austin never received much playing time, he always made the most of it when he was on the field. And up until this season, Austin was arguably the Redskins' best YAC receiver.
He'll be competing for a roster spot this season, but you can bet that he'll show up when and where he needs to.
Alfred Morris
The sixth-round rookie is an intriguing player this summer, simply because we don't know how Shanahan plans to use him in the offense.
Morris is a big-framed downhill runner that would benefit in the one-cut scheme. But with Helu, Royster and Hightower returning to the backfield, perhaps Shanahan finds work for Morris somewhere else on the roster.
Perry Riley
A majority of fans tend to think that Perry Riley is the shoo-in for the inside linebacker spot opposite London Fletcher. This camp will tell all.
I'm not saying Riley isn't deserving. I'm simply refusing to sleep on Lorenzo Alexander or Jonathan Goff.
Kirk Cousins
For obvious reasons.
Shanahan and the Redskins raised some eyebrows when they selected Cousins in the fourth round of the draft, so criticism is expected once he takes the field.
With RG3 as the untested starter, Cousins will receive a lot of reps throughout camp and the preseason. We'll have no choice but to keep at eye on him.
Brandon Meriweather
As arguably the Redskins' best safety entering this season, Brandon Meriweather has big shoes to fill.
Not that former safety LaRon Landry was ever great in coverage or reliable over the course of 17 weeks, but he was a presence on the field and a crowd pleaser. It will be interesting to see how Meriweather takes over.
Rex Grossman
Pure comic relief, here.
No one cares about Rex.
Best Depth-Chart Battles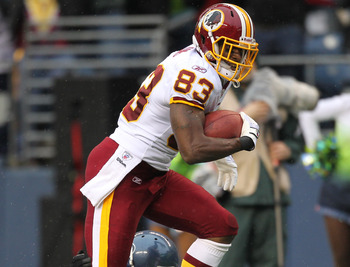 Otto Greule Jr/Getty Images
What would training camp be without position battles? Young guys coming for the veteran's job and undrafted free agents proving why they should have been selected is what it's all about. Some of the depth chart rumblings will be pure entertainment.
Running Back
When the position under Mike Shanahan is typically ran as a group rather than a single starter, the depth-chart battle is always intriguing.
For the Redskins' running backs this season, fans can expect exactly that.
Roy Helu likely enters the season as the starter, with Evan Royster serving as the change-of-pace bruising style of play.
Tim Hightower, assuming he fully recovers from ACL surgery, should also see a lot of action. Although Helu's versatility as both a runner and receiver out of the backfield give him a slight edge, Hightower's pass-blocking is a highly-coveted attribute.
Wide Receiver
There are just too many names on the roster to not have some sort of entertaining and intriguing battle at the wide receiver position. And talented names with potential, no less.
Outside of Garcon, Hankerson, Moss and Morgan, guys will compete very hard for the remaining two to four spots (presumably).
This could be the season that Terrance Austin gets his fair shake and takes the top off his game.
Aldrick Robinson has the attention of coaches, as both a slot receiver and return man.
Shanahan knows what he has in Anthony Armstrong when he's healthy. This season—with more talent on the roster—Armstrong will have even more to worry about than just staying healthy.
Brandon Banks will battle as a receiver, simply because retaining him as a return man is not entirely worth it. Although undersized and lacking experience, Banks is a competitor. And no one should be surprised to see Banks in special packages—just working to get the ball in his hands and giving him a chance to make a play.
Amongst the lesser-known names of Brian Hernandez, Darius Hanks, Lance Lewis and Sam Kirkland, I think the battle lies mainly on the shoulders of Lewis. Although Hernandez has looked good in practice, I'd guess Lewis to be the guy that pushes for a spot.
That said, the work and fight amongst the lesser-known group is the best to watch. These guys know that roster spots are far from guaranteed, and they seize the moment.
Tight End
Assuming Fred Davis can find a way to grow up, the starting tight end spot is his to lose.
Veteran and favorite Chris Cooley is expected to be back, but there are questions surrounding his health and the front office's desire to keep his contract.
Behind those two, converted wide receiver Niles Paul takes his place on the roster as a hybrid tight end—which is becoming a popular trend amongst NFL offenses. Paul has the physical makeup, the hands, speed and blocking ability to make the transition. It will be interesting to see where he stacks up with the guys ahead of him.
And while I think Shanahan ultimately goes into the season with three or four tight ends, Robert Quinn, Logan Paulsen, Beau Reliford and Rob Meyers should all compete for that final spot. With Davis, Cooley and Paul contributing primarily as receiving tight ends, I would guess that a blocker like Quinn or Paulsen battle for the fourth spot.
Inside Linebacker
With three of the four linebacker positions solidified, it's the inside linebacker position that at least two players will battle for during camp.
Entering his third season (all with the Redskins), Perry Riley appears to be the favorite alongside London Fletcher in the middle of Jim Haslett's defense. But free-agent addition Jonathan Goff and Lorenzo "Mr. Everything" Alexander are two very capable athletes and competitors for the spot.
Offensive Line
The starting five seem established with Williams, Lichtensteiger, Montgomery, Chester and Brown. But after the coaching staff worked on the line's depth during the offseason, they're workings throughout camp should be interesting.
Willie Smith, an UDFA last season, played well when he saw the field during his rookie season and he looks to have potential at right tackle. He should battle with Tyler Polumbus and rookie Tom Compton for the job. It should be noted, too, that Polumbus has been getting looks at guard.
Rookies Josh LeRibeus and Adam Gettis should battle for backup guard positions, with each of them possibly being able to contribute at the center as well.
Cornerback
From top to bottom, there should be competition at the cornerback position. Even if we assume that DeAngelo Hall remains the Redskins' No. 1 corner, Josh Wilson isn't far behind as the team's best cover-corner.
Behind Hall and Wilson should be recently acquired Cedric Griffin and fourth-year man Kevin Barnes. Griffin's spot should be safe, seeing as how he was signed to a free-agent deal. Barnes, however, seems like he could face a tougher battle.
Brandyn Thompson will up the competition for others, as his time spent on the practice squad for his rookie season last year has already shown off his talents to coaches.
Battling Thompson—perhaps directly—will be Virginia alum Chase Minnifield. After spending productive seasons with the Wahoos, Minnifield went undrafted due to injuries, but he has the potential to be an absolute steal. If there's any cornerback that Redskins fans should watch closely, it's Minnifield.
Safety
Staying true to the chaotic secondary, the safety position shouldn't be any easier to forecast than the cornerbacks.
Brandon Meriweather was signed as a free agent to come in and take the place of LaRon Landry after he left for the New York Jets. His contract likely means that he stays with the team, but his starting gig isn't a guarantee.
Hometown player Tanard Jackson was also signed and looks to rejuvenate his career under Raheem Morris—his head coach in Tampa Bay. A healthy Jackson in his hometown should be enough motivation for him to push the others.
Reed Doughty has remained with the Redskins through umpteen coordinators and coaches, so his passion and work ethic this offseason should be no different than in years past. Although his coverage skills are suspect at times, something has to be said for Doughty's resiliency and ability to adapt to new schemes.
DeJon Gomes had quite the learning experience last year during his rookie season, and Shanahan seemed satisfied. His athleticism and progression as a rookie could be enough to give Gomes a shot at the starting safety position.
Kicker
And then there were two.
After watching Graham Gano and his inconsistency over the last two seasons, Neil Rackers was signed to come in and make for friendly competition.
Because we all know that two kickers won't be retained, the Redskins' starting kicker will be a direct result of who performs better in camp.
Full Redskins' Training Camp and Preseason Schedule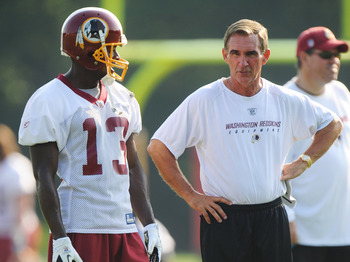 Mitchell Layton/Getty Images
Here is the complete schedule, including specific practice times, for Redskins Training Camp. All information is directly from the Redskins team website and can be found, here.
All practice times and dates are subject to change
For all open afternoon practices, parking lots will open at noon, gates will open at 1 p.m. and practice will begin at 2:55 p.m.
Generally, practice times last between 90 minutes and two hours, so fans are encouraged to come early.
Gates close at 6 p.m., and all fans must have exited the premises.
The following dates are open practices to the public and will begin at approximately 2:55 p.m.
Thursday, July 26; Friday, July 27; Saturday, July 28; Monday, July 30; Tuesday, July 31; Wednesday, August 1; Thursday, August 2 and Friday August 3
Saturday, August 4: Fan Appreciation Day!
Practice starts at 12 noon. Previous years' Fan Appreciation Days have drawn huge crowds of spectators, so please arrive early. Parking lots open at 8 a.m., gates open at 9 a.m. and practice begins at noon.
Monday, August 6; Saturday, August 11; Monday, August 13 and Tuesday, August 14.
All practices from this date on will be closed to the public.
Preseason Schedule
Week 1: At Buffalo, Thursday 8/9 at 7:00pm
Week 2: At Chicago, Saturday 8/18 at 8:00pm
Week 3: Vs. Indianapolis, Saturday 8/25 at 4:00pm
Week 4: Vs. Tampa Bay, Wednesday 8/29 at 7:30pm
Redskins' Training Camp Info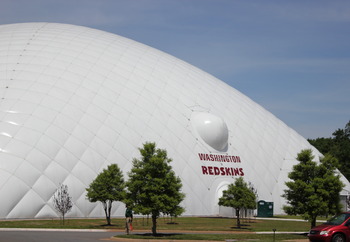 Redskins New Practice Bubble / Courtesy of Shae Cronin
Although the team has announced its plans to move training camp to Richmond, Virginia in 2013, this year's camp will take place entirely at Redskins Park, located at 21300 Redskin Park Drive, Ashburn, VA 20147.
Parking and admission to Redskins Training Camp are free.
Cash-only vendors will be on campus selling snacks and beverages, but feel free to bring coolers with your own goodies. Of course, any and all alcohol is prohibited.
Unfortunately for all the dog lovers, pets are not allowed at camp.
The Redskins don't set up bleachers or stadium seating. However, attendees are permitted to bring their own chairs in order to relax in the designated areas.
Finally, for the best part of camp, fans should remember to bring cameras (for still shots only, no video) and all the essentials to score autographs from both players and coaches following practice.
For directions to Redskins Park and access to your free fan invite, visit Redskins.com.
Full Redskins' Camp Roster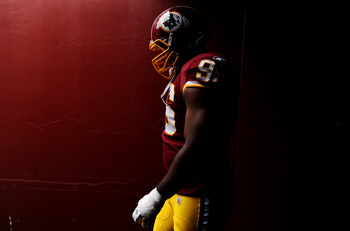 Patrick Smith/Getty Images
This list was assembled from the player list provided by the Redskins team website. Unsigned rookies were added. Roster subject to change.
Quarterback
Kirk Cousins, Jonathan Crompton, Robert Griffin III, Rex Grossman
Running Back
Antwon Bailey, Lennon Creer, Tristan Davis, Roy Helu Jr., Tim Hightower, Alfred Morris, Evan Royster, Darrel Young (FB)
Tight End
Chris Cooley, Fred Davis, Logan Paulsen, Richard Quinn, Beau Realiford
Receiver
Anthony Armstrong, Terrence Austin, Brandon Banks, Pierre Garcon, Leonard Hankerson, Darius Hanks, Brian Hernandez, Sam Kirkland, Lance Lewis, Josh Morgan, Santana Moss, Niles Paul, Aldrick Robinson
Offensive Line
Jammal Brown, Chris Chester, Tom Compton, Erik Cook, Grant Garner, Adam Gettis, Maurice Hurt, James Lee, Josh LeRibeus, Kory LIchtensteiger, Nick Martinez, Nevin McCaskill, Will Montgomery, Tyler Polumbus, Willie Smith, Trent Williams
Defensive Line
Chris Baker, Kentwan Balmer, Stephen Bowen, Adam Carriker, Barry Cofield, Kedric Golston, Jarvis Jenkins, Delvin Johnson, Truck Neild, Darrion Scott, Doug Worthington
Linebackers
Lorenzo Alexander, London Fletcher, Jonathan Goff, Donnell Holt, Rob Jackson, Bryan Kehl, Ryan Kerrigan, Monte Lewis, Brian McNally, Brian Orakpo, Perry Riley, Keenan Robinson, Markus White, Chris Wilson
Defensive Backs
Kevin Barnes, Travon Bellamy, Jordan Bernstine, Richard Crawford, Reed Doughty, DeJon Gomes, Cedric Griffin, DeAngelo Hall, Tanard Jackson, Brandon Meriweather, Chase Minnifield, Brandyn Thompson, Morgan Trent, Madieu Williams, Josh Wilson
Specialists
Graham Gano, Neil Rackers, Sav Rocca
Redskins' 2012 Rookie Class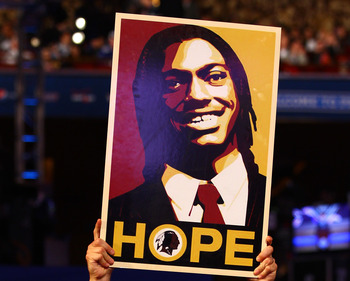 Al Bello/Getty Images
Another valuable draft class for Mike Shanahan generates potential for the future and adds depth in the meantime.
Robert Griffin III, Quarterback
It was what all Redskins fans had hoped for—a franchise quarterback.
After suffering for more than two decades to find a viable and trustworthy signal-caller, Mike Shanahan and the front office loaded up and made a bold move for a Heisman Trophy winner that they believe can change the direction of the Washington franchise.
From a skill-set perspective, Griffin has often been compared to Steve Young. He has a strong and accurate arm but is gifted with good field vision and the wheels to run with the football.
And most of all, he's intelligent. Griffin understands the game of football, he understands what it takes to be a leader and he appears to have already grasped what it means to be a professional.
Griffin possesses all of the traits that Shanahan looks for in a quarterback. In addition to his field smarts, the dual-threat style of play can cause fits for opposing defenses. Shanahan also prides himself on bootlegs and play-action—things that Griffin can do in his sleep.
Robert Griffin III is the sole reason why Redskins fans can't wait for 2012.
Josh LeRibeus, Offensive Line
Drafted with the intentions of bringing his tenacity as a blocker to a new reign of Redskins offensive linemen, LeRibeus will be an interesting watch this season.
He was somewhat of a surprise selection in Round 3 last April, but that was based off fans' lack of familiarity with LeRibeus or the SMU football program.
However, when Shanahan looked at tape, things obviously stood out. LeRibeus plays with good bend and has impressive upper-body strength—two keys to solid guard play. He also understands how to use his hands effectively to generate leverage and overpower his opponent.
Shanahan likely fell in love with LeRibeus' attitude on the field, as well as his technique. An obvious concern with the 312-pounder is his junior season at SMU, in which he missed all of 2010 because he couldn't remain academically eligible. LeRibeus also struggled to maintain weight as an underclassman, at one point tipping the scales at 380 pounds.
In Shanahan's system, LeRibeus is a great fit. Although he's best suited at guard, I wouldn't be surprised to see him get some reps at center during camp and preseason games. And if all goes as planned, LeRibeus will be a large building block in the construction of a youthful and dominant Washington offensive line.
Kirk Cousins, Quarterback
It was slightly shocking to hear Kirk Cousins' name announced for the Redskins, but that feeling appears only to be initial reaction. After sleeping on it, drafting Cousins makes a lot of sense.
At the end of the day, having a reliable backup quarterback plays a huge role in the NFL. And that's especially true when your starting quarterback is a playmaker with the threat to breakdown a defense and run on nearly every drop-back.
Cousins will make this team and hopefully battle with veteran Rex Grossman for the No. 2 spot. And if he does end up a No. 3, Shanahan will keep him on the roster. Not only does Cousins serve as a leader and good locker-room presence, but he'd also be gobbled up if the Redskins designated him to the practice squad.
With what we've seen lately in the NFL regarding backup quarterbacks and their ability to impress other teams with just one or two outings, there's always a chance that Cousins turns into the next Matt Schaub, Kevin Kolb or Matt Flynn. Not in terms of talent per se, but in terms of becoming hot trade bait. The Redskins, in turn, are the beneficiary.
Keenan Robinson, Linebacker
As a closet fan of the Texas Longhorns, my opinion regarding Keenan Robinson is a little jaded.
While I won't come out and say he's the best linebacker since so-and-so, I will say that I think he has a lot of potential in the NFL.
Although not a great pass-rusher, Robinson is very effective in the read-and-react game. He has the football IQ to breakdown plays and fill gaps, while at the same time demonstrating the ability to be a reliable man in coverage.
In Jim Haslett's scheme, I envision Robinson as a potential starter on the inside. Again, his solid coverage skills for a linebacker are an asset and his tackling—although not explosive—is sure enough to comfortably play him at the position.
There shouldn't be any doubt that Robinson makes this team, but he'll have some learning to do before Shanahan and the Redskins fully trust him. Things like gaining leverage, using his strength effectively and shedding blocks are all aspects of Robinson's game that need some work.
Adam Gettis, Offensive Line
Perhaps initially drafted for the purpose of depth, fans could be surprised when they watch Adam Gettis.
As an undersized guard, Gettis comes from a zone-blocking scheme in college. He has the type of athleticism that Shanahan tends to covet in his linemen and coaches may even try him at other positions.
I won't predict Gettis as a Week 1 starter for the 'Skins, but I also won't say that he's a career backup. He has the frame to add power, the athleticism for the system and the technique to succeed.
Alfred Morris, Running Back
I can't speak for everyone, but I wasn't huge on this draft pick at the time. Since then, I've come to realize the potential of Alfred Morris in Shanahan's offense and it seems to work.
Morris is a large-frame back that plays with power. He's not necessarily agile or shifty, but he has a way to slip through holes and keep his feet moving downhill.
Assuming names like Helu, Hightower and Royster make the team, I still believe there's room for Morris next to fullback Darrel Young.
Shanahan can use Morris in a couple different ways, but his showcase during the preseason will directly forecast his spot on the 53-man or practice squad.
Tom Compton, Offensive Tackle
Coming out last year, Tom Compton was one of my favorite tackles. The only concern with him as a prospect was his small-school opposition throughout college and the curve he may face in the NFL.
Physically, Compton has the making of a starting offensive tackle. At 6'5" and 314 pounds, Compton moves very well and displays great athleticism for his size and for the position. He is very aggressive in his play and he engages quickly using his long arms and upper body strength.
Compton is also known for being a little nasty—acting as a brawler on the offensive line. That attitude never hurts.
Compton took advantage of his size and strength in college to dominate the opposition, but his technique will need to improve in the NFL. Once he polishes his technique and gets up to speed, I envision Compton as a potential starter at right tackle.
Richard Crawford, Cornerback
Another prospect with questions regarding his level of competition in college, Richard Crawford is a cornerback project that may find himself in the same situation as Brandyn Thompson did last season.
Crawford is an aggressive corner who has great eyes for the quarterback and breaking down routes. Not to be confused with a gambler, Crawford has good read-and-react that make for a disciplined game of when to bite and when to stay at home. He isn't deceived by the double-move, and he wastes very little time initiating contact.
If there's any position that provides a good chance for a rookie, cornerback is one of them. Not only do the Redskins need depth at the position, but the talent at the top of the chart isn't necessarily stellar.
That said, it wouldn't shock me to see Crawford end up on the practice squad and possibly make his way to the roster next year. Like Compton, Crawford's level of competition while playing at SMU raises a few concerns. Crawford will need time to adjust to the speed of the game, get used to the big stage and experience elite competition.
Jordan Bernstine, Defensive Back
The Redskins' last pick was based on adding depth to the secondary, but the team landed a rather versatile football player in the process.
In addition to playing both corner and safety, Bernstine has experience as a kick returner and the speed to be effective at doing so in the NFL.
Like Crawford, Bernstine has the opportunity to make the team because of his position. But at the end of preseason, I think Bernstine winds up on the practice squad.
Redskins' 2012 Undrafted Free Agents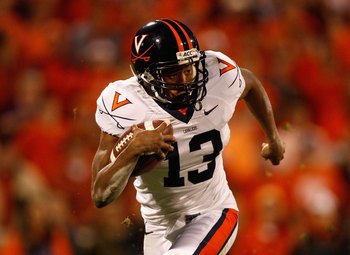 Streeter Lecka/Getty Images
It'd be nice for the Redskins to land one of those undrafted free agent phenoms that you always hear stories about. Where's Washington's Victor Cruz?
Antwon Bailey, Running Back
An undersized running back out of Syracuse, Antwon Bailey is somewhat of a camp project for the Redskins.
While his chances of making the team are slim, he serves as an extra back in camp that helps to push the guys ahead of him.
Lennon Creer, Running Back
Knowing how Shanahan operates when it comes to picking up running backs, Lennon Creer makes sense as an intriguing prospect.
Originally a transfer from Tennessee, Creer stood out while playing against lower-level competition at Louisiana Tech. He never actually dominated.
Creer is best fit for a ZBS like Shanahan's, as he possesses good vision for the initial cut and he has quick feet at the line. Creer's top-end speed is very average, as he relies mainly on his power style, and that likely keeps him in the role of a situational back. He is a decent receiver out of the backfield, but his speed limits his ability to make plays after the catch.
With three backs already making the roster (my assumption), a spot for Creer seems unlikely. Creer will likely find a place on the practice squad, but his performance in the Shrine Game and Senior Bowl practices may have already put him on the lists of other teams.
Grant Garner, Center
Garner was one of my favorite center prospects leading up to the draft, but his technique and lack of strength is what likely landed him outside of seven rounds.
Coming from the spread offense at Oklahoma State, Garner could fit well with Robert Griffin III. He's smart at the line and plays with good quickness off the snap, but teams may fear that he's a little weak for the elite pass-rushers at the next level.
Good news for Garner is that the Redskins are without a starting-caliber center. Although the position appears to be Will Montgomery's to lose, he's much better as a No. 2. Garner has a good shot at making the roster.
Darius Hanks, WR
Typically, prospects from Alabama generate excitement. When it comes to Darius Hanks, that's not quite the case.
Hanks has the physical tools and football knowledge to make an NFL roster, but I don't think that comes by way of the Washington Redskins.
He has good speed for the position, and he's a pretty reliable pass-catcher, but there's nothing flashy about his game that would challenge the abilities of guys like Aldrick Robinson or Terrence Austin. His route-running is average and he's not effective without the ball in his hands (or on the way to his hands).
Brian Hernandez, Wide Receiver
Hernandez joins the Redskins as a smaller receiver who put up big averages for Utah in his senior season.
Although Hernandez is said to be having decent practices, his chances of being anything more that an extra body at camp aren't likely. The position is simply too crowded.
Donnell Holt, Linebacker
Holt demonstrated reliability while playing at Cal, and his strong work ethic could ultimately earn him a spot with the Redskins.
Despite not having one particularly outstanding attribute, Holt can be a serviceable backup in the Redskins' 3-4. He won't be a flashy star amidst the linebackers, but he's a worker. My only concern would be how much of his senior season production came by way of his sidekick Mychal Kendricks.
Delvin Johnson, Defensive Tackle
Johnson had a productive senior season at Marshall while playing inside. One of the nation's best pass-rushers, Vinny Curry, would attack on the outside, drawing much of the opposing offensive line's attention.
Coaches likely envision Johnson, at 6'3" and weighing over 300 pounds, being able to convert to a nose tackle from his more traditional tackle position. Johnson may put up a fight in camp, but Truck Neild and Chris Baker have the upperhand early on.
Samuel Kirkland, Wide Receiver
The fifth-year senior from Kent State had a very impressive Pro Day, but it wasn't quite enough for Sam Kirkland to hear his name called in April.
Kirkland is an athletic receiver with good strength at the position (21 reps) and the willingness to block and/or take the big hit. He has the straight-line speed to get behind secondaries at the next level, but his technique is lacking at this point.
As much as I root for a guy like Kirkland, I don't think he makes the Redskins' roster.
Lance Lewis, Wide Receiver
As a big supporter of Lance Lewis, I do believe he's a guy to look out for during camp and preseason.
Lewis won't blow you away with his speed or ridiculous athleticism, but he's a very solid and reliable receiver. He has good size at just over 6'0", he has great concentration, he understands the importance of route-running, he has the ability to create separation and he has very good body control.
There's no question that the odds are stacked against Lewis. But if he has a near-flawless camp, I think Shanahan and coaches may fall for his potential.
Monte Lewis, Linebacker
Coming from a small Jacksonville State campus, Lewis is a pass-rushing camp project that doesn't have a great chance of making the Redskins' roster.
Lewis has nice measurables at 6'4", 240 pounds, a 4.56 forty and 27 reps, but there's a lot of talent to compete with on the roster, including guys like Chris Wilson and Rob Jackson that have been around for a bit.
Nick Martinez, Guard
Another Oklahoma State product that was signed with line experience in the spread offense. Not that the Redskins are running the spread, but Shanahan seems to enjoy linemen that can get out and move in space, extending to the next level in a ZBS.
Although Martinez is a long shot, no one should count him out just yet. He's competing for a job on a very shallow offensive line.
Brian McNally, Linebacker
McNally played defensive end for New Hampshire in college but will look to make the switch to outside pass-rusher in an attempt to make the Redskins roster.
Rooting for McNally is easy to do—small school, good motor and strong. Unfortunately, he's probably already behind other UDFAs Donnell Holt and Monte Lewis.
Chase Minnifield, Cornerback
If there's an UDFA that any Redskins fan should get excited for, it's Chase Minnifield. In fact, Minnifield is one of the most intriguing rookies on the entire Redskins roster overall.
Before injuries scared off every scout in the league, Chase Minnifield was a first-round talent. He has great ball skills and he has the potential to be a starting cover-corner in the NFL. That is, of course, barring any setbacks due to injury.
Assuming he stays healthy, Minnifield makes this roster and contends for a starting spot within his first year and a half with the Redskins.
Beau Reliford, Tight End
Realiford has potential as a blocker, but he's not nearly as gifted a pass-catcher as Fred Davis, Chris Cooley or Niles Paul. He'll have a tough time making the team, even as a blocker, when going against proven guys like Logan Paulsen or Robert Quinn.
His size is attractive for the position and when you think of him as a redzone target, but the Redskins appear to have enough talent at the position.
Redskins' 2012 Free Agency and Trade Additions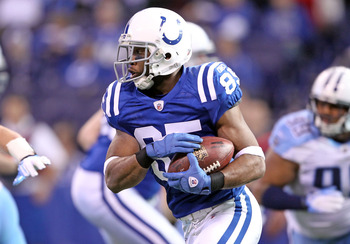 Andy Lyons/Getty Images
At a time when Redskins fans usually grit their teeth over the absurd amount of money spent every offseason, this past summer has been much different. Although Dan Snyder and the Redskins had no problem spending, you felt a sense of fiscal responsibility.
Pierre Garcon
Since joining the league in 2008 as a sixth-round draft pick of the Indianapolis Colts, Pierre Garcon has gotten better and better as a receiver, increasing his production every year.
Some were quick to attribute Garcon's success to his quarterback, who was Peyton Manning for the first three seasons of his career. Then, after Manning went down, Garcon put up career numbers last season with some guy named Curtis Painter pitching to him.
The Redskins didn't waste much time. They needed speed, they needed YAC and they needed a receiver. Garcon fit the mold perfectly, and the Redskins opened their wallet.
While at Baylor, quarterback Robert Griffin III benefited from speedy receivers that could not only get behind a defense, but also use their speed to make plays once the ball was in their hands. Garcon's vertical threat and ability to make plays after the catch are exactly what a rookie quarterback (and coincidentally RG3) need in Washington.
Anything less than 70 catches and 1,000 yards this season for Garcon would be a disappointment. And I wouldn't expect to be disappointed.
Jonathan Goff
After spending his first three seasons with the New York Giants, Goff joins the Redskins with a chance to compete for a starting job alongside London Fletcher.
Coming from a well-coached Giants defense, Goff is a smart player who can effectively stuff lanes and cover a decent amount of ground. He also has experience in a winning locker room that happened to win a Super Bowl last season. Attitude and work ethic can carry Goff a long way in Washington.
Bryan Kehl
Another former New York Giants linebacker who also spent time under Steve Spagnuolo in St. Louis for the last two seasons, Bryan Kehl joins the Redskins as a plug-and-play linebacker that could serve well in certain situations. He can also contribute on special teams.
Tanard Jackson
A local guy from Silver Spring, Tanard Jackson spent his first five seasons with the Tampa Bay Buccaneers. During his first three seasons, Jackson racked up 196 tackles and eight interceptions in 44 games. But in his last two seasons, injuries set him back and his production fell off.
Jackson joins the Redskins and reunites with defensive backs coach Raheem Morris, who served as his head coach in Tampa.
Jackson will compete for a starting job at safety, and injuries will determine his chances. If he can stay healthy, then Jackson could be very productive for the Redskins under Morris and Jim Haslett.
Josh Morgan
Another local product from D.C., Morgan joins the Redskins after spending his first four seasons with the San Francisco 49er's.
Morgan has never been a No. 1 receiver in his career, and that won't be the case in Washington either. At 6'1", 215 pounds and possessing good speed, Morgan is viewed as a leading candidate for the starting slot receiver position.
Like Garcon, Morgan was brought in for the addition of speed and YAC. He seems excited to be back playing for his favorite childhood team. and fans should expect big things between him and RG3.
It should be noted, however, that Morgan is coming off an injury-plagued season that limited him to just 15 catches in five games last season.
Brandon Meriweather
Meriweather was originally drafted by Bill Belichick and the Patriots in the first round of the 2007 NFL draft. His career had its fair share of both highs and lows, racking up 263 tackles and 12 interceptions in 64 games in New England.
After being released by the Patriots, Meriweather played 11 games with the Chicago Bears last season—totaling 32 tackles and no interceptions.
Although his first move since signing with the Redskins has been an embarrassing DUI, Meriweather will compete for a starting spot in the place of LaRon Landry.
Landry was a fan favorite in Washington and had a physical presence on the field. Meriweather may not be the same, but we know there's playmaking ability somewhere in his game. The Redskins hope he can find it again.
Madieu Williams
Former Maryland Terps star Madieu Williams returns to the DMV to battle for a backup safety role with the Redskins.
Williams can be a decent player in the secondary when healthy, but he does have a history of injuries. For this season, the Redskins need him to stay healthy enough to give the other guys some breathers.
Neil Rackers
After watching Graham Gano struggle with consistency, the Redskins brought in veteran kicker Neil Rackers to give him a run in training camp and throughout the preseason.
While I do think that coaches like Gano and want to see him win the job, I don't think they'd hesitate to show him the door if Rackers outperforms. And there's a decent chance of that happening.
Game-by-Game Preseason Analysis and Predictions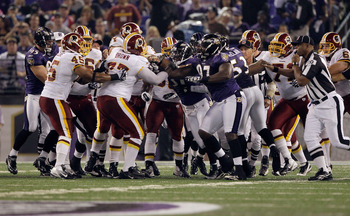 Rob Carr/Getty Images
The following predictions are made by a fan. Naturally, I believe the Redskins to have a good chance of an undefeated preseason. Why the hell not?
Week 1 at Buffalo
With backups getting a majority of the action in Week 1, I'm actually looking forward to the rookie tackles of Buffalo (Cordy Glenn and Zebrie Sanders) and how they handle the Redskins' defensive ends (perhaps Jarvis Jenkins and Kedric Golston).
Sanders was a prospect whom I thought would fit in Washington at right tackle, so I'll be sure to watch him closely. And Glenn was one of my highest-rated linemen in the draft class. Left tackle doesn't seem like his natural position, but he has all the tools to develop there.
In terms of matchup, the Redskins and Bills are pretty even. The Bills have speed at the receiver position, as does the new-look Redskins. The backfields are similar in the sense of versatility. And each defense has effective pass-rushers, whether veterans or rookies.
After somewhat of an ugly game, the Redskins prevail 22-13 in Buffalo. Evan Royster leads the Redskins in rushing and Vince Young finishes the game with most passing yards. Redskins defensive back Brandyn Thompson ends the game with an interception.
Week 2 at Chicago
I know I mentioned something about an undefeated preseason, but a 3-1 record is more realistic.
At one point, receiver Alshon Jeffery was a projected top-10 pick. The Bears caught him on his draft board slide and selected him in the second round. Although he comes with some questions, there's no denying his physical presence at the position.
And with the Redskins looking to establish stability within their secondary, it will be interesting to see how Raheem Morris coaches his guys to handle Jeffery on one side and Earl Bennett on the other.
Jason Campbell signed a deal with the Bears over the summer to serve as Jay Cutler's backup. He gets a win against his former team as Chicago takes down Washington 27-17.
Campbell leads the game with 176 passing yards, Michael Bush leads the game with 68 rushing yards and Rex Grossman throws at least one interception.
Week 3 vs. Indianapolis
There's only one thing to watch in this game. And it's blatantly obvious.
Robert Griffin III vs. Andrew Luck.
With both teams turning to their respective rookies as Week 1 starters, we typically wouldn't see much of either guy. But does anyone think it's a coincidence that the NFL made this game during Week 3 of the preseason—when teams tend to play their starters —rather than the first game?
Griffin may have been picked second behind Andrew Luck, but it's RG3 that gets the last laugh.
Redskins win 31-20. Griffin leads the game with 207 yards passing and two touchdowns. Luck finishes with 201 yards and one touchdown. Tim Hightower leads the game with 121 rushing yards.
Week 4 vs. Tampa Bay
By this time of the preseason, starters are playing more of the game than any previous week. And for the Redskins, Tampa Bay's upgrades on offseason could hurt.
How does the Washington defense handle Vincent Jackson, Dallas Clark and rookie running back Doug Martin?
The Buccaneers drastically upgraded their offense and the Redskins defense will certainly be tested. On the other side, however, the Redskins' offense should have a good chance against the Tampa Bay defense.
This game goes back and forth but doesn't pack nearly as much firepower as anticipated. Redskins come out on top, 17-14. Doug Martin leads the game with 72 rushing yards, Griffin rushes for a touchdown, and safety Tanard Jackson intercepts his former team.
Projecting the Final 53-Man Roster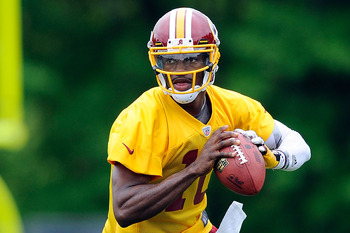 Patrick McDermott/Getty Images
There are two ways to go about projecting the Redskins final 53-man roster. One, to predict how we think Shanahan and the front office will strategize. And two, what kind of roster cuts would we make, as fans, if we were calling the shots.
Either way you look at it, the Redskins are going to have a tough camp. There should be solid competition at a number of positions: There's more talent on this roster than we've seen in a while, and there are certain positions that are completely up for grabs.
Quarterback (3)
Kirk Cousins, Robert Griffin III, Rex Grossman
Running Back (4)
Roy Helu Jr., Tim Hightower, Evan Royster, Darrel Young (FB)
Tight End (3)
Chris Cooley, Fred Davis, Niles Paul
Wide Receiver (6)
Terrence Austin, Pierre Garcon, Leonard Hankerson, Josh Morgan, Santana Moss, Aldrick Robinson
Offensive Line (9)
Jammal Brown, Chris Chester, Adam Gettis, Josh LeRibeus, Kory Lichtensteiger, Will Montgomery, Tyler Polumbus, Willie Smith, Trent Williams
Defensive Line (6)
Stephen Bowen, Adam Carriker, Barry Cofield, Kedric Golston, Jarvis Jenkins, Truck Neild
Linebacker (9)
Lorenzo Alexander, London Fletcher, Jonathan Goff, Rob Jackson, Ryan Kerrigan, Brian Orakpo, Perry Riley, Keenan Robinson, Markus White
Cornerback (6)
Kevin Barnes, Cedric Griffin, DeAngelo Hall, Chase Minnifield, Brandyn Thompson, Josh Wilson
Safety (4)
Reed Doughty, DeJon Gomes, Tanard Jackson, Brandon Meriweather
Special Teams (3)
Graham Gano, Sav Rocca, Nick Sundberg
On the Bubble
Banks, Brandon: depending on coaches' plan for increased offensive role
Barnes, Kevin: ability to play nickel or safety keeps him on the roster
Compton, Tom: other guys display more versatility, ultimately bumping him
Garner, Grant: other linemen can play some plug at center
Morris, Alfred: practice squad guy, simply not enough room
Paulsen, Logan: played well last season, but Niles Paul is in
Keep Reading

Washington Redskins: Like this team?