As the Dallas Cowboys prepare to open up training camp on July 30th, could Terrell Owens make a possible return to one of his former teams this summer? Clearly, Owens is eyeing a possible return to the Cowboys after speaking very highly of owner Jerry Jones.
In an interview with Yahoo! Sports, Owens praised Jones for how he has held close relationships with his great players:
"Jerry's a great guy," Owens said. "Obviously, he gave me an opportunity in 2006 and I had a great three years there with the Cowboys. That's the type of guy Jerry is. It goes beyond just the football relationship. I think he's done that not only with myself, he's done that with a number of his players. You think about the Troys, the Emmitts, the Michaels, Charles Haley."
Owens believes he can still make contributions to any team no matter where he is ranked on the depth chart. He wants an opportunity to show a team that he can make a significant contribution.
"My numbers speak for themselves," Owens added. "It's not a matter of performance, I think everyone saw that my last year in Cincinnati. Once I get on the field I play football. Everything else is out the window."
Owens wants another shot at playing in the NFL, and it appears that Jerry Jones would be open to guiding him in the right direction:
"He really can reach out to me at any time, because I consider him a friend," Jones said Tuesday. "I would feel good if he reached out. I think that he really, without having first-hand knowledge, of what kind of physical condition he is in, I know he has the right stuff and he could help someone.

"I have actually looked at some of the things he did last year. He's still got the ability to be quite a threat as a receiver. I would advise him if that he still has got the heart — and he does — to continue to try to get on with an NFL team."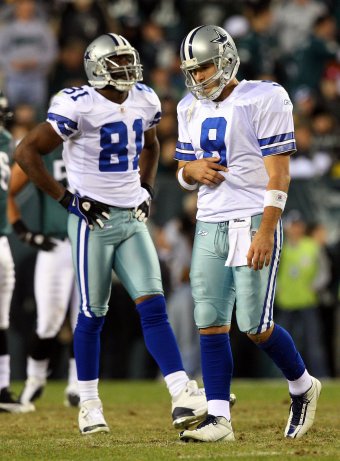 Jim McIsaac/Getty Images
Does that include attempting to return to a franchise that he ended on bad terms with after only three years?
A possible reunion between Owens and the Cowboys could actually end on a positive note this time around. From a management standpoint, what do the Cowboys have to lose?
Owens has never been this desperate to find a job in the NFL. He is dealing with serious financial problems, and could face possible jail time due to being behind on child support payments.
It has never been a coincidence that Owens avoids controversy during his first full season with his new teams. Now with his recent financial troubles, Owens has more incentive to stay out of the spotlight and focus on contributing with the Cowboys.
That is, if Owens even has anything left to provide to an NFL team. If the Cowboys do decide to give Owens another opportunity, they would hold all the leverage in this battle.
The Cowboys don't need to guarantee Owens a contract heading into training camp. They could invite him early on in camp and allow him to prove that he can still be a lethal offensive threat in Jason Garrett's system.
If Owens proves to be nothing more than an aging 39-year-old receiver that cannot contribute, the Cowboys could cut their ties with him right away. However, if he shows that he could make an impact as a fourth option in the Cowboys passing attack, he is worth a one-year deal.
Tony Romo may not be the most optimistic about an Owens signing, as their relationship both on and off the field did not result in much success during that time period. Although, Romo will continue to face pressure as the Cowboys quarterback as the championship drought continues in Dallas.
Owens would have no choice but to make a major attempt at being a good teammate with Romo this year. If he reverts to his old antics of calling out his quarterback, the Cowboys won't hesitate to release him at any point in the season.
Ultimately, the Cowboys have nothing to lose by signing Terrell Owens. If Owens can produce, he can become an impact player without having to be the star. Romo may never forget how Owens treated him a few years ago when they were teammates.
Though, if the Cowboys were to win a championship with Owens playing a crucial part in the team's success, Romo and the Cowboys would have no choice but to embrace Owens for making an impact this late in his career.
Matt Miselis is an NFL Featured Columnist for BleacherReport.com. Follow him on twitter.