USC Football: Why Developing Defense Must Be Trojans' Offseason Focus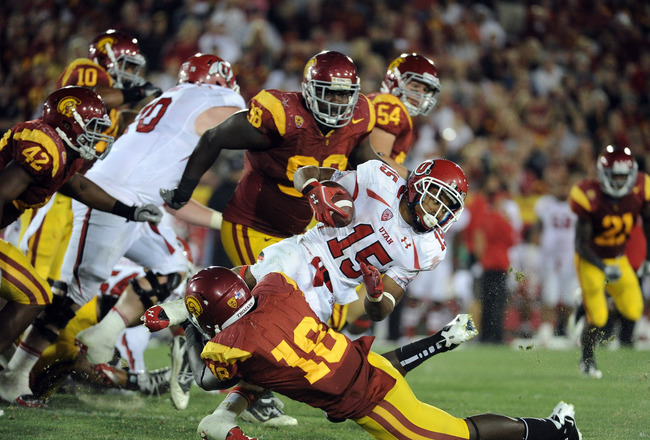 Harry How/Getty Images
As the Trojans prepare to enter the 2012 football season, the expectations that accompany this year's campaign are as expansive as the borders of the city they live in.
Picked by many to be a participant in the national championship game, USC is well positioned to lay stake to that game by offering probably the most potent offense in the country.
Led by Heisman trophy favorite, quarterback Matt Barkley and a stable of star skill players, the Trojans should be keeping the scoreboard numbers whirring throughout the season.
But as all know, the winner of this year's mythical title will have to succeed in all three facets of the game, and while the special teams play of the Trojans is in the more-than-capable hands of coach John Baxter, that still leaves one component somewhat unaccounted for.
How USC's 2012 season unfolds will likely be dictated by the defense, and despite improvement over the last half of 2011, there are still questions that must find satisfactory resolution if the Trojans hope to raise that crystal trophy in January.
This slideshow will look at some of those question marks and anticipate the answers that the defensive coaches will offer in support of the development needed to get to that title game.
How the Trojans develop defensively will speak to their final destination this year, and the answers to the questions contained within this slideshow, if successful, will ensure their arrival.
The Trojans Must Improve Their Turnover Ratio in 2012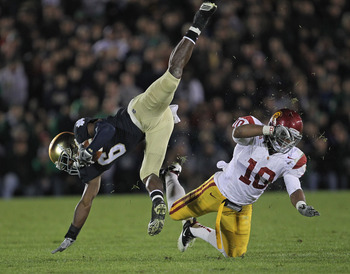 Hayes Pullard
Jonathan Daniel/Getty Images
The old axiom about turnovers in football is simple:
You must get more of them than your opponent.
In 2011, the Trojans did not accomplish this mission as they lost the turnover battle 18-17.
With an improved and more seasoned secondary, USC should improve on the nine interceptions they pulled in last year.
Meanwhile, the Trojans did force 20 fumbles last year, but sadly, were only able to recover eight of their opponents miscues.
A more confident defense with a year of additional experience under their belts should translate into a ball-hawking unit that takes more than the offense gives.
For the Trojans to win it all, they will have to.
Championship Teams Don't Have 54th-Ranked Defenses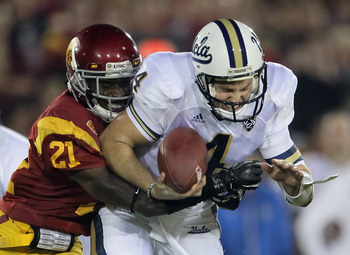 Jeff Gross/Getty Images
Though there's plenty of reason for optimism, the simple fact is that USC has a ton of room to improve on defensively.
In 2011, USC ranked 54th overall in terms of defense, and the area they excelled in last year (run defense) is the one area that was hit hard by graduation (Christian Tupou and Da'John Harris) and defection (Nick Perry).
With concerns on the defense translating to such a pedestrian ranking last year, there will be plenty of room for improvement this year.
Just how far the Trojans have come from 2011 will speak to how far they will go in 2012.
The Defensive Line Is a Source of Concern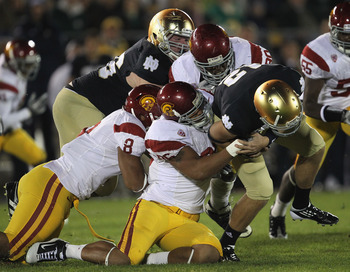 Jonathan Daniel/Getty Images
Some welcome news came on the recruiting front this week when prep defensive tackle stud Eddie Vanderdoes gave the Trojans his verbal pledge to play for the cardinal and gold.
And it's a good thing, too, because the defensive line will need help going forward in the years to come.
But for 2012, USC will have to depend on a defensive line that's short on players in the interior positions.
While the Trojans are set on the edges where Devon Kennard and Wes Horton headline a fairly deep group of defensive ends, the tackles are light on both experience and depth.
The top three defensive tackles (George Uko, J.R. Tavai and Auntwuan Woods) are all solid and Uko and Tavai do have some experience.
Beyond that. though, it gets dicey.
Christian Heywood is a very promising redshirt freshman who will be trying to come back from an injury, and true freshman Leonard Williams might be able to contribute some, but that still remains to be seen.
Another redshirt freshman, Cody Temple, was moved from the offensive line, and although he showed promise, he was injured and will now be attempting to come back from surgery.
This group is long on promise but short on experience, and its development will certainly be a focus for position coach Ed Orgeron.
Linebacker Unit Is Soild, but Depth Is a Question Mark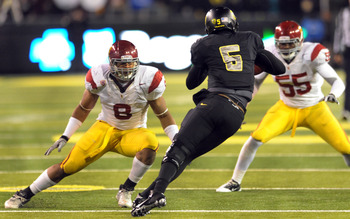 Steve Dykes/Getty Images
The 2012 Trojan starting linebacking unit is young but extremely talented.
With redshirt sophomores Dion Bailey and Hayes Pullard, along with true sophomore Lamar Dawson leading the way, one would be hard-pressed to find a group of linebackers in the nation with more potential.
But like so many other units on the 2012 Trojans, depth will be an issue.
And it's not the talent behind the starters that's in question, but rather, their experience.
When Lane Kiffin released the spring two-deep chart, not a single direct backup to the starters had played a single down of college football.
Anthony Sarao is a redshirt freshman who will back up inside linebacker Hayes Pullard, Tony Burnett is a converted safety/cornerback who will spell outside linebacker Bailey and true freshman Scott Starr is slated to rotate in for Dawson.
Their play in 2012 will contribute a lot to the consistency Monte Kiffin craves as defensive coordinator, and it will a major focus for the fall camp.
The Defensive Secondary Will Be the Strength of the Defense...Sort of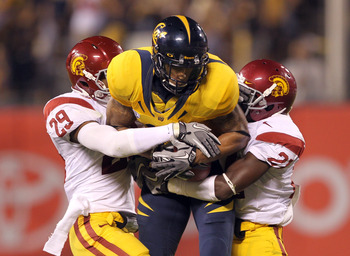 Ezra Shaw/Getty Images
Much will be made of USC's defensive secondary's talent—and rightly so.
Both cornerback Nickell Robey and free safety T.J. McDonald can be found on several postseason "watch lists" for postseason honors, and there's no question that they are very talented players who will be counted on to lead from their respective positions.
But beyond that, there are still many questions to be answered.
In the Trojan two-deep roster released by head coach Lane Kiffin, the other two secondary positions remain largely unanswered.
Opposite McDonald at strong safety, a decision will need to made as to starts between Jawanza Starling and Demetrius Wright.
Both are talented, but each has his shortcomings as well.
Starling was sometimes inconsistent, and Wright lacks experience.
Meanwhile, the starter at corner opposite Robey is even more muddled.
Kiffin lists Isiah Wiley, Brian Baucham or Torin Harris as possible starters.
Wiley should be considered the frontrunner here, but Harris started before he injured his shoulder.
Once a decision is made on the starters, they should be fine, but it's that decision that will be under the magnifying glass in fall camp.
Conclusion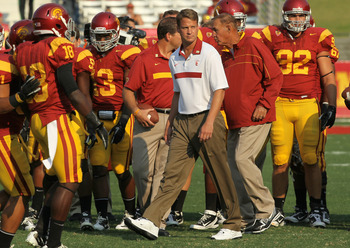 Stephen Dunn/Getty Images
Without question, the 2012 version of the men of Troy are fabulously talented and deserve serious consideration as a national championship contender.
Strong from top to bottom, the Trojans are positioned to make a lot of noise this year in college football.
But they're not perfect, and it's the blemishes that opposing coaches hope to exploit if they're to upset USC as it marches to their perceived inevitable place in an important BCS bowl game.
With fall camp being the last opportunity for Trojan coaches to fine tune their squad, special attention must be paid to the defense.
If the questions raised in this slideshow can be resolved, USC has the talent, and perhaps, as importantly, the desire to go all the way in 2012.
That's why the defense must be the focus of USC's offseason attention.
Keep Reading

USC Football: Like this team?