There's a tragically beautiful contrast when the worlds of social media and boxing collide.
Prior to their light-welterweight clash in Las Vegas, Amir Khan and Danny Garcia were exchanging verbals in the garrulous and verbose manner we've become accustomed to with world title fights.
First comes the noise, then comes the loss and finally the inevitable silence of the loser's Twitter page.
In the case of the now 26-3 Khan, he has only recently crawled out of the hole that the defeated dwell in, to apologize to family and fans the world over via the 140-character medium:
Can I apologize to my family friends and everyone. I got caught with a shot and I know millions of u are upset but that's boxing for u
Precautionary scan aside, the delay can be attributed to the bitterness of the manner in which Freddie Roach's pugilist was dispatched.
It's probably a fair assumption that he was looking for the right excuse this time around, and his choice of words speak volumes for where Khan is presently and where he hopes to be.
The spot he so desperately wishes to occupy is that of pound-for-pound king: the usurper of the throne of the great Floyd Mayweather Jr.
It's adolescent to suggest that he was caught with ''a shot'' rather than a culmination, as by his own admission and most importantly, that's not ''boxing for u''.
Where Does Amir Khan Go From Here?
To quote Billy Zane's Titanic character Cal Hockley as he stuffs his pockets with money and diamonds in the blockbuster film:
I make my own luck
Ironically, that's something I could plausibly hear Mayweather saying and will most likely see him doing (money and diamonds at the ready) the next time he's staring down the lens of a HBO 24/7 camera.
The true greats are never questioned as to how deserving they are of their status. There have always been doubts cast over Khan and Danny Garcia clinically highlighted them.
Unfortunately for Garcia, the post-fight dissection will focus primarily on the inabilities of Khan rather than the ability of the undefeated American.
The Garcia camp had a plan that was put in motion at the press conferences and media meetings to rattle and frustrate Khan.
The 2004 Olympic silver medalist verbally rose to the challenge in a manner that would have been befitting of The Iliad, had Achilles and Co. been willing to settle their differences over the course of 12 rounds:
I promise you - I've never said this at a press conference - I will knock Danny Garcia out and win the titles.
For this reason, the Garcia camp, and primarily his father Angel, should receive the plaudits for the luring of Khan into a trading war with a chin that was questionable to begin with.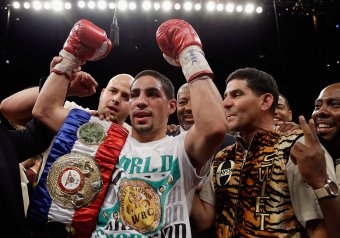 Jeff Gross/Getty Images
Sky Sports' Ringside show had documented Khan in sparring practice, partaking in what can only be described in boxing circles as a tear-up.
Full face guard, heavy punches and blow-for-blow trading were the order of the day. It was almost as alarming to see as the absence of Freddie Roach from the training session.
It's another example in the world of boxing that full functionality of the mind is as important as that of the body.
Khan still feels the sting of his embarrassing Breidis Prescott defeat, and it hinders his ability to stick to a game-plan that utilizes his lightning-fast hands.
This was seen against Marcos Maidana, Lamont Peterson and again against Danny Garcia.
His mindset still seems hell-bent on dispelling the myth that his chin will be retired for display in a Waterford Crystal museum in years to come.
The light-welterweight division delivered two defeats against questionably elite-level opposition. A step up to welterweight would be the systematic deliverance of the final nails in the coffin of a career.
Where he goes from here is anyone's guess, but something tells me Floyd Mayweather slept as soundly as an incarcerated man can after last night's encounter.