Patriots Reportedly Might Not Reach Extension with Wes Welker by Deadline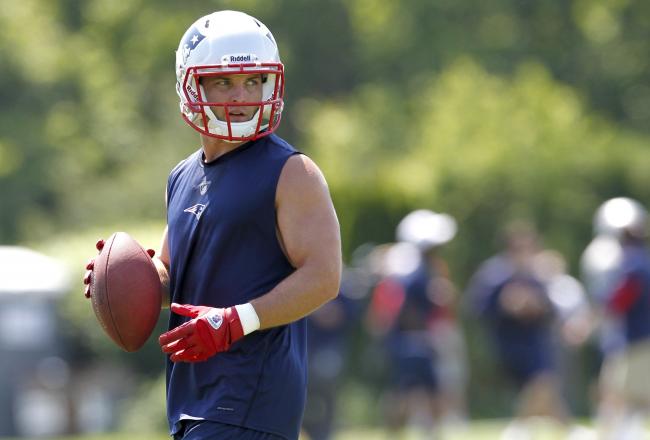 Wes Welker and the New England Patriots have tried their hardest to work out a deal, but the two sides won't likely come to a contract extension agreement by Monday's 4 p.m. EDT deadline for franchise-tagged players, according to Mike Reiss ESPNBoston.com.
Per the same report, here's what that means:
Franchise-tagged players who don't reach an extension by Monday's deadline have to play the 2012 season under their one-year tender. For Welker, that's a $9.5 million fully guaranteed deal, which he's already signed. The sides then couldn't finalize an extension until after the 2012 season, when Welker would be scheduled for unrestricted free agency.
However, the Pats would have an opportunity to slap the franchise tag on Welker once again next season, costing them roughly $11 million dollars.
But salary cap concerns will start to kick in for New England, and combined with the salary of Tom Brady, the Pats will be shelling out serious cash for only two players on their roster, per the same report from Reiss of ESPNBoston.com.
But with the salary cap projected to remain flat, and quarterback Tom Brady's 2013 cap charge scheduled to come in at around $22 million, the depth-driven Patriots might be reluctant to devote what could be 25 percent of their salary cap to two players. If that's the case, Welker could hit the open market, potentially making 2012 his final season with the Patriots.
Who could imagine a world where Wes Welker, a near lifelong Patriot, isn't suiting up for New England and is a free agent, available to the highest bidder? Such a notion is certainly a reality considering New England's history of letting some of their higher-priced players go.
If New England was truly motivated to get something done they would have, but more stalled talks are a very bad sign.
That's not to say Welker hasn't earned every penny with the way he's played. The Patriots receiver caught 122 passes for 1,569 yards and nine touchdowns in 2011, further proving he's one of the best in the NFL.
Welker is no doubt the class of his position and has been for the past five seasons. Talent like that doesn't just drop out of the sky.
Welker hitting the open market would create a frenzy immediately and the bids for his services would be substantial. If he doesn't get a contract extension from the Patriots after this season, the Pats receiver will get his due from some place else.
There's a long way to go before this all comes to a head, but the NFL season always comes and goes rather quickly. Before we all know it, we could be faced with the possibility that one of the best wide receivers in Patriots' history could be playing for a different team in 2013.
This article is
What is the duplicate article?
Why is this article offensive?
Where is this article plagiarized from?
Why is this article poorly edited?

New England Patriots: Like this team?