British Open 2012: Top Golfers That Have Fallen out of Contention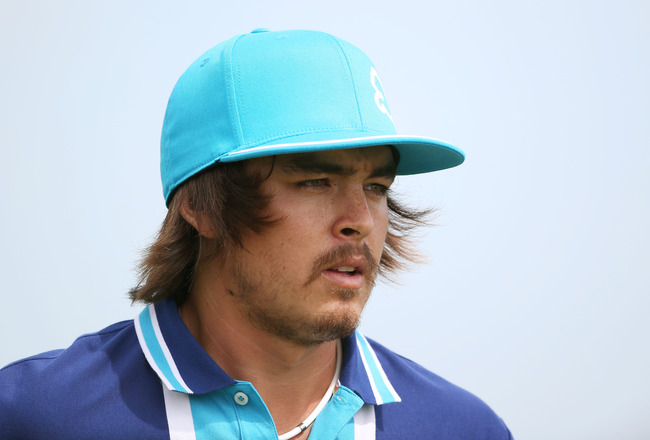 Ross Kinnaird/Getty Images
Day 3 from Royal Lytham & St Annes has been just as exciting as anticipated and the leaders have started to separate themselves from the rest of the pack. Many of the top golfers still playing, however, have fallen out of contention.
Brendt Snedeker has played poorly after two perfect rounds and Adam Scott has capitalized to take the lead. Among those also in contention include Tiger Woods, Thorbjorn Olesen, Zach Johnson and Ernie Els. Aside from those six mentioned, it would be tough to make that big of a run on Sunday to capture the British Open title.
There are only a handful of top-ranked golfers still in the hunt. Here are some that have fallen out of contention on Day 3.
No. 20 Rickie Fowler, 213 (+3)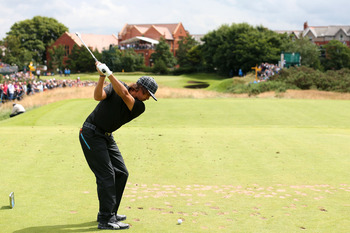 Ross Kinnaird/Getty Images
Inconsistent. That is the perfect word to describe how Rickie Fowler has played through three rounds at the 2012 British Open.
On Day 1, Fowler bogeyed three and birdied two. On Day 2, he birdied six, but bogeyed three and double-bogeyed two. On Day 3, he birdied four, but bogeyed two and double-bogeyed one. He just can't find any sense of consistency with his play whatsoever.
Fowler has hit the fairway under 70 percent of the time, hit the greens in regulation 66 percent of the time and hasn't been good with his putter. He currently sits three-over par and very far back of the leaders.
It seems as if it's going to be a disappointing finish for Fowler this weekend.
No. 14 Steve Stricker, 138 (+1 Through 14)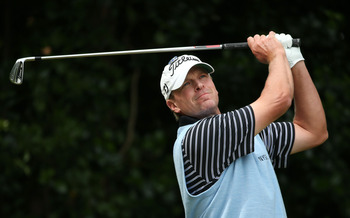 Andrew Redington/Getty Images
Steve Stricker has had a very interesting week at the British Open.
Stricker started Day 1 on a good note, finishing the front nine two-under par. He would eagle the 13th hole, but double-bogey the 14th to negate his improvement. He would finish the day three-under to put him among the pack of those in contention.
Day 2 for Stricker was a little worse, playing even-par throughout most of the day while finishing just one-over par. That set him back several strokes, but there was still hope for playing well on the weekend.
Through 14 holes on Sunday, Stricker has fallen out of contention as he's three-over par on the round and one-over for the tournament. He really needed to play better on Saturday in order to keep his hopes alive. Unless he makes it back to two or three-under par today, which is very unlikely, his title hopes are gone.
No. 10 Hunter Mahan, 211 (+1)
Richard Heathcote/Getty Images
Hunter Mahan hasn't made much noise at all at Royal Lytham & St Annes. He shot even-par on Thursday, one-over on Friday and even-par again on Saturday.
Usually going one-over doesn't take you out of contention in a tournament, but many golfers are playing well and he's far back of the leaders that sit around 10-under par at the moment.
Mahan has been great at hitting the fairway and has rarely taken extra putts, but he hasn't done anything to get him among the leaders. He's played average golf and will finish the tournament with an average score.
It would be nearly impossible for Mahan to shoot at least 10-under par tomorrow, taking him out of contention at the 2012 British Open.
No. 3 Lee Westwood, 214 (+4)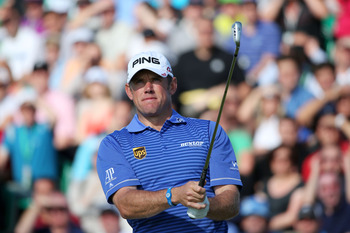 Andrew Redington/Getty Images
The No. 3 player in the world is definitely out of contention at Royal Lytham & St Annes. Day 1 really hurt Westwood's chances despite starting the first two holes with birdies. He would bogey five times throughout the day and also had a double bogey on the third hole.
Day 2 was much better for Westwood as he played even-par, but he didn't make up any ground on the leaders. Day 3 was back and forth as he bogeyed three of the first six holes and could never get on a hot streak—even though he did birdie three of five on the back nine.
At four-over par through three rounds, I don't see any way that Westwood could make a run at the championships. He's just much too far behind.
No. 2 Rory McIlroy, 215 (+5)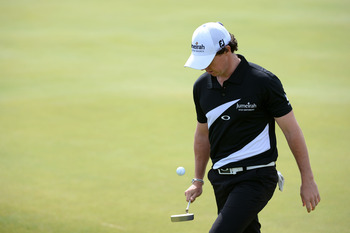 Harry How/Getty Images
After putting together a great first round where Rory McIlroy was three-under, the wheels completely fell off on Friday and Saturday.
Rory was among the leaders after playing well in the middle of his first round, birdieing four of six from the seventh hole through the 12th. He would also birdie two of the final three holes. Day 2 was disastrous as he bogeyed five times and double-bogeyed once for a five-over par 75.
Day 3 really knocked Rory out of the picture after a three-over 73. He bogeyed back-to-back holes on four and five and also bogeyed twice more on the round. Nothing has really gone his way and the No. 2 player in the world will not be a factor on Sunday.
Keep Reading