British Open 2012: Where Tiger Woods and Top Golfers Currently Stand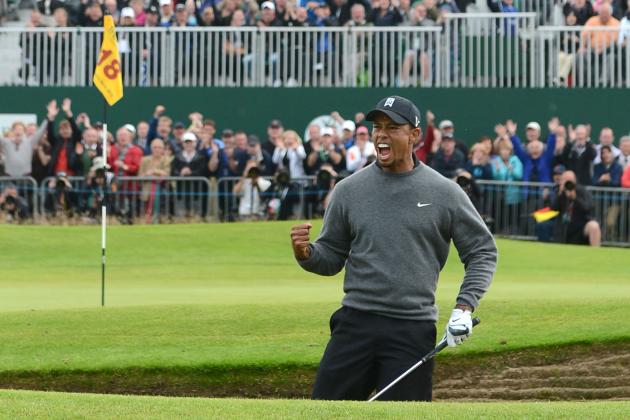 Harry How/Getty Images

Day 2 of the 2012 British Open from Royal Lytham & St. Annes has played much tougher than Day 1, and Tiger Woods is one of the world's best golfers still in contention.
Thursday was a beautiful day on the course with bright skies and relatively few issues. Overnight rain made Friday's play much more difficult since many sand traps were filled with water, making them nearly impossible to play.
Several golfers managed to stay out of the swamps, whereas others found themselves in there early and often, including a couple of the world's Top 10 players.
Which top golfers are going to be playing throughout the weekend and which are going home early, if any? How far behind No. 29 Brandt Snedeker is each of them? Let's take a look.
Note: No. 5 Webb Simpson is purposely omitted since he withdrew from the tournament.
Begin Slideshow

»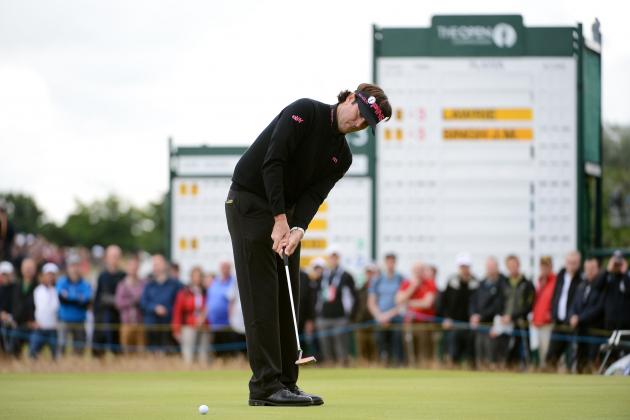 Harry How/Getty Images

Where He Sits: Tied for 28th Place
Bubba Watson had a very impressive first round of 67 that put him among the leaders through Day 1. Watson wasn't as lucky on Day 2, as he was very bad early and finished three-over par. He is now even on the tournament.
On Day 1, Bubba birdied four holes, including three of four from the fifth through the eighth holes, during his first round. His accuracy wasn't that great, but it got him through the day unscathed.
I'm not sure what happened on Day 2, but it was an absolute disaster. Bubba bogeyed the fifth and sixth holes before double bogeying the seventh—an awful stretch of three holes. He would play much better on the back nine, but the damage was already done.
Now he sits relatively far back from Snedeker at the top.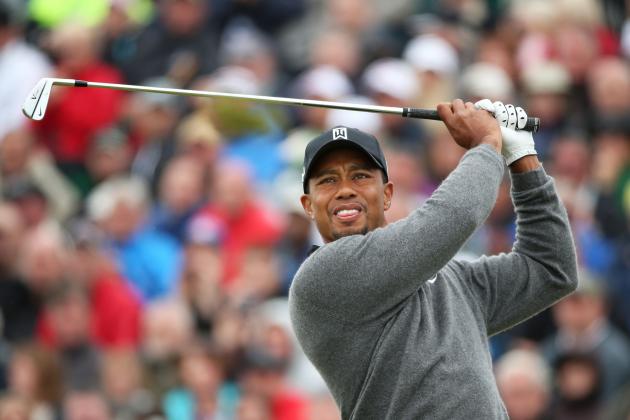 Andrew Redington/Getty Images

Where He Sits: Third Place
After a great Day 1 for Tiger Woods, he put together another solid round on Day 2.
Tiger got hot early in the first round, birdieing four of the first seven holes. He showed extreme control from the tee box and only missed one fairway. He spread out his success over the course of his second round, birdieing the fourth, sixth, 16th and 18th holes for his second consecutive round of 67.
The highlight of Tiger's second round came on the birdie on the 18th. He found himself in the sand trap to the right of the hole, but he sank the chip to send the crowd into immediate applause. It was a great way to end his day, and he looks to continue his success over the next two days.
Stuart Franklin/Getty Images

Where He Sits: Tied for 68th Place
Lee Westwood is on the brink of not playing the weekend, as the projected cut currently sits at three-over. Should that projection move to two-over, it would be an extreme disappointment for Westwood, who put together a solid second round.
The first round is what nearly ended Westwood. There's no doubt he got started on the right foot—birdieing the first two holes—but the foot clearly switched as he rarely had any success the rest of the day. He would bogey five holes, including four of the last six, and he also double bogeyed the third hole.
Westwood played even par through the first 12 holes on Day 2 before bogeying the 13th and then birdieing the 14th. He will need a miracle to win this championship.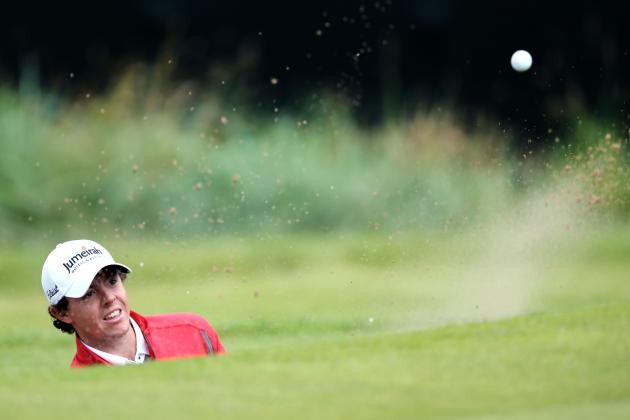 Richard Heathcote/Getty Images

Where He Sits: Tied for 51st Place
If it weren't for a first round of 67, Rory McIlroy wouldn't be playing this weekend. He was incredibly poor throughout the entire second round and will just make the cut.
McIlroy sunk six birdies during his first round, but did have his struggles on the Par 4 10th—which he bogeyed—and the Par 4 15th—which he double bogeyed. It wasn't a pretty round, but it wasn't terrible either.
Day 2 for McIlroy was terrible. He bogeyed five holes on the day and double bogeyed the ninth hole. He only had two birdies and now faces a big uphill climb towards the top. If he's going to win the British Open, he's going to need a miraculous weekend.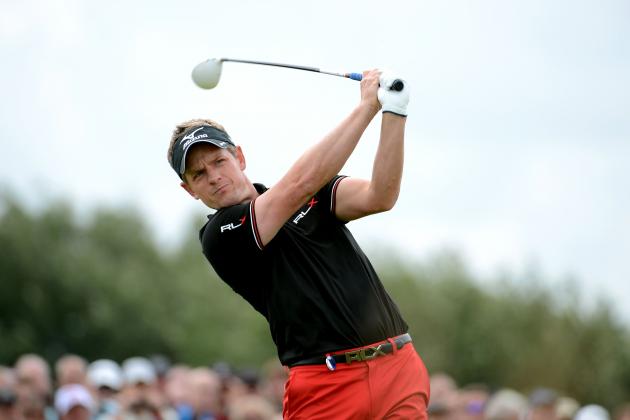 Harry How/Getty Images

Where He Sits: Tied for 11th Place
The world's best golfer played a bit more inconsistently in the second round, but he still remains in contention.
Donald's first round was virtually flawless but lacked much excitement. He only birdied one hole on the day—the Par 4 third—and bogeyed the final hole to shoot an even 70. Although his only success came at the third hole in round one, it gave him a ton of trouble in round two.
Donald would bogey the third hole before birdieing on four of the next five holes to put him at three-under par through the front nine. He would bogey to start the back nine and would bogey the 13th hole as well, showing much less control that in his first round. He would birdie the 15th to put him at two-under on the day and for the tournament.
Donald sits eight strokes back of Snedeker and will need to start catching up soon. He cannot keep bogeying holes if he's going to make a run for the title.