British Open Predictions 2012: Phil Mickelson and Others That Need Fast Start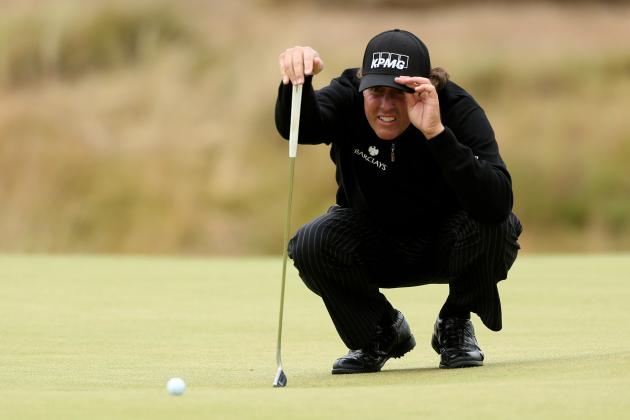 Warren Little/Getty Images

A slow start at any PGA Tour event can be detrimental for a golfer's chances at winning and even making the cut. At the 2012 Open Championship at Royal Lytham & St. Annes, a slow start is a death sentence.
Royal Lytham & St. Annes is designed so that if you misplay a shot by just the smartest margin—or don't read the wind correctly—you're ball will be buried in a bunker. There are a total of 206 bunkers over the 18 holes to be played throughout the weekend.
As former golf writer Bernard Darwin is quoted saying on the course's official website, "Hit your ball to the right place and the way to the hole is open to you, but hit your ball to the wrong place and every kind of punishment, whether immediate or ultimate, will ensue."
Those who will compete this weekend must take detailed notes during their practice rounds, especially if it's their first time playing at Royal Lytham & St. Annes. There are no second chances come early Thursday morning—for those of us on the East Coast.
Phil Mickelson is one player who has had varied success at The Open Championship as well as at Royal Lytham & St. Annes. He and four other golfers competing this weekend will need to get off to hot starts and here's why.
Begin Slideshow

»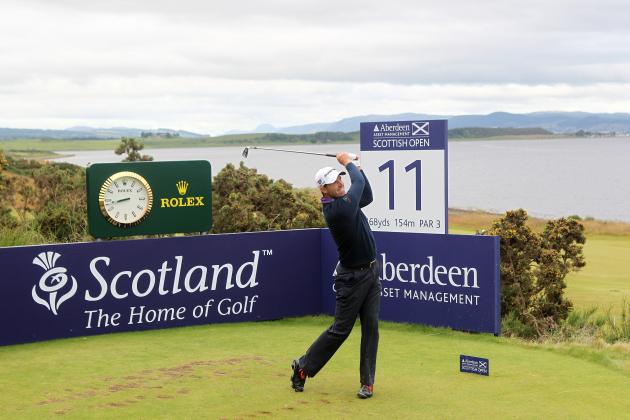 Dean Mouhtaropoulos/Getty Images

Thursday Tee Time: 9:32 AM (ET)
Padraig Harrington missed the cut at last year's The Open Championship after a horrid first round where he bogeyed four out of the opening eight holes and later double-bogeyed the 15th hole. He would play better in the second round, but cannot afford another slow start this year.
Harrington played in the 1996 The Open Championship at Royal Lytham & St. Annes and played very well on non-par holes, finishing four under par and in a tie for 18th. In 2001—also played at this year's venue—Harrington performed around the same, really struggling on par 4's.
Harrington has had a decent amount of recent success, finishing in the top 15 in each of the last four events that he's entered. He's also played well in both majors this year, finishing tied for eighth at the Masters Tournament and tied for fourth at the U.S. Open.
Harrington has only hit 58 percent of fairways this year and will really need to get that percentage up this weekend. Although his sand save percentage is the 17th best in golf, he can't afford to get into trouble with the bunkers early.
A factor in favor of Harrington is that the first hole is a par 3 which he shouldn't have much trouble with. From there are three consecutive par 4's that could be the start of trouble for him. If he can get three the first four holes without any damage, he should be in good shape going forward. If he struggles with those holes, don't expect to watch him on Saturday.
Harrington does have two titles from The Open Championship to his credit. Can he make 2012 his third?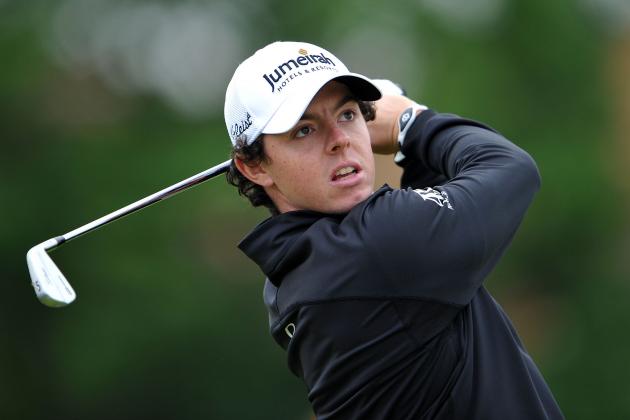 Stuart Franklin/Getty Images

Thursday Tee Time: 9:21 AM (ET)
Rory McIlroy—the No. 2 ranked golfer in the world—started the year off as hot as can be, placing in the top three in four of the first five events he participated in. Recently, he hasn't been nearly as good as hasn't made the cut in three of his last four events.
McIlroy had a terrible first round at the U.S. Open which is part of the reason he needs a good start at The Open Championship. He bogeyed the opening hole and finished the first round at seven over par. Day two wasn't much better as he went three over par and was cut at 10 over par. That was over a month ago.
Over the course of the season, McIlroy has done well on getting birdies, especially on par 5's where he does that or better more than 50 percent of the time. In comparison, he only birdies or better 17 percent on par 3's and 18 percent on par 4's. The two par 5's at Royal Lytham & St. Annes are nearly 600 yards and he needs to capitalize on them.
McIlroy's 56 percent driving accuracy percentage could get him into trouble throughout the opening holes and will have to work on staying calm early. He's played on plenty of big stages, but never at this course for this event. McIlroy can't let the pressure get to him unless he could fall from his No. 2 ranking quicker than you can yell, "FORE!"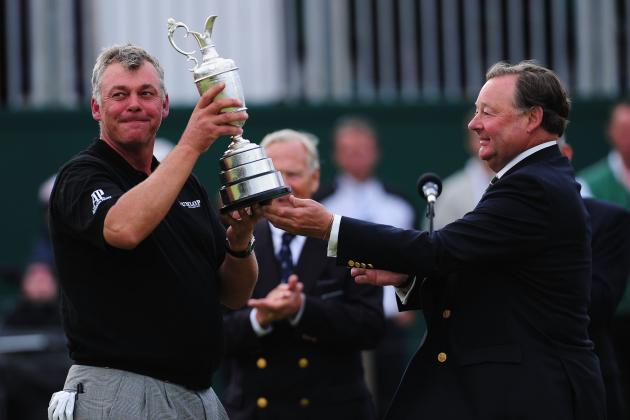 Stuart Franklin/Getty Images

Thursday Tee Time: 4:09 AM (ET)
Just how tough is it to win back-to-back titles at The Open Championship? Several golfers have accomplished that feat, most recently the aforementioned Padraig Harrington in 2007 and 2008 as well as Tiger Woods in 2005 and 2006. Darren Clarke will attempt to add his name to the list of golfers with multiple titles at The Open Championship and those who have done it twice in a row.
Clarke won last year's title through staying consistent through all 72 holes. He was only over par four times throughout his historic run towards the championship. After bogeying the first hole of the tournament, Clarke got right back into shape and birdied two of the next three. For the tournament, he ended up eagling two shots which helped his three-stroke victory.
This season, Clarke hasn't been very good at all, being cut three times in five tournaments and not placing in the top 30 in the other two.
The problem with Clarke's game is that although he's accurate driving the ball, he struggles to birdie holes of any length. His birdie or better conversion percentage is only 23 percent which is ranked nearly the worst in golf. That won't help you finish high in tournaments.
The last tournament that Clarke played in was the Masters, occurring over three months ago where he was cut after a shooting an 81 in the second round. Clarke needs to get back on track, and quick.
If there's any chance that Clarke will repeat, he needs to put together a solid first round. That way, even if his second round doesn't go as planned, he has a chance to make it to the weekend. From there, anything can happen.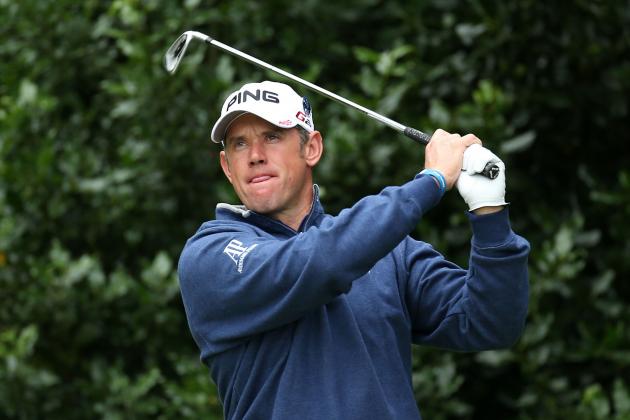 Ross Kinnaird/Getty Images

Thursday Tee Time: 9:20 AM (ET)
Lee Westwood—the No. 3 ranked golfer in the world—will have the opportunity to prove his worth at The Open Championship this weekend. He has a slight lead over Tiger Woods who could come close to taking over should he finish considerably better than Westwood.
Westwood has been very good this season, though, which makes sense since he's ranked so highly. He has four top 5 finishes including a great performance at the Masters where he finished in a tie for third. He has yet to be cut this season, but didn't play well at The Players Championship at all, finishing outside the top 50.
The one thing about Westwood's game that I really admire is his ability to hit the green on nearly every hole. His greens in regulation percentage of 71.6 is the second best in golf and is part of the reason he birdies or better on par 4's 18 percent of the time (12th best). If he can continue this through the early rounds, Westwood should be in good shape going forward.
One aspect of Westwood's game that is concerning is his overall putting. He is one of the worst putters in all of golf. When putting from inside five feet, he only sinks it 96 percent of the time. A golfer ranked in the top 5 should hit that shot close to 99 percent of the time.
From 10 to 15 feet, Westwood drains it just over 50 percent of the time. The numbers only get worse as the ball is further from the cup—which is expected—but his percentages compared to the other golfers are what are considerably bad.
Westwood absolutely has to sink the early putts if he's going to be a force in The Open Championship. He didn't play well in either championship played at Royal Lytham & St. Annes. Maybe the third time is the charm.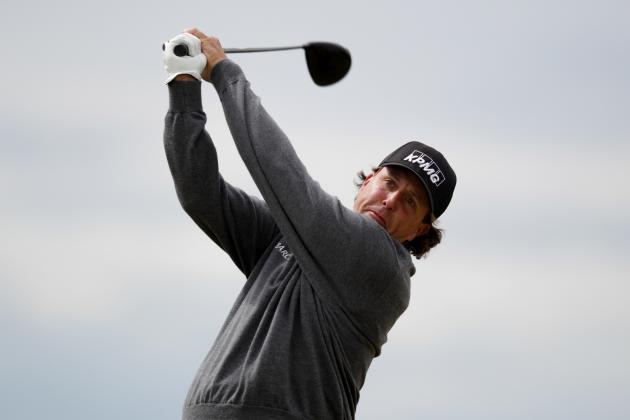 Dean Mouhtaropoulos/Getty Images

Thursday Tee Time: 9:43 AM (ET)
Finally we come to terms with the golfer featured on the introduction slide who really needs a great start to his run at The Open Championship—Phil Mickelson. Mickelson has been very inconsistent this year despite five finishes in the top 10.
Mickelson won the AT&T Pebble Beach National Pro-Am back in February and even finished in a tie for third at the Masters, but he has been bad and hurt recently. He was cut from The Greenbrier Classic after going just two over par. He finished tied for 65th at the U.S. Open and was forced to withdraw after one round at the previous event.
Nearly every aspect of Mickelson's game this season has been right on par, no pun intended. He ranks in the middle of every statistical category even though he's ranked in the top 20 in the world.
One part of Mickelson's game that he'll have to improve—as many players I've talked about—is his driving accuracy. He only hits the fairway 55 percent of the time, a percentage that won't cut it at Royal Lytham & St. Annes.
In Mickelson's first The Open Championship at this course, he finished even and tied for 40th place. He placed better the next time around, but finished one stroke worse at one over par. He finished tied for second in last year's championship, but again failed to hit many of the fairways.
Unless Lefty wants to play most of this tournament from the bunkers, his drives have to be split right down the center of the fairway on nearly every hole. One slip of the club could cost him the title. If Mickelson is off his game early and it's noticeable, it's going to be a rough two rounds to watch.