Detroit Lions: What Aaron Berry Needs to Work on in Training Camp
Hannah Foslien/Getty Images
Cornerback Aaron Berry is one of the most important players to the success of the Detroit Lions in 2012, but he has to work out a few things in training camp if he wants to play well at this critical position. NFL offenses are throwing the ball all over the field, and defenses have to limit what offenses are trying to do if they want to put their teams in a position to win games.
The Lions "Wide 9's" defense puts pressure on the perimeter of an NFL offensive line, and if they get pressure on the quarterback, their secondary looks solid. When the defensive line does not get pressure on the quarterback, it looks like the Lions secondary can't cover anyone.
The Lions have slated Berry to start at cornerback opposite Chris Houston, and very few are expecting any level of quality play from him. Most people think back to the last few games of the 2011 season and they remember the Lions getting torched by the Packers in Week 17 and the Saints in the Wild Card round of the playoffs.
Berry has to prove that he can play at this level, but the thought that Berry can't play at the NFL level is simply not true. Berry is more than capable of starting at cornerback for the Lions, but like all young players, he needs to improve to be a competitive cornerback in the NFL.
Berry is one of the keys to the Lions secondary in 2012, and if he can play well, the Lions will be in terrific shape. They need solid play from him, especially in the NFC North. Quarterbacks Aaron Rodgers and Jay Cutler await the Lions twice during the 2012 season, and the Lions can't afford to lose these games.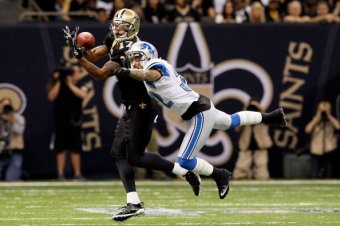 Kevin C. Cox/Getty Images
The Lions need to limit the number of big plays that they give up on defense, and Berry is a player that quarterbacks are going to go after. He needs to limit the number of large yardage plays that he gives up, as these plays are killers. Berry needs to keep the player he is defending in front of him, and he can't allow a receiver to beat him deep.
Another area that Berry needs to work on is not getting turned around while the ball is in the air. He has looked dreadful in the past as he turned around to find the ball in the air, only to see it completed to a receiver who is running away from him. It is critical that Berry learn to find the ball and play the ball. He can't allow it to play him. This is a critical area for Berry, and for the Lions.
Berry has to reduce the amount of risk that he is willing to take. Cornerbacks sometimes will jump a route, and take a chance that they can either break up a play or intercept a pass. A willingness to gamble on a ball can lead to a cornerback getting burned and giving up significant chunks of yardage. It would be smart for Berry to take a less risky approach to his job in coverage.
While it is true that a cornerback must be able to forget the previous play, it is also true that a cornerback must be able to defend the pass, and gambling too much is not a wise move. Berry must be extremely wise when he does gamble.
Berry has sustained injuries which have limited him during his first two seasons. Berry can't keep a starting job if he continues to get injured. Josh Alper of ProFootballTalk.com has reported that Berry has put on 10 pounds in an effort to stay healthy through the 2012 season.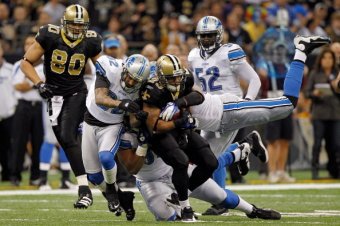 Chris Graythen/Getty Images
Another element that Berry needs to work on is tackling. The Lions defense calls for a lot of pressure on their tacklers as they line up their defensive ends wider than other 4-3 defenses. It can leave an unusually wide lane for the running back to run through, and it is paramount for the first tackler to get the job done. If a tackle gets missed, very big runs can happen. This was a problem for the Lions in 2011.
The last thing that Berry needs to work on is technique. This happens to be the most crucial thing that he will work on, because great technique will beat athletic ability all the time. It is something that Berry needs to perfect during training camp. He will have the opportunity to do so, as he will face some exceptionally talented receivers in practice every day.
The Lions need someone to step up and become their second cornerback. They have already penciled in Chris Houston as a starter, and Berry is the logical choice to become their second starting cornerback. Berry is a player that the Lions are counting on, and his opportunity is coming.
He needs to work hard in training camp on some of the issues above, and if he does, he just might be an extremely pleasant surprise when the season rolls around.
This article is
What is the duplicate article?
Why is this article offensive?
Where is this article plagiarized from?
Why is this article poorly edited?

Detroit Lions: Like this team?