Timberwolves and Trail Blazers Reportedly Battling for Nicolas Batum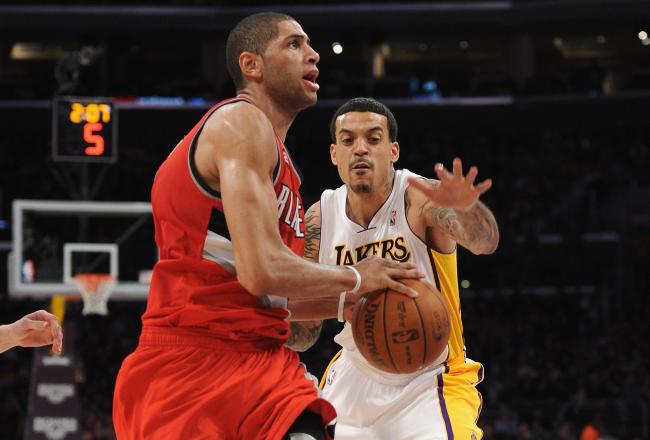 Harry How/Getty Images
Free-agent forward Nicolas Batum has apparently become the latest sign of a growing feud between the Portland Trail Blazers and the Minnesota Timberwolves.
ESPN's Ric Bucher recently shed light on the depth of this feud and the recent struggles over Batum's services.
Bucher reports from league sources that Minnesota is ready to offer Batum four years and $46.4 million offer on Sunday. This is not a shocking development as their interest in the 23-year-old has not been much of a secret.
In fact, according to Bucher, the Timberwolves have been working the phones hard to try and trade for Batum, a native of France. He reports they have offered as many as three first-round picks and have also dangled last year's No. 2 overall selection Derrick Williams.
A 4-year, $46 million contract for Batum is...
This is where this deal starts to get really interesting, though. The Blazers are not budging on the trade, but Bucher indicates that sources say the contract the Wolves are preparing to offer is "vastly more" than what Portland feels their forward is worth.
If that's the case, it would certainly seem like the Blazers would be eager to net some resources for his talents before he walks away for nothing. The problem is, there's reportedly a growing rift between these two franchises.
Bucher goes back to some sources to let us all know that these two clubs are currently in dispute over compensation that should be made on a past deal.
In 2010, the Blazers traded Martell Webster to Minnesota. Not long after the trade, Webster required back surgery. Bucher reports that the Blazers were aware of the injury but did not disclose the information. Understandably, Minnesota was not too happy with this deal.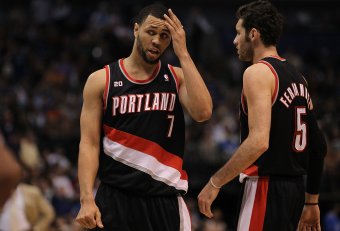 Ronald Martinez/Getty Images
As what could be a sign of revenge, the Timberwolves signed formerly retired ex-Blazer Brandon Roy. The catch with this Roy deal is that by playing in the NBA again, the Blazers, instead of an insurance company, are going to owe Roy the $49 million (minus the $10 million Minnesota signed him for) left on his contract at the time of his retirement.
Bucher adds that a source informed him Blazers owner Paul Allen thinks the Timberwolves are "trying to make life difficult for him." So in the middle of all of this is Batum—a talented, versatile and young small forward coming off a season where he averaged 13.9 points and 4.6 rebounds per game.
Who really knows how much of this struggle for Batum is due to any grudge? What's clear, however, is that neither of these franchises can afford to let it cloud their future transactions.
The Blazers would be foolish to let Batum walk for nothing when they could land valuable draft picks, or another young player, and the Timberwolves would be shortsighted to overpay for anyone just so Portland can't have them or has to pay more if, in fact, the grudge is at the heart of this situation.
This article is
What is the duplicate article?
Why is this article offensive?
Where is this article plagiarized from?
Why is this article poorly edited?