Strikeforce Rockhold vs. Kennedy Results: Live Notebook and Observations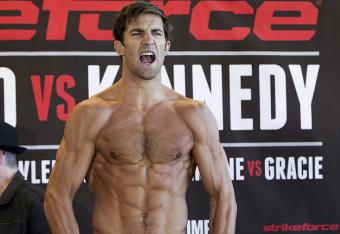 Photo courtesy of Showtime Sports

I'm trying out something new tonight.
This isn't a live blog. I won't be doing play-by-play. If that's what you're looking for, then Matt Roth has your hookup right here.
What I'm doing here is a random collection of ongoing thoughts, observations and notes. I'll discuss the fights as they unfold and point out curious or interesting things I see.
Join me, won't you?
Let's be honest with one another. Can we do that, just for a second?
For all of the talk from Luke Rockhold and Tim Kennedy about how they're ready to face the top guys in the UFC, the reality is that they are not.
It's not that they're bad fighters. They're not. They just aren't good enough to beat the best the world has to offer. In fact, I'm not sure they'd beat any of the top six middleweights in the UFC. They'd be competitive with a lot of the division, but neither one of them would fare well against the Silvas or Sonnens of the world.
I guess that's why they're in Strikeforce and not in the UFC.
Nate Marquardt brought the violence to Portland, and he took home the welterweight championship.
Marquardt looks very good at welterweight. He's missing all of the bulk that weighed him down at 185. He's faster but still has a ton of power for the welterweight division, which was on full display when he wrecked Tyron Woodley with standing elbows and uppercuts to earn the KO in the fourth round.
Woodley didn't fight a smart fight. Not against Marquardt, at least. I think Woodley took the third round, but Marquardt clearly earned the first two. And the fourth round brought the violent finish, of course.
Going into this fight, I expected it to be a boring style clash. That was not the case at all. This was a great fight, from beginning to end, and I'm intrigued to see what happens with Nate Marquardt from here on out.
I never thought I'd see the day when Nate Marquardt was a relevant fighter in 2012, but there you go.
We're about to get into our two title fights, but it must be said: this card has not lived up to the potential I thought it had going in.
It's not the worst card ever. Not by a long shot. But exciting moments have been few and far between, from the prelims all the way to the regular broadcast. And the one finish we've had thus far came before the prelim broadcast even started, with Jason High picking up a submission win.
What are the chances that one of these next two fights finishes before the final bell? Not good, I'd say.
I used to have a dream of seeing Roger Gracie vs. Robert Drysdale in an MMA fight. I'm not sure I want to see that fight anymore, because I think Drysdale would starch Gracie standing.
Gracie's win over Keith Jardine was what it was. Gracie still has abhorrent striking, but he's still great on the ground. The only thing this fight proved is that it's probably time for Jardine to hang up the gloves. He just doesn't have anything left.
After the fight, Showtime announced that my nemesis Daniel Cormier will fight on Sept. 29. That'll be his final Strikeforce appearance before moving over to the UFC. No word on who the opponent might be, though. I vote Butterbean.
Lorenz Larkin, after being announced as the winner, got down on his knees and issued a very serious plea to Dana White. Not for a title shot. Not for Strikeforce fighters to be absorbed in the UFC.
All Larkin wanted was for Zuffa to start issuing bonus fight of the night checks to Strikeforce guys.
I love the idea and I'm a bit surprised it hasn't happened yet. I realize Strikeforce is the red-headed stepchild of the Zuffa family, but they're still part of the family. The fighters in that company don't have a lot to look forward to at the moment; giving them bonuses would go a long way towards making them feel a little more welcome.
Interesting fact: Robbie Lawler was once Dana White's absolute favorite fighter.
That was a long time ago, of course. Lawler is now 29 years old, which is mind-boggling to think about when you consider how long he's been around the sport. 29 is still considered young for most athletes, but Lawler is a veteran of the sport in every sense of the word.
Losing to Lorenz Larkin isn't a signal that your career is over. Larkin is a dynamic and powerful striker, and he's finally fighting at his proper weight class. He no longer has 20 pounds of extra fat hanging over the top of his fight shorts; he's in shape and has a much bigger gas tank than he did at light heavyweight. Plus, he's one of the few guys in Strikeforce that can match power with Lawler.
I figured this would be fight of the night going into the show, but it didn't fully live up to those expectations. Lawler and Larkin spent a lot of time clinched against the cage. We got glimpses of power-heavy action at sporadic moments of the fight - most notably at the end of the final round when Lawler got that crazed look in his eye and just started swinging for the fences - but it wasn't the main story of the fight.
That belonged to Larkin. Picking up one of the biggest wins of his young career over a grizzled veteran is nothing to scoff at, and it'll be interesting to see where he goes from here. Strikeforce's middleweight division is thin enough where Larkin could actually earn a title shot with just one more win. Or even without winning one more.
Side note: I've never seen The Franchise, the Showtime series that goes behind the scenes with a Major League Baseball team. But seeing these commercials with Ozzie Guillen makes me want to watch the show.
Strikeforce main card starts in 5 minutes. Let's all hope the judging gets better.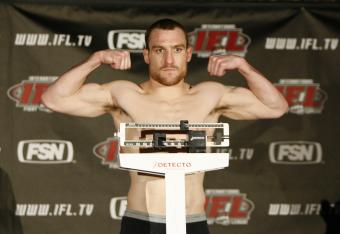 Pat Healy was supposed to be the next guy in line to face Gilbert Melendez for the Strikeforce lightweight title.
Really?
Because, by my scorecard - and by the scorecards of nearly every media member watching - Healy didn't even beat Mizuto Hirota. Sure, he got the judge's decision on Saturday night, but he didn't win the fight. Not really. This was a case of poor judging, which we saw a lot of during tonight's preliminary card.
Healy's not ready for Melendez. But then again, nobody else in Strikeforce is ready for Melendez. Josh Thomson is under the impression he's going to get a fourth fight with "El Nino," and nobody really wants to see that fight again. Sure, it was exciting the last time around, but enough is enough. You have to draw the line somewhere.
It doesn't really matter who they put in the cage with Melendez. It might as well be Healy. They're simply in a holding pattern, biding their time until the Showtime contract expires. Healy doesn't deserve a title shot, but nobody else does, either.
Ryan Couture is not his father, and that's fine. As broadcaster Mauro Ranallo noted, Couture the younger wants to be his own man, and his father wants that for him as well.
It's still easy to see the similarities between the two, though, at least in brief flashes. They move the same at times and use the same style of head movement. Ryan is not a carbon-copy of Randy, but at the very least he mimics some of his father's mannerisms.
But Ryan will never be Randy. It's not likely, anyway. He doesn't have the wrestling skill, and his striking is rudimentary and awkward at best. Ryan is at his best when he's on the ground, working for submissions, but even there he's far removed from the best lightweights in the world.
And yet, the younger Couture finds a way to win fights. Ryan's win over Joe Duarte came over an impressive win over Conor Heun, two guys I never expected him to beat. He beat them, though. And that's something else he has in common with his father: the ability to win fights when the odds are stacked against him.
This was another questionable split decision by the judges. I thought it was fairly clear that Couture won the 2nd and 3rd rounds. Perhaps those newfangled monitors the judges are using at their cageside positions are actually making their decisions worse? That's not how it's supposed to work, but it's apparently what's happening.
I like the way Jorge Masvidal fights. For the most part, anyway.
He's arrogant, to the point where he'll even drop his hands and talk to his opponent, daring them to take their best shot. This didn't work out so well against Gilbert Melendez last December, because Melendez keeps constant pressure and stayed in Masvidal's face. But it worked fine tonight against Justin Wilcox.
One interesting note about Wilcox: his nickname is "The Silverback," and boy, it is an apt description. Wilcox is a thickly-muscled 155 pounds. But he didn't utilize that muscle to effectively control Masvidal with his wrestling, and instead opted to stand and trade punches for the most part.
And really, wrestling was Wilcox's main path to the win. He was never going to win a striking battle against Masvidal, who was content to sit back and counter after nearly finishing Wilcox in the first round. And Masvidal can counter all night long.
In the end, we saw the Oregon judges doing what judges do, and Masvidal won a split decision. I have no idea how that could have possibly been a split decision, as I - and a ton of other people whose opinions I greatly respect - had the fight scored 30-27 for Masvidal. But the right guy won in the end, which is all that matters.
Jordan Mein is a welterweight to watch in the future.
His first pro fight was against Rory MacDonald - it was a loss, unfortunately - but the Canadian has put together an impressive collection of fights, especially considering his young age. He's just 22 years old, after all, and he has 32 professional fights on his record. And that's not counting his amateur record.
He didn't do enough against Tyler Stinson tonight to make me think he'd jump right into the mix in the UFC welterweight division. But he was still impressive in victory, using great head movement and accurate boxing to batter Stinson's face and earn the unanimous decision win.
One interesting note from this fight: Stinson's head appeared to hit one of the cageside cameras early in the third round. How unfortunate would it have been if the camera had cut Stinson's head open?
Stinson was a game opponent, but Mein was in control from the start. As I said at the top, he's one to watch.
This article is
What is the duplicate article?
Why is this article offensive?
Where is this article plagiarized from?
Why is this article poorly edited?