WWE Money in the Bank 2012: Preview and Predictions from B/R's Evolution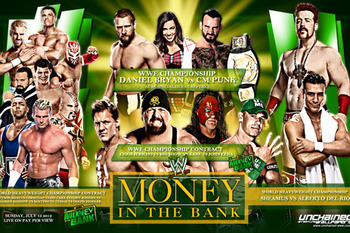 WWE Money in the Bank 2012 Match Card
In mere hours, WWE presents its third annual Money in the Bank pay-per-view event, live from the US Airways Center in Phoenix, Ariz.
This year's installment must look to raise the bar following last year's phenomenal event, but the hopes of many aren't that high given the lackluster build-up this show has received in recent weeks.
After both Superstars emerged victorious at last year's event, CM Punk and Daniel Bryan will look to do battle with one another over the WWE Championship.
However, with the interesting twist of AJ being named the special guest referee, it will undoubtedly be intriguing as to where her allegiance lies after all is said and done.
Similar to years past, the event will also feature two electric Money in the Bank Ladder Matches, with the respective winners earning a guaranteed shot at either the WWE or World Heavyweight Championship at a place and time of their choosing.
Those contests have almost always stolen the show each year they're contested, so it will be exciting to see which two stars walk out with a briefcase in hand.
Here, I am once again joined by the past, present and future of Bleacher Report to help me analyze tonight's electric pay-per-view with their intelligent insight on all things wrestling.
Without further ado, please allow me to introduce the recognizable talent of RiZE, SiD, Daniel Massey and Nate Scaccia, otherwise known as the Evolution of Bleacher Report, for the most jam-packed prediction article ever conducted!
Kofi Kingston and R-Truth vs. Hunico and Camacho (Pre-Show Match)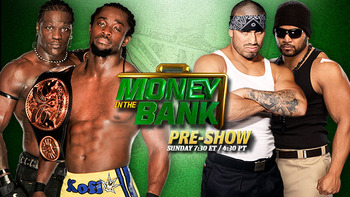 Kofi Kingston and R-Truth vs. Hunico and Camacho
GSM: What is the purpose of this match? While I do realize that some of the past pre-show matches haven't made much sense, this one in particular feels a bit random, especially since the No. 1 contenders to the WWE Tag Team Championships, the Prime Time Players, are being left off the card.
Not only that, but the champs are being relegated to the pre-show, when they could have easily been placed on the main card to kill time.
Nonetheless, the dynamic of the two teams should be fun, but its outcome is blatantly obvious. Kingston and Truth go over here, but I wouldn't be surprised to see Darren Young and Titus O'Neil make an appearance.
RiZE: I find this particular booking decision rather difficult to comprehend. At No Way Out, the Prime Time Players won a fatal four way tag team match for a shot at R-Boom's tag team titles. Now they're stuck in an ignored program with the Colons while Camacho and Hunico take their title opportunity?
Anyway, I expect Kofi to carry the load for his team as Truth is nursing a foot injury. There's been absolutely no build towards this match, so I expect R-Boom to retain here.
I feel as if the WWE should've at least considered placing this match on the main pay per view. There are only four matches booked for MITB so far.
Unless they plan on dragging those matches out, they'll need something else to fill time. What am I even saying? I'm almost positive Ryback and Brodus Clay will be featured in their regular fashion.
Massey: This pre-show is a waste of time this month in my opinion. I'm not saying it won't be an entertaining tag match, but it is not really important enough to get the crowd going in a big way. However, this match does help the tag team division in a big way.
The tag team division has been coming on in leaps and bounds since R-Truth and Kofi Kingston became the tag team champions. We have many tag teams in the WWE now, and this match will serve to show that these two teams are viable contenders. I see Kofi Kingston and R-Truth winning this pre-show match.
SiD: This match is completely filler, and the result is fairly obvious. Kofi Kingston and R-Truth win, and maybe, maybe in the future, the rightful No. 1 contenders, the Prime Time Playas defeat Air Jimmy to win the Tag Team Champions. Millions of Dollars!
Scaccia: Not sure why Hunico and Camacho are facing Kofi and Truth because I swear Titus O'Neil and Darren Young are the No.1 contenders. Obviously, Kofi and Truth will retain here.
The WWE should've given the Primetime Players their shot here, have them win or lose, doesn't really matter and then at SummerSlam have a triple threat tag team match involving the tag champs, Primo and Epico, and the Primetime Players/Kofi and Truth.
Have it be a ladder match or tag team tables and you have an interesting booking. But the WWE would rather throw together random tag team matches on a pre-show than give the fans an enjoyable display of tag team wrestling. Sigh.
Overall Consensus: Kingston/Truth-5, Hunico/Camacho-0
World Heavyweight Championship Money in the Bank Ladder Match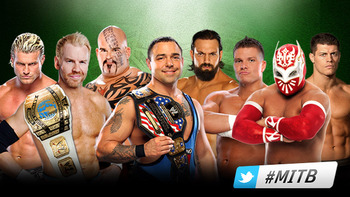 World Heavyweight Championship Money in the Bank Match
GSM: For the last two years, the opening SmackDown Money in the Bank Ladder Match has stole the show, and there's a strong possibility this year's match from the blue brand will be no different.
Given the fact that a majority of the competitors in this contest are not former World Champions, it makes the outcome all the more exciting and unpredictable.
However, I see it coming down to only two men: Dolph Ziggler and Cody Rhodes. While Ziggler is ready for a World title run, Rhodes is more deserving of the briefcase, but isn't yet ready to take on the main event scene.
Nonetheless, I could see Rhodes becoming Mr. Money in the Bank and holding onto his guaranteed title shot for the foreseeable future until he is 100 percent ready.
This matchup is very intriguing and could be very deceiving, but please allow me to break down the chances of the combatants.
RiZE: Santino has no chance whatsoever. Santino is a crowd favorite that'll likely have an "almost" moment like he did at Elimination Chamber a few months ago.
Tyson Kidd has been portrayed as the underdog and will most likely have a very strong performance here.
However, he's playing a role similar to that of a Kofi Kingston, John Morrison or Shelton Benjamin. He'll be the one to really "wow" the fans with a number of spots but he won't win.
There's another scenario I have for Tyson (or Sin Cara) that I'll speak on shortly.
Christian is the veteran superstar that'll have a big part in this matchup but has no chance at winning.
Sin Cara, like Tyson Kidd, will be a guy to "wow" the audience with a plethora of high flying maneuvers. He could also take a devastating bump like he did last year but his chances of winning are slim to none.
Tensai will be the "destroyer." He'll be the one displaying endless amounts of aggression and ruthlessness by destroying the other combatants. I don't think he'll win, as he could face Sheamus any day of the week and realistically have a chance at beating him. He almost did on Raw a few weeks ago.
Damien Sandow is the dark horse. I firmly believe Mr. Sandow will have a great showing but in the eyes of the WWE, he isn't ready to win he briefcase just yet. I, on the other hand, believe Mr. Sandow is main-event capable right now but I'm not the one running the show.
I also expect Sandow to have some form of interaction with Christian that'll lead to an Intercontinental title feud.
And then there were two.
Dolph Ziggler has a realistic shot at winning this thing but he's damaged goods at this point. The WWE has jobbed him out to Sheamus one time too many for me to consider a win here.
Cody Rhodes is my pick to win this match. The only thing that could stop Rhodes from winning this match is a returning Wade Barrett. I could see Barrett taking out a Tyson Kidd or a Sin Cara to insert himself into this match to win.
If not, Rhodes will stand as the victor.
He's the only one that didn't beat a jobber to enter this match. His qualifying match was given more emphasis than the others. He "conveniently" dropped his Intercontinental Championship sometime before MITB. And last but not least, his push has been identical to that of the Miz's 2010 push.
It seems written in the stars at this point but I wouldn't be completely shocked if he didn't as the WWE (Vince) loves to swerve us when a finish is just too obvious.
Massey: Dolph Ziggler is a sure thing for this Money in the Bank match. Damien Sandow is too new and just finding his audience (he needs to be Intercontinental Champion first), Tyson Kidd has been on a roll but he will never work as a World Heavyweight Champion.
Christian belongs in the mid-card, didn't work as World Heavyweight Champion and is already wearing Intercontinental gold. Santino doesn't even belong in the match, Tensai is still getting "Albert" chants and Sin Cara is most likely still on thin ice with backstage officials since his return.
This leaves Cody Rhodes and Dolph Ziggler. Cody has been feuding with Christian as of late and has not looked like getting a World title opportunity anytime soon.
Dolph Ziggler, on the other hand, has had several World Heavyweight Championship matches and come close to winning on many occasions.
He needs this briefcase and he needs to hold it until someone other than Sheamus is champion—then Ziggler can strike and become champion for a second time.
SiD: This is a match that interests me now. Having eight competitors in this match like WWE usually does, these young men are set to fight for the ultimate prize in this event: the Money in the Bank briefcase.
Cody Rhodes, Dolph Ziggler, Sin Cara, Christian, Tensai, Tyson Kidd, Santino Marella and Damien Sandow face each other for the World Title Money in the Bank case.
This match has two favorites, even though each contender seems credible. Anyway, I think that Cody Rhodes will walk out of MITB as the Money in the Bank winner, and probably also the World Heavyweight Champion.
Scaccia: What the show should be about, we have the only "real" MITB of the night. With great young stars Dolph Ziggler, Cody Rhodes, Tyson Kidd and Damien Sandow in the match along with the veteran Christian and highflyer Sin Cara, this match should be exciting.
I didn't mention Tensai because all I think he will do is show off his strength a little and dominate the smaller guys, but I give him no chance of winning.
Santino Marella doesn't belong in this match let alone have a shot at winning. Really, I see two people as the favorites, Rhodes and Ziggler.
Both of them are good picks to win and I would be happy with either. Personally, I think Ziggler will walk out with the contract.
It is his time to finally break into the main event and I think he could be successful there. Note that Kidd and Sandow are my dark-horse picks and may pull off the surprise.
Overall Consensus: Rhodes-3, Ziggler-2, Other-0
WWE Championship Money in the Bank Ladder Match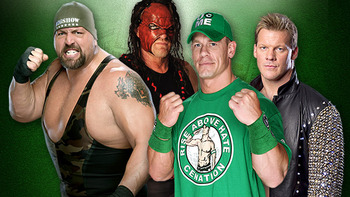 WWE Championship Money in the Bank Ladder Match
GSM: Given the fact that John Cena has headlined almost every pay-per-view this year, I surely hope this match doesn't close the show, even if it is a Money in the Bank Ladder Match. These types of matches are used to elevate new talent, not give an established star an extra accolade.
Kane could always repeat history and win the bout and go on to cash in against Punk or Bryan later in the night to side with AJ, but that's a bit far fetched.
Chris Jericho has absolutely no chance, while Show would be a dull winner. Cena is the obvious pick here, but the only saving grace of him as victor would be that he might be the first one to cash in and lose his WWE title match. Time will tell.
RiZE: Chris Jericho, I am begging you to save us, good sir.
No disrespect to the other competitors in this match but I just don't see this being a great match in the slightest. Kane, Big Show, and John Cena aren't exactly fit for ladder matches.
Kane's well above his 40s. Big Show is in the same category as Kane. John Cena is the face of the WWE and they won't risk him getting injured by a spot in this match.
In the end, Chris Jericho will have to rise to the occasion to assure this match possesses some entertainment value.
As far as the winner goes, I am 100 percent certain that John Cena will win this match. Let's take a look at the combatants, shall we?
Kane, like I stated above, is well above his 40s and I don't see him challenging for the WWE championship any time soon. The Big Show is too and I don't see the WWE placing him in a feud with the WWE championship.
Chris Jericho is a pay-per-view jobber and was placed here to make the match slightly memorable.
And then we have John Cena.
For starters, Cena is the only face in this matchup. Every year since its inception, the WWE has had once face and one heel win the ladder matches.
Two, Cena is currently rumored for a title match against current WWE champion, CM Punk, at Summerslam. Lastly, Cena wouldn't have a solid program if he lost this match.
The WWE has made it blatantly obvious that they're not going back to Cena vs. Big Show, so I can't see anyone other than Cena winning this matchup.
Massey: Big Show has been on a big roll as of late and he has been in Money in the Bank Matches before. We have not seen CM Punk and Big Show in a feud for the WWE Championship before but we have done with Chris Jericho and John Cena so in order to keep the title scene fresh Big Show should win this match.
If he loses at another PPV, it will just be detrimental to his heel run whether we like it or not, and he will not come out of the match looking strong.
I do believe we will end up seeing the huge ladder that Big Show debuted a couple of years ago. Everyone will get close to the briefcase, but it will be Big Show who gains the contract.
However, The Rock will be returning at WWE Raw 1000 and is looking to make a claim for the WWE Championship. If Cena wins the Money in the Bank and has the opportunity to become champion yet again, it would set up this feud revival.
The Rock and Cena could well end up facing each other at SummerSlam as a double main event to Triple H and Brock Lesnar.
This is probably the most difficult prediction, but I will assume that WWE know what they are doing and looking at the long term and John Cena will win his first Money in the Bank match. I hope I don't regret it.
SiD: I'll be honest here: I hate this match; Not because of the wrestlers involved, but because of the number of participants. Starting with four participants for the first time ever, John Cena takes on Kane, Big Show and Chris Jericho for the red briefcase. The part abut former WWE champions competing in this match is confusing and plain stupid.
The WWE Championship briefcase is supposed to be for the young superstars who are looking forward to break out to the main event scene; not about former champions getting another run in the main event.
Anyway, the obvious winner here will be the WWE's resident Fruity Pebble, John Cena, and he will probably be the first man to lose the match for the WWE Championship. That's for the future; but for now, John Cena will be the victor of this coveted briefcase.
Scaccia: Not really a fan of this concept. Why ruin the traditional Money in the Bank format by reducing its competitors to four and having them all be proven stars?
My opinions aside, there is really only one obvious winner here. John Cena will undoubtedly prevail and overcome all the odds to walk out with the briefcase/contract. Not what I want to see, but given the competition, it is the only logical choice.
Overall Consensus: Cena-4, Show-1, Jericho-0, Kane-0
Sheamus vs. Alberto Del Rio (World Heavyweight Championship)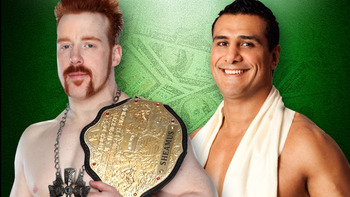 Sheamus vs. Alberto Del Rio
GSM: While both Sheamus and Alberto Del Rio are probably the two most uninteresting characters in WWE right now, I do commend WWE for building this feud correctly.
For the first time in nearly a year, I'm finally invested in Del Rio's character due to the new aggressive side he's been showing lately, giving viewers a reason to think he might actually win the title.
Nonetheless, I see Sheamus' recent abuse as a sign that he'll be successfully retaining the World Heavyweight Championship here.
RiZE: After a series of rewrites and mishaps, we're finally getting Sheamus vs. Alberto Del Rio for the World Heavyweight Championship.
I must say, the build-up towards this match has been much more entertaining than the build to Sheamus' last two championship bouts. Alberto Del Rio has proven me wrong with some of his most entertaining work yet while Sheamus is Sheamus.
Considering the in-ring talents of both men, I expect a stellar match here.
Sheamus isn't exactly technically sound, but he's one of the better "big men" I've seen in quite some time. Alberto Del Rio is a top-five in-ring performer and always "brings it" when it comes to pay-per-view matches.
In the end, I expect the Celtic Warrior to win after a Brogue kick.
Sheamus is just too early in his reign to lose just yet. However, there's still the possibility of him losing his championship to someone other than Del Rio at MITB.
Massey: If Alberto Del Rio wins this match, I think I'll cry. Del Rio is boring, stale and as good as he may be in the ring, he is not exciting enough to be in the main event. This match will be like all the matches we see Del Rio in.
There will be a back-and-forth exchange, both men will get to the point where they are both knackered, Del Rio will have his armbreaker on for a bit and then lose to the Brogue Kick.
I just don't see how these two men can make this match any different to a general SmackDown match. Sheamus will win this match and retain his World Heavyweight Championship.
SiD: Sheamus has been molded to be the second Super-Cena. After defeating the likes of Daniel Bryan and Dolph Ziggler numerous times, Sheamus finally gets an opponent who holds an edge against the Irish-born Superstar.
The Mexican Aristocrat, Alberto Del Rio, has gotten the better of Sheamus multiple times now, and has put Sheamus in the Cross Arm Breaker many times.
Now, they face off for the World Heavyweight Championship. This can go either way, too. While Sheamus is the odds-on favorite to win, let's not forget about Del Rio here. WWE usually takes the title off champions three months after they win.
Sheamus has had a very long reign until now, and now, WWE may take the title off him. However, I do not expect WWE to do that, and I think that Sheamus will defeat Del Rio to retain his championship.
Scaccia: As bland as Del Rio usually is, he has done a decent job making this feud enjoyable. I wasn't expecting much from him so maybe that's why I am enjoying this little feud.
Regardless, I don't think there is any chance Sheamus loses here. He is the top guy on Smackdown right now; taking the belt off of him now would not do anyone any favors.
Sheamus needs a long reign at least until the WWE can build up a credible opponent for him to drop the championship to.
Del Rio is not that opponent. His gimmick is stale and the fans just don't care about him. If he wins Sunday, then we will probably see a noticeable drop in the Smackdown rating.
That is why I am picking Sheamus to win. He is Vince's money maker right now.
Overall Consensus: Sheamus-5, Del Rio-0
CM Punk vs. Daniel Bryan (WWE Championship; AJ as Special Guest Referee)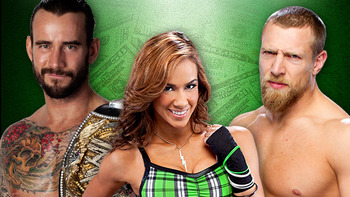 CM Punk vs. Daniel Bryan with AJ as the Special Guest Referee
GSM: Of all the matches on the card, this is the one I'm most looking forward to. They've built this story up so well in recent months (aside from last week's Raw) and this looks to be the pay-off we've all been waiting for.
Obviously, the match itself will be amazing much like what we saw at Money in the Bank, and I hope the lack of advertised matches on the event's card means this title contest will receive more time.
As far as the outcome goes, there are a number of possibilities, but AJ must pick a side here, as I can't see them dragging out this angle for another month. With Punk being rumored to face Cena for the title at SummerSlam yet again, I expect him to retain here, but I'm not exactly sure how.
RiZE: I must say, I'm rather disappointed in how this program has turned out.
I don't dislike AJ Lee at all, but Eve was right when she told CM Punk that the Diva has overshadowed him. She's overshadowed everyone/everything else in this program, and that includes the WWE Championship.
The WWE championship and CM Punk are already playing second fiddle to John Cena, so that makes this even worse. Don't get me wrong, I still think Punk is the best thing in professional wrestling today, but I can't help but feel he has been treated like an interim champion his entire reign.
As far as the match itself goes, I expect a good matchup between these two, but I don't expect it to be as good as the match from Over the Limit.
The inclusion of AJ in a special guest referee role will take away from the match quality. Most of the focus will be on her and the decisions she'll make during the matchup.
In the end, I expect CM Punk to retain his WWE championship.
The 1000th edition of Raw is coming up and I just don't see Vince McMahon putting the title on someone he had lose in 18 seconds at WrestleMania.
Besides, Punk vs. Cena just seems like the bigger (and wise) matchup for Summerslam as we all know what Cena would do to Bryan if they did feud.
Massey: AJ is certainly going to be a big factor in this match. CM Punk has held the title for months and months now and has hardly been in a main event.
Whether the WWE will let the Championship change hands and let Daniel Bryan carry it for a while remains to be seen. Daniel Bryan has been World Heavyweight Champion before and had a really good reign until Sheamus beat him in 18 seconds.
He has competed against Punk for the title on a couple of occasions and lost both times, so if he loses again, he needs to be taken out of the title picture. I see Bryan winning so he can put over the winner of the Money in the Bank match, therefore setting up The Rock vs. John Cena as I pitched in the last prediction.
AJ will probably fast-count Punk's shoulders to the mat, but not after playing both men off against each other.
CM Punk and Daniel Bryan will be an absolutely brilliant match and with AJ (arguably the most interesting character in the WWE at the moment) as the Special Guest Referee, the culmination of this storyline will be explosive to say the least.
SiD: This match is the hardest to predict in the complete PPV, and that's saying a lot, since there are two Money in the Bank matches on the card, too. CM Punk and Daniel Bryan have been feuding since Over the Limit, where Daniel Bryan is chasing the champion CM Punk for his prestigious belt.
Adding Kane to the feud was good, but since he's gone now, we're left with the two best wrestlers in the WWE currently, Punk and Bryan, to compete at Money in the Bank.
There's a twist in a tale, though. AJ Lee, the psychotic diva, is the guest referee of this match! The "crazy chick" has been flirting a lot with CM Punk, as of late, and also, she hasn't got over Bryan, her first love.
Here's where the predictions get tough. Either WWE can go the normal route, and have CM Punk retain fair and square, or they can have AJ help Bryan become the WWE Champion.
I'm thinking that WWE will take the title off CM Punk now, and Daniel Bryan will finally win the WWE Title, much to the delight of the WWE Universe!
Scaccia: Once again the most interesting storyline on the card, Punk and Bryan continue their feud this time with AJ as the special guest referee. On Raw, AJ slapped both men, proving just how "unstable" and "partial" she may be. I really see Punk winning here; I'm just not sure how it will go down.
The match certainly has me intrigued and I would be happy to see Bryan pull off a win. One thing needs to be pointed out here. This is the WWE's only interesting, long-term storyline at the moment and has been for the past few months.
The WWE product was lackluster to be kind this past Monday. The WWE really needs to step it up heading into SummerSlam.
Overall Consensus: Punk-3, Bryan-2
Conclusion

WWE Money in the Bank 2012 Promo

Overall, WWE Money in the Bank looks to be like a half-decent pay-per-view. While that might not be saying much since last year's event was the best show of 2011, this year's installment certainly has its shares of twists and turns that make it just as intriguing.
As we've seen in recent months, I highly expect to see the monthly Ryback match occur on the card. Seeing that he's currently engaged in a mini-feud with both Curt Hawkins and Tyler Reks, I wouldn't be surprised to see the former NXT Rookie compete against the team in a Handicap match.
On a similar note, Brodus Clay is also not booked for this show, so plan on a brief squash match from the Funkasaurus in order to kill time.
Other matches will also probably be booked at the last minute as well seeing since there's only four actual matches on the confirmed card, but I also hope it means that we'll be seeing some extra time added to the contests already scheduled.
I'd like to thank RiZE, SiD, Daniel Massey and Nate Scaccia for collectively participating in my Money in the Bank preview. All of them put in valuable time and thought into making their respective predictions.
Drop a comment with your thoughts going into the Money in the Bank event and be sure to tune in tonight for one of the biggest blockbusters of the summer!
GSM out.
Visit my website at Next Era Wrestling, as well as listen to my SAVE US GSM radio show that returns Thursday, July 26th at 10/9c for more of my thoughts and writings, along with WWE/TNA news, reviews, recaps and more.
Listen to internet radio with Spoilerspodcast on Blog Talk Radio
Keep Reading