Joe Paterno Statue Will Reportedly Remain Standing at Penn State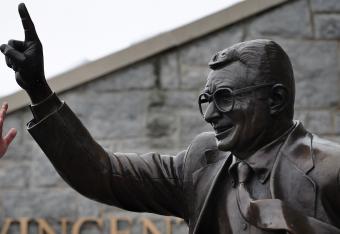 Patrick Smith/Getty Images
Joe Paterno's statue, on the campus of Penn State, is reportedly not going anywhere...for the time being.
UPDATE: Sunday, July 15 at 6:52 p.m. ET by Richard Langford
Ron Musselman, the editor-in-Chief of StateCollege.com, is passed along a statement from Penn State saying news of any decision made about the fate of this statue was inaccurate.

PSU spokesman Dave La Torre: "Contrary to various reports, neither the Board of Trustees nor University Administration has taken a vote

— Ron Musselman (@rmusselmansc) July 15, 2012
or made a decision regarding the Joe Paterno statue at Beaver Stadium."

— Ron Musselman (@rmusselmansc) July 15, 2012
So the reports, which they are refuting, said that the decision was that the statue would not be taken down this moment, but they were careful to say that the issue would be revisited.
Hopefully, this means they are on the verge of a permanent decision, but in the meantime, this announcement has no affect on the reality of the situation.
In other words, the statue will stay there while they decide what to do.
------- end of update --------
ESPN's Don Van Natta Jr. reported this information, which he gathered from "sources with firsthand knowledge of the trustees' private discussions this week."
The statue of the famed late coach has been a hot-button issue, and it got even hotter after the Freeh report detailed Paterno's role in the Jerry Sandusky child sexual abuse cover-up.
This has led to many calling for the statue's immediate removal. However, the Penn State Board of Trustees is being careful not to rush to a decision in the wake of the fallout from this emotionally charged issue.
Van Natta offered up the following quote from a trustee to shed some light on their thinking:
"You can't let people stampede you into making a rash decision. The statue represents the good that Joe did. It doesn't represent the bad that he did."
Of course, rash decisions are not always the wrong ones, and the board also seems fully aware of this as Van Natta shared this quote from a different trustee.
"It has to stay up. We have to let a number of months pass, and we'll address it again."
So the permanent fate of this statue has yet to be decided, and this whole process highlights the difficulties facing the decision of the board. With two passionate sides to this issue, there is no middle ground between them.
While it is understandable that Penn State would want to take some time to come to this decision, it is not in the school's best interest to do so.
Penn State should be doing everything in its power to distance itself from this tragic era—yet it has just prolonged its attachment to it.
By not coming out with a definitive answer to this question, the board has only added fuel to the fire of this debate, and will do so again when it "revisits" the issue of this statue.
The board should be doing everything it can to move forward, and not prolong the decision on what level of public attachment Penn State wants to have to any person involved with the tragic incidents of the Sandusky scandal.
This article is
What is the duplicate article?
Why is this article offensive?
Where is this article plagiarized from?
Why is this article poorly edited?

Penn State Football: Like this team?