Strikeforce Rockhold vs. Kennedy Recap: Burning Questions Facing the Promotion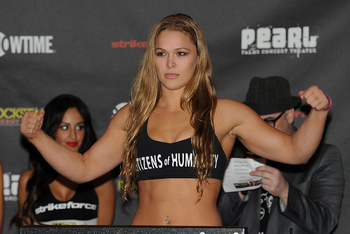 Kari Hubert/Forza LLC/Forza LLC via Getty Images
On Saturday night, Strikeforce presented a fight card headlined by a middleweight title fight between Luke Rockhold and Tim Kennedy.
Rockhold was able to retain his title with a five-round, unanimous decision. In the evening's co-main event, Nate Marquardt was able to claim the vacant welterweight title by knocking out the previously unbeaten Tyron Woodley.
The full results for the fight card are below:
Luke Rockhold defeats Tim Kennedy via unanimous decision (49-46 x 3)
Nate Marquardt defeats Tyron Woodley via knockout at 1:39 of Round 4
Roger Gracie defeats Keith Jardine via unanimous decision (29-27, 30-27, 30-26)
Lorenz Larkin defeats Robbie Lawler via unanimous decision (30-27 x 3)
Pat Healy defeats Mizuto Hirota via unanimous decision (30-27, 29-28, 29-28)
Ryan Couture defeats Joe Duarte via split decision (29-28, 28-29, 29-28)
Jorge Masvidal defeats Justin Wilcox via split decision (28-29, 29-28, 30-27)
Jordan Mein defeats Tyler Stinson via unanimous decision (30-27 x 3)
Jason High defeats Nate Moore via submission at 0:26 of Round 1
The promotion does not have another card scheduled until August 18. The main event on that card will see Ronda Rousey defend her Strikeforce women's bantamweight title against former champion Sarah Kaufman.
Until then, let's take a look at some questions facing Strikeforce.
Does Anyone Care About Strikeforce?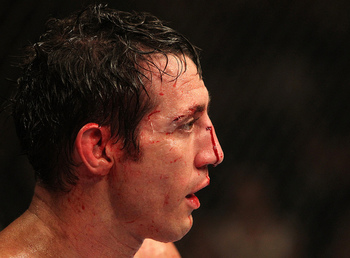 Josh Hedges/Forza LLC/Forza LLC via Getty Images
In the lead up to Saturday's fight, Tim Kennedy, appearing at the pre-fight press conference, did not hide his feelings on the lack of love for Strikeforce (via MMAJunkie.com):
There's not a single goddamn reporter here. There's four of you guys. This is two title fights for Strikeforce. It's crystal clear that nobody gives a [expletive]. They don't. I knock Rockhold out on Saturday night? Changes nothing for me. Nothing in, like, what media publications are going to cover me, who talks about me, sponsors I'm going to get. Do you know how much money I didn't make in sponsors for this fight because nobody cares about Strikeforce? It's insane.
The attendance at the last Strikeforce card, which featured the Grand Prix final bout between Daniel Cormier and Josh Barnett as well as a lightweight title bout between Gilbert Melendez drew 5,413 fans to the HP Pavilion in San Jose—an arena that can easily seat more than 17,000.
On the surface, it seems that Kennedy is correct; people really do not care all that much about Strikeforce.
With that being said, people do care about some individual fighters who remain with the promotion, chief among them Ronda Rousey and Daniel Cormier.
Cormier is not long for the promotion as he will most likely fight once more for Strikeforce and then move to the UFC, but Rousey, she's a potential goldmine.
The real answer to the question will come during the weeks leading up to Rousey's fight. If there's no promotion, no press push, no getting her face in front of as many cameras as possible, then the answer is clear, no one, from top to bottom, cares about Strikeforce.
What's Next for Daniel Cormier?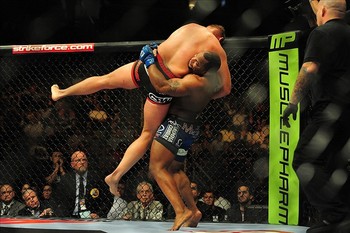 Kyle Terada-US PRESSWIRE
If you saw the final fight of the Strikeforce World Heavyweight Grand Prix then you saw Daniel totally dominate Josh Branett for five full rounds, claiming the tournament title and setting up one final fight with the promotion.
Cormier broke his hand in the Barnett bout and underwent surgery. During Saturday's fight card, it was revealed that Cormier will fight in September, but as far as who he will fight that remains unknown, as Cormier discussed on HDNet's Inside MMA: (H/T to MMAMania.com)
I have no idea who it's gonna be. There's a whole bunch of quality heavyweights over at the UFC. But, outside of those guys, I just cannot imagine who it would be. It's gonna be difficult for them to convince someone to come over and fight in Strikeforce. I think a lot of those guys have fought at the highest level of the sport and wouldn't wanna actually, in essence, take a step back. But if they do, I'll be waiting, ready and ready to scrap. Whoever they send over, I guarantee we'll put on a good fight, and you know, we'll mix it up.
Cormier is a star in the making, and his name has been thrown around as a potential threat for both the UFC light heavyweight and heavyweight titles. That fact makes a bout against him appealing to a UFC fighter. Why wouldn't a UFC heavyweight take a one-off bout in Strikeforce if his opponent is looked at as one of the top fighters in the game?
What's Next for Josh Barnett?
Kyle Terada-US PRESSWIRE
Does Josh Barnett deserve to be in the UFC based on skill? Yes. Does he bring a whole lot of baggage and attitude with him that would make his signing less than appealing to the UFC? Yup.
Oddly, following his loss to Cormier, USAToday revealed that Barnett would have one more fight under the Strikeforce banner. What's odd about that is the fact that the Strikeforce heavyweight division was disbanded prior to the Grand Prix finale. At this time, the division is literally made up of two fighters—Barnett and Daniel Cormier.
While Cormier is an appealing fight for a current UFC fighter to take, a fight with Barnett is far less appealing. Why transfer over for a one-off fight against a fighter who cannot really elevate your career within the UFC? That fight just doesn't make sense for any UFC fighter unless it comes with some guarantees and a boat load of cash.
Since his loss to Cormier, we have not heard much about Barnett; it'll be interesting to see how this plays out and just who he gets matched up against.
Will Cyborg Return to Face Ronda Rousey?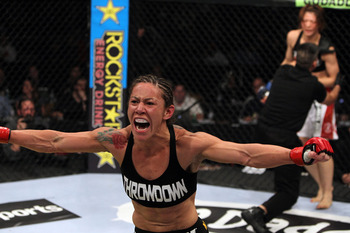 Josh Hedges/Forza LLC UFC
Cristiane "Cyborg" Justino, formerly Santos, is currently in the midst of a year-long suspension for a positive steroid test following her 16-second knockout victory over Hiroko Yamanaka in December of last year.
Since then, we haven't hear much from Santos other than when she and current Strikeforce women's bantamweight champion Ronda Rousey engaged in a brief Twitter war.
With the end of her suspension approaching, one has to think that Cyborg will be looking to get right back in the mix and what better way to do so than a fight for the title? And let's face it, this is the biggest fight that Strikeforce can promote at this time, so why not make it happen as soon as Santos is ready to get back in the cage?
Strikeforce CEO Scott Coker had this to say about a potential Rousey versus Cyborg fight: (via MMAFighting.com)
I think that's going to be inevitable. I think that fight will happen at some point. We're just waiting for Cyborg to get off her suspension but that conversation will happen once she's back ready to fight because her and Ronda at 135-pounds? That might be the highest rated show on Showtime for the year or for the past fights we've done. Women's fights always rate well on Showtime and Ronda's always delivered.
Ethically, the fight probably doesn't make much sense—rewarding a fighter returning from a steroid suspension with an immediate title fight—but you know as well as I that this is the fight everyone wants to see in Strikeforce.
Can Sarah Kaufman Play Spoiler?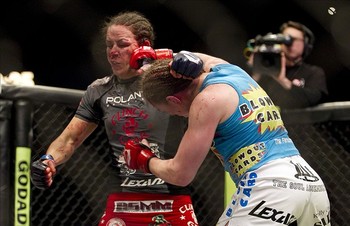 Greg Bartram-US PRESSWIRE
One of the things that needs to happen in order for the Ronda Rousey versus Cyborg fight to take place, is that Rousey is going to need to get past Sarah Kaufman in August. Kaufman is 15-1 in her professional career with her sole loss coming at the hands of Marlos Coenen via armbar. That loss cost Kaufman the title that Rousey currently holds.
Kaufman is the more experienced of the two fighters, and she does have a strong striking game, but she will enter this fight as a big underdog to Rousey, and there is one simple reason for that—the armbar. Rousey has ended all of her fights, amateur and professional, via the armbar, never leaving the first round.
It's not an understatement to say that a Kaufman win in this fight would be in the running for upset of the year.
Keep Reading