Amir Khan vs. Danny Garcia: Live from the Mandalay Bay in Las Vegas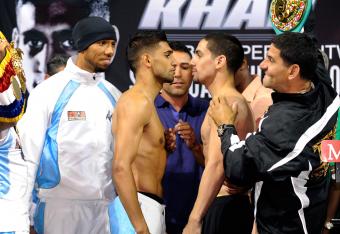 David Becker/Getty Images
On Saturday night WBA junior welterweight champion, Amir Khan, will face WBC champ, Danny Garcia, in a three-title unification bout at the Mandalay Bay Events Center in Las Vegas and i will be there ringside to give you the blow-by-blow action.
Not only are the two fighters putting their respective belts on the line Saturday, but the vacant The Ring title will also be awarded to the winner of the bout.
Khan (26-2, 18 KOs) is one of boxing's biggest rising stars and a win over Garcia (23-0, 14 KOs) will only get him one step closer to a mega-fight with Floyd Mayweather down the line.
Garcia is looking to keep his undefeated record intact in addition to gaining the marquee win of his career; which should put him on the map.
The two fighters camps have been going back-and-forth during pre-fight press conferences and there should be plenty of action once Khan and Garcia are in the ring.
Khan vowed to knock Garcia out and Garcia has guaranteed to back up his overly vocal father/trainer, Angel Garcia's trash talk that has come before each of his fights and push his win streak to 24.
Check back later tonight for all the action between Khan and Garcia, as well as full recaps of the undercard bouts live from the Mandalay Bay.
As always, stay tuned to Bleacher Report's boxing page for up to date news, previews, opinions and everything else that happens in and out of the ring.
Follow me on Twitter: Follow @mickakers
Round 4:
Khan takes a massive shot from Garcia and receives a standing eight-count.
Immediately after the count, Khan takes another huge shot.
Khan is showing some tremendous heart staying on his feet after taking power shot after power shot.
Khan lands a few big shots of his own and appears to be getting back his balance.
Garcia lands a huge shot, and Bayless gives Khan a standing count and he stops the bout.
Garcia upsets the heavily favored Khan in 4!
Round 3:
Khan lands the first six shots of the round.
Khan appears to be waiting for Garcia to come at him to counter Garcia's action.
Khan using his jab once again, something he moved away from in the second round.
Garcia lands a couple of solid body shots, with Khan countering tot he head.
Khan is is knocked down and super woozy on his feet and some how manages to make it out of the round. Wow!
Garcia 29-27
Round 2:
Khan lands a solid three-punch combo.
The two exchange glancing blows.
Khan throws a punch at Garcia while he has him in a headlock.
The action is getting chippy in the ring.
Garcia catches Khan with a counter, knocking him off balance.
Garcia lands a solid combo, his best of the fight so far.
Garcia is now bleeding below his right eye.
Garcia stole that round with his late rally.
Even 19-19
Round 1:
Khan comes out aggressive and lands a big hot right out the gates.

Khan looking too quick for Garcia early on in the round.
Great back and forth action, setting up to be a barn burner.
Khan using his jab to set up combinations towards the end of Round 1.
Low blow from Garcia with 30 seconds left in Round 1.
Clearly Khan's round.
Khan 10-9
Here we go Amir Khan and Danny Garcia are about to make their way to the ring to get the main event started.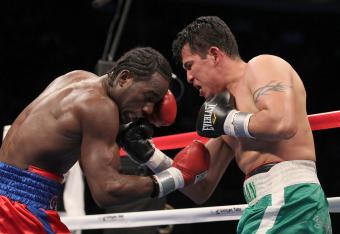 Fernando Guerrero 25-year-old (24-1, 18 KOs) came out swinging against journeyman Jose Medina (17-11-1, 7 KOs), knocking Medina down early in the second round of scheduled 10-round bout and coasted from there on out to take a unanimous decision 100-89, 100-89 and 99-90.
After the knockdown in Round 2, the fighters exchanged action, with Guerrero landing the more effective of the two.
Guerrero landed solid shots throughout the bout, to which Medina took well, especially considering the early knockdown he suffered.
Medina never really showed any signs that he could win the fight, but took his lumps as good as anyone could.
Guerrero showed enough in the bout to get a shot at one of the top 10-ranked super middleweights in the world.
Next up is a super middleweight showdown between Fernando Guerrero (23-1, 18 KOs) and Jose Medina (17-10-1, 7 KOs), which will be followed by the main event, Amir Khan vs. Danny Garcia.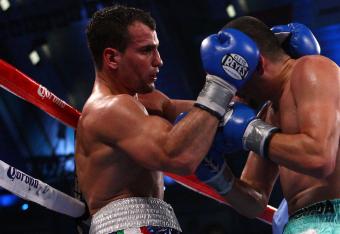 Phil Lo Greco (24-0, 13 KOs) comes through in impressive fashion, knocking down Brandon Hoskins (16-2, 8 KOs) twice in the first round, before the referee stopped in Round 1 the bout as the pummeling continued.
Lo Greco looked great in those brief two minutes and appears to be ready to make a jump in competition and see what he is really made of.
Settling in at the Mandalay Bay now. The smaller undercard bouts have begun and I will start posting updates on those once the bigger ones start, beginning with Phil LO Greco (23-0, 12 KOs) and Brandon Hoskins (16-1-1, 8 KOs) in their junior middleweight bout.
This article is
What is the duplicate article?
Why is this article offensive?
Where is this article plagiarized from?
Why is this article poorly edited?