College Football: 5 Upsets That Will Happen in 2012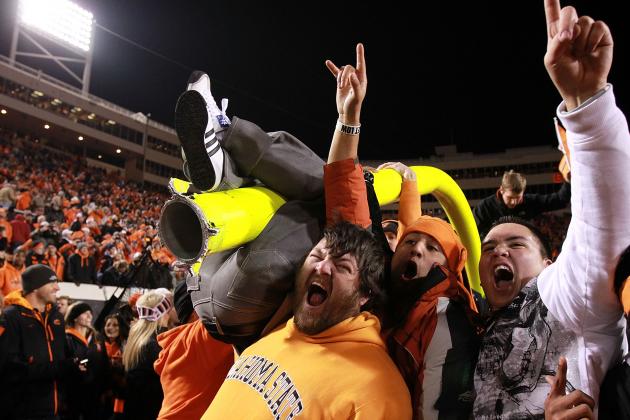 Ronald Martinez/Getty Images

To defeat or overthrow an opponent that is considered more formidable, as in war, politics, or sports. That, my friends, is the definition of "upset," via Dictionary.com.
From August through January, nothing depicts this definition better than the college football season. There was bottom feeder Texas Tech beating No. 1 Oklahoma 41-38 on a stormy October Saturday night last year. There are little-known FCS schools that shock the world, like James Madison beating No. 13 Virginia Tech in 2010 or Appalachian State's 34-32 win at "The Big House" against No. 5 Michigan.
The college football season is a soap opera that never fails to have a handful of teams overthrow a superior team. This year will be no different. Here are my five matchups that will result in the underdog's name in headlines nationwide.
Begin Slideshow

»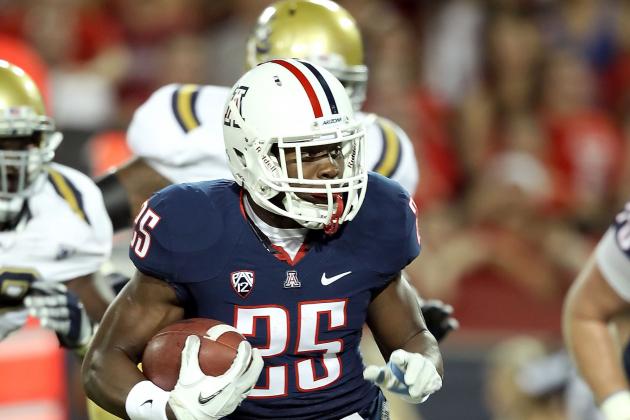 Christian Petersen/Getty Images

Oklahoma State
Last year the Cowboys offense thrived with quarterback Brandon Weeden (Cleveland Browns) and wideout Justin Blackmon (Jacksonville Jaguars), who were first-round selections in the 2012 NFL draft.
One thing that was absent the entire 2011-12 campaign for the Cowboys was their defense. OSU gave up 26.8 points per game on average (61st in the nation) and 456.8 yards per game (107th), leading to many shootouts.
This season, OSU brings back eight players on the defensive side of the ball. The returnees should improve their defensive stats. On the offensive side, the Cowboys lack experience, with only four returnees.
The Cowboys have a quarterback battle going on between two freshman and a completely new O-Line.
Arizona
Last season was a disaster, as the Wildcats went 4-8, which led to the firing of Mike Stoops. During the offseason, Arizona AD Greg Byrne made an outstanding hire when he named Rich Rodriguez the new Wildcat coach. Much-remembered for his fall and near destruction of the University of Michigan football program, Rich-Rod will bring an exciting, fast-paced game to Arizona.
Rodriguez had a tremendous tenure at West Virginia, where he went 60-26. His spread option attack was tough to defend. The installation of his attack in Arizona will help the lowly Wildcats flourish in the Pac-12.
The 2012 Wildcats feature only nine returning players (five on offense and four on defense).
The Game
This game will, without a doubt, be a shootout. The lead will flip-flop between Oklahoma State and Arizona the entire game.
With Arizona at home and the question marks on the Cowboy offense and defense, Rich-Rod will get his first notable win as head coach of the Wildcats.
Prediction: Arizona wins 48-45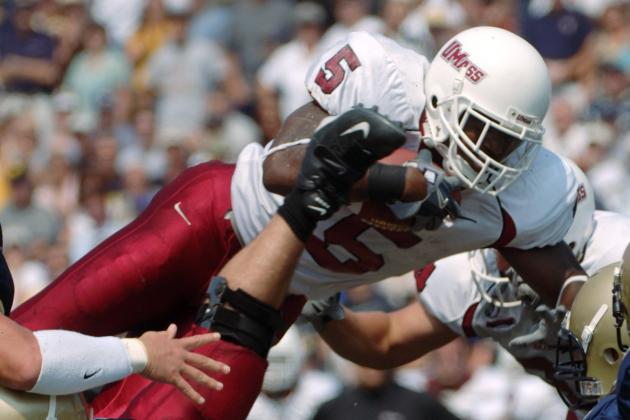 U.S. Navy/Getty Images

Indiana
Indiana University will forever be known as a basketball school. Last year, the lowly Hoosiers struggled the entire season. Indiana went 1-11, with the only victory coming against FCS South Carolina State.
Head coach Kevin Wilson has an uphill battle in his second year as the single-caller. Last season Wilson was forced to play freshman, and this year Wilson is banking on junior college transfers.
Last year the Hoosiers gave up 37.3 points per game and 458.7 yards. The defense needs to step up if they want to be competitive at all.
The Hoosiers will once again be the beating stick of the Big Ten and NCAA.
UMass
The Minutemen are the new offspring of the FBS. UMass will play in the Mid-American Conference (MAC), and play their home games 100 miles from campus at Gillette Stadium, home of the New England Patriots.
Hyper-energetic Charley Molnar will be in his first season as head coach. The former offensive coordinator and quarterbacks coach at Notre Dame looks to be a perfect fit for UMass.
Junior quarterback Kelen Pagel returns to the MAC, as he transferred from Bowling Green to UMass. Pagel threw for 1,725 yards last year with nine picks and nine touchdowns.
The Minutemen's schedule is very unique, as the team did not schedule one FCS school. The tough schedule will help the Minutemen compete in the coming years.
The Game
In their first home game, expect the Minutemen to be pumped and come out on fire. UMass might struggle at the first half, but I firmly believe the Minutemen will get everything under control in the second half.
Indiana isn't a good football team and won't be for a while. UMass won't win many games this season, but because of the hype of their first home game as an FBS team, and the fact that they're playing in an NFL stadium, it's hard not to see the Minutemen prevailing.
Prediction: UMass 31-17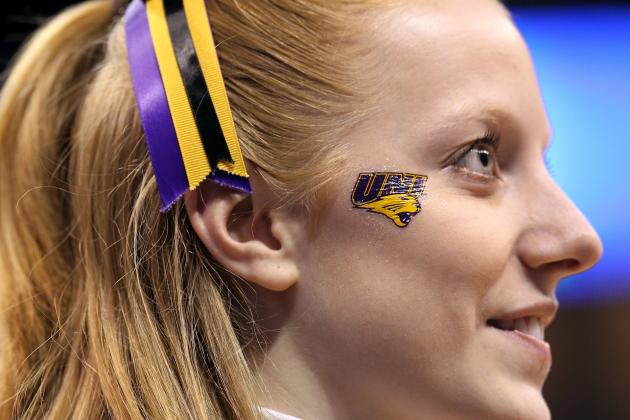 Ronald Martinez/Getty Images

Iowa
The Hawkeyes begin this year with a new attitude and new coaches in offensive coordinator Greg Davis and defensive coordinator Phil Parker. Head coach Kirk Ferentz enters his 14th year as the big man in charge, honing a 96-66 record.
Last season was a downer at Iowa City, as the Hawkeyes had a favorable schedule but finished 7-6.
Senior quarterback James "The Mandenberg" Vandenberg returns behind center. Vandenberg threw for 3,022 and 25 touchdowns along with seven picks. Considered by many to be the best pocket passer in the Big Ten, Vandenberg looks to change his ways on the road, as last season he struggled tremendously.
The Hawkeyes also have key returnees on defense, with two starters returning at linebacker and second-team All-Big Ten cornerback Micah Hyde.
University of Northern Iowa
Last year, the Panthers went 10-3, losing in the FCS quarterfinal to Montana. The Panthers opened up the year against Iowa State, losing 19-20.
This year, the Panthers have two FBS opponents, Wisconsin and Iowa. UNI is ranked No. 20 according to Athlon Sports. Northern Iowa brings back 15 starters (eight offense, five defense, two specialists). The only core player who is gone is Panther quarterback Tirrell Rennie.
UNI is 1-14 against the Iowa Hawkeyes (the win came in November 5, 1898).
The Game
The Panthers are a very good football team. In college football, there always seems to be one FCS team that plays an FBS opponent to the final whistle. Opening the season against Wisconsin will help UNI gain experience against tough FBS teams.
The Hawkeyes are poised to have another mediocre season. With the boot of UNI's FCS second-team preseason All-American placekicker Tyler Sievertsen, the Panthers will rock the state of Iowa.
Prediction: UNI wins 24-21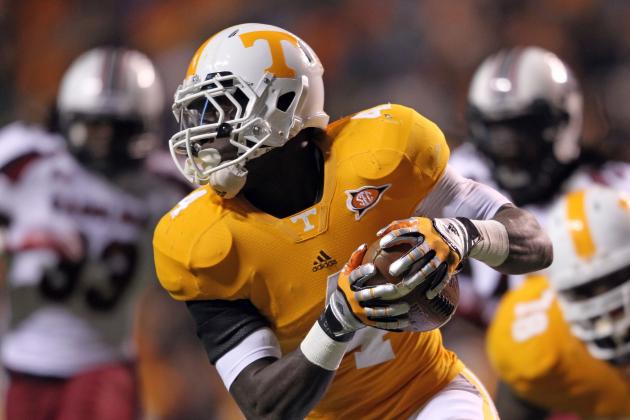 Andy Lyons/Getty Images

Tennessee
18 returning starters (nine offense and nine defense) make Tennessee one of the more experienced teams in the SEC. Quarterback Tyler Bray returns hungry for some wins, as does head coach Derek Dooley.
Speaking of Dooley, one can only think of the hot seat he currently is sitting on. In two seasons in Knoxville, he has gone 11-14 (4-12 in the SEC). The loss at Kentucky to end the 2011 campaign led many Vols fans and boosters to cry for his head.
This season actually looks promising for the Vols. The experience and the hunger should help the Vols win at least eight games and possibly become a dark horse in the SEC East.
Georgia
Despite major question marks regarding the offensive line and secondary, this Bulldogs team can be one of Mark Richt's best.
Quarterback Aaron Murray returns after an incredible 2011 season, where he threw for 3,149 yards, 35 touchdowns and 14 interceptions.
The Bulldogs had an exceptional 2011 season despite losing the first two games, finishing 10-4. Their schedule is quite favorable, as they have only three road games, against Missouri, South Carolina and Kentucky.
The Game
Georgia should enter this game with a record of 4-0 and could climb into the FBS top five. On the other hand, Tennessee most likely enters into this contest with a 2-2 record (losses against NC State and Florida).
With the Vols entering a tough four-game stretch (at Georgia, Mississippi State, Alabama and South Carolina), they need to play their hearts out.
The Vols played Georgia tough last year in a 12-20 loss, and I expect another low-scoring affair. Bray and Murray will both throw for over 250 yards and they both will be the keys to victory.
At the final whistle, the Vols will upset Georgia in a grueling match.
Prediction: Tennessee wins 23-17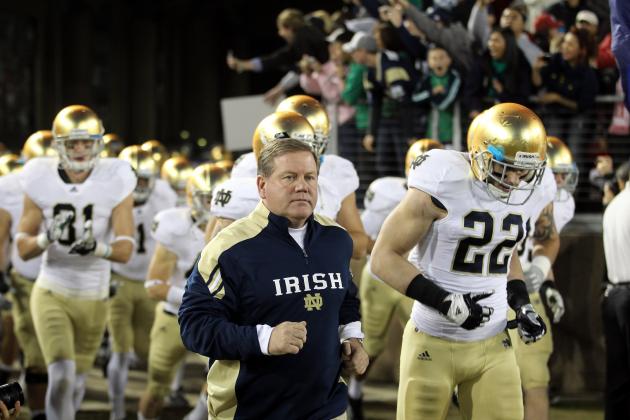 Ezra Shaw/Getty Images

Notre Dame
An 8-5 campaign that included an upset loss by South Florida and a hard-to-swallow bowl game loss to Florida State was the story of the Fighting Irish's 2011 season.
This season, the Fighting Irish bring back 15 players (eight offense, seven defense) including key players like running back Cierre Wood (1,102 yards, nine touchdowns), wideout Tyler Eifert (803 yards, five touchdowns) and linebacker Manti Te'o (128 tackles, 62 solo and five sacks).
The only question mark the Irish have is at starting quarterback. Tommy Rees threw for 2,871 yards with 20 touchdowns and 14 picks, but legal problems could hurt him.
Rees was charged with one count of battery, two counts of resisting law enforcement and one count of illegal consumption of alcohol by a minor. Rees pleaded not guilty and has a court date on July 17.
Not knowing what's going to happen, Rees may lose his job to red-shirt freshman Everett Golson, or true freshman Gunneer Kiel could take over. Despite the quarterback situation, Brian Kelly's Irish look solid.
USC
There's no question about it, USC is the best team in college football and deserved to be picked as the preseason No. 1.
Lane Kiffin has 15 returning starters (eight offense, seven defense), most notably Heisman Trophy-hopeful Matt Barkley. The senior threw for an astonishing 3,528 yards with 39 touchdowns and seven interceptions.
Last season, the Trojans turned a 2010 8-5 team into a 10-2 powerhouse that upset Rose Bowl-bound Oregon in Eugene. After a two-year bowl ban, the Trojan players are hungry to get to a bowl and are strong enough to make it to the BCS National Championship in January.
The Game
The "Battle for the Jeweled Shillelagh" is a rivalry that has died down a bit due to USC's recent dominance (8-2 in the last 10 meetings).
Notre Dame has a tough schedule ahead of them. The Fighting Irish have to play three 11-win opponents in Michigan, Stanford and Michigan State, and two 10-win squads in USC and Oklahoma.
The tough schedule should prepare Notre Dame enough to propel the Irish over the Trojans. This game will be exactly like the classic October 15, 2005 matchup that went down to the final seconds, and will forever be known as "The Bush Push."
Prediction: Notre Dame wins 34-27