TCU Football: Predicting 2012's Statistical Leaders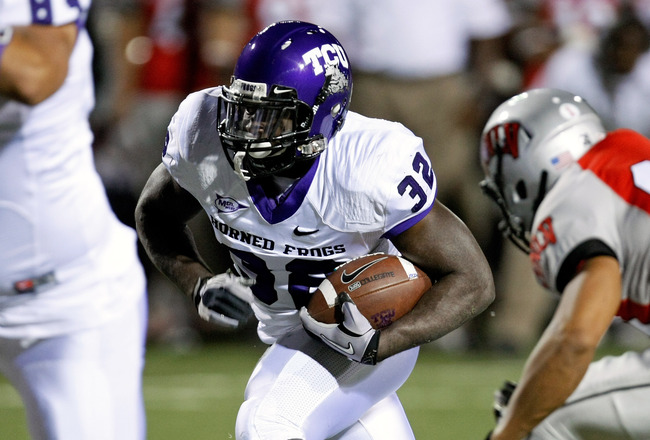 Ethan Miller/Getty Images
2012 is the most highly-anticipated season in TCU football history.
With the much-deserved move to the Big 12 conference, the time is now to make the official move from BCS bowl-buster to certified BCS conference threat. After years of dominating the likes of the Mountain West and Conference USA, the competition will be the toughest it has been in years for the Horned Frogs as they attempt to remain competitive with the likes of Texas, Oklahoma and Oklahoma State.
For a successful transition, TCU will need big contributions from its leaders on both sides of the ball. Here are predictions for who will lead the Frogs in every major statistical category along with their projected numbers.
Passing: Casey Pachall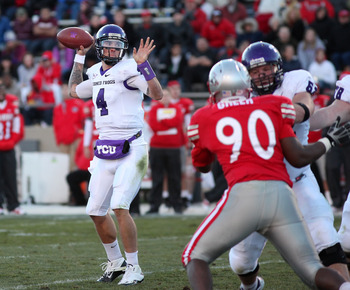 Eric Draper/Getty Images
There's little doubt that Casey Pachall will be leading the Horned Frog passing attack.
Pachall had one of the better sophomore seasons in all of college football in 2011 and enters this season as a dark horse candidate for the Heisman trophy. With the departure of Ed Wesley and a stacked corp of play-making wide receivers in the fold, the Frogs should figure to throw the ball a little more this season.
It will be hard for Pachall to surpass his 2011 numbers in terms of efficiency, his quarterback rating of 157.97 was the 12th highest in the nation. However, it can be expected that he should see overall increases in the rest of his numbers.
2011 Stats: 228/343 68.5% 2,921 yds. 25 TD's 7 INT's
Predicted 2012 Stats: 272/405 67.1% 3,400 yds. 32 TD's 10 INT's
Rushing: Waymon James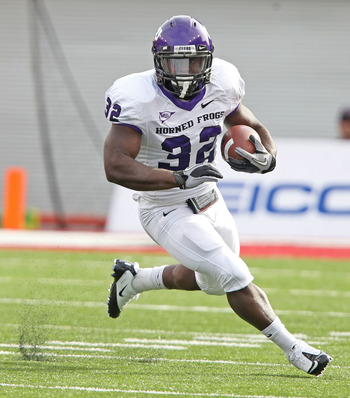 George Frey/Getty Images
While the early departure of Ed Wesley has made headlines, fans of the team know that running back won't be a concern for the Frogs.
In truth, TCU utilized a three-pronged rushing attack that made them one of the deepest teams in the country at the position. Waymon James actually had one more carry than Wesley on the season and led the team in rushing.
Veteran running back Matthew Tucker led the team in carries and will team up with James to form a one-two punch that will more than cover for the loss of Wesley.
James's speed and play-making ability makes him a threat to break off big runs at any point while Tucker should be able to churn out yards between the tackles and serve as the primary threat around the goalline.
Tucker should once again lead the team in touchdowns, but expect James to lead the team in yards as he's the more versatile of the two.
2011 Stats: 121 Att. 875 Yards 6 TDs
Predicted 2012 Stats: 180 Att. 1,020 Yards 10 TDs

Receiving: Josh Boyce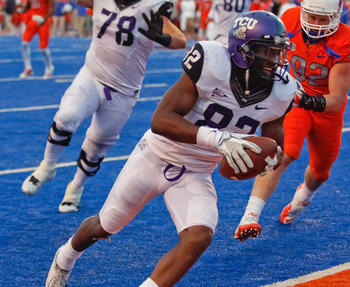 Otto Kitsinger III/Getty Images
If TCU is going to make a splash in their inaugural Big 12 season, they will need another big season from wide receiver Josh Boyce.
Boyce broke out last season as a sophomore and the Frogs' top receiving threat. His five-catch, 163-yard and three-touchdown performance against Boise State was one of the highlights of the season last year and showed his penchant for showing up to the Frogs' biggest games.
Boyce headlines a group of wide receivers that represents TCU's greatest strength as a team so it wouldn't be a surprise to see Boyce's numbers remain a bit stagnant as speedsters Skye Dawson and Brandon Carter see more targets.
Boyce will remain the team's primary receiver, but better opposition in the secondary and a more experienced group of receivers means less targets for Boyce and similar numbers from last season.
2011 Stats: 61 Rec. 998 Yards 9 TDs
Predicted 2012 Stats: 70 Rec. 1,050 Yards 11 TDs

Tackles: Kenny Cain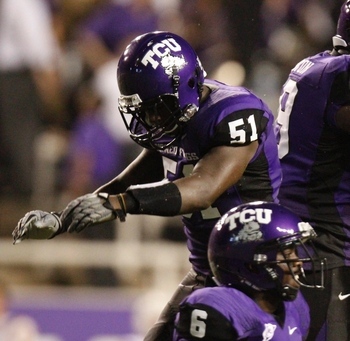 Photo Via Google Images
After a string of losses on the defensive side of the ball due to either graduation or disciplinary actions, Kenny Cain will need to step up to cover for a ton of inexperience on the defensive side of the ball.
TCU's defense will sport many unfamiliar faces, but Cain should be a consistent force in the middle of the defense as he led the team in tackles last season. The losses of Tank Carder, Tanner Brock and Deryck Gildon mean that a position that has traditionally been strong will be a weakness.
Sophomores Danny Heiss, Joel Hasly and Marcus Mallet will need to step up to bolster the position alongside Cain, but he still remains the primary candidate to rack up the most tackles for the Frogs.
2011 Stats: 72 Tackles 5 TFL 1 Sack
Predicted 2012 Stats: 85 Tackles 7 TFL 1 Sack

Sacks: Stansly Maponga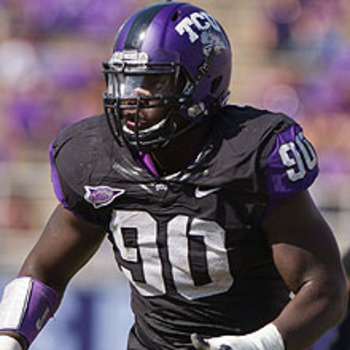 cfn.scout.com
Stansly Maponga is easily the most talented player on this TCU defense, perhaps even on the entire TCU roster.
The 6'2", 265-pound defensive end led the team in sacks as a sophomore last season with nine an tacked on 13.5 tackles for loss for good measure. Maponga is an athletic disruption coming off of the edge an the type of pass rusher that offensive coordinators are forced to game plan around.
Maponga must continue to improve and anchor this defense to alleviate pressure from the more inexperienced positions on the field as this team takes on the more dynamic offenses of the Big 12. Playing against pass-happy teams like SMU, West Virginia and Oklahoma State should give Maponga plenty of opportunities to pin his ears back and relentlessly pursue quarterbacks.
Expect Maponga to continually improve and be on of the Big 12's best pass rushers.
2011 Stats: 55 Tackles 13.5 TFL 9 Sacks 5 FF
Predicted 2012 Stats: 60 Tackles 14 TFL 11 Sacks 5 FF
Interceptions: Jason Verrett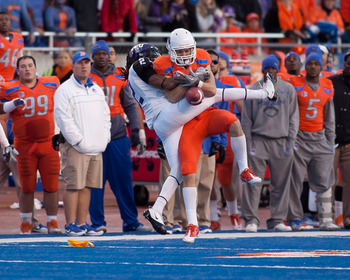 Otto Kitsinger III/Getty Images
Throughout the Gary Patterson era, the Frogs haven't generated too many interceptions on defense. Since 2007, no TCU player has recorded any more than three interceptions in a season.
The TCU defense largely relies on creating pressure and swarming the football, which means that the Horned Frogs don't rely too heavily on interceptions to force turnovers. 2012 should be no different as the caliber of quarterback that the Frogs will face is only going to go up.
With the likes of Geno Smith, Landry Jones and Colin Klein throwing, it isn't likely that interceptions are going to become any more prevalent. However, someone has to lead the team, and the front-runner for that distinction should be cornerback Jason Verrett.
Despite a struggling secondary last season, Verrett played respectably and recorded an interception. If someone is going to record multiple interceptions, Verrett is as good a bet as anyone.
2011 Stats: 58 Tackles 4 PBUs 1 INT
Predicted 2012 Stats: 55 Tackles 6 PBUs 2 INT

Keep Reading

TCU Football: Like this team?