Drew Brees Is Signed, Sealed and Ready to Face Redskins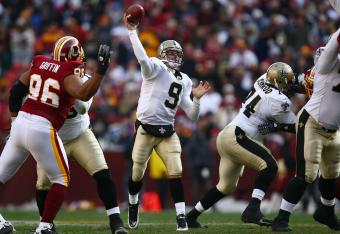 New Orleans QB Drew Brees will report to Saints training camp on time on July 24th.
Chris McGrath/Getty Images
With training camp slated to start on July 26th and the deadline for signing franchised players just three days away, the Washington Redskins woke up Saturday morning to a startling dose of reality.
For a few fleeting weeks, they watched drama play out in New Orleans and dreamed of opening the season at the Super Dome, with the Saints in complete disarray. But that all changed on Friday, when All-Pro quarterback Drew Brees signed a contract extension for five years and $100 million.
The deal, which was first reported by ESPN's Chris Mortensen, makes Brees the NFL's highest-paid player and gives him an entire training camp to prepare for the Saints' season opener against Washington.
John Keim (Washington Post)

@john_keim

Shocked that Drew Brees signed right before the deadline. gosh, thought he might not play in 2012... oh, wait, that's how it goes every time.
Keim's tweet jokingly poked fun at players that threaten to hold out, but he may have generalized a bit about the outcomes.
Every year at this time, there are a number of superstars who threaten to stand their ground during contract disputes. If it's not Brees in "The Big Easy", it's Maurice Jones-Drew in Jacksonville, or Baltimore's Ray Rice in "Charm City". But franchise-tagged players like Brees do have the option of not signing their team's one-year tender offer, and can sit out indefinitely, if they choose to.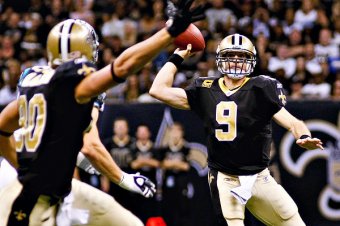 In New Orleans, the Saints took Brees' threat seriously and were preparing to turn to former Redskins quarterback Chase Daniel, to lead the first-team offense into training camp.
As luck would have it, the Saints got their man, while Washington got a bad case of anxiety on Friday the 13th. So what can the Redskins expect on September 9th, when they travel to New Orleans?
First off, they will face a satisfied signal caller, who had threatened to be absent for an extended period of time, if New Orleans rejected his proposal for a new contract. After thinking long and hard, Saints owner Tom Benson concluded that Brees was worth it and came to an amicable agreement with the signal caller, prior to Monday's deadline for signing franchised players.
"I can tell you from the start of this negotiation, I never thought once, 'Hey, I want to be the highest-paid guy'," Brees said on WWL Radio. But humble or not, Brees deserved a raise after breaking Dan Marino's 27-year record for passing yards in a season, with 5,476 yards in 2011. He also tried to apologize to a relieved fanbase, who had spent months bracing for a long, bitter holdout.
"When you're talking about the type of contracts these are, the type of money that's out there, it's hard for people to... identify or grasp," continued Brees, during his radio interview. "It was more about trying to look purely objectively at numbers over the last decade of top-tier quarterbacks, where it's been and where it's going, and trying to do what's fair and justified."
For the Saints, summer camp will begin with an in-depth study of Washington's defense, which ranked 12th against the pass and 13th in overall defense in 2011.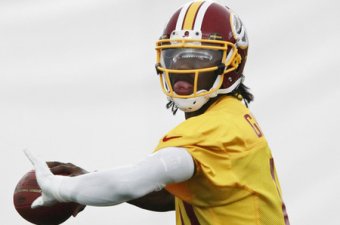 "Re-signing Drew was an absolute necessity for New Orleans because Bounty Gate has tarnished the team's image" said former Baton Rouge resident Bryan Randolph, who now resides in DC. "The guy got a bum rap in San Diego and almost got one with the Saints, but they couldn't bare to live without him".
Brees' "bum rap" occurred after the 2005 season, when the Chargers offered the Pro Bowler a performance-based contract, after he tore the labrum in his throwing shoulder. After Brees balked at the 5-year, $50 million offer, San Diego released him and handed the starter's job to Philip Rivers, who was acquired through a draft day trade in 2004.
Brees laughed last when he led New Orleans to a Super Bowl XLIV victory over Indianapolis in February of 2010. But he still had to haggle with the Saints, when it came to dollars and cents. According to ESPN's Mortensen, Brees is guaranteed $60 million dollars over the contract's first three years, with a $40 million windfall in 2012 alone.
"I think it's very easy to sit back and say, 'This is ridiculous'," Brees said in his WWL interview. "But the fact is, I think the desired result was reached. And I think we're all excited about that--and ecstatic-- and now it's time to get to work."
Bounty Gate suspensions to head coach Sean Payton and linebacker Jonathan Vilma will make New Orleans vulnerable against Washington in Week One. But the going could get tough for rookie Robert Griffin III, who is preparing to make his inaugural start at quarterback for the Redskins.
Sports writer Rob Brown of CowboysvsRedskins.com likes Washington's' chances, but he warns that the Saints could have an advantage with a raucous crowd and Brees back in the fold.
When the Saints returned to the Super Dome after [Hurricane] Katrina, the crowd never sat down and the entire 53-man roster seemed fueled with nothing but pure adrenaline. Some think that kind of energy will return when the Skins come to town.
"This season cannot start fast enough," according to Brees. The Redskins, on the other hand, may wish there was more time to prepare.
This article is
What is the duplicate article?
Why is this article offensive?
Where is this article plagiarized from?
Why is this article poorly edited?

Washington Redskins: Like this team?