NHL Free Agents 2012: Phoenix Coyotes Will Need to Spend Big to Keep Shane Doan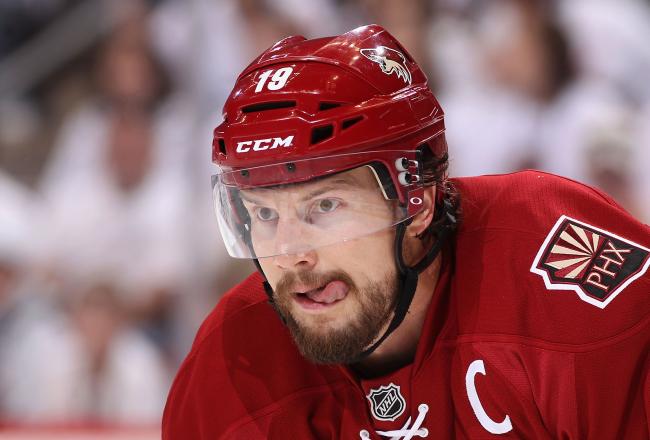 Christian Petersen/Getty Images
After recent reports involving the terms that a team offered Shane Doan, it has become imperative that unless he is willing to take a huge hometown discount, the Phoenix Coyotes are going to have to spend big to keep their captain in Phoenix for the foreseeable future.
John Gambadoro, the Sports Radio Talk Show host on Sports 620 KTAR in Phoenix, Arizona, reports the following in regards to the contract information that has been released:
NHL source just confirmed to me that an Eastern Conference team has offered Coyotes Captain Shane Doan a 4-year deal worth more than 30 mill

— John Gambadoro (@Gambo620) July 13, 2012
According to The Fourth Period, the only Eastern Conference team's that have considerable interest in Doan's services are the New York Rangers, Pittsburgh Penguins and the Philadelphia Flyers.
All of these teams make sense in regards to trying to land a top talent at the forward position.
The Rangers have been all over the Rick Nash rumours, the Penguins have been connected to Alexander Semin—and Zach Parise before he was signed by the Minnesota Wild—and the Flyers have been rumored to be interested in acquiring Bobby Ryan from the Ducks.
Does Shane Doan stay with the Phoenix Coyotes?
If the information is correct, that would add one of these teams to the other three that have already placed offers to Doan. Putting the total of known offers up to four.
According to John Gambadoro again, he tweeted information on what teams those are that have put in concrete offers to land Shane Doan:
Coyotes Captain and free agent Shane Doan has 5 offers right now - confirmed are Los Angeles, San Jose and Vancouver

— John Gambadoro (@Gambo620) July 12, 2012
The interest in Doan does not stop at just those five that have put their offers on the table, however. There have been reports that as many as 16 teams have expressed interest in making Doan a part of their roster next season.
With so much interest it is going to make it that much harder for him to stay in Phoenix. Lets be serious here, Doan is not a young guy anymore and this will most likely be the last contract that he signs. Playing for the Coyotes is not going to be his best chance at a Stanley Cup.
Yes, they had a very good year last season and Mike Smith showed that he can carry the team to a certain degree. However, they are still not a team that can rival the best of the Western Conference—let alone the Eastern Conference.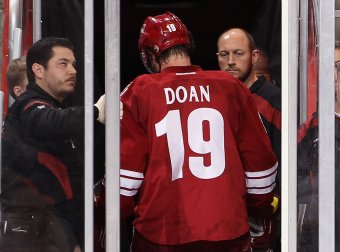 Christian Petersen/Getty Images
The Coyotes have the cap space—still having over $26 million left to spend—to make a hard push for Doan. That number would have to be high, and very close to the other offers he will get, for him to seriously consider coming back to the desert.
Doan is a very loyal guy, but he also wants to win. This past year was the closest that Doan ever got to holding the Stanley Cup over his head, and do you not think that getting that close will not influence his decision at all?
With the Coyotes being the subject of ownership issues—and the chance of relocating—playing on a team with an uncertain future does not make a player want to stay. Doan wants to be secure and on a team that will give him the best chance to win a Stanley Cup.
It seemed at the beginning of free agency that Shane Doan was waiting to make sure that he could be 100 percent certain that the team was going to be staying in Phoenix, but that seems to be gone out the window according to Doan's agent Terry Bross (via Kevin Allen of USA Today):
"There is no relevance to the July 16th date for us," Bross said. "We are getting to the point where it is going to be decision-making time."
July 16th is the date that a petition by Glendale residents is due and will show whether or not the arena management deal with Coyote's potential owner Greg Jamieson will still be allowed to go through. Otherwise, a referendum will take place concerning the deal.
Even though Doan has always said a return to Phoenix would be the ideal situation for him, it seems that he may have finally realized a change will be his best option. It seems that if he is not waiting for the arena deal to be finalized then he may be finally looking, and considering, the outside offers that have presented themselves to him.
Any team that is willing to pick up Shane Doan will get a talented, ferocious and one of the best leaders in the game on their team. Although he may not be worth $7.5 million—the amount he has been reportedly offered—he is worth a great deal.
If Phoenix can manage to match the offers, and more importantly make sure that they can keep the team in Phoenix, then Doan will be willing to join them. However, it seems at the moment that the best opportunities for him exist outside of the desert.
This article is
What is the duplicate article?
Why is this article offensive?
Where is this article plagiarized from?
Why is this article poorly edited?

Phoenix Coyotes: Like this team?