Is Shane Doan's Agent Setting Him Up to Be the Villain?
Use your ← → (arrow) keys to browse more stories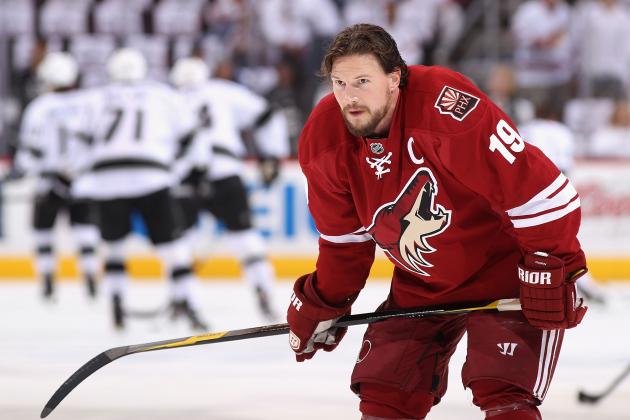 Christian Petersen/Getty Images

On July 1 Shane Doan hit the open market. The long-time member of the Phoenix Coyotes organization was free to sign with any team in the NHL. Nearly two weeks later Doan sits as one of the only big-name free agents that has not signed a contract, but that has not been due to lack of interest.
According to Doan's agent, Terry Bross, the free agent is waiting to see what happens with the Coyotes' new ownership group before he makes a decision (as reported by Paola Bolvin of The Arizona Republic). Bross has said that his client would like to stay with the Coyotes, but only if the team is set to stay in the desert.
That's a nice sentiment; it warms the heart and gives a nice warm and fuzzy feeling to all the fans out there that don't want to see the Coyotes without their long-time captain.
However, how honest are those words? If Doan really wanted to stay with the Coyotes would we be repeatedly reading about the suitors lining up to welcome Doan to their hockey club?
Something just doesn't add up here. If Doan's first desire was to stay with the Coyotes, why is his agent advertising how many teams have interest in his client? Why is he name-dropping the teams that are in pursuit of Doan while at the same time bemoaning the fact that the wait is heartbreaking for the player?
Why? Because Bross is doing what agents do, playing every suitor against the other and driving the cost up for the player he represents. The only sad thing about it is that it's so transparent as to be almost laughable.
Let's face it, you can't really, really, really want to work things out while at the same time advertising that all these suitors are lining up at your door holding flowers, candy and millions of dollars.
Bross could have handled this so much better. He could have kept his mouth shut, listened to the offers from the other teams while also laying his cards out on the table for the Coyotes. There was no need to go public with any of this.
He's put Doan in an unenviable position.
If he walks away from the Coyotes, the fans will remember his agent saying (via Bolvin) how "He views the team like it's his own franchise, from the equipment manager to the trainer to the people taking tickets."
They'll remember those words when Doan packs up and leaves town, leaving the equipment manager, ticket taker and franchise to wonder what happened. Sometimes that best thing you can say is nothing at all and that is exactly what Bross should have done—kept things close to the vest.
As things drag on in Glendale, Doan is going to have to make a choice, and if he makes the choice to leave before the ownership questions have been resolved he will walk away a villain.
If that happens he'll have one man to thank for that fact and that man will be taking a nice chunk of change out of Doan's next contract.