Open 2012: Bold Predictions for Opening Round (and Beyond) at Royal Lytham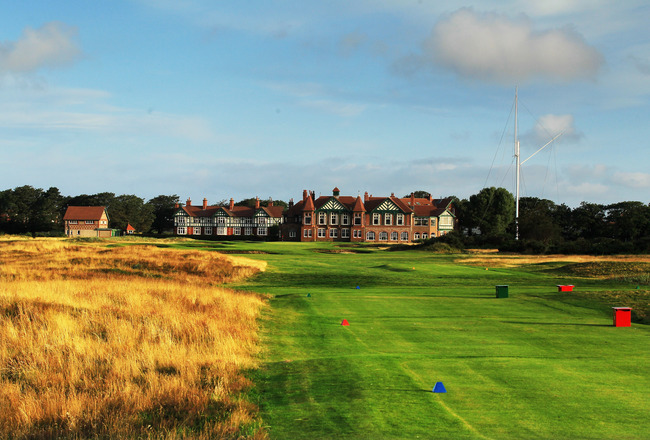 David Cannon/Getty Images
As we pass from the eve of golf's most historic tournament—the Open Championship—to the dawn of its commencement, the talk and speculation subsists amid the reality of actual links golf being played.
All the talk about Tiger Woods getting off the hump, the incredible bunkers and the opportunity for one of Great Britain's big three (exclusively those who have never won a major: Luke Donald, Lee Westwood and Justin Rose) to finally break through and claim one of golf's most prestigious championships, is now just talk.
The players must intelligently calculate their way up and down the craziness presented at Royal Lytham & St. Annes for the next four days and 72 holes (possibly more) of treacherous conditions and a wacky layout.
It will be a challenge unlike any other in golf. The 200-plus bunkers in play at Royal Lytham & St. Annes will make life nearly impossible for even the finest players in the field.
That is the first of many bold predictions for this weekend.
1. The Winner Will Shoot over Par, Again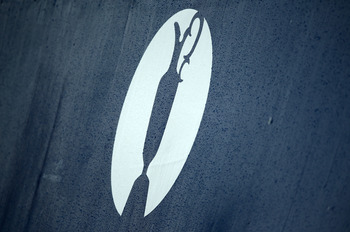 Andrew Redington/Getty Images
Last month the U.S. Open brought us a winner, Webb Simpson, who registered an over-par score for the entire tournament (one over). Though experts thought the Olympic Club course would be tough headed into that tournament, no one expected the winner to be the player who simply survived to shoot the fewest shots over par.
Though David Duval scourged Royal Lytham the last time the Open was played here in 2001, much has changed since then.
With some rain in the forecast on Thursday and Friday, conditions will be difficult and cause high scores early on during the week.
The weather is supposed to clear up on the weekend, which will only make the short grass featured in links golf that much more firm. Players will have to adjust to the rapid changes as the course will likely become a different one altogether in the tournament's final two rounds.
Most of all the 200-plus bunkers will cause scores to leap off the page as players struggle with driving accuracy and/or decide to lay up in situations they'd be better off going the aggressive route.
Finally, add in the pressure of a major championship, and this tournament figures to be about as ugly as the U.S. Open a little over a month ago.
That doesn't mean it won't be fun to watch. In fact, it should be a thrilling tournament from start to finish.
2. Tiger Woods Will Not Win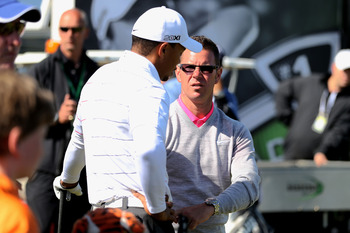 Tiger appears to be more than a little frustrated during his practice round at Royal Lytham and St. Annes.
Richard Heathcote/Getty Images
As the buildup to the 2012 Open Championship has risen, so has the notion that Tiger Woods is the favorite to win at Royal Lytham.
Oddsmakers have placed on Woods anywhere from 7/1 to 8/1 to win. In any case, he is always the hands-down favorite. The next-closest player is always at 13/1 or worse.
The oddsmakers are playing you people. They are banking on you remembering that Woods was the talk of the tournament through two days at the Olympic Club when he was tied for the lead going into Saturday's third round. By the time the fourth round started, Woods had become an afterthought.
It's a nice theory to think Woods will use that round as motivation to play better this week. In some ways, he probably will. But if there's anything Tiger has lacked in the past three years, it has been the eye of the Tiger. Sorry, I had to.
Woods' game is not built for Royal Lytham as it once was. And until he proves he still has the legendary mental toughness that once made him great, it is hard to bet on him, especially in a major.
3. Two Europeans Will Play in Final Grouping on Sunday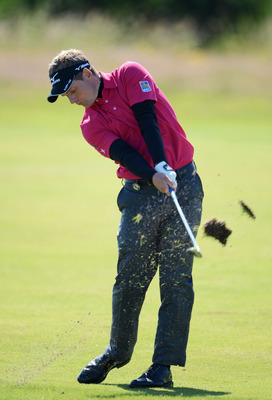 Stuart Franklin/Getty Images
In a tournament set up to be dominated by European players, it only makes sense that two of them would play together on the final day of the tournament. Sure, it may not happen, but it seems all too likely not to take place.
Between Luke Donald, Lee Westwood and Justin Rose, it's unfathomable one of them will not be playing in the final group come Sunday.
Other Euros Padraig Harrington and Rory McIlroy have the games and/or talent level to fill the second spot.
4. The Final Pairing Will Play Extra Holes on Sunday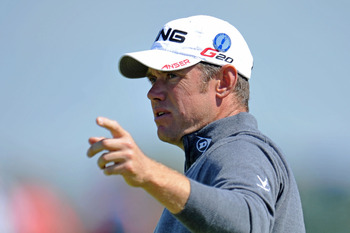 Stuart Franklin/Getty Images
Not only are two Europeans going to force millions of Brits to hold their breath by playing in the final pairing, but the two will engage in some playoff golf to make the final day that much better.
With the likelihood of the pair being two players yet to win their initial major championship, it would only be fitting that each player struggles near the end due to nerves and an inability to close the deal.
The result will be drama better than any you'd see on a big screen for $15, before you pay for the extra-large popcorn and soda.
And the winner will be...
5. Luke Donald Wins the 2012 Open Championship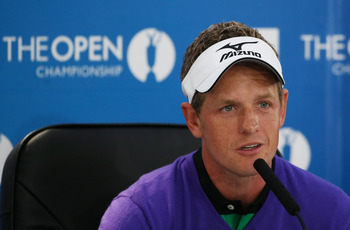 Andrew Redington/Getty Images
Don't ask me why, but it just feels like Luke Donald's time to shine.
He remains the world's No. 1 player despite a relative lack of success in his career at major championships. Of course, no course has better played to Donald's skill set.
If Donald beats Westwood in a playoff, which is a very possible conclusion, Westwood would be the victim of another heartbreaking major loss.
And if Donald is able to play his best golf this week, the Claret Jug will be in appreciative and deserving hands.
It almost seems too good to be true. It isn't true yet, but it could be soon.
Keep Reading