Paulina Gretzky's Greatest Bikini Pics Ever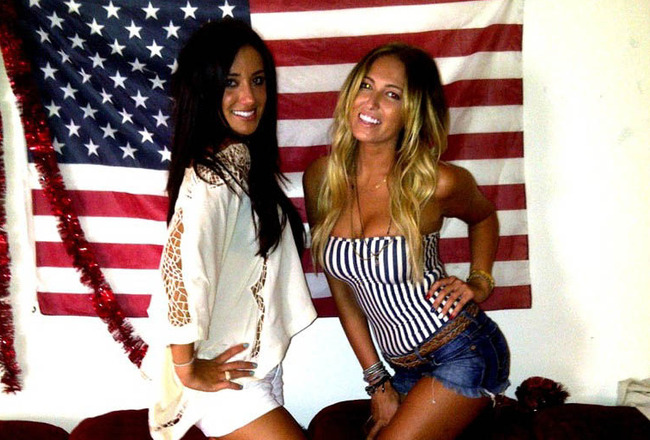 Image via ebaumsworld.com

Wayne Gretzky is the greatest professional hockey player of all time.
He has scored the most goals, assists and points in NHL history in the regular season and the playoffs and also owns the single-season record.
The man could outperform any player on any team on any day. He was the man.
In 1988 he had a daughter named Paulina. That is when his life would be changed forever.
Regardless of how many points he scored, nothing could have prepared him for Twitter and the greatest social media application ever invented for beautiful women, Instagram.
He must now spend his days dealing with the millions of ogling fans that flock to his daughter's account just hoping she posts something even sexier than the day before.
So, with my apologizes to Mr. Gretzky, here are the sexiest Paulina Gretzky bikini pics ever. Enjoy.
20. Party Time Boys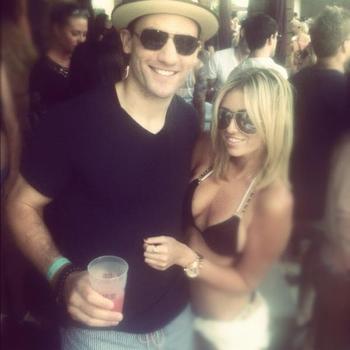 Image via forumserver.twoplustwo.com
The further you dive into this article, the more you will see that Paulina loves to surround herself with guys that wear fedoras and Captain America costumes.
I can explain the second part, just keep reading.
19. Sailor Drinking in Sailor Suits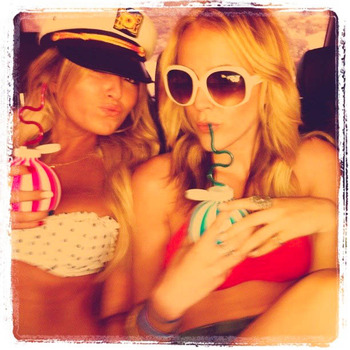 Image via coedmagazine.com
When Paulina is not off recording songs or writing music, she is spending her time partying and living the dream.
She is doing the one thing every one of you would be doing if you were in her shoes—whatever she wants, whenever she wants to do it. It's also known as living like a rock star.
18. Queen of the Boat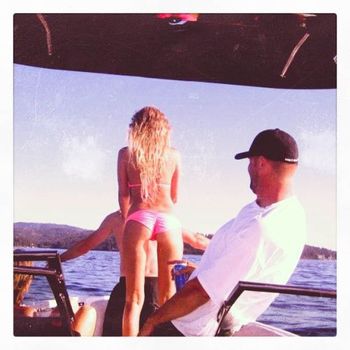 Image via ru-crazy.com
When I go out on a boat, it usually never has beautiful women on it; just a bunch of dudes talking about how awesome it would be if we could get women like Paulina on board.
This isn't a photo bomb, but the guy with the hat probably wishes that no one posted a photo of him staring at the main focal point on the boat.
17. Not Jealous
Image via z6mag.com
It is never a cool thing to toss up the rock star sign unless you are a rock star.
This guy, however, can do whatever he wants because he also has the luckiest left hand in the world.
16. Two for the Money, Three to Party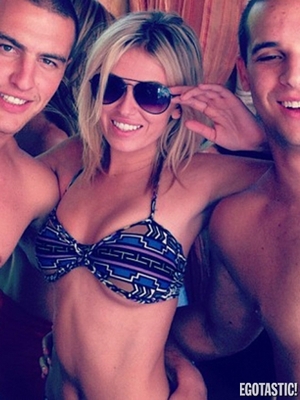 Image via egotastic.com
Sometimes, being in the right place at the right time can pay off.
These two guys are posing with Paulina Gretzky, but I promise you that they just landed about 32 more phone numbers following this pic.
If not, then they aren't playing it right.
15. This Might Be a Bikini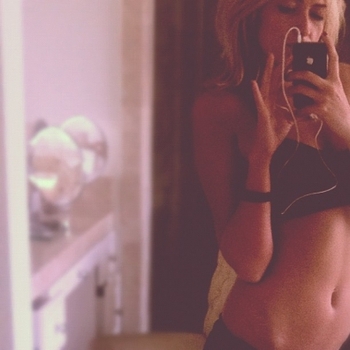 Image via celebswithcells.com
When I came across this photo, I wasn't sure about it.
Is she in a bikini or is she about to work out in what could only be described as the sexiest workout clothes ever?
Either way, are you upset that I included it anyway?
14. Just Sunbathing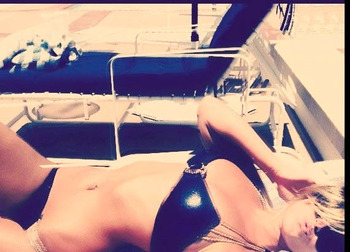 Image via coedmagazine.com
The ultraviolet radiation from sunlight can cause serious damage to your skin.
On the other hand, there is no crime against sunbathing.
13. Night Swimming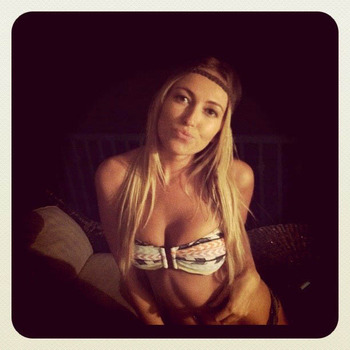 Image via ridethepine.com
When is the next nighttime pool party in LA?
That is probably an obvious question since many people with a pool in LA throw parties at night.
But it was worth a shot.
12. Captain America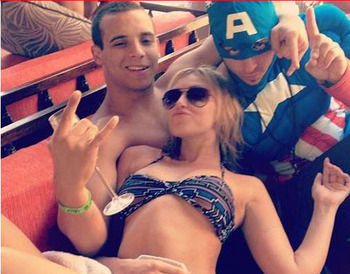 Image via thehollywoodgossip.com
Remember earlier when I was talking about how Paulina enjoys hanging out with guys that wear fedoras and Captain America costumes?
Well, here is the Captain. I think we need a background story on this photo, you think?
11. Paint It Black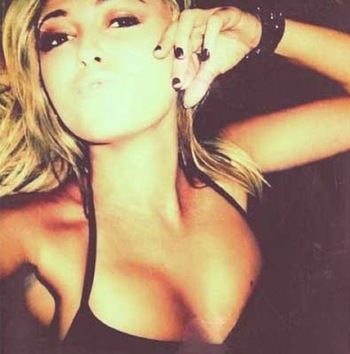 Image via thehollywoodgossip.com
If you had to chose the sexiest bikini color Paulina has ever worn, would you include black in the mix?
If not, maybe you should consider taking another glance at this picture and then decide.
10. Eating a Melon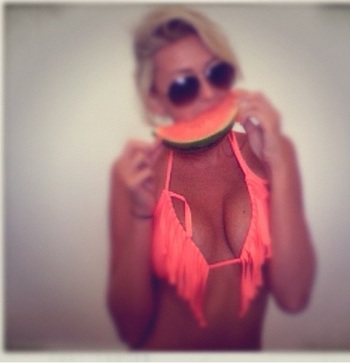 Image via ridethepine.com
Has eating a watermelon ever been sexier?
When Paulina started using Instagram, the world became a happier place. Millions of men are now left wondering what she will post next.
9. Black and White Bed Pic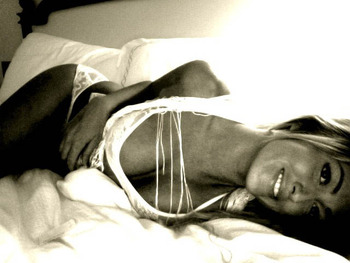 Image via ridethepine.com
Paulina Gretzky has just made lying in bed sexy too.
What can't she turn sexy? She can make...well, anything sexy. I think I have already proven that point from the previous 11 images.
Agreed?
8. What a Lucky Flotation Device!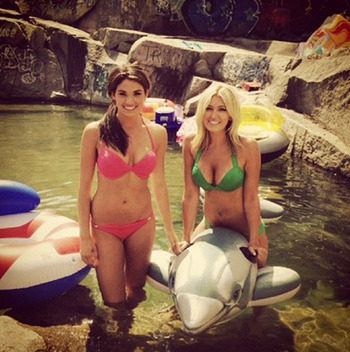 Image via sportsgrid.com
Am I the only person who is pumped about the new movie star Paulina Gretzky?
A year ago she was just Wayne Gretzky's daughter, but now she is an actress.
I am ready for the Blu-ray version of Paulina.
7. Lizard Bikini's Rock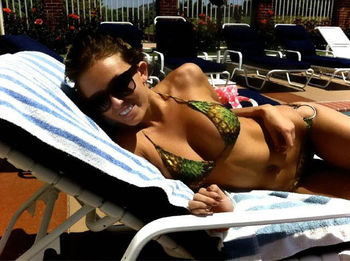 Image via torontosun.com
In 1981, Wayne Gretzky scored 92 goals. In 1985, he produced 163 assists and finished the year with 215 points. Those are NHL records.
In 2012, his daughter became the hottest athlete daughter in history. That too is an NHL record.
6. Using Twitter the Right Way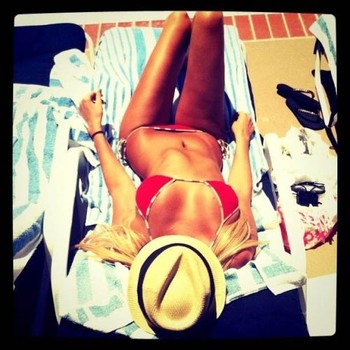 Image via listal.com
I follow a ton of women on Twitter. Only a select few of them use it the way it was intended to be used, posting hot pics for all of us to enjoy.
In addition to the hot images, posting a funny status every now and then helps too. But we mostly enjoy the pictures.
5. Take My Breath Away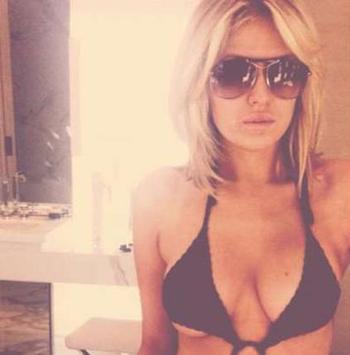 Image via thehollywoodgossip.com
God broke the mold when he created Paulina.
Case in point, this image.
I am not a big fan of women in aviator glasses. Maybe I should have said "used to not" be a big fan.
Now, I am.
4. Classic Mirror Self Pic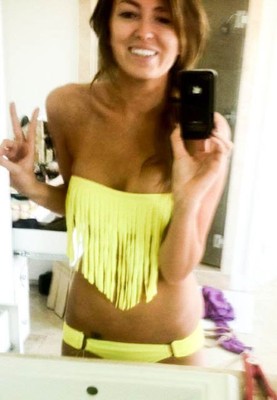 Image via listal.com
If I haven't made the point already, Paulina Gretzky is gorgeous.
She is a smokeshow of smoking hotness and a babefest of sexy.
There are not too many more words I can use to describe her level of beauty, just pics.
3. Little Miss Sunshine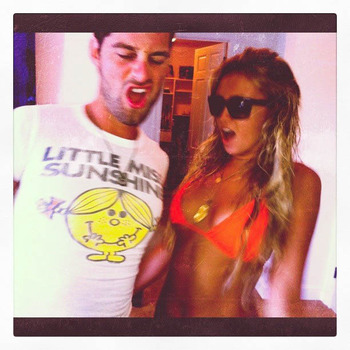 Image via ridethepine.com
When hanging out with hotties, the No. 1 rule every man should follow is don't act like a tool.
Or in this guy's case, don't wear tiny shirts made for women. Then again, what do I know? He is the one hanging with Paulina, not me.
2. Take a Look from Behind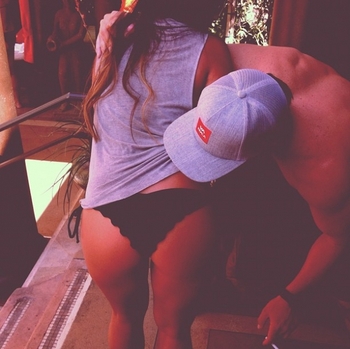 Image via listal.com
Yes. The answer to your question is yes, Paulina Gretzky has a boyfriend. Or does she?
After going through all the bikini images of Paulina, I am left wondering if she is available because I might even make a run at her.
On second thought, maybe not.
1. The Twins in Hollywood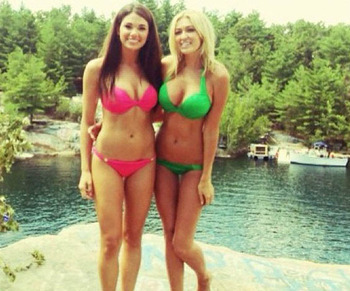 Image via listal.com
I had no intention to go to see the sequel to Adam Sandler's movie, Grown-Ups. The first one was funny but a second one, really?
Then I heard a rumor confirmed by this photo that Paulina was going to be in it.
When can we pre-order the tickets?
Keep Reading