The New York Rangers need to explore an option that gets them more scoring.
That's it.
The Rangers made a push around the deadline for Columbus Blue Jackets captain Rick Nash, but to no avail. However, there have also been rumors that the Rangers may take a run at the Anaheim Ducks forward Bobby Ryan.
The latter option is better.
In Nash, you have a guy who basically defines Columbus as a franchise. He's the captain, and he's the only great player to ever wear their sweater. To get him, the asking price will be high, as anyone with half a brain is going to want a hefty package to replace the only franchise player they've ever had.
Translation for the Rangers: Brandon Dubinsky and a few others probably won't get it done.
Ultimately, Columbus general manager Scott Howson holds all the cards. Yes, Nash wants out, but it's not like he won't show up for games if they don't deal him. With the acquisition of Foligno, and rumors of an inquiry into Los Angeles Kings backup goalie Jonathan Bernier, Howson appears to be attempting to convince Nash that Columbus can compete.
Maybe they can. Regardless, what's the rush if you're Howson?
On the other side of the coin, Anaheim just resigned Teemu Selanne and has formidable talent upfront with Ryan Getzlaf and Corey Perry. Therefore, their roster can afford, more so than Columbus's, to part with a scorer in exchange for depth players and/or prospects.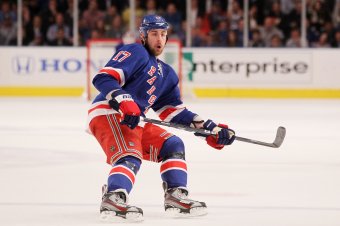 Bruce Bennett/Getty Images
It's no secret Dubinsky is probably on the way out for New York. So depending what Anaheim wants to stock up with, the Rangers could propose a deal in which Dubinsky's involved and then work from there.
For the Rangers, the list of untouchables isn't as long as fans seem to think it is. Realistically, here's who the Rangers won't part with: Henrik Lundqvist, Brad Richards, Marian Gaborik, Ryan Callahan, Danny Girardi, Marc Staal, Chris Kreider and probably Michael Del Zotto. Can you formulate a deal without those guys that would cause Anaheim to part with Ryan? I'm not sure that you can, so someone on the aforementioned list might have to go.
Here are a few reasons Ryan's worth it. First, he's young. At 25 Ryan still has some growing to do as a player, but he plays a gritty enough style that his ability to score won't be compromised by playing Torts' style.
In addition to that, his lowest point total in a season where he's played 60 or more games is 57. Not too shabby. That's the kind of production the Rangers need.
The current roster doesn't have the true scoring depth it takes to win a Cup; we found that out when they were out-gunned by New Jersey. It's time to get the final piece of the puzzle. I'm not advocating for emptying the locker room for Ryan, but you're going to have to give more than Dubinsky to get him.
So what do you say Ranger fans? You willing to deal?
Here's my play if I'm Sather: Dubinsky, Girardi and next year's third rounder for Ryan.
Who would you deal for Ryan? Comment below!