Dream Team vs. 2012 Team USA: A Full Breakdown of the Dream Matchup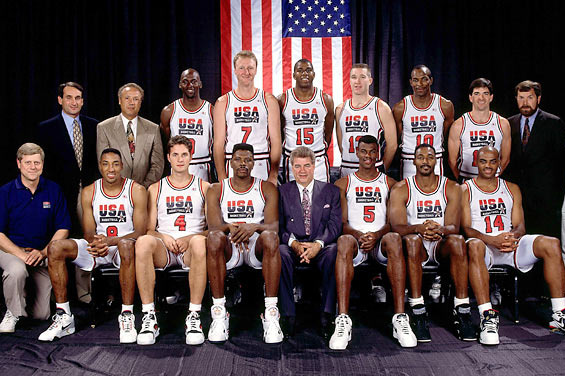 Kobe Bryant made headlines recently by saying the 2012 Men's Olympic basketball team would beat the 1992 "Dream Team" (via the Times-Picayune). As crazy as it sounds, could Bryant be right?
Michael Jordan laughed those comments off in an interview with The Associated Press (via ESPN), saying that the 2012 team has a long way to go before it can be compared to the legendary '92 squad.
Regardless of what Jordan thinks, Bryant brings up some valid points. Such a matchup would probably be the greatest basketball series ever played and would likely come down to the final minutes of a seventh game.
So what would happen? Well, here's a full breakdown of how the series would happen.
Begin Slideshow

»
Before we begin, we need to set some ground rules:
- The matchup would be a seven game series. Neither team would have home court advantage. All seven games would be played at a neutral site.
- The rosters will be as they were during the games. This means that any injuries or conditions the players had while playing on the Olympic team will come into play here. Blake Griffin will be replaced by Anthony Davis. This also means that age matters. Not every player will be in their prime.
- Henceforth, the 1992 team will be referred to as the "Dream Team". The 2012 team will be called "Team USA". This is simply to clarify which team is which.
- These games will be played under NBA rules, not FIBA rules. Even though the Olympics are played under FIBA rules, these guys are NBA players first and foremost. This creates the best overall series.
- Assume the stakes here are real. Both teams will treat this like the NBA Finals, not like a scrimmage.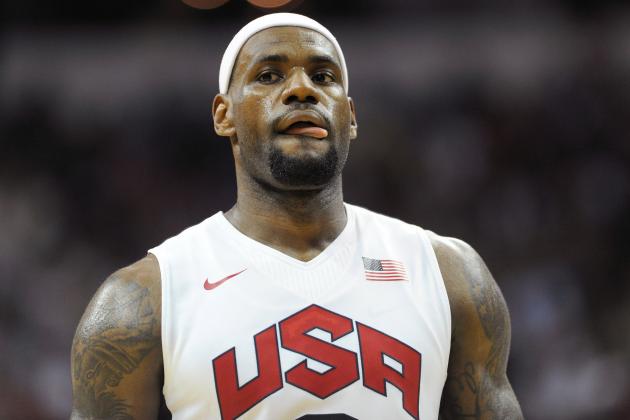 David Becker/Getty Images

Ever since these comments became public, most uninformed fans simply say: "The Dream Team has Michael Jordan, there's no way they'd lose". To say that one player alone single-handedly swings a series with approximately 20 Hall of Famers is flat out ignorant.
Statistically speaking, LeBron James and Michael Jordan would essentially play each other to a draw. Take a look at the stats:
'92 Jordan basic: 30.1 PPG, 6.1 APG, 6.4 RPG, 2.3 SPG, .9 BPG, 51.9 field goal percentage.
'92 Jordan advanced: PER: 27.7, true shooting percentage: 57.9, Win Shares/48: .274, defensive rating: 102
'12 LeBron basic: 27.1 PPG, 6.2 APG, 7.9 RPG, 1.9 SPG, .8 BPG, 53.1 field goal percentage.
'12 LeBron advanced: PER: 30.7, true shooting percentage: 60.5, win shares/48: .298, defensive rating: 97
If anything, those statistics are in LeBron's favor. While he averages less points and steals, he was a better rebounder, shot a higher percentage and averaged more assists despite playing with another ball-dominant guard in Dwyane Wade. When you factor in advanced stats, LeBron's edge becomes apparent. He was a more efficient offensive player, made a higher percentage of his total shots, was worth .24 more wins per game than Jordan offensively and saved five more points per 100 possessions defensively.
Remember, this is '92 Jordan, not the legendary figure we constantly speak about in reverential tones. At this point he only had one championship ring, just like LeBron. Who knows if LeBron matches what Jordan did with the rest of his career, but at this point they're essentially even.
The one major edge Jordan has in the eyes of fans is his mental fortitude. Despite his legendary playoff run this spring, most fans don't believe LeBron has Jordan's killer instinct.
But Kobe Bryant does. If the end of the game comes down to a one-on-one scoring duel, Team USA should feel fairly confident that Bryant could keep pace with Jordan.
Team USA has someone who can match Jordan the player in James and Jordan the man in Bryant. The Dream Team will not simply win this series because they have Jordan.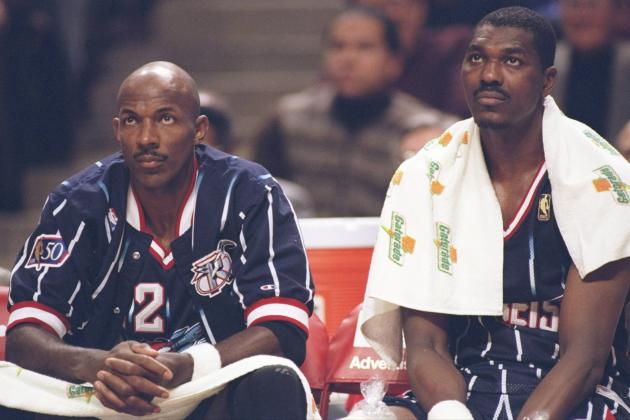 Brian Bahr/Getty Images

If this matchup is being treated as a serious seven game series, both teams are going to have to set rotations. No team would ever use all 12 guys in the NBA Finals, so we're going to cut each team's main rotation down to nine men.
The Dream Team:
Starting lineup: Even considering his advanced age, there is no way Magic Johnson's ego allows him to sit on the bench. He's starting. Michael Jordan is the obvious choice at shooting guard.
Even though his back makes him essentially useless in this series, I can't imagine Larry Bird not starting, so he gets the nod at small forward. Charles Barkley and David Robinson are the starters at power forward and center, respectively.
Bench players: Scottie Pippen is the obvious sixth man here and may even be the third or fourth best player on the team. John Stockton gets an automatic spot as the only other point guard. Karl Malone also gets minutes because of his connection with Stockton and the need for size.
The last spot gets tricky. Patrick Ewing is the best player left, Clyde Drexler is the best pure scorer, but neither actually fills a necessary role. Chris Mullin actually gives them what they need from a bench player. He's their three-point specialist.
The bench warmers: Ewing isn't necessary because of Team USA's lack of size, Drexler wouldn't serve a purpose because he's essentially a worse Jordan and Christian Laettner is Christian Laettner.
Team USA:
Starting lineup: Chris Paul is the obvious starter at point guard. Same goes for Kobe Bryant at shooting guard and Kevin Durant at small forward. LeBron has to be a starter so he'll play power forward.
The interesting decision is who to put at that last spot. Logically, a pure center like Tyson Chandler makes sense, but wouldn't having a luxury like Kevin Love's shooting be nice with such a great set of offensive players?
Tyson Chandler would get the start, but in crunch time he would be used in an offense/defense rotation with Kevin Love at center.
Bench players: We only need one point guard off of the bench, and Deron Williams gets the edge over Russell Westbrook here since Westbrook would take shots away from better players.
Kevin Love was already mentioned as one of the big men off of the bench. Anthony Davis gets the other spot by default considering Team USA's lack of size.
I hate to exclude Carmelo, but Team USA needs Andre Iguodala in the last spot. They don't need scoring, they need defense and someone who can play both wing spots. That's Iggy.
Bench warmers: Westbrook and Carmelo don't make the cut because of their ball hogging disorders, and James Harden just doesn't serve a specific enough role to warrant major playing time.
Now it's time to break down the specific facets of each team to pick a winner.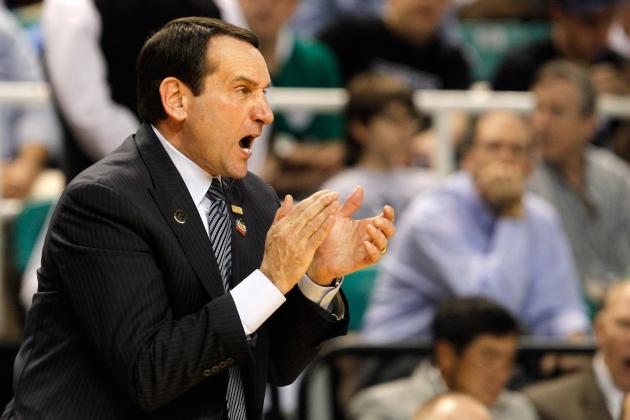 Streeter Lecka/Getty Images

Dream team coaching staff: Chuck Daly (head coach), Mike Krzyzewski, P.J Carlesimo, Lenny Wilkens.
Team USA coaching staff: Mike Krzyzewski (head coach), Mike D'antoni, Nate McMillan, Jim Boeheim.
Neither coaching staff has a significant edge over the other, but if you really want to dig deep, there are factors that could swing the series.
First of all, Chuck Daly has NBA coaching experience, Coach K doesn't. While his players certainly respect him and it probably wouldn't cause any issues, Daly does have a slight edge in his greater experience with NBA players and rules.
However, on the other side, Coach K was a member of the Dream Team staff. He's seen all of their players in practice and probably has some sort of knowledge about what it would take to beat them.
I think the the knowledge factor outweighs experience, giving Team USA's coaching staff a very slight advantage.
Edge: Team USA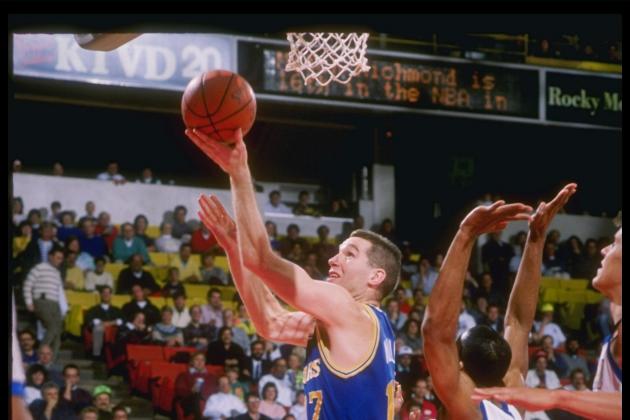 Tim DeFrisco/Getty Images

For their careers, the Dream Team as a whole shot 33.18 percent from long range (5579-for-17,415). Team USA shot slightly better, making 5882-of-17264 shots for 34.07 percent. Considering the large sample size, that small difference in percentage is significant.
However, the Dream Team boasts the two best shooters in the series with Chris Mullin (38.4 percent for his career) and Larry Bird (37.6 percent for his career).
The Dream Team's shooting stats are also slightly diluted by the fact that several below average shooters took more shots than they should have. For example, Charles Barkley made only 538-of-2020 three-pointers for 26.6 percent. He wouldn't be taking those shots in this series.
Team USA's total percentage comes from a team of solid shooters rather than a few great ones. Considering that on most teams only a few players take the majority of three-pointers, that doesn't mean much in this series. Mullin and Bird give the Dream Team the advantage here.
Edge: Dream Team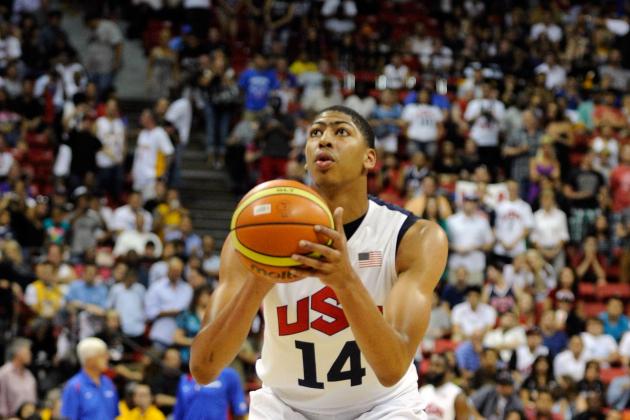 David Becker/Getty Images

In a series this tight, free throw shooting will be critical. The percentage disparity between the two rosters is negligible, but let's look at how the two crunch time units stack up. If Team USA uses Kevin Love as their fifth man, their free throw percentage is an excellent 81.89. While still very good, the Dream Team lags slightly behind with a 79.66 percentage.
What hurts the Dream Team here is that they use two traditional big men in Robinson and Barkley, whereas Team USA only uses one with Love, who is known as an excellent shooter.
If it comes down a few free throws to tie or win a game, Team USA will most likely turn to Kobe Bryant while the Dream Team would turn to Michael Jordan. Their career percentages are nearly identical; Bryant shoots 83.8 percent while Jordan made 83.5 percent.
Since Jordan and Bryant essentially cancel each other out here, Team USA has to get the advantage because of their better overall percentage.
Edge: Team USA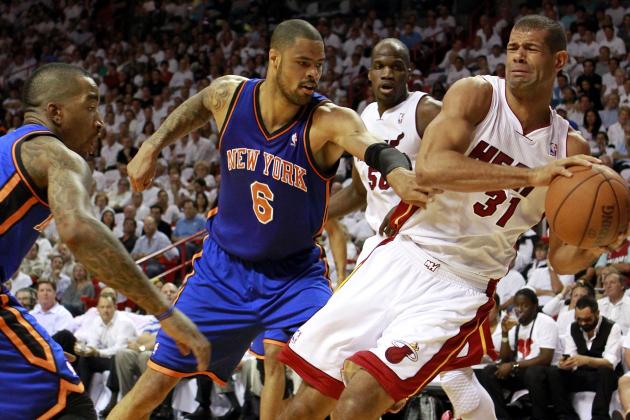 Marc Serota/Getty Images

Team USA has an obvious advantage on the defensive end of the court. It all starts with LeBron James.
LeBron is the most unique defender of all time. He can defend any position at an extremely high level. That means Team USA can deploy him in whatever manner they see fit.
If Michael Jordan gets hot, they can throw LeBron on him. If the Dream Team's size advantage becomes a major issue, they can put LeBron in the low post. The Dream Team simply has nobody like that.
The closest thing they have to LeBron is Scottie Pippen. While Pippen is one of the best perimeter defenders of all time, he doesn't offer the versatility of LeBron. He's not strong enough to defend big men on the block.
Pippen is also coming off of the bench in this series. He won't be playing the same amount of minutes as LeBron. That means LeBron's defensive impact will mean more to Team USA than it will to the Dream Team.
Team USA also has more players that play defense at a high level. Andre Iguodala is a true stopper, Kobe Bryant has 12 All-Defensive Team selections on his resumé, Chris Paul is among the league's best ball thieves and Anthony Davis' arms are about as long as helicopter propellers.
The Dream Team's one defensive advantage comes from their size. Both Patrick Ewing and David Robinson were elite low post defenders. However, Tyson Chandler is the reigning Defensive Player of the Year. While he may not be able to match what they do defensively, he will be able to come close.
Perhaps the biggest reason Team USA has the advantage here is the Dream Team's legendary combination of Magic Johnson and Larry Bird.
Both were mediocre defenders at best in their prime, and by the time they joined the Dream Team, they were essentially liabilities.
In his last six seasons, Bird never had a defensive rating better than 104. In that same period, Johnson averaged a defensive rating of 106. Not only are both of those numbers below average, but it must be noted that both were heavily protected on defense.
Byron Scott always guarded the opponent's best perimeter scorer for Johnson's Lakers, allowing him to roam the court trying to cause turnovers. Dennis Johnson played the same role for Bird's Celtics.
In this series, Magic and Bird would have to defend an All-Star every possession. That sounds like a disaster waiting to happen.
Edge: Team USA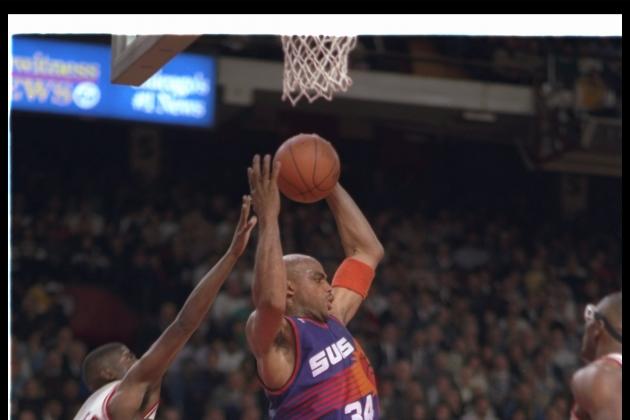 Jonathan Daniel/Getty Images

Just as Team USA held a major advantage on defense, the Dream Team does the same in rebounding.
The Dream Team simply has more size than Team USA. Robinson, Malone and Barkley are the three best rebounders in this series.
In addition, the Dream Team will get more rebounds from their perimeter players. Johnson, Bird, Pippen and Jordan are all proficient rebounders for their positions.
Kevin Love, Tyson Chandler and LeBron will keep the disparity manageable, but there is no way Team USA out-rebounds the Dream Team.
Edge: Dream Team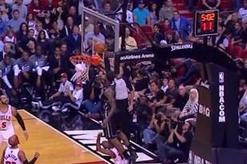 Team USA has an almost unfair advantage athletically due to the era in which they play and their youth.
Modern NBA players are simply more athletic than they were 20 years ago. Nobody from that era could do this. Or this. Through no fault of their own, they were born in a less athletic time period. You can't fight evolution.
Michael Jordan is the only pure athlete on the Dream Team that could keep up with Team USA. Other than him, they have nobody with the pure ability of LeBron James, Kevin Durant, Anthony Davis and Russell Westbrook.
This athletic advantage would give Team USA a major edge in transition. If LeBron steals the ball it would essentially create an automatic basket.
We also have to consider age. The Dream Team's average age is 29. Team USA's is 26. This isn't exactly rocket science, 26-year-olds are usually slightly stronger and faster than 29-year-olds. They can jump higher and play longer. It isn't a major factor, but it's something that has to be mentioned.
Edge: Team USA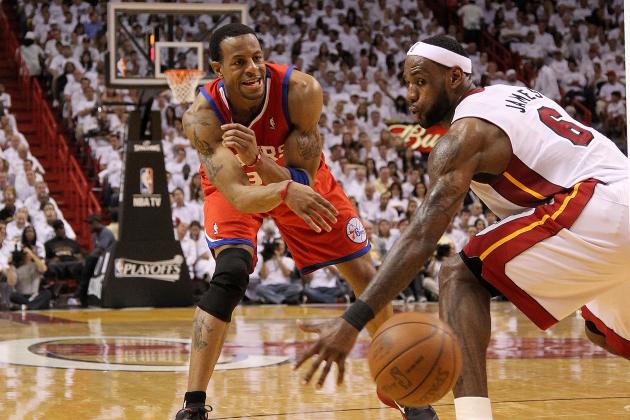 Mike Ehrmann/Getty Images

This is another category Team USA wins, mainly because they were lucky enough to be born later than the Dream Team.
Had he played in the '80s, LeBron James would have likely been pigeonholed as a small forward. Players generally played one position and that was that.
In reality, LeBron doesn't really have a position. The closest we've come to a definition is "point forward". If necessary, he can play any of the five natural positions as well.
Of Team USA's 12 players, eight of them (James, Davis, Westbrook, Anthony, Durant, Iguodala, Love and Harden) can play multiple positions effectively. The same cannot be said for the Dream Team.
Magic Johnson can play any position, but that's it, and remember he did that as a rookie. I'm not so sure that a 33-year-old Magic could do it as well as the 21-year-old version.
Their versatility would allow Team USA to play small, big or any other style they have to. The Dream Team would have to adjust to them, not the other way around.
Edge: Team USA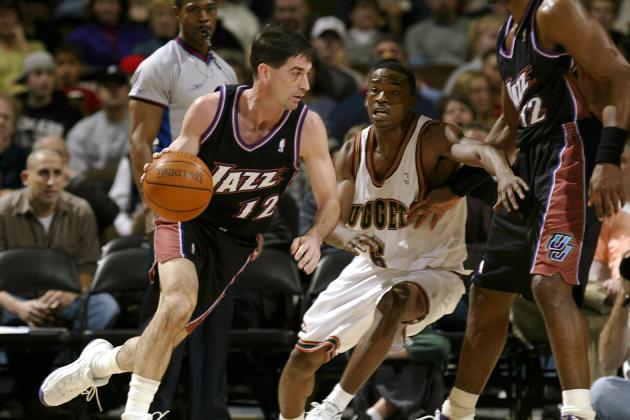 Brian Bahr/Getty Images

A big reason this series would be so fun to watch would be the exemplary passing on both sides. It's rare to see one legendary passer in a given series, this one has five.
If I could magically force any two players to join the same team, it would be LeBron James and Chris Paul. When it's all said and done, Paul might be the greatest pure point guard ever. Nobody manages games better than he does.
James is in Magic Johnson's mold. He's a gifted passer who's height gives him amazing floor vision.
The problem is that the rest of Team USA's passers aren't on their level. While Kevin Love is a solid passing big man and Andre Iguodala has done an admirable job of running Philly's offense, neither of them are elite distributors.
Kobe Bryant, Russell Westbrook and Carmelo Anthony are all major ball stoppers. Tyson Chandler will never touch the ball. Neither Durant nor Davis will make a significant difference as passers.
Everyone on the Dream Team passes. Scottie Pippen often ran Chicago's triangle offense, their big men all know how to kick it out to shooters and even Michael Jordan knows how to give away the ball when he has to.
Still, the Dream Team wouldn't have such a significant edge were it not for their three top passers. You could very easily argue that John Stockton, Magic Johnson and Larry Bird are the three best passers of all time. And they're playing on the same team?
That's almost unfair. The Dream Team is going to benefit from the open shots those three create.
Something else the Dream Team has in their favor: chemistry. No two players in Team USA's main rotation have ever played on the same team. The Dream Team has two sets of teammates who spent nearly their entire careers together.
The Dream Team's second unit could be run entirely through the Stockton-Malone pick-and-roll. Think about that, arguably the greatest set play in NBA history is going to be the staple of the Dream Team's backups.
When Jordan and Pippen are on the court together, amazing things tend to happen. The possibilities with those two surrounded by Hall of Famers are endless.
This isn't a weakness for either side, these are likely the two greatest passing teams ever assembled. The Dream Team is just better.
Edge: The Dream Team.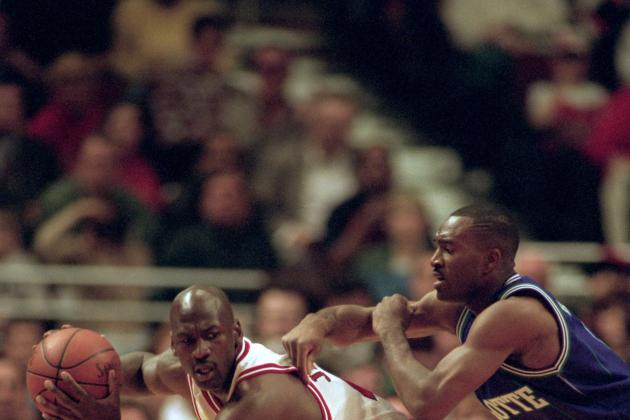 Jonathan Daniel/Getty Images

Remember how I just said the Dream Team's chemistry would give them an advantage? Well, maybe I jumped the gun a little bit.
The amount of pure egos on the Dream Team is staggering. Jordan's selfishness is legendary, Bird and Magic have never been known for deferring, and Charles Barkley is the ultimate wild card.
If you haven't seen the new documentary The Dream Team, I'd highly recommend it. It does a fantastic job of documenting how the team had to put their egos aside to win.
Only they didn't. Michael Jordan could have refused to play and they still would have beaten Angola by 60. There is virtually no evidence to suggest that the Dream Team could actually put their personalities aside to win a real series.
How do you think Magic and Bird would feel about MJ taking the last shot? Remember, those two have not only spent their whole careers doing just that, they've been listening to the media talk about how nobody did it better than them.
That is the sort of thing that causes teams to lose when they shouldn't. It's the story of the 2004 finals. Even if the Dream Team is better, are we sure that they can actually play together?
Remember, the only person who has ever been able to control Jordan's ego is Phil Jackson. He's not coaching this team. Chuck Daly is, and he's never had multiple stars on a single team. I don't believe in his ability to make this work.
Team USA on the other hand would have no problems doing that. While I usually hate how buddy-buddy today's stars are, it really serves them well in this series.
They'll all be able to coexist because being on this team won't be about proving a point. Everyone on the Dream Team had a personal agenda. Whether it was the heated rivalry between Magic and Jordan, or the duel between Malone and Barkley, everyone had something to prove.
That's not the case with Team USA. They're all friends. They know in the fourth quarter Kobe is taking over. Don't get me wrong, Kobe and LeBron aren't saints, but this team won't have any trouble getting along. The Dream Team would. That's why Team USA gets the edge here.
Edge: Team USA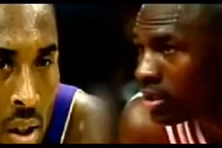 As important as team play is, this series will be determined by certain key individual matchups. We're going to look at which specific advantages each team has.
Dream Team advantages: Magic Johnson's size creates major problems for Team USA. Their two main point guards are traditional, meaning Johnson is going to have at least six inches on them. While he isn't known as an interior scorer, he's going to be able to take advantage of that height disparity.
You also have to consider Michael Jordan's physical advantage over Kobe Bryant. This matchup would be closer if both were in their prime, but in this series Jordan is 29 and Bryant is 33. While Bryant is still an elite player, he has clearly lost a step.
Jordan is going to be able to take advantage of Bryant's lost athleticism. For Bryant to even this match up, he'd have to rely on veteran guile and a decent amount of luck. No matter what he does, Jordan is going to win this one. For Kobe it's just a matter of keeping it close.
I've already detailed the Dream Team's size advantage, so I'll keep this quick. If Tyson Chandler and Anthony Davis can contain Robinson and Malone, Team USA has a reasonable shot. If not, they're in serious trouble.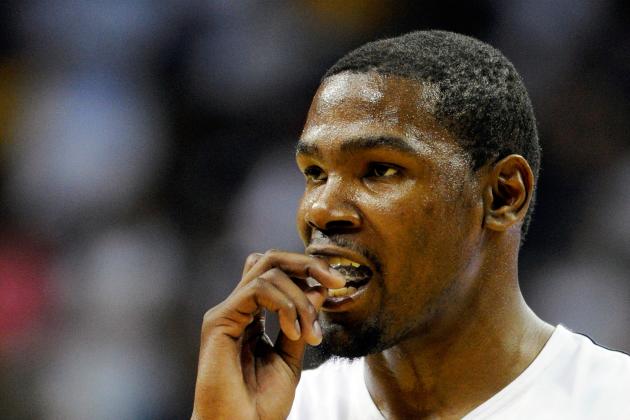 David Becker/Getty Images

Team USA advantages: Just as Magic's height gives him an advantage on offense, his lack of speed will hurt him on defense. I'm not sure a 33-year-old Johnson can stay in front of Chris Paul and Deron Williams.
Assuming LeBron plays power forward, Charles Barkley would have a nearly impossible time defending him. LeBron is faster, stronger and has a five inch height advantage. Barkley wouldn't be able to keep up with LeBron on the perimeter, yet he can't give him space to shoot. James should abuse Barkley if he were forced to defend him.
Kevin Durant would do the same thing to Larry Bird. Durant is young and spry, Bird is old and slow. I hate to use such simple analysis, but that's really what it comes down to. There is no way Bird can keep up with Durant.
Between LeBron, Durant and Kobe, Team USA has one final major advantage: there is no lineup the Dream Team can use to contain all of them at once.
The Dream Team only has two great perimeter defenders: Jordan and Pippen. Assuming Jordan guards Kobe, either LeBron or Durant would be defended by Barkley, Bird, or Malone (a fine defender but not for perimeter players like James or Durant).
In other words, there is no way the Dream Team can stop all of Team USA's major threats at once. Someone will always have a major match up advantage. In fact, if Bird is playing crunch time, they'd have two in the fourth quarter. Leaving LeBron James and Kevin Durant open at the end of the game isn't exactly a formula for success.
Team USA could throw out a lineup of Paul, Iguodala, James, Davis and Chandler if they needed a single stop. The Dream Team wouldn't be able to force such massive mismatches on Team USA.
That's why Team USA wins this category. They would always be able to create a mismatch for one of their top scorers.
Edge: Team USA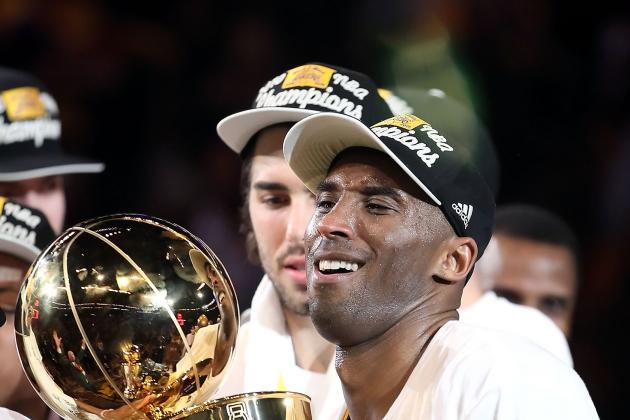 Christian Petersen/Getty Images

For those of you who haven't kept track of who won each category, Team USA held a 7-3 edge over the Dream Team. In case that doesn't give it away, I think Team USA would win this series.
Remember, Kobe didn't say he thought his team had better players, he said he thought they'd beat the Dream Team.
If both teams were in their primes, this series would probably go differently. But age means something. Larry Bird and Magic Johnson weren't Larry Bird and Magic Johnson at this point.
I don't think there's any way the Dream Team could contain Kobe Bryant, LeBron James and Kevin Durant at once. One of them would have a monster series. While Michael Jordan might be able to do the same, Team USA at least has the players to contain him.
Call me a heretic if you want, but I think the winner here is fairly obvious. The Dream Team couldn't keep up with Team USA's athleticism and youth. That's what makes the difference here. Veteran experience will only take you so far. The modern Team USA, considering where their players are in their careers, would beat the Dream Team.
Winners: Team USA