Late last month, Sports Illustrated ran an article in which a rival AFC North coach broke down the 2012 iteration of the Baltimore Ravens. It provides an interesting, in-depth look at how coaches view their opponents and rivals.
So let's see what the most interesting nuggets were in this piece and try to infer what we can expect from the Ravens on the field this season.
From the get-go, this particular unnamed coach shares his doubts about the overall effectiveness of quarterback Joe Flacco, saying:
For this offense to have success, it needs to be able to run the ball. Quarterback Joe Flacco regressed last year, and I think part of that was because the defensive pressure got to him. He's not a player who can just drop back and beat you with his arm; he needs a successful running game to open things up. I would be shocked if he had a breakthrough season.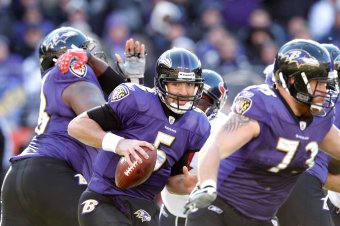 Rob Carr/Getty Images
Clearly, this person isn't saying anything all that new or radical. Flacco did regress last year—though his overall stats haven't changed much in three seasons (around 3,600 yards, 20 or so touchdowns, around 225 passing yards per game on average); last year, he was wildly up and down from game to game in passing totals.
The run game has very much helped Flacco out. Ray Rice had the second-most rushing yards of any back last season and accounted for an astounding chunk of the Ravens' overall offensive yardage. Rice will continue to factor heavily in the Ravens offense this year, but Flacco should have more opportunity for success.
That's because even this coach has noticed the prowess of second-year receiver Torrey Smith:
You know who is going to have a breakthrough season? Receiver Torrey Smith. That dude is fast. He ran by us a few times. He doesn't have many routes in his tree, but he'll be a more polished receiver now that he's had a full off-season.
Smith himself has said he's looking to have a 1,000-yards or better season this year, and it's something both this coach and I are in full agreement on. Smith is dynamic and young, and he's the perfect receiving compliment to a big-armed quarterback like Flacco.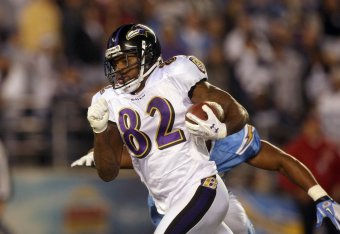 Donald Miralle/Getty Images
This coach isn't sold on Jacoby Jones being much of an offensive contributor, believing that his biggest impact will come on special teams. This take makes sense: Even if Jones wins the team's No. 3 receiver job, the Ravens have never used that position heavily, meaning Jones should see limited targets in 2012.
The coach discussed Rice as well, showing astonishment for how many carries he gets:
"What more can you say about Ray Rice? The guy gets 350 touches a year. I don't know how the little guy does it."
But he does go on to say that Rice may see fewer touches this year to prevent possible injury and adds that the Ravens certainly have personnel capable of making an impact at running back:
But don't be surprised if the coaches try to limit the pounding on him and give more snaps to Anthony Allen or rookie Bernard Pierce. And watch out for Pierce. He has a future in this league.
I am also positive about Pierce. Though he's not particularly thought of as someone who can take on the huge numbers of carries like Rice, he's almost a lock to leapfrog Allen on the depth chart and be Rice's dedicated No. 2. Pierce has all the mental and physical tools to run the ball well, as long as he never gets overused.
So who do you think this mystery coach may be, and what are your thoughts about his comments? Leave your thoughts in the comments below.