Rating Liverpool's 2012/13 Home and Away Kits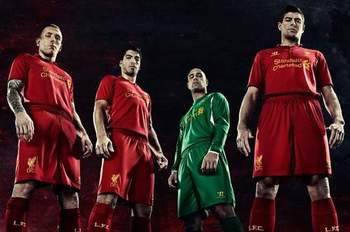 Photo Courtesy of Goal.com
Give Warrior Sports credit, they certainly have not limped into their first season as jersey sponsor for Liverpool.
All three of their contributions to the lineage of Anfield sportswear have been marked changes from a year ago.
Some the Kop will recognize as an homage to the past. Others look more like a tribute to the novels of Aldous Huxley. Perhaps that is the point, to let Merseyside know that we are entering a "brave new world."
With the hiring of Brendan Rodgers that seems an optimistic way of viewing the new uniforms. For me, the new home kits are a well-steeped glass of Earl Grey. The alternates however, are simply not my cup of tea.
But either way, it has the fans talking. And in that way the folks at Warrior have done their job.
Hopefully, on-field results will similarly change and will not continue as more of the same.
Away 2012/13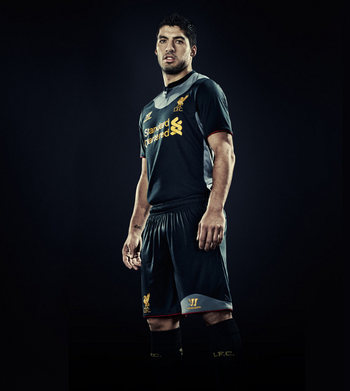 Courtesy Footballkitnews.com
The "Bad"
Rating: C
In this number, Luis Suarez can play 90 minutes and then explore the Great Barrier Reef shortly thereafter.
Maybe someone in their marketing department is an Aquaman aficionado. It could be that they took the soggy conditions in England a bit too literally. Why Warrior went so nautical perhaps we will never know.
Either way, it could be worse...and later on, it is.
Home 2012/13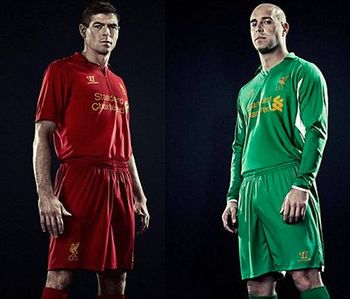 Courtesy Footy-boots.com
The "Good"
Rating: A
Amidst all their dramatic change, the new sponsors kept it traditional with the home kits.
Yellow first made its debut as a secondary color at Anfield in 1976 with Umbro. It continued to be a presence through 1985. It then briefly made a reappearance in 2001 through Reebok.
This should be a welcome return for the long-time Liverpool fans out there.
Third 2012/13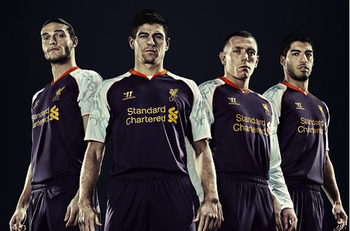 Courtesy Static.givemefootball.com
The "Ugly"
Grade: F
The only positive is that we will not have to look at this eyesore outside of the Europa League.
Warrior's attempt at third kits are just gross. First, there is the awkward purple/orange combination that really has no historical precedent.
Then there are the sleeves. The strange tattoo-esque decal makes it look like this is something a guy would sell from his trunk outside the stadium.
Andy Carroll appears to be less of a footballer and more of a Hell's Angel in this outfit.
For everyone's sake I hope these stay on the rack during league play.
Keep Reading

Liverpool: Like this team?