MLB Draft Signings 2012: Pirates Look Foolish with Handling of Mark Appel
Photo via hardballtalk.com

Leave it to the Pittsburgh Pirates front office to suck the air out of the balloon just as it was beginning to rise.
The club is currently in first place atop the National League Central entering the second half of the season, and with a young nucleus, look to be competing for the foreseeable future.
Now is not the time to skimp on shelling out cash. Now is not the time to impede the progress of your franchise.
Yet, that's exactly what they did at the July 13, 5:00 p.m. EDT signing deadline. They failed to sign their first-round selection Mark Appel to a deal, and the Stanford Cardinal will now return to school according to Jim Callis of Baseball America:
#Pirates did not sign 1st-rder Mark Appel. #mlbdraft

— Jim Callis (@jimcallisBA) July 13, 2012
He was the only player in the top 15 picks not to sign a deal.
The Stanford standout's stock fell in the draft to to his "signability" issues and fell to the Pirates at No. 8. MLB's suggested slot price for his spot is $2.9 million, and the Pirates could only offer an extra $550,740 after signing a large chunk of their other draft picks.
Did Pittsburgh Make the Right Choice Not Signing Mark Appel?
Why didn't they up their offer? Because under the new MLB collective bargaining agreement, every team has a spending limit and can lose draft picks for exceeding it.
They should have either taken care of this a long time ago, or skipped Appel in the June draft. They knew super-agent Scott Boras was representing him and the process was going to be painful. They should have either bitten the bullet and shelled out the dough or avoided him altogether—simple as that.
Appel was 10-2 with a 2.56 ERA and 130 strikeouts in 123 innings pitched for Stanford this past season. He has a devastating slider and a compact delivery which suggests injuries will not be a concern down the line.
He is a potential ace, no question about it. So either pay the man or pick a player you know will sign on the dotted line.
Now the Pirates will receive a top-10 pick in next year's draft, in addition to their original 2013 pick. Problem is, the talent doesn't look to be as deep next year, and there are certainly no Mark Appels (well, aside from Appel himself).
The Pirates will have to conduct an entire season without developing a No. 1 pick at a time where they could use all the help they can get to stay relevant.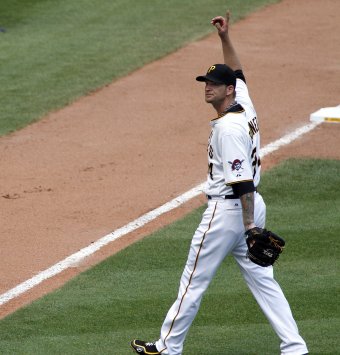 Justin K. Aller/Getty Images
Right now their pitching staff has been outstanding behind the resurgence of A.J. Burnett and the talent of James McDonald and Kevin Correia. But how much longer can you rely on Burnett? The depth is not great, and landing Appel would ensure the stability of the pitching staff for the foreseeable future.
Instead, the Pirates have to wait another season to develop a top-tier talent. The Pirates have been notoriously cheap in the past, and looked to finally be turning a corner.
Maybe not.
Maybe this is the first sign that this Pirates resurgence is nothing more than a mirage, and yet another losing season is on the horizon. And another one after that. And another. And another…
This article is
What is the duplicate article?
Why is this article offensive?
Where is this article plagiarized from?
Why is this article poorly edited?