Projecting the 2013 Rotation of Every MLB Team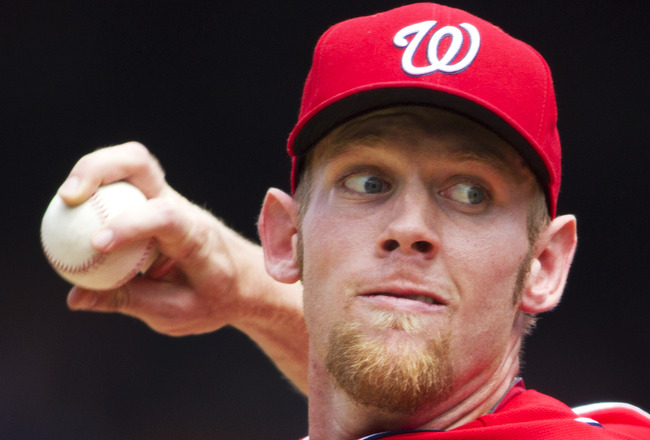 The Associated Press

Ask any MLB executive for his or her key to assembling a winning team.
The conversation will be brief because the answer is simple—starting pitching.
I've projected the members of every 2013 rotation with the understanding that all 30 clubs consider it a top priority.
Midseason and offseason transactions are inevitable. From blending trade rumors with my own analysis, I anticipate several trades and free-agent signings.
There are always capable starters who miss April action due to miscellaneous injuries. Likewise, we can expect numerous top prospects to begin next season on the farm for some last-minute seasoning.
Please note, however, that these are Opening Day projections.
Players in the aforementioned situations were not forgotten about. They have been grouped with fringe rotation members under the "extra arms" heading.
This is just one writer's version of the future. Do not hesitate to bash it with your skepticism.
Arizona Diamondbacks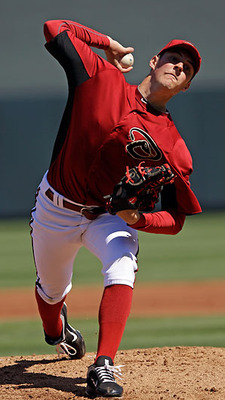 Marcio Jose Sanchez/AP
Starting five: Trevor Bauer, Trevor Cahill, Ian Kennedy, Wade Miley, Tyler Skaggs
The Arizona Diamondbacks dealt a couple great arms to acquire Cahill in December 2011, yet they still have high-ceiling pitchers like Bauer, Miley and Skaggs rising through the organization. The first two are virtual locks to begin next season as starting options, while Skaggs' fate will depend on the impression he makes upon promotion from Triple-A this September.
Kennedy is struggling in his third year as a D-Back. However, the team will retain him with fingers crossed and hope that he can recapture his 2011 magic.
Overall, this starting five will be among baseball's youngest.
Extra arms: Josh Collmenter, Daniel Hudson
Collmenter is a strike-thrower who has been removed and re-inserted into the rotation several times during his MLB career.
Hudson may return to the staff after the 2013 All-Star Break. Recovery from Tommy John surgery is typically 12 months long, and he went under the knife on July 9.
Atlanta Braves
Rob Carr/Getty Images
Starting five: Ryan Dempster, Tommy Hanson, Tim Hudson, Jair Jurrjens, Mike Minor
Hanson and Hudson will definitely be pieces of the Atlanta Braves rotation next season. Jurrjens can't be easily traded considering his inconsistency, so I expect him to get one more chance. Minor figures to be the lone southpaw.
This club should dive into free agency to add a pitcher with Chipper Jones and his eight-figure salary coming off the payroll.
GM Frank Wren could bring Dempster aboard with a three-year offer.
Extra arms: Brandon Beachy, Randall Delgado, Arodys Vizcaino
The National League's ERA leader before suffering an elbow injury, Beachy will be available in the season's second half (barring any setbacks). Vizcaino is dealing with the same issue, but his procedure was performed several months before Beachy's.
Delgado used to be a coveted prospect, though he has disappointed in 2012 when given the opportunity to start regularly.
Baltimore Orioles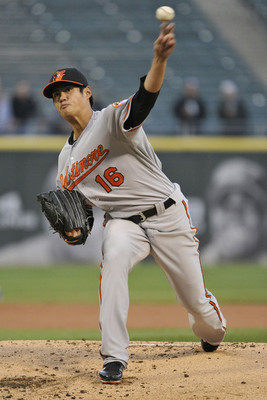 Brian Kersey/Getty Images
Starting five: Jake Arrieta, Zach Britton, Wei-Yin Chen, Jason Hammel, Wandy Rodriguez
Recently, Baltimore Orioles pitching prospects have been breaking into the big leagues, only to underachieve. Arrieta and Britton will be on short leases, but you'll see them in early April.
Meanwhile, I foresee a trade involving left-hander Brian Matusz, who could be paired with a developing position player to pry Wandy Rodriguez from the Houston Astros. He'll finally be tested in the American League after a couple years of trade speculation.
Extra arms: Dylan Bundy, Tsuyoshi Wada
Bundy will have turned 20 before spring training. His lack of professional experience should prevent him from breaking camp with the team, though you can count on him debuting in May or June.
Wada, who was roughed up in his short stint with Triple-A Norfolk, will hopefully make a greater impact in 2013 after undergoing Tommy John Surgery in May.
Boston Red Sox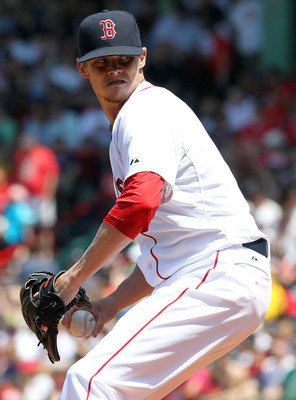 Jim Rogash/Getty Images
Starting five: Josh Beckett, Clay Buchholz, John Lackey, Jon Lester, Brandon McCarthy
Remember that Lackey and the Boston Red Sox are inseparable for another two summers under the terms of a tragic contract. I doubt that 2011 (6.41 ERA) will repeat itself, but management can't be terribly excited for his return.
Free-agent pickup Brandon McCarthy replaces Daiuske Matsuzaka on the payroll and joins forces with Beckett, Buchholz and Lester. One worry is that McCarthy has never logged 200 innings in a calendar year.
Extra arms: Alfredo Aceves
His services won't be needed in the later innings as Andrew Bailey mends and Mark Melancon establishes himself in the eighth.
Aceves could instead revert back to his role as a long man and spot starter.
Chicago Cubs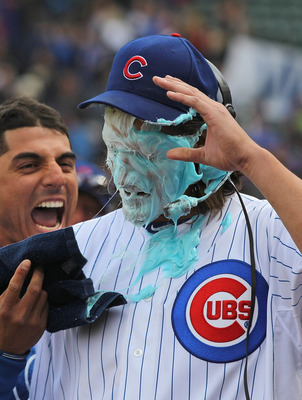 Jonathan Daniel/Getty Images
Starting five: Felix Doubront, Nate Eovaldi, Paul Maholm, Jeff Samardzija, Travis Wood
Doubront, a hard-throwing Venezuelan lefty, comes over from Beantown in a trade for Ryan Dempster. (The Red Sox rent him for playoff run.) He'll be in the rotation immediately and indefinitely, though probably not as the ace of the staff.
Similar story with Eovaldi, a Los Angeles Dodgers product who gets included in a package to obtain Matt Garza. Naturally, Eovaldi inherits Garza's shaving cream pie responsibilities.
The Chicago Cubs front office will exercise Maholm's $6.5 million team option to fill out the rotation.
Extra arms: Casey Coleman, Chris Volstad
Both men underachieved in the first half of 2012 (nine starts, 16 relief appearances, zero wins). Because of their plummeting trade value, Coleman and Volstad will stick around for another season.
Chicago White Sox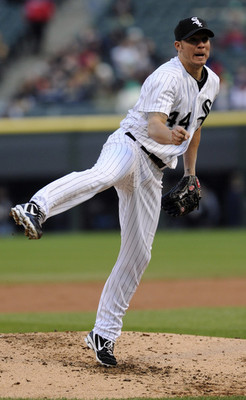 David Banks/Getty Images
Starting five: John Danks, Gavin Floyd, Philip Humber, Jake Peavy, Chris Sale
The White Sox can spend $22 million to retain the All-Star starter Jake Peavy, or free up $18 million to shop for his successor (buyout costs $4 million).
Even if it's for a bloated salary, I figure that general manager Williams keeps him. There won't be many trustworthy alternatives on the market.
In fact, don't expect any Sox starters to leave the organization. Sale is especially untouchable.
Extra arms: Jose Quintana
As his numbers come back down to Earth and his teammates overcome nagging injuries, Quintana will lose hold of a rotation spot.
Cincinnati Reds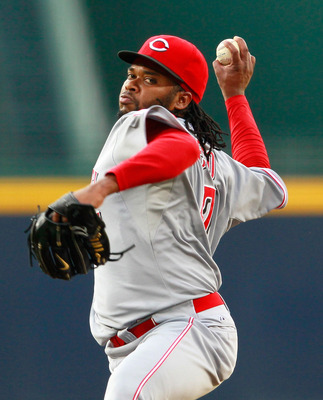 Kevin C. Cox/Getty Images
Starting five: Bronson Arroyo, Homer Bailey, Johnny Cueto, Mat Latos, Mike Leake
With 10 weeks left in the regular season, the Cincinnati Reds rotation is already set for the following spring.
Their fearsome fivesome leads the major leagues in complete games while boasting an elite earned run average, strikeout-to-walk ratio and WHIP.
All members are either under contract or team control for 2013.
Extra arms: Aroldis Chapman, Todd Redmond
Internal discussions about Chapman and his role with the club are ongoing, but the Reds will only transform him into a starter if they see growth in his secondary pitches.
Redmond was recently acquired from the Atlanta Braves' organization.
Cleveland Indians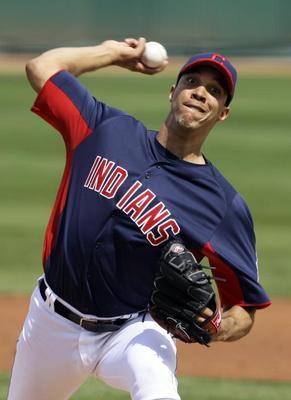 Mark Duncan
Starting five: Roberto Hernandez, Ubaldo Jimenez, Justin Masterson, Zach McAllister, Josh Tomlin
As a result of the Roberto Hernandez-Fausto Carmona identity crisis, the Cleveland Indians were able to cheapen his team options. He'll almost certainly return to an MLB mound next season.
The Tribe will reluctantly hold onto Jimenez, who barely resembles his 2010 self.
Quietly, Indians rookie Zach McAllister is emerging as the rotation's finest weapon. His high strikeout rate is very encouraging.
Extra arms: Carlos Carrasco, Jeanmar Gomez
Carrasco and Gomez have each tasted the big-league stage. Management favors the former, but his playing time will depend on the condition of his surgically-repaired elbow.
Colorado Rockies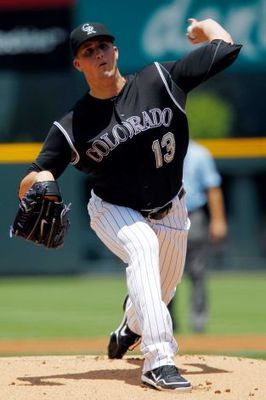 David Zalubowski/AP
Starting four: Jhoulys Chacin, Jorge De La Rosa, Juan Nicasio, Drew Pomenranz
Until the Colorado Rockies revert back to the norm, we have no reason to dismiss their four-man rotation as a gimmick. Honestly, it isn't working, but the organization is "committed."
Pomeranz—the key prospect received for Ubaldo Jimenez—will get every opportunity possible.
The rest are battling various injuries, but spring training is still half a year away, so they should be back at 100 percent by then.
Extra arms: Michael Cuddyer, Christian Friedrich, Alex White
I'm just kidding about Cuddyer...but not really. He pitched a scoreless inning for the Minnesota Twins in 2011 and it's sad to see his versatility go to waste.
Friedrich dominated weak lineups in pitcher-friendly ballparks during his first two MLB starts (1.38 ERA, 17 K in 13 IP). He has since fallen from greatness.
White's inability to miss bats is a huge concern.
Detroit Tigers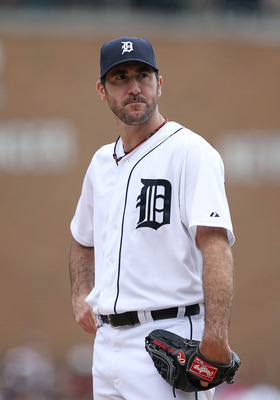 Leon Halip/Getty Images
Starting five: Doug Fister, Rick Porcello, Max Scherzer, Drew Smyly, Justin Verlander
The reigning AL MVP may have cost his league home-field advantage in the World Series, but without him, the Detroit Tigers could never get there. He's their undisputed ace.
The rest of the rotation is a bit suspect.
Porcello's pitch-to-contact style is ill-suited for the the team's slow-footed corner infielders. Scherzer struggles to give lengthy outings.
Extra arms: Duane Below, Jacob Turner
The Tigers have used the lefty Below out of the bullpen this season. His professional experience and strike-throwing habits may lead to a promotion.
Turner is only 21 years of age and perhaps most valuable as trade bait.
Houston Astros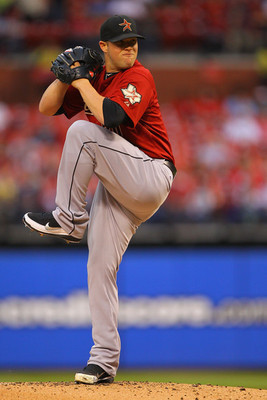 Dilip Vishwanat/Getty Images
Starting five: J.A. Happ, Lucas Harrell, Brian Matusz, Bud Norris, Kyle Weiland
Aside from Norris, these pitchers are all trade acquisitions.
Happ and Matusz had success with the 2009 Philadelphia Phillies and 2010 Baltimore Orioles, respectively. The recent past has been more of a struggle.
Harrell and Weiland have yet to accumulate a year of MLB service time.
Overall, expectations are pretty darn low.
Extra arms: Erik Bedard, Jordan Lyles
The Houston Astros won't be looking to spend big during the rebuilding process. That doesn't mean they will avoid free agency entirely.
Bedard will be signed to battle for a starting job, though it would hardly be a surprise if he suffered a preseason injury.
Lyles' 2012 numbers mimic his mediocre rookie stats. He won't be in the rotation unless progress becomes evident.
Kansas City Royals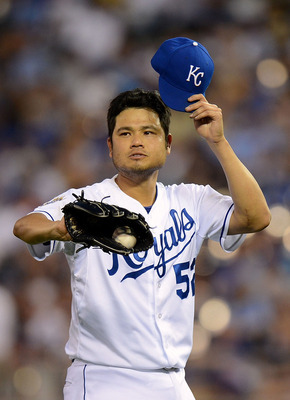 Jamie Squire/Getty Images
Starting five: Bruce Chen, Aaron Crow, Luke Hochevar, Edwin Jackson (free agency), Jake Odorizzi
Danny Knobler of CBSSports.com was told that the Kansas City Royals will pursue "a real starting pitcher" this winter.
Journeyman Edwin Jackson would be a good fit if K.C. is prepared to offer a multi-year deal.
Highly-touted prospect Jake Odorizzi looks ready for a promotion. He was undefeated through his first 10 games in the Pacific Coast League (Triple-A).
Crow would have been stretched out in 2012 had closer Joakim Soria not needed Tommy John surgery. At last, he'll join Chen and Hochevar in the starting five.
Extra arms: Danny Duffy, Luis Mendoza
Duffy feels great about making early progress in elbow rehab, but he's realistically aiming for a midsummer call-up.
Luis Mendoza has given the Royals a chance to win in each of his outings. There will be a roster spot for him beyond this season.
Los Angeles Angels of Anaheim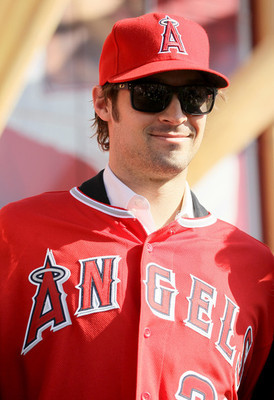 Stephen Dunn/Getty Images
Starting five: Dan Haren, Shaun Marcum, Garrett Richards, Jered Weaver, C.J. Wilson
The 2012 season hasn't gone according to plan for the Los Angeles Angels of Anaheim. MVP candidate Mike Trout and outfielder Mark Trumbo were not characters in the original script, yet the club owns a commanding lead in the AL Wild Card standings.
Weaver and Wilson are a potent one-two punch. They will stay with L.A. for a long time.
Also, Garrett Richards, who has been serviceable in a few MLB stints, is deserving of a 200-inning trial in 2013.
Haren will return via team option after pitching his butt off during August and September. However, Ervin Santana—who's in a identical contract situation—cannot be trusted.
The Angels, I predict, will make a deadline deal for Shaun Marcum of the Milwaukee Brewers, and subsequently sign him to a long-term extension.
Extra arms: Jerome Williams
The Hawaiian native is worth keeping in case of injury.
Los Angeles Dodgers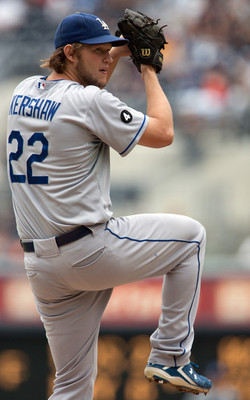 Kent Horner/Getty Images
Starting five: Chris Capuano, Matt Garza, Aaron Harang, Clayton Kershaw, Ted Lilly
The Los Angeles Dodgers won't let July 31 go by without revamping their rotation.
Sure, Ryan Dempster reportedly wants to land there, but Matt Garza makes more sense for a rich franchise looking to compete now and for a while afterward.
Kershaw is a phenom, while Capuano has done miraculous work as an under-the-radar signing.
Harang and Lilly are also steady starting pitchers.
Extra arms: Chad Billingsley
He's currently on the 15-day disabled list with elbow inflammation, which shouldn't affect him next season...unless it's actually something more serious. I'm not trying to jinx him, though.
The MRI results will be available on Monday.
Even assuming a comeback to perfect health, demoting him to the 'pen wouldn't be so outrageous. Baseball-Reference.com shows that Billingsley has pitched below replacement level since 2011.
Miami Marlins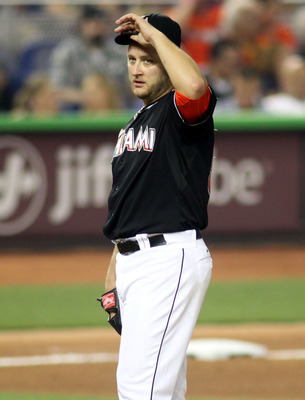 Marc Serota/Getty Images
Starting five: Mark Buehrle, Josh Johnson, Francisco Liriano, Ricky Nolasco, Carlos Zambrano
If Big Z opts to continue his career, I can't imagine it being for anybody besides Ozzie Guillen and the Miami Marlins. He'll have to ink a new free-agent deal.
The trio of Buehrle, Johnson and Nolasco will stay in South Florida, too.
With Anibal Sanchez likely to draw interest from a handful of teams, the Marlins can save significant cash by settling for Liriano. They'll be overjoyed that they did if the strikeout artist is in top form.
Extra arms: Daisuke Matsuzaka, Alex Sanabia
Matsuzaka is recovering from past arm injuries. Like Liriano, he may exceed expectations after moving in the National League.
Marlins fans caught glimpses of Sanabia in 2010 and 2011. He's very close to sticking on the 25-man roster.
Milwaukee Brewers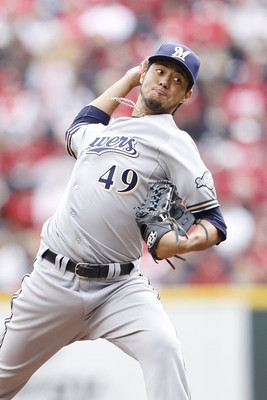 Joe Robbins/Getty Images
Starting five: Mike Fiers, Yovani Gallardo, Brad Mills, Anibal Sanchez, Randy Wolf
That's right, sought-after right-hander Zack Greinke will hit the open market and sign elsewhere.
Fiers and Gallardo will headline the 2013 staff along with Anibal Sanchez.
In the aforementioned Shaun Marcum trade to Los Angeles, the Brew Crew will gain Brad Mills and plug him into the rotation. Mills was previously part of the Toronto Blue Jays organization.
Randy Wolf serves as a second southpaw and veteran presence (for whatever that's worth).
Extra arms: Marco Estrada
He is equipped with sexy, swing-and-miss stuff. Estrada could thrive in any role, though his career offers a very small sample size.
Minnesota Twins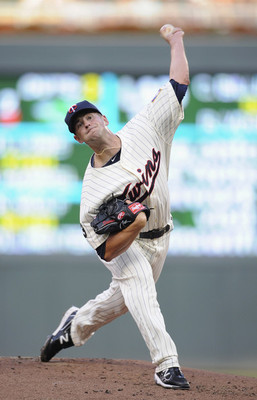 Hannah Foslien/Getty Images
Starting five: Cole De Vries, Ross Detwiler, Scott Diamond, Brian Duensing, Colby Lewis (Free Agency)
Sending outfielder Denard Span to the Washington Nationals during the Winter Meetings strengthens the Minnesota Twins in other areas. For the purpose of this article, just know that Ross Detwiler is contained in the incoming package.
Starting pitching has been detrimental to the franchise, but not every active Twins hurler is cancerous. De Vries, Diamond and Duensing all earn rotation spots at the season's onset.
Squeezed out by a surplus of talent in Texas, Colby Lewis accepts a desperate, four-year offer from the Twins.
Extra arms: Scott Baker, Nick Blackburn
The front office declines a $9.25 million team option on Baker, but appeals to him with an incentive-laden deal. They can't guarantee much to someone who was sidelined throughout 2012.
Already under contract, Blackburn will be kept around as insurance.
New York Mets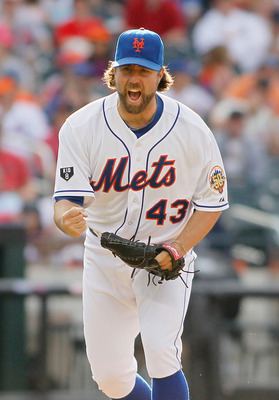 Mike Stobe/Getty Images
Starting five: R. A. Dickey, Dillon Gee, Matt Harvey, Jonathon Niese, Johan Santana
It's probably going to be the final year of Santana's New York Mets career, and the last time that R.A. Dickey makes a measly seven-figure salary.
General manager Sandy Alderson can take credit for negotiating a team-friendly deal with Niese in April, days before the southpaw began to excel. He'll potentially stay in Queens through 2018.
Harvey has learned all he can at the Triple-A level. It's time for Alderson to show Mets fans their future.
Extra arms: Mike Pelfrey, Zack Wheeler
Wheeler won't be far behind Harvey. His debut will definitely come during the first half.
Pelfrey (Tommy John surgery) could be back at 100 percent before Memorial Day, but the soon-to-be free agent will be hard-pressed to reclaim starting duties. He has a lot to compete with.
New York Yankees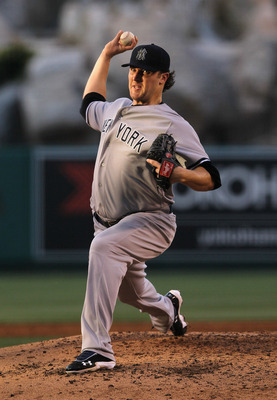 Jeff Gross/Getty Images
Starting five: Phil Hughes, Hiroki Kuroda, Ivan Nova, Michael Pineda, CC Sabathia
The New York Yankees have achieved the best record in Major League Baseball without benefiting from their blockbuster trade of the offseason.
In 2013, however, they'll feature former Seattle Mariner Michael Pineda. He underwent a shoulder procedure after showing signs of weakness in spring training.
Despite his age, Kuroda lacks the MLB service time to qualify for free agency. Like Hughes, he is still eligible for arbitration. Both hurlers will be pretty affordable through that process.
If Nova can stop surrendering home runs every five seconds, he'll also be a staple in the rotation.
Extra arms: Andy Pettitte
Pettitte's "unretirement" may last another season or two.
Remember, though, that his drawn-out deliberation prevented him from starting the 2012 campaign in the big leagues.
He'll show up tardy again—if at all—after weighing his career versus family time.
Oakland Athletics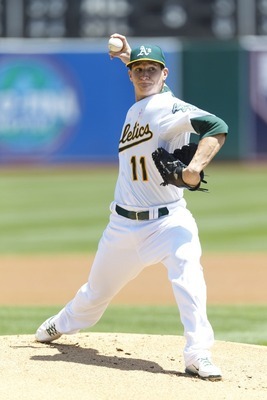 Jason O. Watson/Getty Images
Starting five: Brett Anderson, Travis Blackley, Dallas Braden, Tommy Milone, Jarrod Parker
The Oakland Athletics rotation has been magnificent.
Its performance comes as a surprise considering the A's modest budget. At the same time, I'd argue that such sentiment is also rooted in the fact that Oakland's battle-tested guys haven't been involved.
Reinforcements are coming in the form of Anderson and Braden.
Extra arms: A.J. Griffin, Brad Peacock
Both are 24-year-olds, though Griffin is a California native and Oakland A's draftee. Perhaps those factors helped him breeze through the Pacific Coast League, while Peacock has been slow to adjust.
Philadelphia Phillies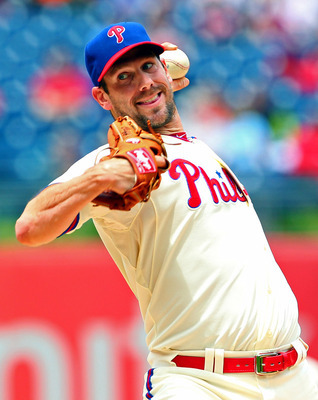 Rich Schultz/Getty Images
Starting five: Roy Halladay, Cole Hamels, Kyle Kendrick, Cliff Lee, Vance Worley
Good ol' baseball insider Jon Heyman hears that the Philadelphia Phillies will offer Cole Hamels an extension in the six-year, $130 million range. Free agency is around the corner, but the length of the proposal will entice the lefty to sign.
The Phils won't add any impact pitchers from outside the organization, which is fine because they are already stocked with several world-class innings eaters.
They'll be leaning on Kendrick for 30-plus starts for the first time since 2010.
Extra arms: Bartolo Colon
Stem cell treatment suspiciously invigorated Colon's elbow and shoulder after 13 MLB seasons.
His 40th birthday is forthcoming, but there's no reason to doubt that he'll be able to pound the strike zone with mid-90s velocity.
Pittsburgh Pirates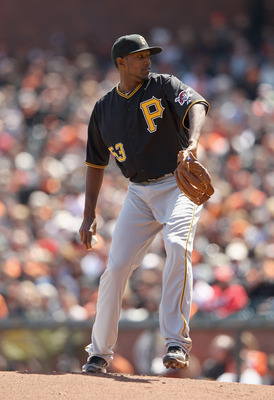 Ezra Shaw/Getty Images
Starting five: Joe Blanton, A.J. Burnett, Gerrit Cole, Jeff Karstens, James McDonald
The composition of the Pittsburgh Pirates rotation will be affected by the departures of Erik Bedard and Kevin Correia.
Regardless of on-field success, GM Neal Huntington won't have the green light to spend lavishly this offseason. Blanton is the biggest fish the Bucs can catch with unsavory bait.
Former No. 1 draft selection Gerrit Cole is incredibly advanced for someone of such limited pro experience. He'll make an impression in camp and complete a formidable quintet.
Extra arms: Charlie Morton, Carl Pavano
Morton (elbow) will hopefully be available around midseason.
Pittsburgh can inexpensively add depth by seizing Pavano while his stock is down.
San Diego Padres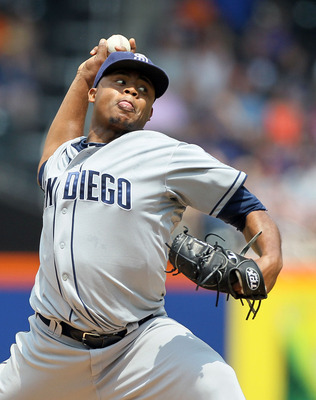 Jim McIsaac/Getty Images
Starting five: Andrew Cashner, Jeremy Guthrie, Clayton Richard, Tim Stauffer, Edinson Volquez
A nightmarish season will not doom Guthrie's career. All he needs is a change of scenery, and ideally, a move to the pitcher's haven that is Petco Park.
It did wonders for Volquez!
The liveliest arm on the San Diego Padres, Andrew Cashner, was forced into a starting gig by a rash of injuries to his teammates. When he recovers from his own, he'll return to the rotation.
Extra arms: Anthony Bass, Casey Kelly, Cory Luebke
These are some notables from the team's over-populated disabled list. The Padres have suffered from the worst luck imaginable.
San Francisco Giants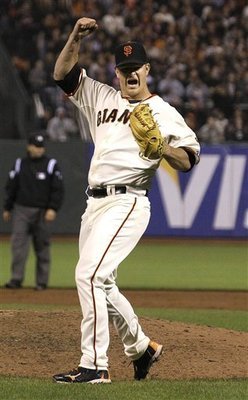 Jeff Chiu/AP
Starting five: Madison Bumgarner, Matt Cain, Tim Lincecum, Ryan Vogelsong, Barry Zito
If his July 14 gem against the Houston Astros is any indication, Lincecum might be past his initial 2012 futility.
He has been the weak link of an otherwise extraordinary rotation.
Bumgarner and Matt "Mr. Perfect" Cain will reside in the Bay Area for years to come.
Vogelsong and Zito each will be playing out the final guaranteed seasons of their contracts.
Extra arms: Eric Surkamp
Granted that his elbow heals correctly, Surkamp will be San Francisco's primary replacement starter.
Seattle Mariners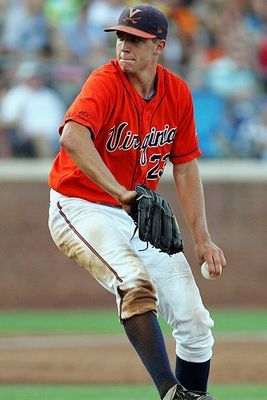 Peter J. Casey/US Presswire
Starting five: Freddy Garcia, Jaime Garcia, Danny Hultzen, Hector Noesi, Jason Vargas
Whether future Hall of Famer Ichiro Suzuki re-ups with the Seattle Mariners is not an all-important issue. Rather, the fans and media will scrutinize Seattle's front office for doing the inevitable and trading its real franchise player, Felix Hernandez.
Former St. Louis Cardinals ace Jaime Garcia would become the staff ace by default.
Hultzen and Noesi will mature alongside one another, and under the tutelage of Venezuelan veteran Freddy Garcia.
Extra arms: Shelby Miller, Erasmo Ramirez
Miller (also from St. Louis) had ugly stats earlier in 2012, but he is still believed to be a top prospect with terrific upside.
Ramirez appeared competent during his first MLB call-up. He'll push the other youngsters to perform in preseason competition, or else take one of their jobs for himself.
St. Louis Cardinals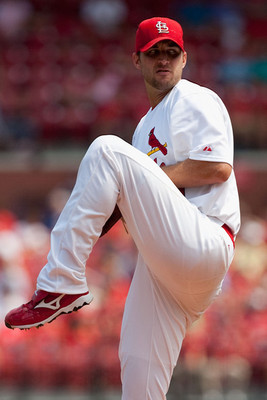 Dilip Vishwanat/Getty Images
Starting five: Chris Carpenter, Felix Hernandez, Kyle Lohse, Lance Lynn, Adam Wainwright
History tells us that pitchers require at least 18 months to fully recover from Tommy John surgery. St. Louis Cardinals officials hope that Wainwright is an example of that.
Cardinals ownership has just enough funds to pay Hernandez and free-agent Kyle Lohse.
Beginning the season without a viable left-hander is unorthodox, but none of these guys suffer from dramatic platoon splits.
Extra arms: Joe Kelly
Kelly tries to induce weak contact. He has executed that game plan beautifully through seven big-league starts.
Tampa Bay Rays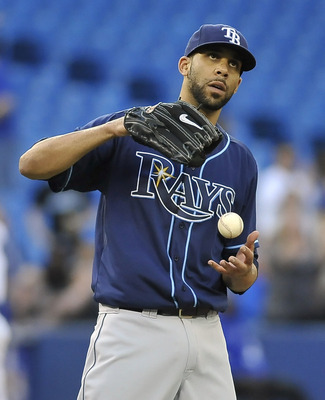 Brad White/Getty Images
Starting five: Jeremy Hellickson, Matt Moore, Jeff Niemann, David Price, James Shields
The Tampa Bay Rays have an imbalance of too many starters and too few legitimate batters. It's impossible for them to stand pat over the offseason. I foresee them moving Wade Davis.
That still leaves these aspiring contenders with plenty of weapons.
Shields hasn't responded well the year after shouldering a 254-inning workload. Though poor command is currently causing problems for him, he is a potential bounce-back candidate for 2013.
Price is an established superstar and Moore can only improve.
Extra arms: Chris Archer, Alex Cobb
The final wave of draft picks from the "Devil Rays" era will reach shore in the near future.
These pitchers have chosen contrasting styles. Archer tries to amass strikeouts, while Cobb prefers to maintain efficient pitch counts.
Texas Rangers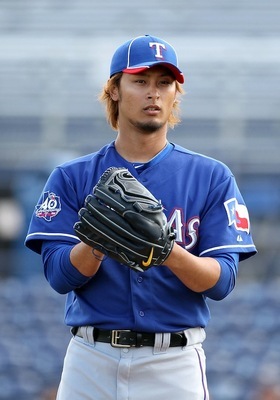 Christian Petersen/Getty Images
Starting five: Yu Darvish, Neftali Feliz, Matt Harrison, Derek Holland, Robbie Ross
Darvish, a 2012 international acquisition, is as filthy as advertised. Once he develops a repeatable delivery, opponents will be helpless.
Ross is scheduled to graduate into the rotation, and Feliz and Holland just need to avoid further injuries.
Extra arms: Justin Grimm, Alexi Ogando
Grimm's development should be complete after a few months at Triple-A. He began a stint there following the MLB All-Star break.
Speaking of All-Stars, Ogando was named to the American League roster for the 2011 Midsummer Classic as a starter.
Toronto Blue Jays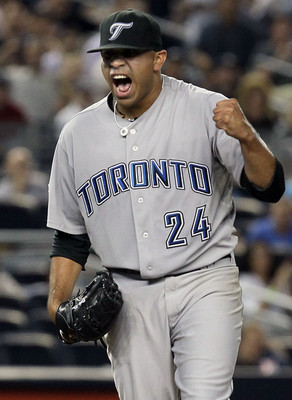 Jim McIsaac/Getty Images
Starting five: Henderson Alvarez, Zack Greinke, Drew Hutchison, Brandon Morrow, Ricky Romero
Right-hander Zack Greinke will find a new home north of the border. His preference for smaller media markets is sure to deter suitors like the Los Angeles Dodgers and New York Yankees. He's a prototypical top-of-the-rotation starter, and the Jays sorely want one of those.
Morrow appeared to be on the verge of stardom (7-3, 3.01 ERA, 1.00 WHIP) before an oblique injury. Sadly, all that momentum has been lost since his placement on the 60-day DL.
Alvarez isn't quite confident enough in his off-speed pitches, and Hutchison is a long way from returning after spraining his UCL.
Romero has been a frustrating enigma in 2012. There's some zip missing from his fastball and his results have been mediocre.
Extra arms: Scott Feldman
The Texas Rangers won't be interested in their former long reliever. Toronto, meanwhile, doesn't have as much depth, so Feldman is more likely to play a significant role.
Washington Nationals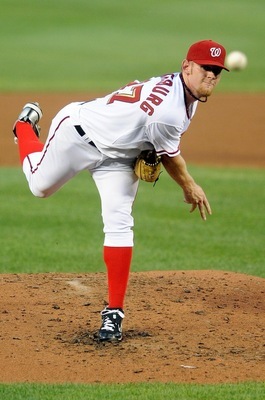 Greg Fiume/Getty Images
Starting five: Gio Gonzalez, Ervin Santana, Stephen Strasburg, Jake Westbrook, Jordan Zimmermann
The Washington Nationals will finally stop babying Gonzalez, Strasburg and Zimmermann. With no restrictions, the trio should be aiming for nothing less than league domination and NL Cy Young candidacy.
Ross Detwiler will be gone, as will Edwin Jackson.
Westbrook would be a respectable pickup from the free-agent pool. The jury is still out on Santana.
Extra arms: Tom Gorzelanny
Gorzelanny has been stuck in the bullpen throughout the 2012 season, waiting for an opportunity.
However, his stuff is crisp enough to turn over a lineup several times if need be.
Keep Reading