Power Ranking Every NFL Defense Heading into Training Camps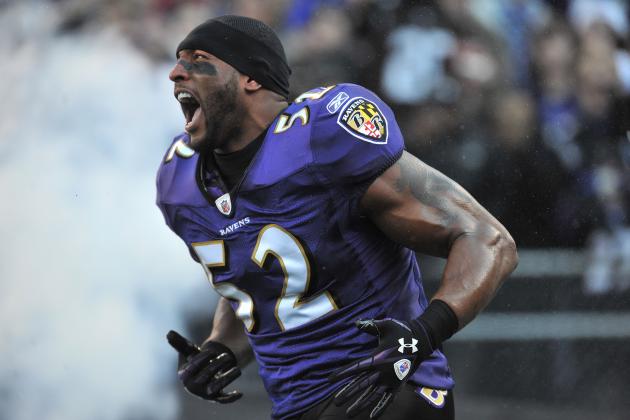 Larry French/Getty Images

"Defense wins championships."
At least, that was the old adage before Tom Brady, Drew Brees, Aaron Rodgers and the Manning brothers started tearing up the airspace above NFL stadiums with precision strikes and ridiculous long bombs.
Still, defense wins a lot of football games in the NFL, and teams like the Baltimore Ravens, Pittsburgh Steelers and Cincinnati Bengals have built long-term success on the idea that offensive stars come and go, but a well-built defense lives forever.
These are the top defenses heading into the 2012 NFL training camps.
For reference's sake, I've included statistical ratings from the 2011 season, but statistics don't always tell the whole story. A team that controls the ball on offense and keeps scoring to a minimum will have (statistically) a solid defense, when the actual talent on that side of the ball isn't that great.
Along the same lines, a team that has a high-octane offense will often give up more points than others. That doesn't automatically mean the defense was a complete failure.
This ranking is, by design, a subjective assessment based on hours of film study over the course of the 2011 season and this current offseason. Enjoy the list and take note of the comments on each slide as much as the rankings themselves.
Begin Slideshow

»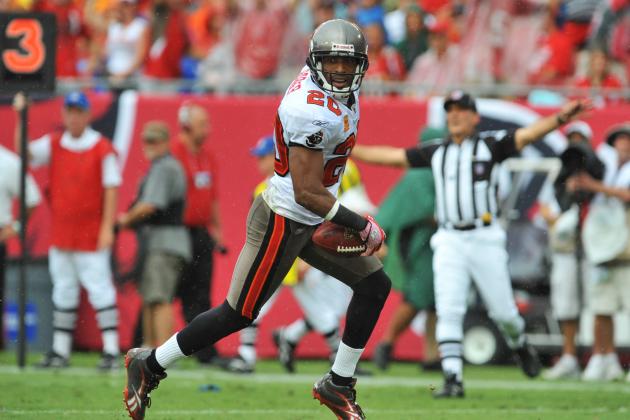 Al Messerschmidt/Getty Images

2011 Total Defense (Yards): 394.4 (30)

2011 Total Defense (Points): 30.9 (32)
The additions of Mark Barron (S), Lavonte David (LB) and Eric Wright (CB) will help the Buccaneers defense, but not as much as the addition of Greg Schiano as head coach. The former Rutgers HC is a defensive-minded coach and a throwback authoritarian that the Bucs need. Yes, Raheem Morris is a good positional coach, but he was overmatched leading the NFL's youngest team.
Adding Schiano—plus a solid free-agency crop and a decent draft haul—means that this defense is trending upward. Yet, lots of work has to be done between now and Week 1.
Ronde Barber is on his last legs, and more of the Bucs' recent draftees (read: McCoy, Gerald) need to step up.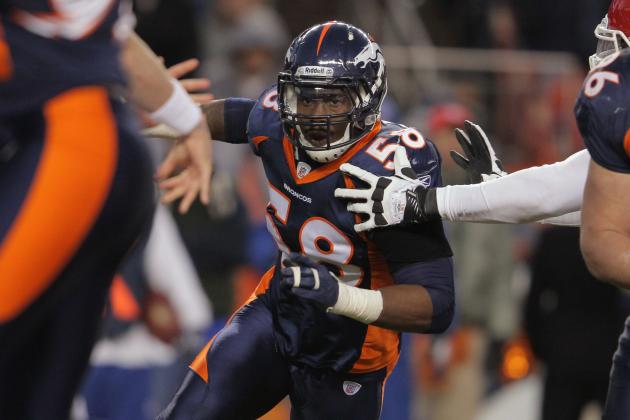 Doug Pensinger/Getty Images

2011 Total Defense (Yards): 357.8 (20)

2011 Total Defense (Points): 24.4 (24)
Don't let those 2011 numbers fool you. The best defender on the Broncos' roster was under center (when he wasn't down on one knee, fist to his forehead). Tim Tebow may have stunk it up as a passer, but his ability to keep the chains moving and the clock running meant opponents' offenses were stuck on the bench.
In 2012, the Broncos are going to get a rude awakening as Peyton Manning's aerial attack will likely lead to quite a few shootouts in the wide-open AFC West.
Also concerning for the Broncos is the loss of Brodrick Bunkley (Pro Football Focus' No. 3-ranked DT/NT in 2011). Bunkley didn't put up a ton of quantifiable stats, but he held the point of attack in the middle of the defense and let Denver's linebackers move around in space.
The Broncos are at a turning point. Will the Manning era properly bridge the gap as John Elway "reloads" the roster, or will the defense's age catch up with them, causing a full-blown rebuilding project sooner rather than later?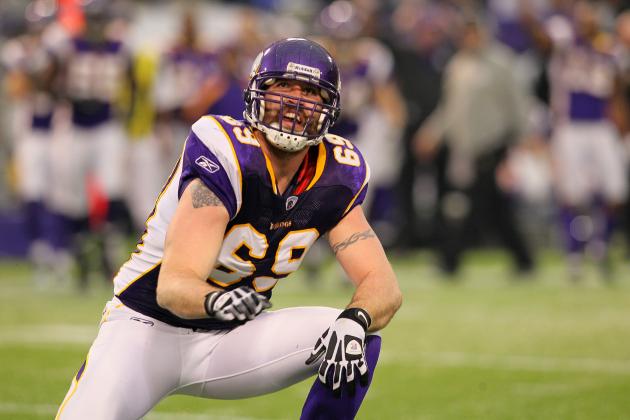 Adam Bettcher/Getty Images

2011 Total Defense (Yards): 358.2 (21)

2011 Total Defense (Points): 28.1 (31)
Much of the Vikings' defensive problems can be traced to an impotent offense. The Tampa 2, to which Leslie Frazier is still (foolishly) clinging, is a defense that is built around a pass rush and a bend-but-don't-break philosophy in the back seven. The more possessions an opponent had, the more the Vikings bent and, more often than not, found themselves in pieces.
Thus, not all of the Vikings' problems can be laid at the feet of Christian Ponder. The Vikings' defensive superstars are getting old.
Antonie Winfield (35) is playing far better than many non-Vikings fans would realize, but he's not the same player he was five years ago. Jared Allen and Kevin Williams are both on the wrong side of 30, and Chad Greenway will be joining them shortly.
Missing on draft picks and free agents hasn't helped either. Remi Ayodele couldn't hold a candle to Pat Williams, let alone replace him. Asher Allen, Tyrell Johnson and Cedric Griffin have all been leaned upon, and crumbled, in recent years.
The additions of Harrison Smith, Chris Carr and Josh Robinson should be able to get the defensive backfield back on the right track, but the Vikings are still a year or two off in the high-powered NFC North.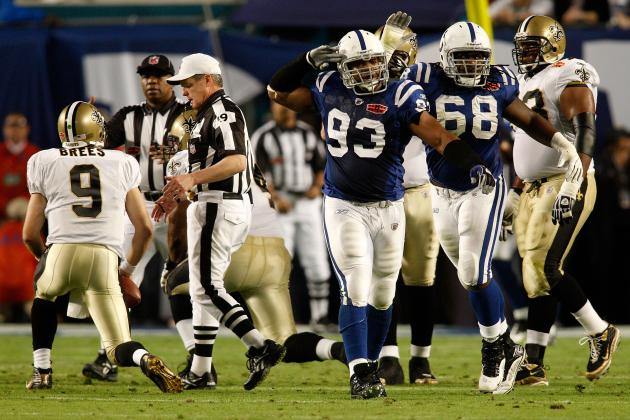 Chris Graythen/Getty Images

2011 Total Defense (Yards): 370.9 (25)

2011 Total Defense (Points): 26.9 (28)
The Indianapolis Colts defense has had a pretty nondescript offseason.
Sure, Chuck Pagano is a defensive genius, and his presence (along with the installment of a 3-4/hybrid front) should really bolster the Colts defense. Dwight Freeney and Robert Mathis will keep the Colts in a lot of games, and certainly the additions of Cory Redding and Tom Zbikowski—both familiar with Pagano's defense—will help.
But make no bones about it, 2012 has been and will be all about Andrew Luck and retooling the Colts offense. The bare defensive numbers should be better for that reason alone, but the defense itself will struggle in its first year in a new scheme, and it will continue to do so until the Colts get a much larger infusion of talent.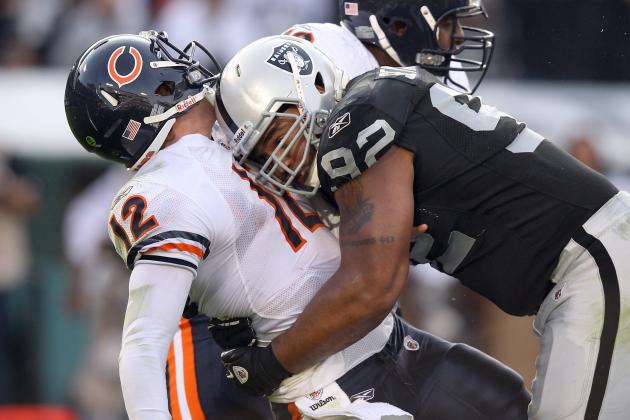 Ezra Shaw/Getty Images

2011 Total Defense (Yards): 387.6 (29)
2011 Total Defense (Points): 27.1 (29)
Maybe it's my "East Coast bias." Maybe it's the years-long losing culture. Maybe it's the lack of the national exposure.
Whatever it is, the Oakland Raiders defense has lost some of its luster in recent years. Outside of Richard Seymour, there just isn't anyone who strikes fear into the hearts of opponents.
Now, the Raiders are under new management. With the passing of Al Davis, in comes a change in the way things are done in Oakland—from drafting and hiring to player development and management style. New defensive coordinator Jason Tarver is a young kid, but he has plenty of experience teaching linebackers to get to the opposing QBs.
With an AFC West anyone can win, if this defense overachieves just a little, it could mean a division title for the Raiders.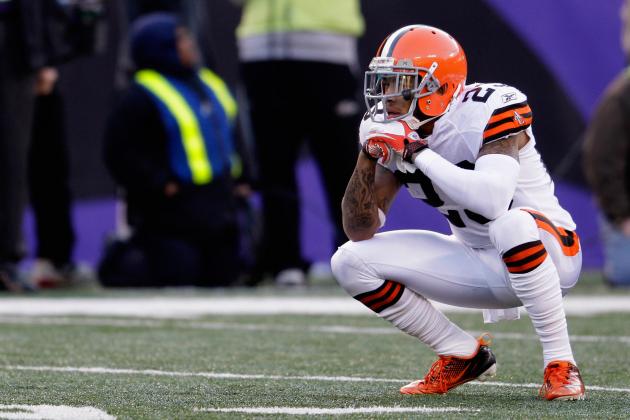 Rob Carr/Getty Images

2011 Total Defense (Yards): 332.4 (10)
2011 Total Defense (Points): 19.2 (5)
Moving on from Colt McCoy will make the 2012 Browns a much better team than last year, but that doesn't mean the defense will look any better in terms of yardage or points totals. McCoy's high-percentage/checkdown style may not have won many games for Cleveland, but it helped the defense stay off the field.
Going forward, the Browns will feature a Brandon Weeden-led passing attack with Trent Richardson pounding the ball down opponents' throats. If those two can play keep-away, the Browns could conceivably repeat last year's statistical success.
More importantly, the Browns should continue to improve up front with young studs Jabaal Sheard and Phil Taylor getting a full offseason to learn the defense—although Taylor is likely to miss significant time due to injury.
The Browns haven't been very exciting on either side of the ball in a long time, but they have a bunch of young pieces that are raising the bar in Cleveland.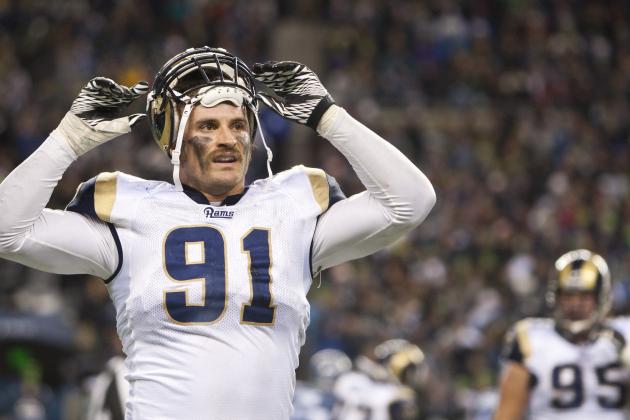 Jay Drowns/Getty Images

2011 Total Defense (Yards): 358.4 (22)

2011 Total Defense (Points): 25.4 (26)
For years, "good but not great" was probably the best modifier when it came to the St. Louis Rams' level of talent, but in 2012, the defensive side of the ball will be adding the likes of Cortland Finnegan (CB), Michael Brockers (DT), Janoris Jenkins (CB), Trevor Laws (DT), Kendall Langford (DE) and Jo-Lonn Dunbar (LB)—all upgrades to last year's roster.
Yet, just like the Buccaneers, the biggest addition here is on the coaching staff, where Jeff Fisher (who succeeded with much less talent in Tennessee) will be taking the helm. The Rams have a lot of work to do over the next few offseasons, but things are certainly looking up, especially on defense.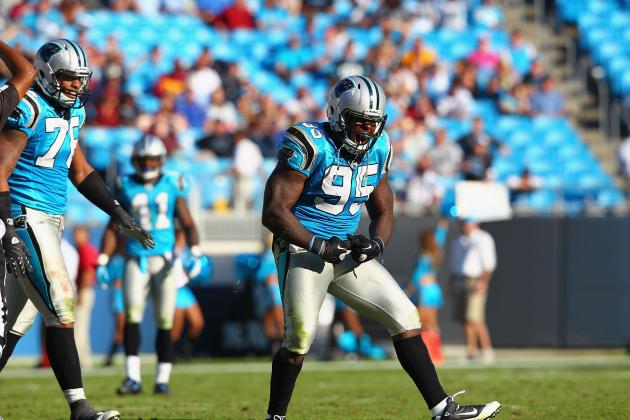 Dilip Vishwanat/Getty Images

2011 Total Defense (Yards): 377.6 (28)
2011 Total Defense (Points): 26.8 (27)
For all of the goodwill and excitement Cam Newton brought the Carolina Panthers in 2011, the team's win totals didn't exactly match the hype. Much of that can be traced back to a defense that didn't do much justice to the Xs and Os aptitude of their head coach, Ron Rivera.
So, Luke Kuechly was added in the first round to solidify the middle of the of the Panthers defense. I wasn't the biggest fan of Kuechly in my pre-draft study, but he'll be a smart, high-volume tackler that won't hurt the Panthers and will keep two-yard gains from becoming five-yard gains.
Most of all, it will be interesting to see the Panthers in year two under Rivera, who has a long history of crafting impact defenses.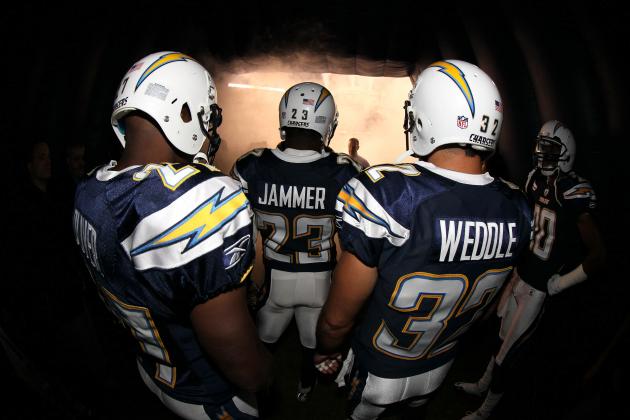 Stephen Dunn/Getty Images

2011 Total Defense (Yards): 346.6 (16)
2011 Total Defense (Points): 23.6 (22)
Eric Weddle doesn't get a ton of national attention, but the Chargers safety is one of the (if not the) top safeties in the game. According to Pro Football Focus, quarterbacks throwing at Weddle had a rating of 25.0, best in the NFL (from a defensive standpoint).
Weddle is also solid against the run, which is a must, since running backs often broke into the second level against the Chargers last season.
The addition of Melvin Ingram should be a huge help to the Chargers, as he is good both against the run and as a pass-rusher. Ingram fell behind some more risky prospects in Bruce Irvin and Quinton Coples, but he should be a force early for San Diego.
The numbers are never going to look great under Norv Turner, but with a reinvigorated defense (and Philip Rivers passing the ball to the right team), the Chargers could be back in contention.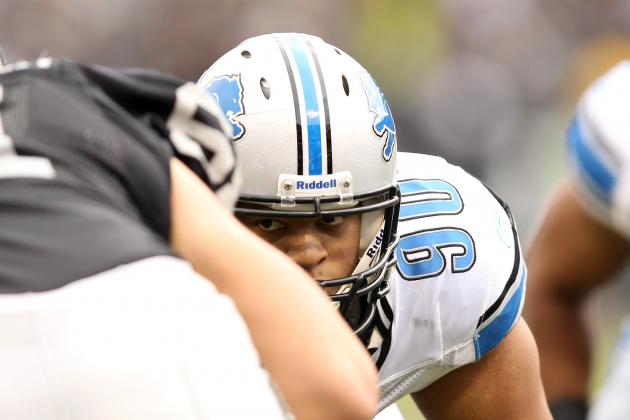 Ezra Shaw/Getty Images

2011 Total Defense (Yards): 367.6 (23)
2011 Total Defense (Points): 24.2 (23)
It was clear from Matt Flynn's theatrics in Week 17 that the Lions defense was not ready for prime time. When prime time happened against the New Orleans Saints in the playoffs, Drew Brees made the Lions look like cubs.
Still, by the numbers, the Lions defense was right up there with the Patriots, Packers and Giants—three teams that have done just fine in recent years.
Yet, the Lions defense does have some flaws. Their quantity-over-quality drafting strategy in the backfield still needs to hit on a few gems before it can be considered a success. The defensive line was more hype than substance last year. The lack of composure was as evident on the field as it has been in the offseason.
The Lions have tons of young talent, but this is the highest rank they can legitimately receive until they start putting all the pieces together.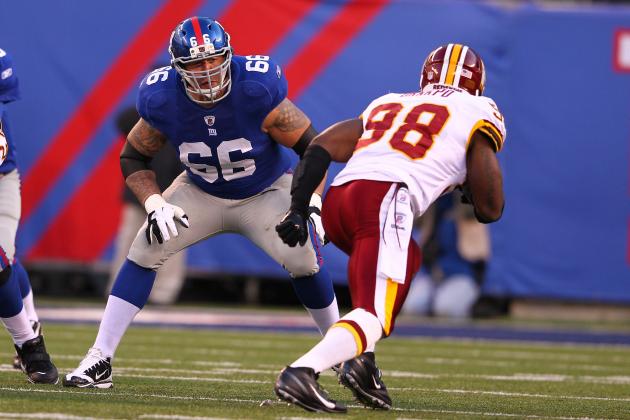 Al Bello/Getty Images

2011 Total Defense (Yards): 339.8 (13)
2011 Total Defense (Points): 22.9 (21)
The Redskins defense has a ton of potential.
Brian Orakpo and Ryan Kerrigan are one of the most fearsome 3-4 OLB duos in the game. Both are young and still putting their all-around games together, and when they mature, they could become the cornerstone of one of the NFL's best defenses.
Sadly, the Redskins were stymied in 2012 by Rex "Sexy Rexy" Grossman and had to revamp the offense around Robert Griffin III this offseason, spending most of their available free-agency capital on targets for him.
Without an infusion of talent (especially in the back four), the Redskins defense may be stuck in neutral for at least this season, if not longer.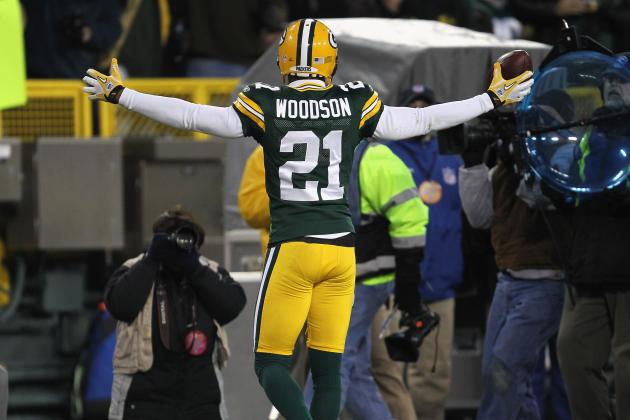 Jonathan Daniel/Getty Images

2011 Total Defense (Yards): 411.6 (32)
2011 Total Defense (Points): 22.4 (19)
The Green Bay Packers gave up a lot of points in 2012, but this defense runs into the same problem the old Houston Oilers had during the Warren Moon era. You could have 11 Hall of Fame-caliber players, but when your offense is scoring at historical rates, you're going to get into shootouts.
Excuses (even legitimate ones) aside, the Packers had a pretty clear goal in the 2012 offseason: improve the defense and get younger in the secondary. So, in the draft, the Packers used six of their eight selections on defense, picking two down linemen, two linebackers and two defensive backs.
Their first-round pick, pass-rusher Nick Perry, will have an immediate impact harassing NFC North quarterbacks opposite Clay Matthews.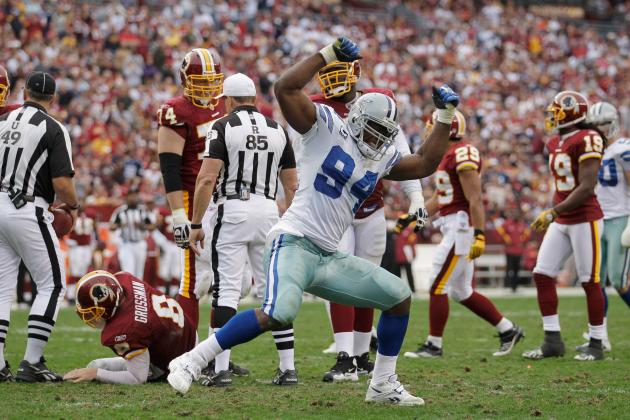 Rob Carr/Getty Images

2011 Total Defense (Yards): 343.2 (14)
2011 Total Defense (Points): 21.7 (16)
As much flak as Tony Romo takes, it wasn't as if the Cowboys defense was getting huge stops at the end of games. Much of that can be blamed on a defensive backfield that couldn't keep long passes in front of them in crunch time.
So, the Cowboys traded up into the top of the draft and selected Morris Claiborne to pair with Brandon Carr, who they acquired in free agency. While Claiborne (like many rookie cornerbacks) shouldn't be expected to play at Pro Bowl status in his first year, the two new Cowboys are one of the better young cornerback tandems in the league.
With a pass rush of DeMarcus Ware, Jay Ratliff and Marcus Spears, any improvement in the back four could mean a big year for the Cowboys.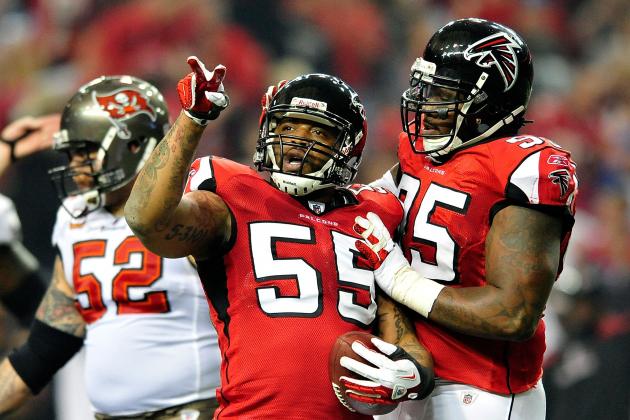 Grant Halverson/Getty Images

2011 Total Defense (Yards): 333.6 (12)
2011 Total Defense (Points): 21.9 (18)
Like most teams with young star quarterbacks, the Falcons have been pouring a lot of capital into their offense. After trading a bunch of picks for Julio Jones (WR) in 2011, the Falcons drafted offensive linemen back-to-back at the top of the draft in 2012.
This year, the Falcons defense will be staying pat and counting on bounce-back years from guys like Ray Edwards (DE) and Lofa Tatupu (MLB) as well as a significant contribution from new addition Asante Samuel (CB).
If those players don't come through, it could be a long year for the Falcons, regardless of how well Matt Ryan and the offense plays.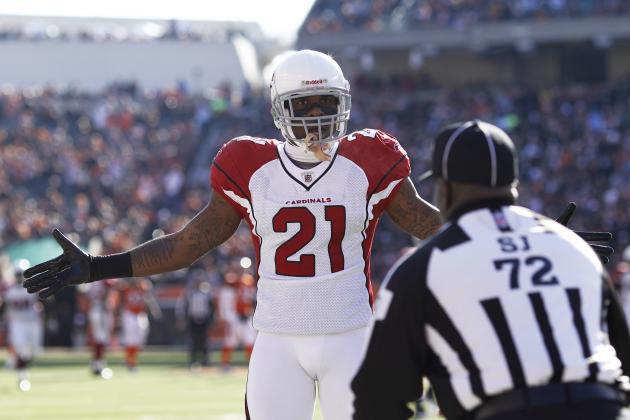 Joe Robbins/Getty Images

2011 Total Defense (Yards): 355.1 (T18)
2011 Total Defense (Points): 21.8 (17)
From a talent acquisition perspective, the Cardinals defense hasn't really done much this offseason. However, the Cardinals shouldn't take too much of a slide in year two under Ray Horton. In fact, they have some serious upside.
Patrick Peterson was a solid special teams player in 2011, but he wasn't as much of an impact on defense as many fans would've wanted. Facing NFL quarterbacks is a whole new ballgame compared to facing SEC signal-callers, and Peterson should be able to step up in year two after his first full offseason.
The defense certainly wasn't the Cardinals' biggest problem in 2011 (that would be the quarterback position), and it should be a solid asset for them in 2012 and beyond.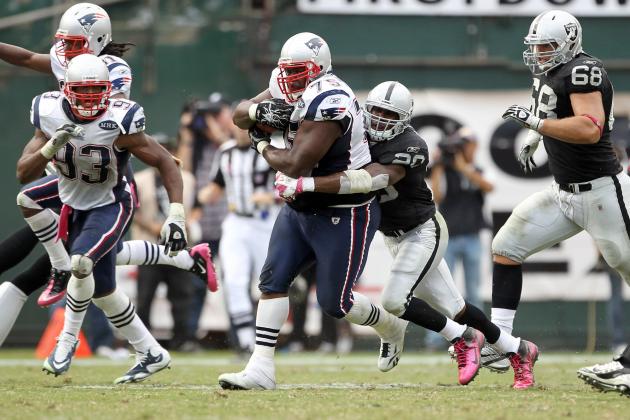 Ezra Shaw/Getty Images

2011 Total Defense (Yards): 411.1 (31)
2011 Total Defense (Points): 21.4 (15)
Much like the Packers and Lions earlier on this list, it's hard to pin the entire statistical defensive picture of 2011 on the defensive side of ball. Tom Brady is able to win shootouts, and he took his foot off the throttle last season.
Considering the Patriots still made it to the Super Bowl, it seems like a successful model.
Still, the Patriots knew where they had the most work to do for next year and spent six out of their seven picks on defenders in the 2012 draft, including four players in the top 100 picks. In free agency, the Patriots went to the bargain bin and picked up useful reserves in Bobby Carpenter (LB), Will Allen (CB) and Steve Gregory (S).
With even a modicum of improvement on defense in 2012, it is easy to believe the Patriots will be right back in the Super Bowl.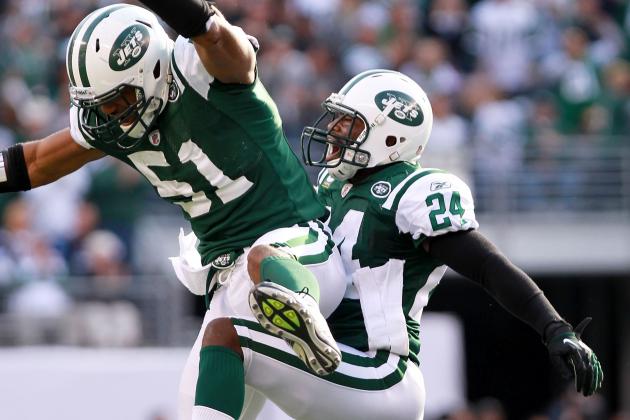 Nick Laham/Getty Images

2011 Total Defense (Yards): 312.1 (5)
2011 Total Defense (Points): 22.7 (20)
Giving up so many points along with so few yards means that Mark Sanchez wasn't doing his defense any favors in 2011, but it also means that the Jets weren't stopping opponents in the red zone as much as elite defenses should.
So, as good as Rex Ryan's defense is, there was work to be done.
If one word could describe the defensive talent acquisition this year, it would be "gamble." LaRon Landry and Quinton Coples could pay dividends for the Jets, but both come with a boatload of baggage, which is something the Jets already have in spades.
The Jets are probably closer to being an elite defense than their 16th-place ranking here would indicate, but it's hard to bet on any unit with so many question marks.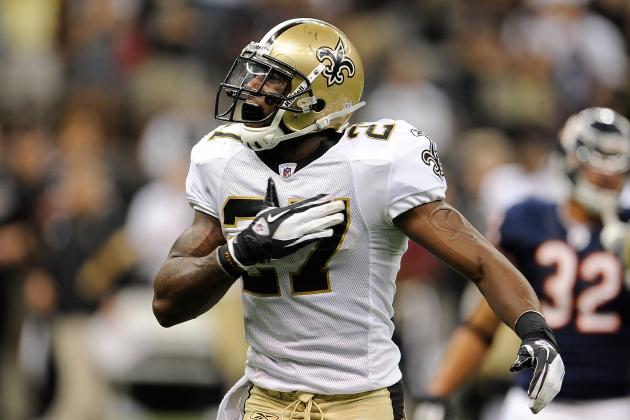 Stacy Revere/Getty Images

2011 Total Defense (Yards): 368.4 (24)
2011 Total Defense (Points): 21.2 (13)
With all of the drama centered around the Saints defense this offseason, it is a tremendous credit to the organization that they haven't really missed a beat.
Losing Jonathan Vilma isn't nearly the detriment that his "name player" status would indicate. In fact, even if Vilma somehow finds a legal loophole to play this season, he wouldn't get many snaps behind new Saint Curtis Lofton. David Hawthorne, too, is a very underrated signing that could mean the Saints would be even better on defense in the post-Bounty era.
The Saints are built around a high-octane offense, so the defense isn't focused on holding opponents scoreless, but creating turnovers and negative plays would put the Saints in a position to win, even with the head coach out of commission.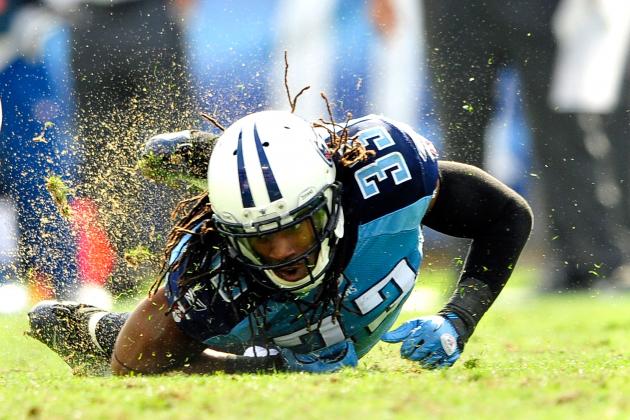 Grant Halverson/Getty Images

2011 Total Defense (Yards): 355.1 (18)
2011 Total Defense (Points): 19.8 (8)
The Titans haven't made a ton of personnel changes on defense for next year, but adding Kamerion Wimbley will improve a pass rush that has suffered since Jeff Fisher left town. Will Witherspoon and Zach Brown will both be expected to contribute to a linebacking corps which has been solid but never dynamic.
The loss of Finnegan will be felt in the backfield, but overall, the Titans defense should improve as many of their younger players—Colin McCarthy, Akeem Ayers, Jurrell Casey—get a full offseason to learn Jerry Gray's defense.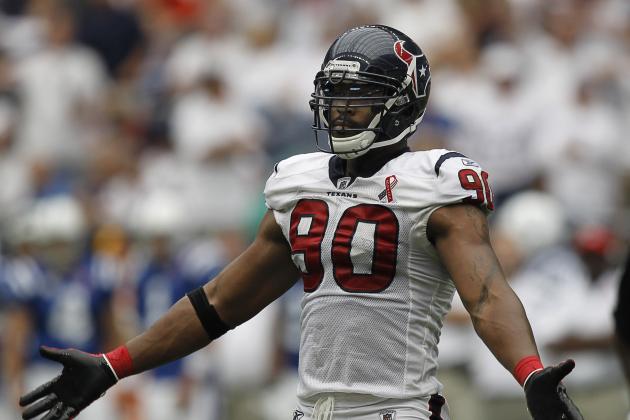 Bob Levey/Getty Images

2011 Total Defense (Yards): 371.1 (26)
2011 Total Defense (Points): 27.1 (30)
The Bills had a pretty embarrassing defense in 2011, even with a number of building blocks for the future. In switching to a 4-3 defense this year, they are setting themselves up for long-term success.
Kyle Williams and Marcell Dareus are a fantastic tandem in the middle of the defensive line, and the addition of the highly-paid Mario Williams should pay dividends. The less flashy Mark Anderson will more than be able to hold his own at the other end position.
Drafting Stephon Gilmore to pair with an already young and talented defensive backfield was a genius move on Buffalo's part and should result in slowing down the scoring onslaught that Buffalo found themselves in in 2011.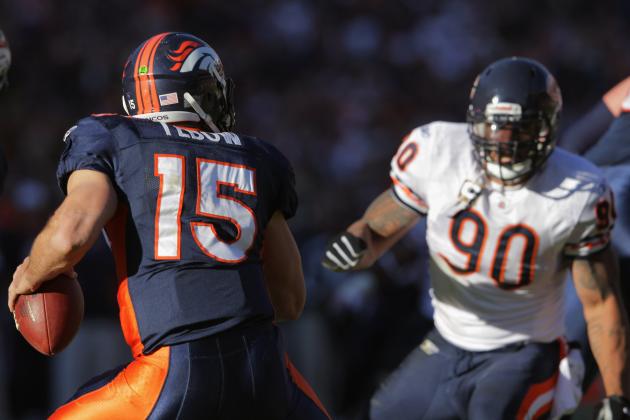 Doug Pensinger/Getty Images

2011 Total Defense (Yards): 350.4 (17)
2011 Total Defense (Points): 21.3 (14)
If Brian Urlacher ever starts to show his age, the Bears are going to be in real trouble. Thankfully for Chicago, he still played at a high level in 2011, behind only Julius Peppers in Pro Football Focus' rankings for Chicago's defense.
Critics have been all over Chicago for the selection of Shea McClellin in the 2012 draft, but Rod Marinelli's defensive lines have always been put together with players that didn't fit in the usual NFL molds. With the guidance of one of the best defensive line coaches, McClellin should find success and provide quite the boost to the Bears' pass rush.
In the defensive backfield, Tim Jennings and Charles "Peanut" Tillman are the best CB tandem no one is talking about, and while the safety positions are less stable, overall this defense should see a step up in 2012.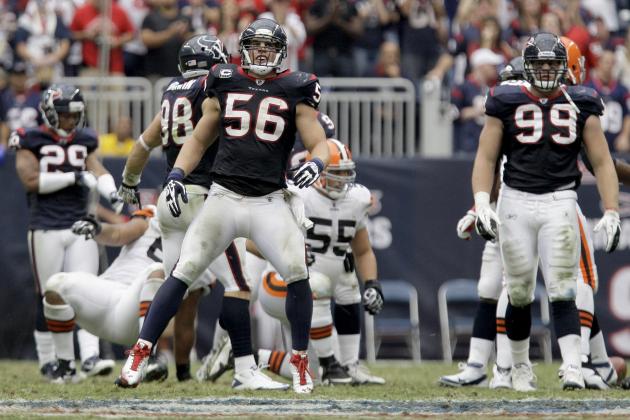 Thomas B. Shea/Getty Images

2011 Total Defense (Yards): 285.7 (2)
2011 Total Defense (Points): 17.4 (4)
Sorry, Texans fans, but losing Mario Williams and DeMeco Ryans is a big blow to a defense that already had its numbers inflated by a fantastic ground game last season. Sure, Whitney Mercilus is a solid replacement for Williams, but it's going to take a big contribution from the defense's other stars to truly replace those two.
Brian Cushing and J.J. Watt are a formidable force up front and have plenty of help. Brooks Reed is a budding star, and Antonio Smith has more than earned his stay after his signing a few years back.
The defensive backfield isn't nearly the detriment it was in years past, so the Texans truly do have the defensive pieces to contend. However, with the talent they've lost, it's hard to see them as a truly elite defense again in 2012.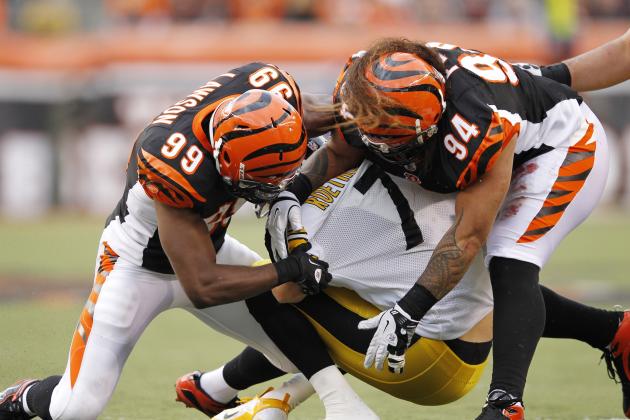 Joe Robbins/Getty Images

2011 Total Defense (Yards): 316.3 (7)
2011 Total Defense (Points): 20.2 (9)
Nate Clements and Leon Hall are an underrated tandem at cornerback and are getting some backup from rookie Dre Kirkpatrick and Adam "Don't Call Me Pacman" Jones is still a good contributor in sub-packages.
Frankly, if the Bengals get anything from Terence Newman, they could feature one of the better defensive backfields in the AFC.
Up front, the Bengals feature a host of talent that the average NFL fan probably doesn't appreciate as much as they should. Geno Atkins, Domata Peko and Carlos Dunlap are all quality linemen, and Thomas Howard is a stalwart defender in the linebacking corps.
The Bengals already had a solid defense in 2011 and shouldn't take much of a step backward (if any) this season.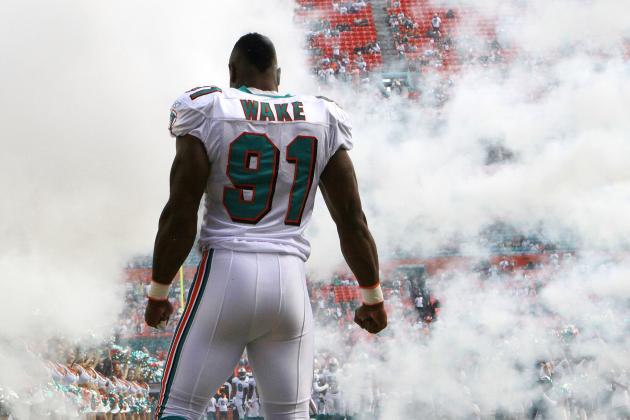 Marc Serota/Getty Images

2011 Total Defense (Yards): 345.1 (15)
2011 Total Defense (Points): 19.6 (6)
Cameron Wake alone would probably place in the top half of this list. The former CFL star hurried quarterbacks 52 times last season, hitting them 20 times and collecting eight sacks (subscription required).
In layman's terms, if you're bringing your grill, Wake will spend 60 minutes all up in it.
He's not alone: Karlos Dansby and Kevin Burnett both had high tackle totals last season, with Dansby doing most of his work near the line of scrimmage while Burnett played clean-up. Jared Odrick and Koa Misi are just getting started on promising NFL careers, while Randy Starks is maturing into a veteran presence this team needs.
Oh, and Vontae Davis is still a stud.
In the AFC East, the Dolphins are going to be in a murderers' row for defensive game-planning. Whether it's the Patriots' high-powered offense, the Bills' gadget system or the Jets' potential use of Tim Tebow, the Dolphins will have to bring their A-game.
Luckily for the Dolphins, their defensive A-game is pretty darn good.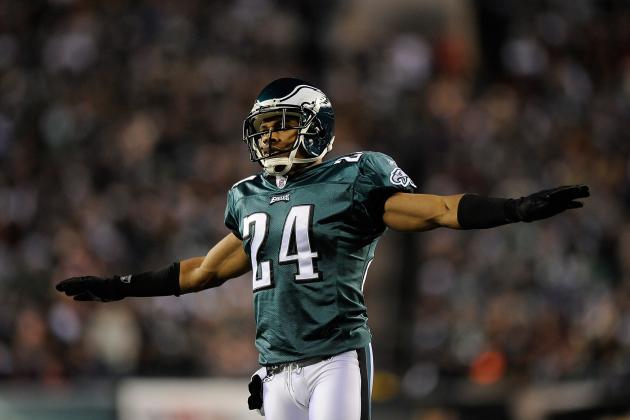 Patrick McDermott/Getty Images

2011 Total Defense (Yards): 324.9 (8)
2011 Total Defense (Points): 20.5 (10)
The Eagles were actually much better on defense last year than they often get credit for. It was the offense (read: Michael Vick) that really let the team down. However, the team was often unable to get stops when they needed them most.
A big part of that problem, though, was trying to integrate Nnamdi Asomugha and Dominique Rodgers-Cromartie into the defense without a real offseason.
This year, Asante Samuel has been sent packing (because of money, not necessarily poor performance), and the Eagles have doubled down on both defensive line talent and linebacking depth. Newcomers like DeMeco Ryans, Fletcher Cox and Mychal Kendricks will be big parts of the new-look Eagles.
If Vick returns to form, the Eagles defense should be able to carry them to the playoffs.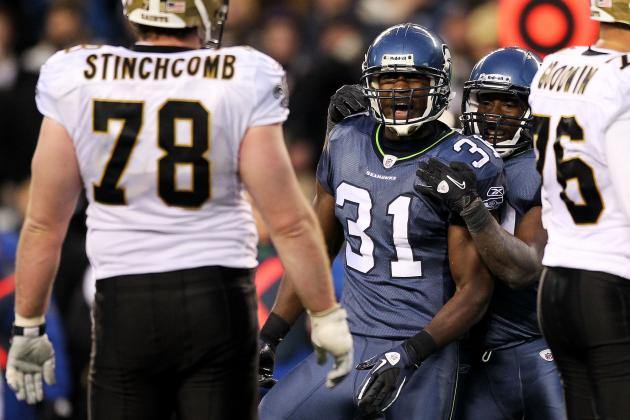 Otto Greule Jr/Getty Images

2011 Total Defense (Yards): 332.2 (9)
2011 Total Defense (Points): 19.7 (7)
Personally, I'm not a huge fan of the Seahawks' drafts in the past couple of years. However, the team has managed to find some diamonds in the rough and collected some pretty solid defensive talent.
Kam Chancellor (24), Richard Sherman (24), Earl Thomas (23), Brandon Browner (27) and Alan Branch (27) are all stars that make up a core that can win football games regardless of what happens on the offensive side of the ball.
Some of the Seahawks' defensive success is due to a unique scheme that lets a player like Red Bryant (328 lbs) play defensive end. That same scheme values a player like Bruce Irvin (too small for many schemes) in the first round of the draft.
Whether or not that scheme will continue to have success in the increasingly competitive NFC West will be seen in the next year or two, but if the Seahawks prove critics (like me) wrong with some of their recent draftees, this defense could be scary good.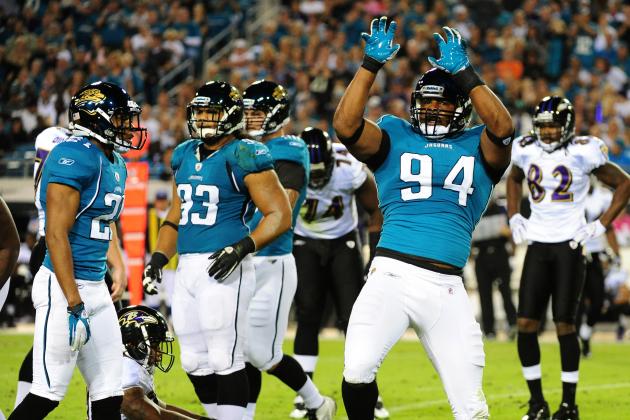 Scott Cunningham/Getty Images

2011 Total Defense (Yards): 313.0 (6)
2011 Total Defense (Points): 20.6 (11)
Statistically, the Jaguars defense both benefited from a run-heavy offensive attack and suffered because of a turnover-prone quarterback. So, just looking at the numbers doesn't tell much of the story. A look at the roster doesn't help much either, as many of these players aren't discussed much in the national media.
The best Jaguar you don't know about is Daryl Smith, a 30-year-old who has spent his entire career (bless him) in Jacksonville. In that time, he's made no Pro Bowls and has never been an All-Pro. He is, however, the Jaguars all-time leading tackler and a heck of a clean-up man.
Another Jaguar few people think of, Jeremy Mincey, was on both the Patriots' and the 49ers' rosters before he ever suited up in a real NFL game. This past year, he led the team in sacks and started all 16 games.
The star of this unit is defensive coordinator, Mel Tucker, who also served at the team's interim head coach at the end of last season. Tucker wasn't promoted permanently when new ownership wanted an offensive guru for Blaine Gabbert, but he stuck around and should lead another great unit in 2012.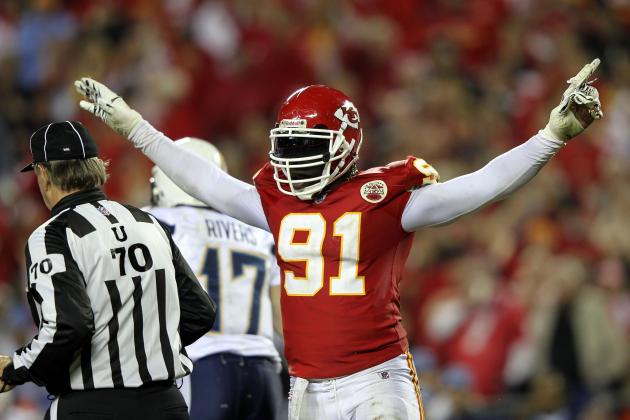 Jamie Squire/Getty Images

2011 Total Defense (Yards): 333.3 (11)
2011 Total Defense (Points): 21.1 (12)
As an opposing quarterback dips under center against the Chiefs, he gets to look to one side and see Tamba Hali, an All-Pro. To the other side, he sees Justin Houston, who has one of the fastest edge rushes in football. Up the middle, staring him right in the eyes, is Derrick Johnson, one of the greatest linebackers in NCAA history and, oh yeah, another All-Pro.
Looking at the defensive line isn't much better—Tyson Jackson, Glenn Dorsey and Dontari Poe are all high first-round picks, and all have more athleticism than their giant frames should legally be allowed to possess.
In the defensive backfield, meet Eric Berry (injured almost all of 2011), who has more range than Kenmore and more hits than the Beatles. He's joined by talented young players like Stanford Routt, Brandon Flowers and Javier Arenas.
What the heck do you do with the football, besides pray?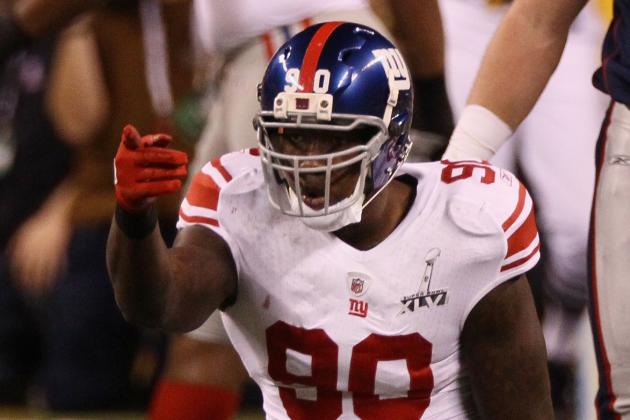 Win McNamee/Getty Images

2011 Total Defense (Yards): 376.4 (27)
2011 Total Defense (Points): 25.0 (25)
Through the 2011 season, the Giants defense suffered a rash of injuries. In fact, during the preseason, people were wondering who in the world would even play linebacker for a team that had just about everyone banged up.
Well, as the Giants found out, it doesn't matter who plays anywhere else when you have Jason Pierre-Paul and Justin Tuck manning the defensive line. Chris Canty, Linval Joseph and Osi Umenyiora are nothing to sneeze at either.
As easy as it would be to look at those bare statistics from 2011 and put the Giants in the middle of the pack, one Super Bowl re-watch reminds us how dominant this defense can be. Now 100 percent healthy, they could make this ranking look hilariously low.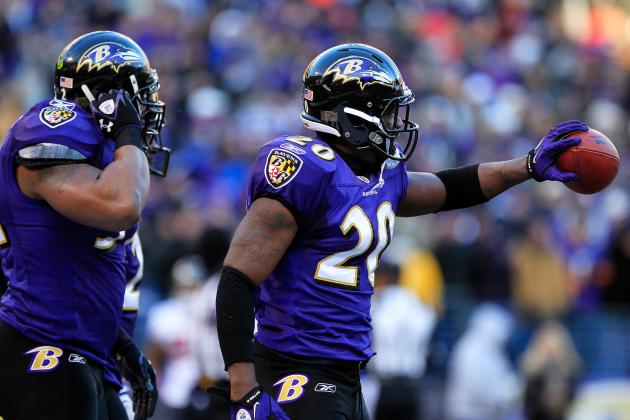 Chris Trotman/Getty Images

2011 Total Defense (Yards): 288.9 (3)
2011 Total Defense (Points): 16.6 (3)
In 2011, Terrell Suggs earned my vote for the Pro Football Writers of America Defensive MVP. He was phenomenal, doing far more for the Ravens defense than bare numbers could indicate. If Suggs had not injured himself this offseason, the Ravens would likely be first on this list.
Suggs, however, is not the only great defender on the Ravens.
Lardarius Webb re-signed with the team this season and is one of the most underrated cornerbacks in the NFL. Ray Lewis (hardly underrated) is still playing at a high level no matter what his critics say. Haloti Ngata is the most integral piece of the defense, manning the pivot and keeping everyone focused on his massive, athletic frame.
The Ravens have gone through a lot of defensive coordinators in recent years, and the team's success has led to plenty of opportunities for anyone who has that position. In 2012, it will be Dean Pees' turn, and there's no reason to predict anything but success for the man who has coached a bunch of Pro Bowl-caliber linebackers in both Baltimore and New England.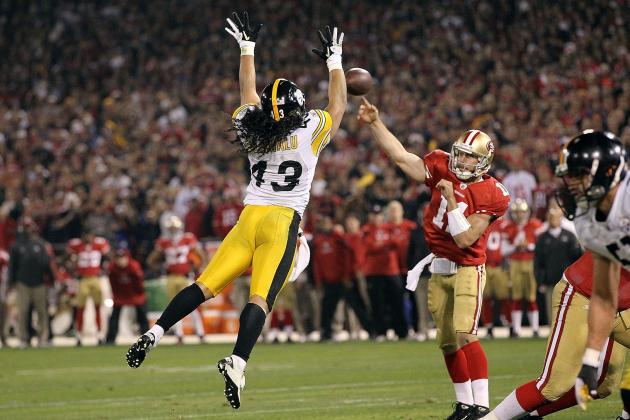 Karl Walter/Getty Images

2011 Total Defense (Yards): 271.8 (1)
2011 Total Defense (Points): 14.2 (1)
I want to dislike the Pittsburgh Steelers defense, I really do.
In 2012, the Steelers will look for big contributions from guys like Ziggy Hood, Larry Foote, Ike Taylor and Keenan Lewis—none of whom are very good. Some of them would probably fail to crack the starting lineup on a lot of the teams lower on this list.
Yet Troy Polamalu, James Harrison, LaMarr Woodley and Brett Keisel cover over a multitude of sins.
No other great defense has such a polarizing collection of absolute studs on one end of the spectrum and players living on reputation on the other.
The Steelers are in a predicament. Their window is undoubtedly closing, but the talent that is still around is so fantastic that it doesn't feel like they're in much of a battle—regardless of the rising talent level in the AFC North.
If the bottom of the roster can pitch in and keep the superstars somewhat clean, this is still a fantastic defense.
I'm predicting boom, but bust is just as likely.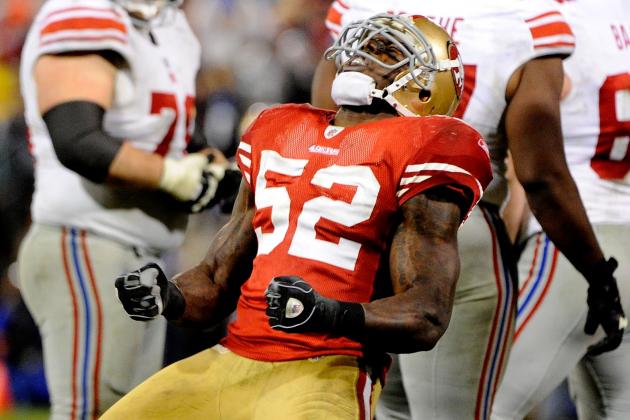 Thearon W. Henderson/Getty Images

2011 Total Defense (Yards): 308.2 (4)
2011 Total Defense (Points): 14.3 (2)
While I voted for Suggs in the PFWA year-end awards, Justin Smith was a close second in my mind. Patrick Willis and NaVorro Bowman were both considered. Carlos Rogers was a first-team All-NFL cornerback and Aldon Smith received my vote for Defensive Rookie of the Year.
Yeah, the 49ers are stacked.
This is a team that came within a few unforced errors away from a NFC championship. Their defense carried Alex Smith and a hodgepodge of receivers to a 13-win season. This group of players should've been a year or two away last season but struck fear in some of the league's most potent offenses.
The San Francisco 49ers are the NFL's best defense, and the scariest thing is that their best is yet to come.
Michael Schottey is an NFL Associate Editor for Bleacher Report and an award-winning member of the Pro Football Writers of America. He has professionally covered both the Minnesota Vikings and the Detroit Lions, as well as NFL events like the scouting combine and the Senior Bowl.