Cincinnati Reds: Midseason Report Card
Mike McGinnis/Getty Images

Way back in March, after being lucky enough to attend Spring Training in Goodyear, Arizona, I emerged with a full scouting report. It was complete with ballpark observations, Grand Canyon do's and don'ts and some bold predictions for our Cincinnati Redlegs. All that valuable information is free to you (just you), and can be found HERE.
Before the action starts back up tonight and the Reds cruise out to a 9-0 start to the second half (Ok, fine, 8-1), I thought it would be fitting to revisit some of that bawdy talk.
What follows is an honest assessment of just how valuable that scouting trip really was, with each prediction getting the pass/fail treatment.
Begin Slideshow

»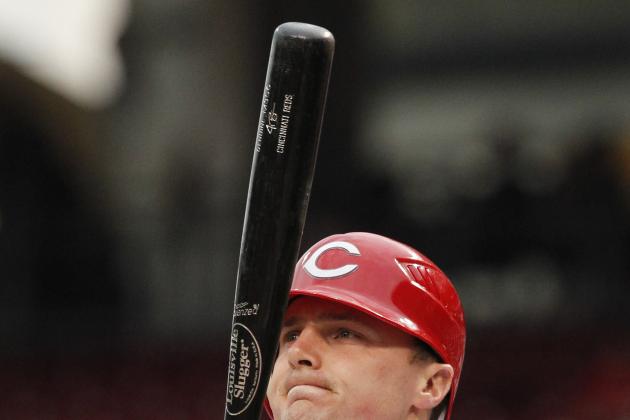 Tyler Barrick/Getty Images

Kind of a wah-wah right out of the gate, eh?
Not to say Bruce has had a bad year (he did make the All-Star team, after all), but his maddening inconsistency is looking more and more like a trademark, rather than a result of growing pains. After doing what we all THINK we know he can in April (.954 OPS), Bruce regressed in May and June.
Today he sits at .249, with 18 homers and 56 batted in. Really good for an average player. Good for a decent player. Average for a player of Bruce's talent. Bruce is a cornerstone of the Reds' future plans, though, so average just isn't good enough.
No Reds fan alive would tell you they're satisfied with a .249 average out of Bruce. The dude is just too good.
Grade: FAIL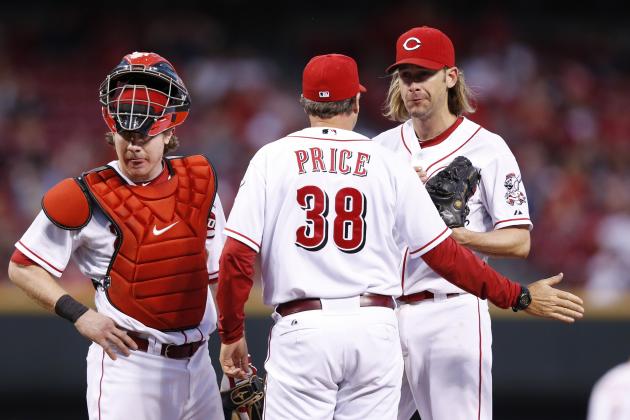 Joe Robbins/Getty Images

Turns out, I shouldn't have been.
Not only does this staff have baseball's fourth best ERA (3.64), it also leads the world in complete games. That's what you get when Cueto is consistently lights out, Bronson Arroyo has a big-time bounce-back year and, most importantly, you can last an entire half of a season without needing more than five starters.
If someone goes down (take a second to knock on wood, please and thank you), things could get hairy. But until then, I've got confidence that the current pace of these starters will continue.
Grade: FAIL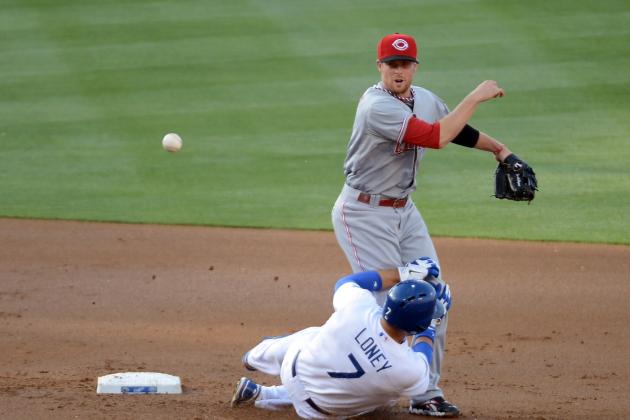 Harry How/Getty Images

When Zack Cozart was promoted to the big leagues toward the end of last season, his fast start and subsequent injury left us all just assuming that, when healthy, this kid would immediately fill that Barry Larkin shaped hole in our hearts.
Unfortunately, Cozart hasn't exactly done that. BUT...he hasn't been bad either.
Along with exhibiting above-average defense, Cozart has put together a .252/.298/.409 slash line in his first legit stretch of Major League play. For fun, here's how Reds' Opening Day shortstops have fared since No. 11 retired (full seasons):
2011: Paul Janish - .214/.259/.262
2010: Orlando Cabrera - .263/.303/.354
2009: Alex Gonzalez - .210/.258/.296
2008: Jeff Keppinger - .266/.310/.346
2007: Alex Gonzalez - .272/.325/.468
2006: Felipe Lopez - .268/.355/.394
2005: Rich Aurilia - .282/.338/.444
Neither Lopez nor Aurilia (the only two players on this list whose numbers surpass Cozart's) played the kind of D that Cozart does. Combine that with the fact that they were both basically veterans, and suddenly Cozart's rookie year production is looking really solid.
Rookie of the Year-worthy? No. But certainly a good sign for those of us who can't let go of Barry's Golden Age.
Grade: FAIL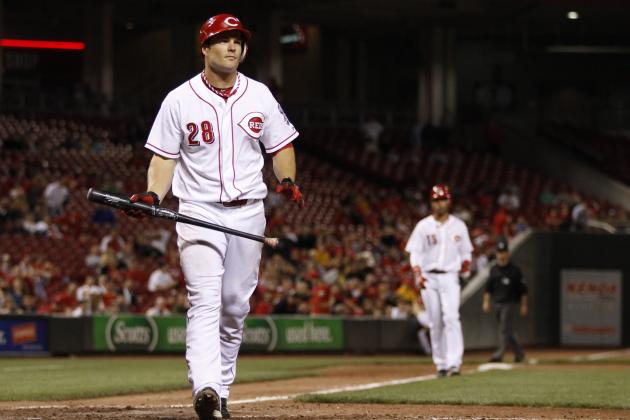 Tyler Barrick/Getty Images

How about a double order of bleak, with a side of disappointing?
Despite basically getting his best shot yet at regular playing time, Chris Heisey (.214 in April, .321 in May, .228 in June) has been as inconsistent as Bruce. Unfortunately, his running-mate, Ryan Ludwick, has been even worse.
But despite rumors swirling about the Reds acquiring a big-swinging left fielder (Carlos Quentin, anyone?), the hunch here is they stay put with these two. Heisey is still short on experience and has hit .357 so far in July. And Ludwick, despite limited playing time, is third on the team in home runs (12).
Grade: PASS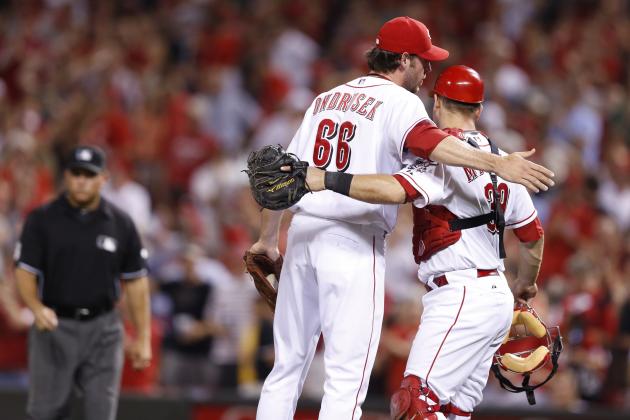 Joe Robbins/Getty Images

There's no way that anyone can contend that the bullpen hasn't been the surprise of the season so far.
Led by an overpowering Aroldis Chapman, these guys have been phenomenal. Especially when you consider that last year's setup men (Bill Bray/Nick Masset) and the replacement for last year's closer (Ryan Madson) have been invisible due to injury. The fact that this bullpen is third in the league in ERA simply goes against all odds.
However, if having Chapman, Logan Ondrusek and Jose Arredondo come into their own all at the same time is what this squad needs to stay in contention (and, let's face it, that's exactly what has happened), I'll take it.
Grade: PASS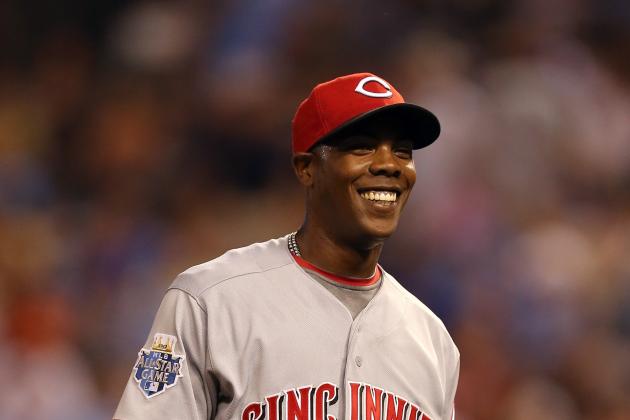 Jonathan Daniel/Getty Images

Back in March, this is what I said about Chapman's role this season:
"The injuries in the bullpen and ineffectiveness in the rotation all point to the Cuban Warlord being more of an X-Factor than we originally thought (this season). He's been lights out this spring (1.50 ERA, 12 K's in 12 innings pitched), even as he stretches out in preparation to start. If he ends up in the rotation, he could immediately become the ace. If he stays in the 'pen, he could morph into the closer. Either way Aroldis, now more than ever, needs to come up big."
As it's turned out, Chapman has been huger than huge.
Besides the week in June where Chapman was clearly possessed by a demon-monkey (6.1 innings pitched, eight earned runs over seven games), the Cannon has given up exactly zero earned runs. ZERO. For those of you scoring from the couch, that's 33 innings, zilch allowed. Almost makes ya' wonder what he could do with, oh-I-dunno, 200 innings or so.
But let's not be silly, that's what STARTERS do.
Ugh.
Grade: PASS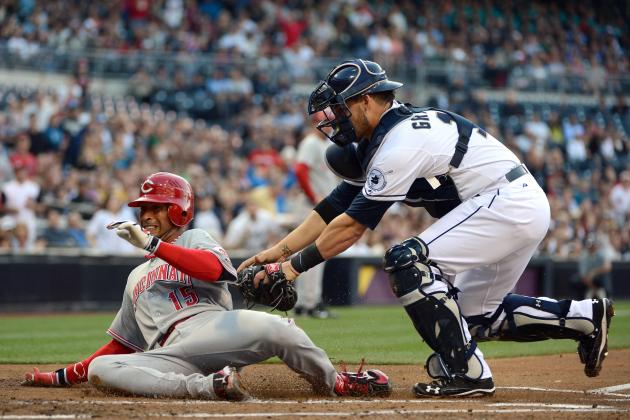 Donald Miralle/Getty Images

At the beginning of the season I stated: "Cincinnati fans will warm to Valdez quickly this season, and he'll play a bigger role than we may have originally thought."
However, that prediction was predicated upon the assumption that key players would get hurt for a substantial amount of time (as they almost always do).
Valdez's popularity in Philly came to be because old farts like Chase Utley and Placido Polanco couldn't stay on the field, and he was shoved into the "super-sub" role. While he's gotten a few starts here and there and come up with some hits, Brandon Phillips, Zack Cozart and Drew Stubbs have stayed mostly healthy. At the same time, Frazier has provided a natural and effective back-up for Scott Rolen at third. The chances just haven't been there.
Call me a cheater, but:
Grade: INCOMPLETE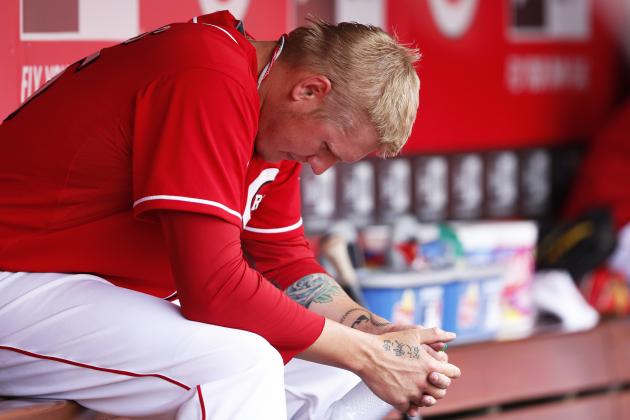 Joe Robbins/Getty Images

This one's a tough call, mainly because the lesser of the Reds starters have really picked up Mat Latos' slack.
In my initial prediction, I said that if Latos couldn't be consistent, the Reds would miss the playoffs.
Well, apart from his last three starts (absolute gems), he's been up and down, side to side and everywhere in between. One minute you think the Padres absolutely hosed us (eight earned runs in 5.2 innings on April 18th), and the next he's mowing through guys like grass (seven scoreless innings on April 24th.)
As far as predictions go, I'll be fair and say I whiffed on this one. But don't be surprised if Latos' success/failure plays one of the most pivotal roles in Cincinnati's playoff chances down the stretch.
Grade: FAIL
Ronald Martinez/Getty Images

It was disturbing this spring when Todd Frazier didn't make the team. Partly because he hit like Mr. 3,000 in Spring Training. And partly because his demotion was a result of injuries in the bullpen, which made the Reds' brass hurry up and sign journeyman Alfredo Simon.
Now, I'll be the first to admit that I'm SHOCKED that Simon has pitched as well as he has (1.78 ERA, with a K per inning). In fact, against my better judgement, I may just need to retire the nickname "Fat Alfredo Simon."
But that aside, my initial trepidation was warranted, I think.
Besides preseason bullpen injuries, this club has stayed REALLY healthy, and they still haven't been able to grab a tight hold of baseball's weakest division. Knowing that, and knowing all of the Reds' best young assets are in either in low-A ball, traded away or in the big leagues already, it's hard to imagine this team withstanding an injury or two to its key personnel.
As much as it pains me to admit, the Reds would be SUNK if they had a St. Louis-esque rash of injuries (Carpenter and Garcia, Beltran and Berkman, Craig and Jay, the list goes on and on). The fact that all of that has occurred and the WLB's are still only a game and a half behind us? Well that just makes me sad.
Grade: PASS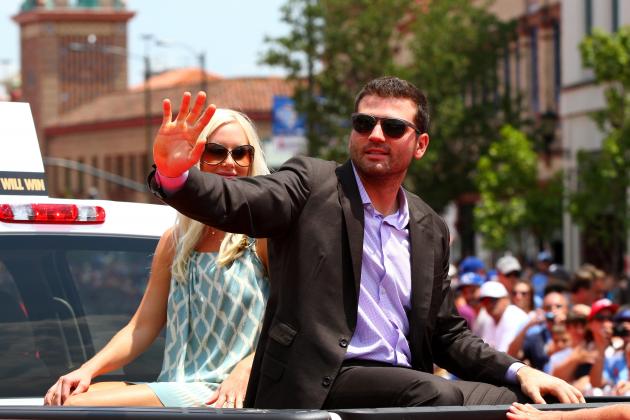 Dilip Vishwanat/Getty Images

In March, I predicted that Joey Baseball (let's get that nickname goin', mmmkay?) would not only win the MVP, but also the Silver Slugger and Gold Glove.
The Pirates are staging more of a midseason flare-up than usual, led by center fielder and current MVP candidate Andrew McCutchen. But we all know that by mid-August the Bucco's will be slogging around, five games under .500, and Joey will again collect the hardware he deserves.
If you want to know what opposing pitchers think of Votto, just check his walk total. 65. The next NL first baseman? 39. Maybe I'm being presumptuous here, but...
Grade: PASS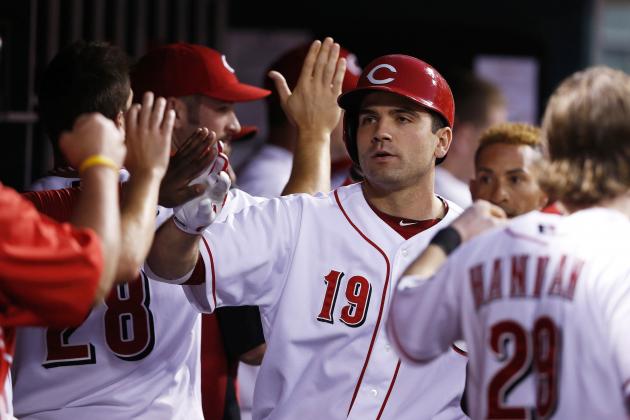 Joe Robbins/Getty Images

It almost seems fitting that I ended the first half 5-4 in my predictions. Just over .500. Not showin' off, not fallin' behind.
However, the good news is that the season is only half over. Which means Jay Bruce has the opportunity to step his game up and still hit that .285 I once dreamed about. And Mat Latos still has about 15 or so starts left, wherein he can make us all glad he brought his tattooed arms/Twitter-ista wife to the Queen City.
And who knows, maybe Zack Cozart starts heating up, Bryce Harper twists his ankle and guys like Lance Lynn and Wade Miley come down with the bird flu.
That'd put me at 8-1. Which, if you'll remember, is exactly how the Reds are going to start the second half. Full circle, ya'll. Count it.
For more from Reed Domer-Shank, visit his blog: J O U R N E Y M E N . You can also follow Reed on Twitter: @ReedDS20, or contact him directly at Reed.Domershank@gmail.com.