Miami Football: Big Upsets Al Golden and Hurricanes Must Pull off in 2012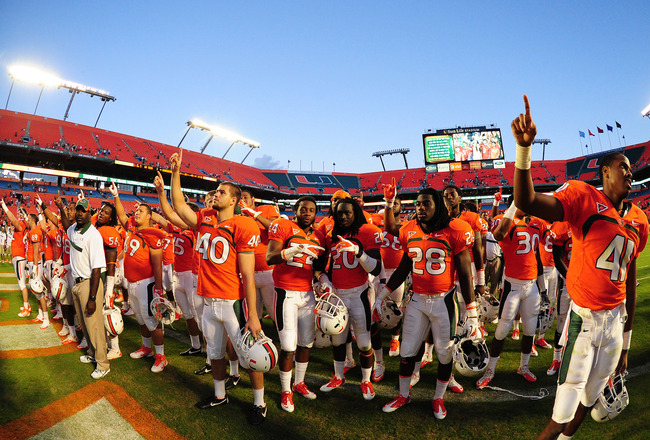 Scott Cunningham/Getty Images
First and foremost, I am not saying the Miami Hurricanes are going to win every game on their schedule. I am a realist, and my honest prediction is 7-5 or 8-4 season at best.
That could all change, though, if Miami can pull of some big upsets along the way. If the Hurricanes can somehow sneak through the first few games unscathed, there is a very good chance they will have some good momentum to pull off some of the bigger upsets later in the season.
Here are my must-win upset games if Miami wants any chance at all in winning the ACC.
Kansas State, Sept. 8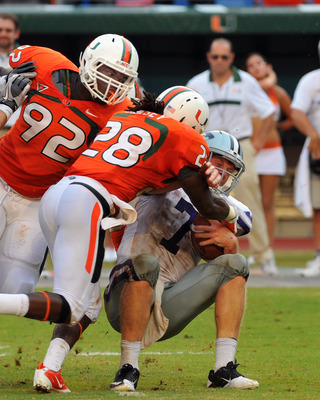 Al Messerschmidt/Getty Images
In just the second week of the season, the Hurricanes travel to play the Kansas State Wildcats in a rematch of last years game in which the Wildcats beat Miami, 28-24.
Miami had a chance to win the game, but Jacory Harris ended up a foot short of a touchdown. This season, it will be just as hard, if not harder, for the Hurricanes to win.
Kansas State returns a plethora of talent, including stud quarterback Collin Klein. In last season's game, Klein racked up 93 rushing yards and a touchdown while the team rushed for a total of 265 yards.
If Miami has any chance at all in beating Kansas State this year, it obviously must stop the run. If it can do that, it should be able to put up some points on a Wildcat defense that ended the season ranked No. 68 in scoring defense.
North Carolina State, Sept. 29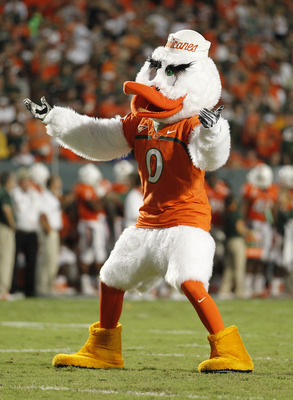 Joel Auerbach/Getty Images
Although North Carolina State had a better record than Miami last year, it wasn't as great as I thought it could have been. Fortunately for Miami, this game is at home, and it should help the Hurricanes pull off the upset.
My main concern in this game is not necessarily North Carolina State, it's the fact that the game after this one is Notre Dame. I don't care how many times coaches and players tell everyone that they can't think ahead; each and everyone still will.
Miami will need to stay focused and stop the passing attack of Mike Glennon, who threw for over 3,000 yards and 31 touchdowns for the Wolfpack.
Notre Dame, Oct. 6
Although the game against Notre Dame is out of the conference and technically not a big deal when it comes to a conference championship, the last thing the Hurricanes want to do is lose to the Irish.
Even with teams like Florida State and Virginia Tech on the schedule, there is no other team they hate more than the Notre Dame.
Notre Dame is expected to have a pretty solid team and be much improved over its 8-5 record last season. It lost to Stanford by only two touchdowns and to Florida State by four points in its last two games of the season last year.
The Hurricanes will not only have to contend with a good Irish team, but they also have to travel 1,400 miles to Soldier Field, in Chicago, IL. Notre Dame, on the other hand, is only 94 miles from the stadium.
To make it even harder for Miami will most likely be the temperature, as October in Chicago could spell some serious colder weather.
Florida State, Oct. 20
The most talented team Miami faces this season will also be its biggest rivalry game, Florida State. There really isn't much to say about the Seminoles that you Cane fans don't already know.
This is a rivalry that started in the late 80's and will never die. Even though the Hurricanes and Florida State hate each other, there is a mutual respect between the two colleges, unlike Notre Dame.
Florida State is expected to have a great team this year and could contend for the National Championship if things land its way.
There wouldn't be a better thing in the world than to beat Notre Dame and Florida State in the same season.
Miami must be able to score some points against one of the best defenses in the country. Florida State ended the 2011 season ranked No. 4 in points against, giving up just 15 points per game. More bad news, they return eight starters from last year's dominating defense.
Virignia Tech, Nov. 1
If there was a game last year that Miami could rewind and replay one down, it would be last year's contest against the Virgina Tech Hokies.
With just over a minute to play, the Hurricanes were up 35-31 and had the Hokies going for it on fourth down and one from Miami's 19-yard line. If Miami stops them, it wins; if not, it loses; it was as simple as that.
What ensued was a quarterback draw in which Hokie quarterback Logan Thomas ran up the middle for a 19-yard touchdown. Game over; Miami loses.
That specific play went over and over in my head a billion times that night and could have changed the season for the Hurricanes. Instead, it was just another loss.
The good news for Miami this season is that the Hokies only return three offensive starters from last years team. The bad news is, they return nine players on defense, one which only gave up 17 points per game.
Miami must find a way to score points like it did last year against the Hokies. If it can, I am most certain that the defense will not allow Thomas to run over them like he did last year.
Keep Reading

Miami Hurricanes Football: Like this team?