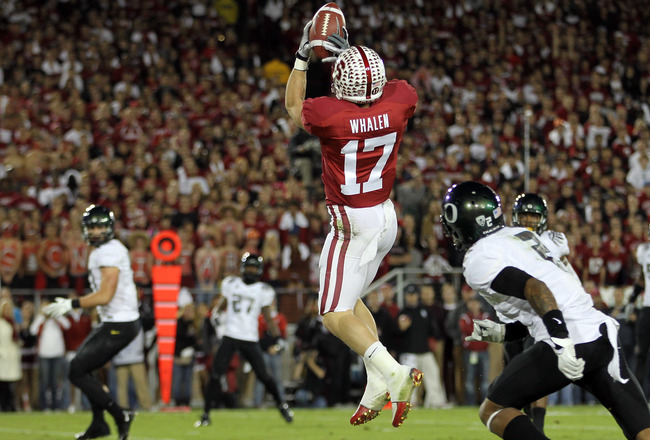 Griff Whalen: walk-on WR extraordinaire
Ezra Shaw/Getty Images
Stanford football has had its share of superstar WRs over the years.
Many of these wideouts were heavily recruited scholarship athletes, such as the Seahawks 2011 rookie sensation Doug Baldwin, recently graduated Chris Owusu, Hall of Famer James Lofton, and other NFL stars Gene Washington, Ed McCaffrey, Tony Hill, Ken Margerum and Troy Walters.
In contrast, some key WRs before and during the Harbaugh-Shaw era have made the team as walk-ons. Moreover, some of those walk-ons have themselves gone on to play in the NFL.
The current Cardinal roster heading into training camp has over 30 walk-ons, including WRs who may see action this fall.
Turn the page to walk through the WR walk-ons.
WR Griff Whalen (2008-11)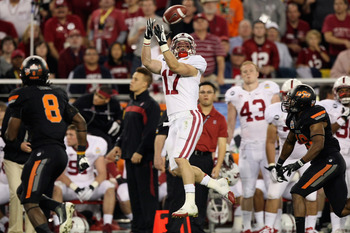 Griff Whalen: always open
Donald Miralle/Getty Images
Until his senior year last fall, WR Griff Whalen might have been best known as having MLB Hall of Fame pitcher Tom Seaver as his grand-uncle.
Whalen, perhaps generously listed at 6'1", 185 lbs., walked onto the Stanford varsity in 2008, and in his first three years on The Farm, totaled 24 catches and one touchdown.
Then came 2011. With speedster Chris Owusu sidelined for much of the season by leg and head injuries, Whalen stepped up to become Andrew Luck's favorite WR target. Whalen led all Cardinal WRs with 56 catches for 749 yards and four touchdowns.
He was at his best in big games, with a career best performance against Oregon (9-107-2) and six receptions for 102 yards in the triple OT thriller against USC. He consistently ran great routes, had an instinct for space, excellent hands and sneaky and shifty YAC ability.
Whalen, who was Luck's roommate during their senior year, went undrafted but has signed a free agent contract with--you guessed it--Indianapolis. Don't be surprised to see him catching Luck's passes on Sundays this fall.
Ryan Whalen (2007-10)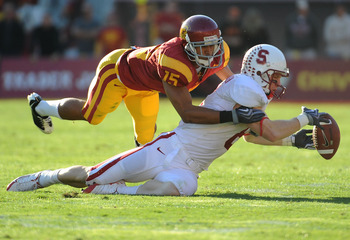 Ryan Whalen: hands of glue
Harry How/Getty Images
Ryan Whalen (no relation to Griff Whalen) was the first walk-on Whalen at WR on The Farm.
After playing sparingly in 2007, Ryan Whalen soon became a fixture in Jim Harbaugh's offense, leading the team with 41 catches as a sophomore and 57 receptions in 2009. In his senior year, Whalen added 41 more catches in 2010 playing opposite Doug Baldwin.
Whalen's remarkably sure hands and precise routes enabled him to compile 1,884 reception yards in his Stanford career, averaging 13.5 yards per catch and scoring seven touchdowns.
Whalen was a sixth-round pick of the Cincinnati Bengals in the 2011 draft. He played in the team's crucial December games and in the January 2012 wild card playoff game against the Texans.
Greg Camarillo (2000-04)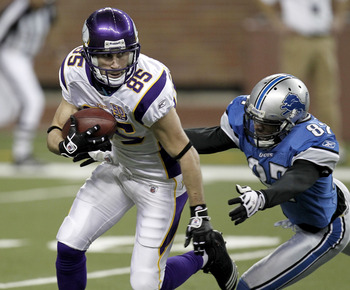 Greg Camarillo: late bloomer
Gregory Shamus/Getty Images
Greg Camarillo has had a long and productive NFL career for the Chargers, Dolphins and Vikings. This isn't a complete shock despite his modest statistics at Stanford, as he has defied the odds since he first showed up on The Farm.
Camarillo went to high school a few miles from the Cardinal campus. His dad was and is still a renowned history professor at Stanford. Camarillo turned down Harvard and instead attended Stanford, where he first walked onto the football team in 2000 as a punter.
After redshirting his freshman year, Camarillo moved to WR and played special teams for coaches Ty Willingham and Buddy Teevens. From 2001-04, Camarillo totaled 46 catches for 614 yards. To say he gave 110% would be an understatement.
Camarillo was not invited to the NFL combine, and was undrafted in the 2005 NFL draft. Undaunted, Camarillo again walked on, this time as a professional football player. He has caught 142 passes for nearly 1,700 yards in his NFL career and has returned punts as well.
His signature NFL moment came in 2007, when he caught the deciding 64-yard touchdown in the Dolphins' lone victory of that season. Camarillo is currently a free agent. Don't bet against him ending up on another NFL roster this fall.
Jordan Pratt (2011-12)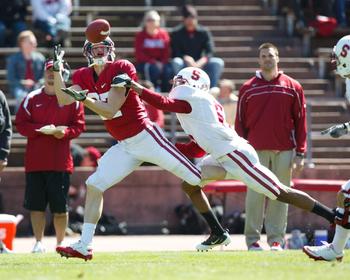 Jordan Pratt: rhymes with McCaffrey (Photo by Bob Drebin, Stanfordphoto.com)
Sophomore WR Jordan Pratt has some good things in common with the likes of former Stanford and Denver Broncos WR Ed McCaffrey, and the recently drafted Cleveland Browns QB Brandon Weeden.
Like Weeden, Pratt went straight from high school in 2003 to professional baseball, where he pitched in the Dodgers' organization for eight years, reaching AAA in 2010.
Now 27 years old, Pratt started college in 2011, choosing Stanford over Harvard and Cal.
Like McCaffrey, Pratt wears jersey number 87 and is rangy with long strides, deceptive speed and good hands. Pratt was impressive during spring practice and should be in the mix for playing time at WR when training camp starts in a few weeks.
Sam Knapp (2009-12)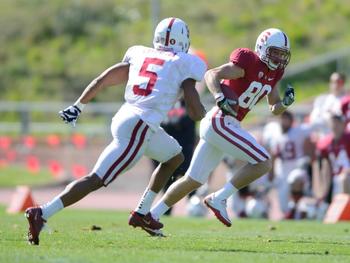 Sam Knapp (Photo by isiphotos.com)
Senior WR Sam Knapp graduated from the same high school as Greg Camarillo, Menlo-Atherton HS. Like Camarillo, Knapp's father Ted is a famous Stanford figure, as the head coach of Stanford's men's swim team.
Sam Knapp was a three-sport star at Menlo-Atherton and walked onto Coach Harbaugh's team as a freshman in 2009. He redshirted that year and lettered in 2010 and again last fall.
At 6'3', 201 lbs., Knapp is one of the biggest WRs on the roster, and along with Pratt could see action in 2012, as the WR rotation is not set beyond Ty Montgomery and could be wide open during training camp. Knapp's skill set is reminiscent of Camarillo and the Whalens, all of whom emerged as key WR contributors on The Farm.
Keep Reading

Stanford Football: Like this team?
Load More Stories