AC Milan's 10 Greatest Recent Moments at the San Siro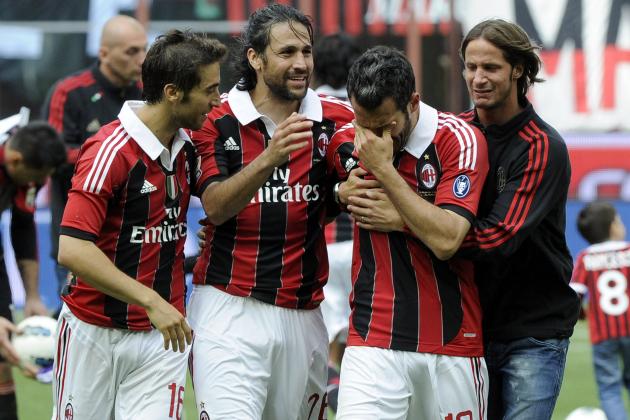 Claudio Villa/Getty Images

AC Milan fans are in need of a lift right now, after it was announced by owner Silvio Berlusconi that Zlatan Ibrahimovic and Thiago Silva are heading to Paris Saint-Germain, per ESPN Soccernet.
It is good to remember in depressing situations like these that, while certain players come and go, the club will always remain. And supporters of the Rossoneri certainly have a lot to be proud of when it comes to what their team have accomplished over the years.
Among the many memorable triumphs and touching moments through the years have been those extra-special ones at the San Siro, where seemingly all 80,000 fans feel each other's joy and passion for the club.
Here are but 10 of those moments in recent Milan history.
Begin Slideshow

»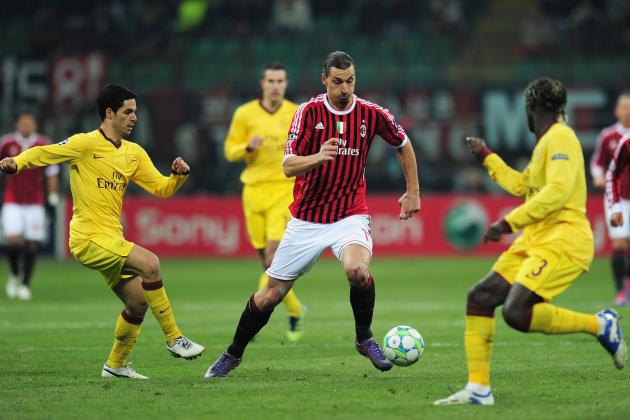 Shaun Botterill/Getty Images

This is perhaps not the most memorable win in the history of the club, but crushing Arsenal at home reminded everyone just how good AC Milan still are in Europe.
The Rossoneri were favored to win, but not by a four-goal margin. Fantastic goals from Kevin-Prince Boateng, Zlatan Ibrahimovic and a brace from Robinho powered Milan into the quarterfinals of the Champions League before the second leg was even played.
Such a dominant display nullified a resilient 3-0 fightback at the Emirates Stadium a short time later.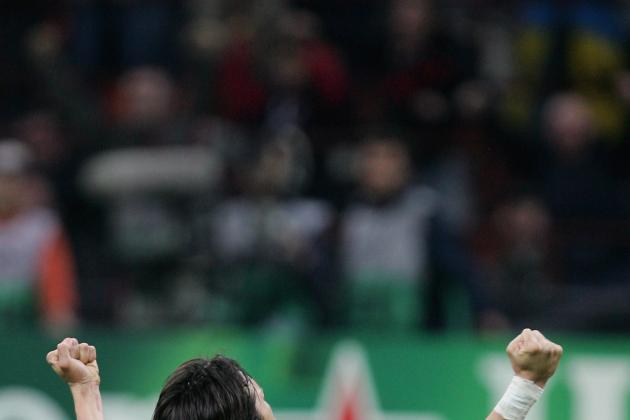 Laurence Griffiths/Getty Images

It is always so much more exciting to win a match in its final seconds, and, in so doing, AC Milan booked their place in the Champions League semifinals.
After a 0-0 draw in France, the score was 1-1 heading into the 88th minute, which would have seen Lyon progress on away goals.
But Filippo Inzaghi was having none of it, and he bagged his second goal at the end of normal time to send Milan through, and Andriy Shevchenko added another for insurance deep into stoppage time.
The San Siro went from resigned depression to utter euphoria in moments.
Much like their come-from-behind triumph against Lyon, AC Milan rescued victory at the last second after a 0-0 draw in the first leg to book a place in the Champions League semifinal.
In a very high-scoring encounter, blows were traded back and forth until substitute Jon Dahl Tomasson, of all people, struck the death blow in stoppage time to prevent defeat on away goals.
Interestingly, Milan had to beat their future striker Zlatan Ibrahimovic, who was playing for Ajax at the time.
AC Milan fielded some of their best teams during the 1990s, and they had the capability to thoroughly demolish opponents on their day.
Unfortunately for a young Arsene Wenger, his Monaco side bore the brunt of Milan's brilliance in the 1994 Champions League, as the Italians laid down the hammer, despite Alessandro Costacurta's red card in the 40th minute.
Most remember that match for Demetrio Albertini's stunning free kick into the upper 90 that all but sealed it for Milan at the start of the second half, despite their numerical disadvantage.
A victory is always sweeter if it comes against a fierce rival, and in the case of AC Milan and Inter, the derby only gets more intense because both play in the same stadium.
Not only was this a victory for the Rossoneri, it was a massive comeback as well. Down 2-0 to their intrastadium nemeses, Jon Dahl Tomasson, Kaka and Clarence Seedorf each contributed a goal to haul Milan back on top when the final whistle was blown.
This nail-biting emotional roller coaster also turned out to be one of the decisive matches in AC Milan's ultimately successful quest to win a 17th Scudetto.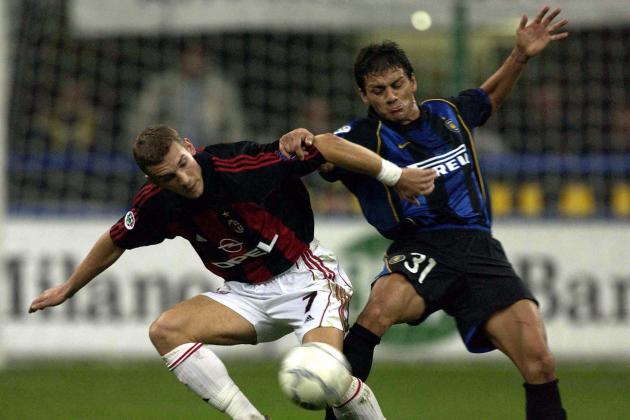 Grazia Neri/Getty Images

There is nothing sweeter on a pure emotional level than just thrashing one's bitter rivals to an embarrassing degree.
In what was technically an away match (the only one on this list), AC Milan delivered the sort of beating that is seen perhaps once every couple of decades, pounding Inter to the tune of 6-0.
How the beaten team recover from a night like this I have no idea, but the winning fans will certainly remember this victory for a long time.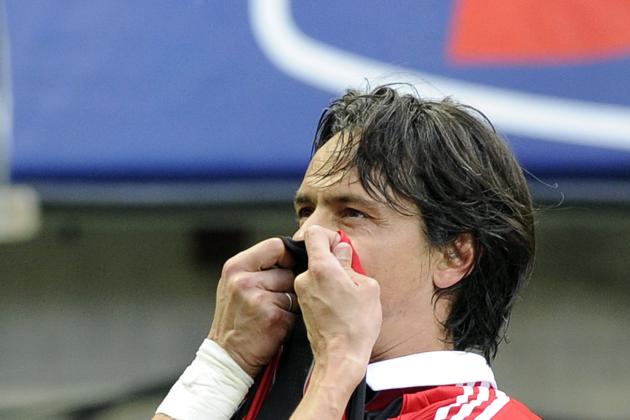 Claudio Villa/Getty Images

Few legends will be revered among the Rossoneri faithful as much as the incomparable Filippo Inzaghi.
For a player who has given so much to a great club over such a long period, it is only fitting that his exit would be something out of a Hollywood script.
On a day when several Milan greats signed off, it was Inzaghi who finished the game off with a trademark finish to take the headlines, as he has done so many times before.
Latching onto a long ball from Clarence Seedorf, Inzaghi blasted a shot into the top of the net to give Milan a 2-1 win on the final day of the season and, coincidentally, his 300th appearance for the club.
Nobody at the San Siro that day will forget that passionate moment.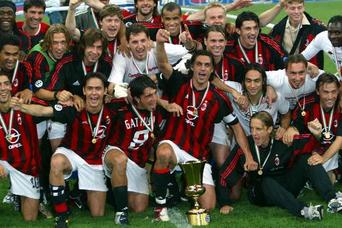 After AC Milan thrashed Roma in the capital in the first leg of the 2003 Coppa Italia final, it seemed certain that the trophy would be headed north.
However, Francesco Totti's brace at the San Siro made things much more interesting, and fans were beginning to get a bit nervous about the momentum shifting.
Like all good teams, though, Milan found a way to win, and win comfortably.
Only a minute after Totti's second goal, Rivaldo struck to give the Rossoneri a two-goal advantage, and it was the familiar boot of Filippo Inzaghi that truly sealed victory in stoppage time.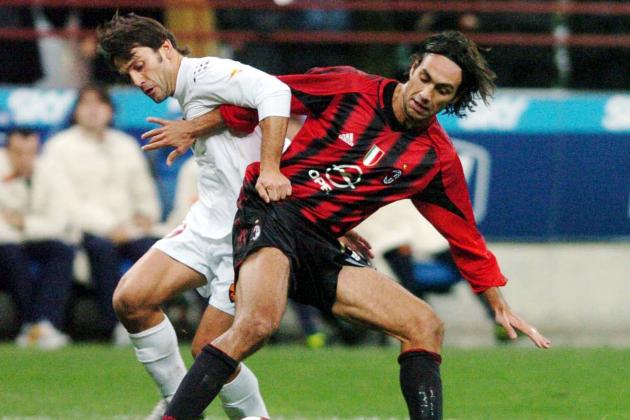 New Press/Getty Images

There are few more memorable feelings in football than clinching the league title in front of your own fans.
After a frustrating five-year drought, one Andriy Shevchenko goal against was all that was needed to clinch AC Milan's 17th Scudetto at the San Siro.
When you look at who Carlo Ancelotti fielded that day in defence, it is not hard to see why only one goal was needed to comfortably secure glory. With a back four of Alessandro Costacurta, Alessandro Nesta, Paolo Maldini and Cafu, hardly anyone could get so much as a shot on goal.
It was a title to be savored, as the next drought would last even longer; Massimo Ambrosini lifted his first Scudetto as captain in 2011.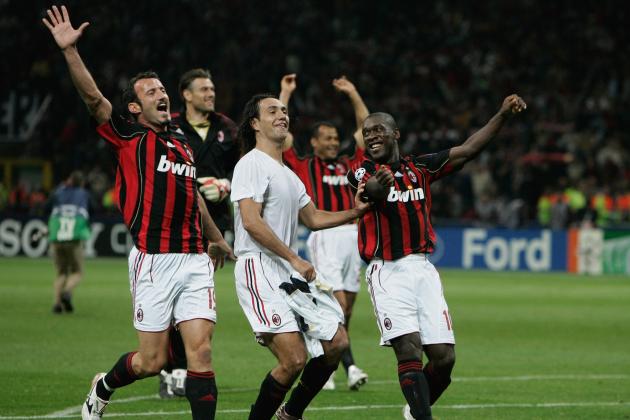 Stu Forster/Getty Images

There are comebacks, and then there are comebacks.
Even though the return leg was to be played at home, AC Milan faced an immensely tough task against Manchester United, having to win by one clear goal to secure progression to the Champions League final.
What ensued lives in Rossoneri lore.
Kaka had arguably the best game of his career to orchestrate a 3-0 smashing of the English giants and comeback in stunning fashion to earn a rematch with Liverpool.
Clarence Seedorf also turned in a sterling performance that included a goal to demolish one of the best sides in the world and produce one of the most amazing atmospheres that one can witness in any football stadium in the world.