3 Most Important Backups on the Niners' Roster
Ezra Shaw/Getty Images
As the infamous Joe Paterno stated, "When a team outgrows individual performance and learns team confidence, excellence becomes a reality."
This quote rings true for this current San Francisco 49ers squad. This is a team with great individual players, but it was the 2011 season when the talent finally formed into a cohesive unit.
Credit can be attributed to head coach Jim Harbaugh and general manager Trent Baalke for bringing stability to a franchise that has lacked it for much of this decade, but as it would be with war, you win with soldiers.
The 49ers' starters were excellent, but the depth behind their star players went largely unnoticed. Their performance was crucial to the 49ers' success in 2011, and the same will be true in the upcoming season.
Ricky Jean-Francois (DE/NT)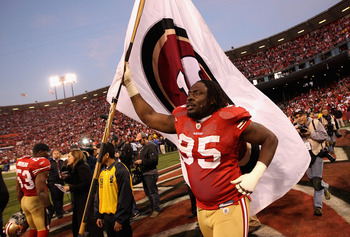 Ezra Shaw/Getty Images
Ricky Jean-Francois was considered a raw prospect out of Louisiana State, but that didn't stop the 49ers from drafting the defensive lineman in the seventh round of the 2009 NFL Draft.
The 6'3'', 295-pounder has the body type of a defensive lineman in a 3-4 front, but with defensive coordinator Vic Fangio running the show on defense, Jean-Francois is an excellent backup at the nose tackle position.
Fangio craves athletic inside guys, which points to why the 49ers were reluctant to give Aubrayo Franklin a huge extension before the start of the 2011 season. Jean-Francois is one heck of an athlete, especially for a guy weighing nearly 300 pounds.
Isaac Sopoaga was a excellent starter at the nose position, but his age may eventually catch up to his play. Sopoaga will turn 31 in September.
Jean-Francois will likely take over the role inside whenever Sopoaga is done, but his versatility should allow the 49ers to be creative until that time arrives.
Parys Haralson (OLB)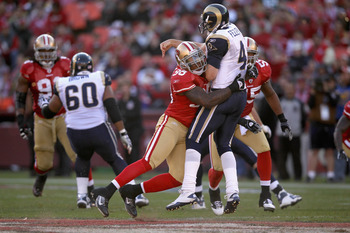 Ezra Shaw/Getty Images
Haralson served as the starter for most of the last season, but there are rumors that the 49ers will place rookie standout Aldon Smith in the starting lineup.
If true, San Francisco will have an excellent situational player in Haralson. The 49ers will likely place Haralson in the same role as Aldon Smith last season.
While Smith wasn't a starter, few could argue the impact he made when out on the field. I can envision the same success for Haralson next season.
Haralson is a fearless pass-rusher and has been solid in coverage. As a situational player, Haralson could focus purely on getting after the quarterback and nothing else.
While Haralson was on the sidelines in most passing downs last year, his ability to get after the quarterback was and will always be his ticket.
Haralson could also play in passing downs because of Aldon Smith's versatility at playing the defensive end position or outside linebacker.
If Smith intends to start, he will have to prove his worth in coverage and against the run, but I don't suspect this will be an issue in the upcoming season.
Kendall Hunter (RB)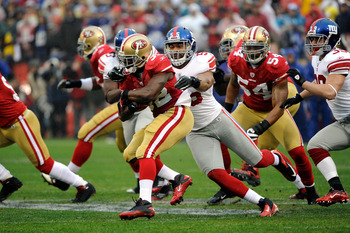 Thearon W. Henderson/Getty Images
While the 49ers' heavy-loaded backfield is somewhat frightening, and not in a good way, I have no doubts about Kendall Hunter's abilities.
While some may compare the former Oklahoma State product to Darren Sproles, Hunter more closely resembles his backfield teammate: Frank Gore.
Hunter showed flashes of brilliancy in 2011 and I expect his success to continue if he receives the necessary carries.
Keep Reading

San Francisco 49ers: Like this team?