New York Giants Complete 2012 NFL Preseason and Training Camp Guide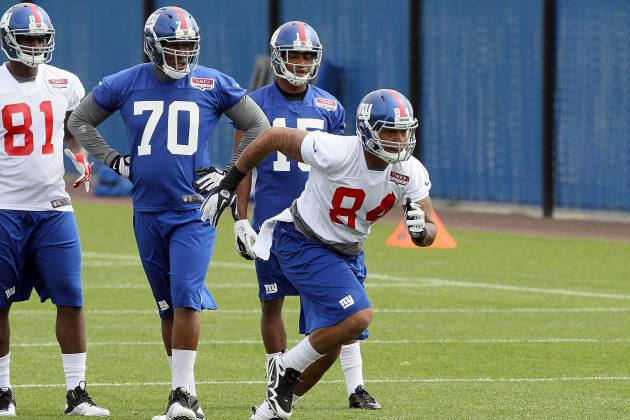 Jim McIsaac/Getty Images
Back in blue: The defending champs kick off training camp July 26th at SUNY Albany.
Here we go.
After a characteristically hushed offseason and a somnolent summer, the New York Giants are ready to christen their campaign as defending Super Bowl champions. Training camp begins on July 26th, with the first snaps of preseason action coming soon after.
For now, life is good for quarterback Eli Manning and the G-Men. But, as a week one bout with the Dallas Cowboys rears its head, Big Blue faces a bevy of questions: can rookie running back David Wilson revitalize a stagnant ground attack? Will the Giants' offensive line hold up throughout the season? What does corner Terrell Thomas' return mean for the secondary?
Which rookies are ready to step up? Who will earn a spot in the starting lineup? And who will fall on the wrong side of roster cuts? Check out Bleacher Report's extensive primer on the New York Giants' training camp and preseason.
Begin Slideshow

»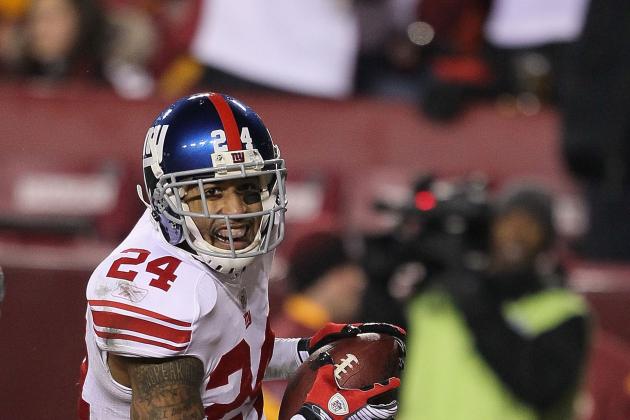 Al Bello/Getty Images

How can the offensive line improve?
Amidst their improbable playoff run, the Giants' o-line broke down, allowing 11 sacks and 29 quarterback hits in four games. A promising 2012 could be clouded by suspect run and pass blocking.
Right tackle David Diehl will be eyed closely. Diehl spent time at left guard and left tackle last season, and was arrested for driving while intoxicated back in June. His position flexibility is invaluable, but he has struggled with inconsistency his entire career. He'll be called upon to allay one of New York's glaring problem spots.
Elsewhere, center David Baas gears up for his first full season in Giants blue, and the left side of the line, comprised of tackle Will Beatty and guard Kevin Boothe, will look to improve upon a shoddy 2011.
What can be expected of Terrell Thomas?
Giants cornerback Terrell Thomas (pictured) was one of the game's budding young stars before tearing his anterior cruciate ligament (ACL) in a 2011 preseason game against the Chicago Bears.
After missing all of last year, Thomas returns to New York's secondary, looking to provide the hard-nosed, pugnacious style of play that fans fell in love with. The jury is still out on what can be expected from the five-year pro.
If he can seamlessly return to form, the G-Men enjoy greater flexibility in the secondary and find themselves with a top-notch playmaker. If not, they'll have to struggle to find a suitable corner to go alongside Corey Webster.
Where does David Wilson figure into the backfield?
As bruising 'back Brandon Jacobs skips town for the San Francisco 49ers, the Giants' running game loses a lot of its culture. Now, with Ahmad Bradshaw at the helm, things will look inevitably different. Perhaps this is for the better--the G-Men were relegated to dead-last in the league in total rushing and yards per carry last season.
First round pick David Wilson from Virginia Tech figures to be involved in New York's potent offense. In 2011, Wilson averaged nearly six yards a carry and hit the end zone 10 times. How many carries will he get as a second-stringer? Will his college production translate to the pro level?
If Wilson can step up for the Giants, it opens up Bradshaw's game along the edge, as well as play action for Eli Manning and the passing attack. Wilson should see serious playing time in the preseason.
Can breakout players duplicate their successes?
Much of New York's thrilling 2012 was propelled by the sudden ascent of two young stars--wideout Victor Cruz, who notched nine scores and over 1,500 receiving yards, and defensive end Jason Pierre-Paul, who garnered Defensive Player of the Year talk with 16.5 sacks. Fans will be eager to see if Cruz can reprise his performance in the slot, and if Pierre-Paul can continue to be a lethal threat on the edge.
Interestingly enough, both players line up where talent is stockpiled. Should Cruz fail, Hakeem Nicks and rookie Rueben Randle wait in the wings. Should Pierre-Paul fail, ends Justin Tuck and Osi Umenyiora are still in place. Regardless, their production is crucial to New York's quest for a second consecutive ring. Cruz' 3.03 win probability ranked third for NFL receivers; Pierre-Paul's 2.7 ranked first for ends.
Can Martellus Bennett improve the tight end spot?
Since the departure of former Giant Kevin Boss in 2011, Big Blue has struggled to find a legitimate tight end presence. New York hauled in Martellus Bennett from Dallas this offseason, and he's already prompted some unfavorable rumblings before even taking the field.
Eli Manning's fantastic 2011 season came without a true mid-level tight end. If Bennett can emerge and give Manning another target, watch out. If not, the G-Men will have to mix and match to find what works.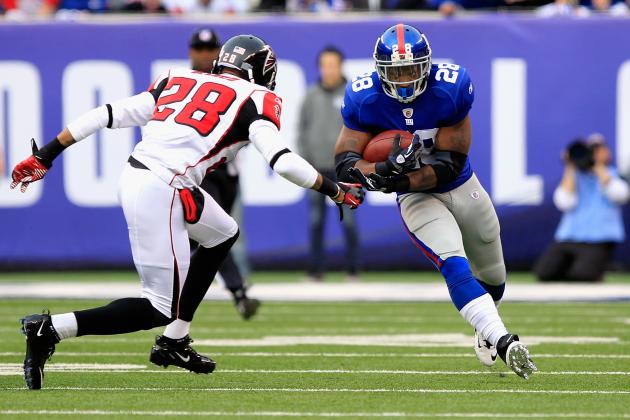 Chris Trotman/Getty Images

QB Ryan Perrilloux
Eli Manning's touted durability allows the Giants to travel with just two quarterbacks on their roster, and veteran David Carr has the second-string spot locked up. However, Perrilloux is an enticing option, drawing comparisons to Donovan McNabb. Perrilloux is likely on the outside looking in here, but is still an interesting player to watch and should expect a few reps this summer.
RB D.J. Ware (Pictured)
Ware has lingered around the Giants' backfield for a few years now, his tepid production on the ground cancelled out by his ability as a pass catcher. With Bradshaw, Wilson, and Da'Rel Scott in place, Ware could earn a spot as a fourth 'back with a solid training camp and preseason. His yards per carry average has regressed each year since 2008, while his workload has increased in that same span.
RB Andre Brown
Brown likely finds himself out of a job competing with Ware. He's been around the Giants camp for a few seasons, but has notched just 2 career carries. New York won't take five halfbacks come September.
WR Ramses Barden
A truly maddening example of football's ephemerality, Barden had serious upside after being drafted in 2009. A few years and a few injuries later, and he now struggles to stay on the team. Barden has potential as a vertical threat, but every crevice of the Giants' roster is already stuffed with receivers. He should find a way to remain in uniform, but likely won't sit any higher than fifth or sixth on the depth chart.
TE Travis Beckum
Beckum stayed involved in the offense last year, but incoming tight ends Martellus Bennett and rookie Adrien Robinson put him in a bind. Bear Pascoe mans a roster spot as well, meaning the Giants would need to take four tight ends with them for Beckum to make the team. He continues to recover from an ACL tear sustained in Super Bowl XLVI.
C Jim Cordle
The Giants will have a handful of able linemen competing for roster spots, but Cordle should secure a number with incumbent David Baas' murky medical history.
OT Matt McCants
Similarly, McCants gets log-jammed behind Diehl and Sean Locklear. Still, he has upside as a sixth-round pick, and the G-Men could use some depth along the line.
DT Shaun Rogers
Once a perennial Pro Bowler, Rogers finds himself vying for a spot on New York's perpetually-stacked D-line. With Chris Canty, Linvall Joseph, Marvin Austin and veteran Rocky Bernard pretty much in place, it'll be an uphill battle for the 12th-year pro.
OLB Clint Sintim
Sintim is blocked off by Mathias Kiwanuka, Jacquian Williams and Greg Jones on the left side, and the G-Men likely won't roll with four 'backers at one spot. Of course, anything is possible with a strong camp. Sintim is a former second round pick from 2009, but he has tallied just 33 tackles in his short career. With a knee injury to his credit as well, he's got an outside shot at best.
CB Dante Hughes
Hughes was imported from San Diego, where he appeared in 15 games last year. The Giants have a slew of fresh corners to work with in Prince Amukamara, Jayron Hosley and Antwaun Molden, aside from the established starters in Thomas and Webster. Should the Giants go with a sixth corner, Hughes could be the guy.
CB Justin Tryon
After bouncing around with the Redskins and Colts, Tryon is now looking to become the sixth corner for New York. He and Hughes will duke it out, but after ending 2011 on injured reserve, Tryon is a long shot for the final 53-man roster.
FS Chris Horton
Horton recorded three interceptions his rookie year in Washington, but has been free falling ever since. He was cut by the 'Skins last season, and could be a contributor on special teams this year.
SS Stevie Brown
Another victim of New York's deep defense, Brown sits third on the strong safety pecking order, behind Tyler Sash and incumbent Kenny Phillips. He spent time in Indy last season, and could slither his way onto the final roster with a standout summer.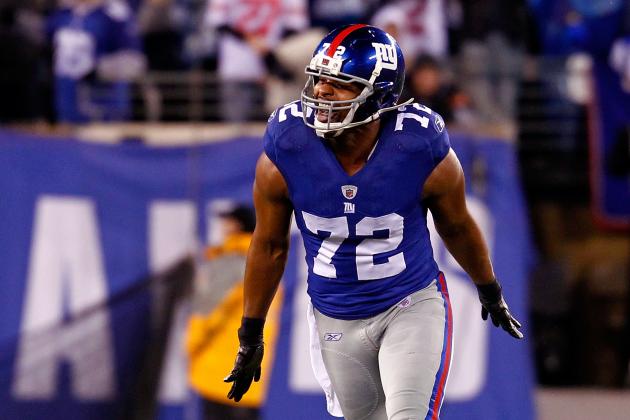 Jeff Zelevansky/Getty Images

RB David Wilson
The confluence of Wilson and Ahmad Bradshaw should make for a dynamic running game. Unlike quarterbacks and linemen, rookie halfbacks are often able to make immediate NFL impacts, and Wilson's blistering footwork and explosive speed should have Giants fans salivating. Summer is the first step in a promising career.
WR Rueben Randle
Randle will be called upon to fill Mario Manningham's spot on the outside. Last year, he notched over 17 yards a reception and scored 8 times as a member of the LSU Tigers. Like Wilson, Randle will be heavily involved in New York's offense from the get-go. His emergence is key to Eli Manning's sustained success.
WR Domenik Hixon
Hixon returns from the injured reserve this season, and will be gunning for the third receiver spot with Randle. He's shown scintillant promise in past years, and the 7-year pro adds a new dimension to Manning's offense if he can stay healthy.
TE Martellus Bennett
After seeing limited playing time in Dallas, Bennett suits up as the Giants' starting tight end. Manning and the G-Men lacked consistent tight end play in 2011, and Bennett has the strength to wreak havoc on opposing safeties. He's worth keeping an eye on this preseason.
TE Adrien Robinson
A throng of exciting rookies join New York's potent offense, and Robinson could be a difference-maker as the team's second or third tight end. He should stay busy in preseason action, and after clocking a 4.53 second 40-yard dash at the NFL Combine, the former Cincinnati Bearcat should be a handful for opposing defenses.
LT James Brewer
Brewer enjoyed a decorated career at Indiana, but didn't see the field much his rookie season. Now, he stands to shake up the Giants' line with a strong training camp. Brewer adds some much-needed depth on the left side of the line, and he could see starters' minutes by the end of 2012.
C David Baas
Baas inked a big contract last offseason, but has yet to live up to his price tag. If he stays healthy this year, he could single-handedly improve the Giants' interior ground attack. New York averaged less than 4 yards a carry when rushing up the middle last year.
RT David Diehl
It was a rough spring for the 10-year veteran, and now Diehl faces yet another position change on the Giants' o-line. Watch out for his progress on the right side this summer.
DE Osi Umenyiora (Pictured)
Perpetually engulfed by contract disputes, Umenyiora delivered another Pro Bowl-caliber season in 2011. But the emulous end isn't quite cleared of controversy: after taking a few shots at Eagles running back LeSean McCoy, Osi will have to put his money where his mouth is.
MLB Chase Blackburn
Blackburn was sitting on his couch during 2011's preliminary weeks; he was hoisting the Lombardi Trophy by the end of it. Still, he'll have to validate his starting spot and churn out another big year in the middle. Many expected the Giants to address the middle linebacker position in April's draft or in free agency.
OLB Keith Rivers
Rivers has Pro-Bowl potential, but injuries have kept him off the field for much of his career. He could wind up being the steal of the offseason, but summer will be an important first test for him and his recovering wrist.
CB Terrell Thomas
New York's former No. 1 cover man looks to make a comeback this year. His progress is crucial for Perry Fewell's defense. Watch how he re-assimilates himself to pro ball.
CB Prince Amukamara
Prince Amukamara had a rough debut in Giants blue, after being selected in the first round of 2011's Draft. He'll continue to adjust to the nuanced nickle-back position, and will be an important safety net for Thomas.
CB Jayron Hosley
A third-rounder from April's draft, Hosley makes the trek from Virginia to New York with David Wilson. Hosley also spent some time returning kicks for the Hokies, and will likely see some special teams reps this summer.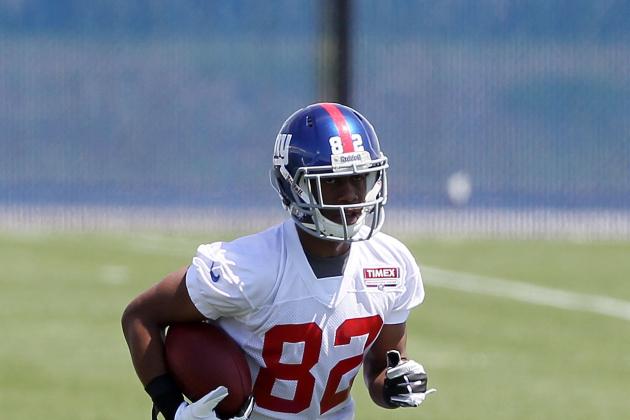 Jim McIsaac/Getty Images

Training camp will play host to myriad battles for starting jobs and key roles. See who will be clamoring for playing time this summer.
Third Wide Receiver
Victor Cruz will still see time in the slot, but the Giants will search for Hakeem Nicks' complement on the outside. Rookie Rueben Randle (pictured) will likely land the gig, but Domenik Hixon should be in the running. Hixon has never topped 600 receiving yards or 45 receptions in a season, while Randle is already popular in the organization.
Predicted Winner: Rueben Randle
Left Tackle
There's not much of a battle here, but Sean Locklear's progress in practice continues to roust incumbent Will Beatty's standing. Beatty had a rough 2011, and now deals with a back issue, while Locklear was a solid starter for years in Seattle. Still, it's Beatty's job to lose.
Predicted Winner: Will Beatty
Left Guard
Like tackle, left guard is the incumbent's position to lose. Kevin Boothe commands the starting spot for now, but fans have taken a liking to youngster Mitch Petrus. Petrus' raw strength and size could help in the running game, but Boothe should win this one out.
Predicted Winner: Kevin Boothe
Fourth Defensive End
Fewell's love for the pass rush opens up reps for the team's fourth defensive end. As Dave Tollefson packs his bags for the Bay, Justin Trattou and Adrian Tracy look to get in on the rotation. Of course, the Giants are loaded on the line, but New York's NASCAR package prevents this from being an inane battle. Trattou's younger and has more upside, and he gets the nod here.
Predicted Winner: Justin Trattou
Middle Linebacker
Says Fewell,
"I can't say he will stay there permanently, but right now Chase [Blackburn] is our guy and no one has clearly beaten him out for the position."
Blackburn was a hero for New York's defense after tallying an interception in the Super Bowl. But, there's a cadre of capable 'backers ready to take his starting position from him. Keith Rivers could be moved to the middle to promote competition, and Mark Herzlich will be in the mix as well. Rivers could overtake Blackburn at some point, but come opening night, Blackburn will be manning the middle.
Predicted Winner: Chase Blackburn
Third Cornerback
Prince Amukamara will give it another shot in the nickle, but he'll have to earn it against incoming rookie Jayron Hosley. 'Muk was spotty in his Giants debut, but Hosley will need a spectacular summer to overthrow him.
Predicted Winner: Prince Amukamara
Return Specialist
The G-Men haven't returned a kickoff for a touchdown since 2007. Hixon's return to the team could assuage its return woes, but his ACL injury may have taken some of the explosiveness from his game. Rueben Randle spent time returning kick as LSU, while Jerrel Jernigan and Da'Rel Scott held down the position last season. Ultimately, Hixon may be used sparingly, while Jernigan and Scott duke it out. Neither player has emerged as a dominant return-man, and the Giants will likely go by committee until someone stands out.
Predicted Winners: Jerrel Jernigan and Da'Rel Scott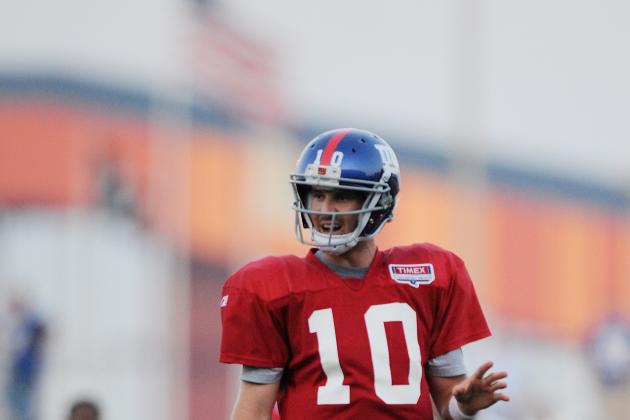 Patrick McDermott/Getty Images

Check out what Big Blue will be up to this summer with 2012's day-by-day practice schedule.
Thursday, July 26
Players report
Friday, July 27
1:00 PM practice
Saturday, July 28
1:00 PM practice
Sunday July 29
1:00 PM practice
Monday, July 30
1:00 PM practice
Tuesday, July 31
No practice
Wednesday, August 1
1:00 PM practice
Thursday, August 2
1:00 PM practice
Friday, August 3
1:00 PM practice
Saturday, August 4
1:00 PM practice
Sunday, August 5
No practice
Monday, August 6
1:00 PM practice
Tuesday, August 7
1:00 PM practice
Wednesday, August 8
1:00 PM practice
Thursday, August 9
No practice
Friday, August 10
7:30 PM preseason game at Jacksonville Jaguars
Saturday, August 11
No practice
Sunday, August 12
1:00 PM practice
Monday, August 13
1:00 PM practice
Tuesday, August 14
1:00 PM practice
Wednesday, August 15
No practice - camp breaks
Saturday, August 18
7:00 PM preseason game at New York Jets
Friday, August 24
8:00 PM preseason game vs. Chicago Bears
Wednesday, August 29
7:30 PM preseason game vs. New England Patriots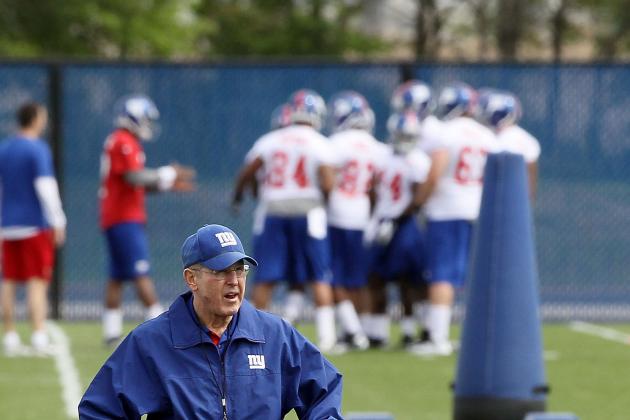 Jim McIsaac/Getty Images

The Giants host training camp at the University of Albany for the 16th time. UAlbany's campus is the longest tenured summer site in the team's history.
Big Blue previously held camp at Pace University in Pleasantville, New York, from 1975 through 1987. Total attendance often tops 40,000 fans.
The three-week training camp features single-day practices, all starting at 1:00 P.M.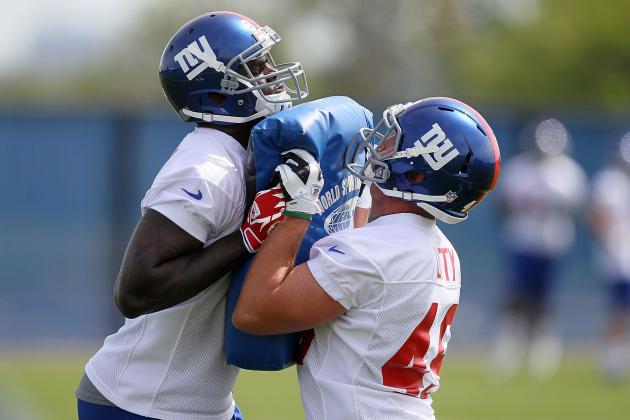 Jim McIsaac/Getty Images

Quarterbacks
David Carr
Eli Manning
Ryan Perrilloux
Running Backs/Fullbacks
Ahmad Bradshaw
Andre Brown
Henry Hynoski
Joe Martinek
Da'Rel Scott
D.J. Ware
David Wilson
Wide Receivers
Ramses Barden
Brandon Collins
Victor Cruz
Dan DePalma
David Douglas
Domenik Hixon
Jerrel Jernigan
Hakeem Nicks
Rueben Randle
Isaiah Stanback
Julian Talley
Tight Ends
Travis Beckum
Martellus Bennett
Larry Donnell
Christian Hopkins
Bear Pascoe
Ryan Purvis
Adrien Robinson
Tackles
Will Beatty
James Brewer
Selvish Capers
David Diehl
Sean Locklear
Matt McCants
Brandon Mosley
Joel Reinders
Guards
Kevin Boothe
Stephan Goodin
Mitch Petrus
Chris Snee
Centers
David Baas
Jim Cordle
Chris White
Defensive Ends
Matt Broha
Craig Marshall
Adewale Ojomo
Jason Pierre-Paul
Justin Trattou
Osi Umenyiora
Defensive Tackles
Marvin Austin
Rocky Bernard
Chris Canty
Dwayne Hendricks
Linval Joseph
Markus Kuhn
Martin Parker
Shaun Rogers
Linebackers
Chase Blackburn
Michael Boley
Mark Herzlich
Greg Jones
Mathias Kiwanuka
Jake Muasau
Spencer Paysinger
Keith Rivers
Clint Sintim
Adrian Tracy
Jacquian Williams
Cornerbacks
Prince Amukamara
Brandon Bing
Michael Coe
Jayron Hosley
Dante Hughes
Bruce Johnson
Antwaun Molden
Terrell Thomas
Justin Tryon
Corey Webster
Brian Witherspoon
Safeties
Stevie Brown
Will Hill
Chris Horton
Janzen Jackson
Jojo Nicolas
Kenny Phillips
Antrel Rolle
Tyler Sash
Special Teams
Zak DeOssie (LS)
Lawrence Tynes (K)
Steve Weatherford (P)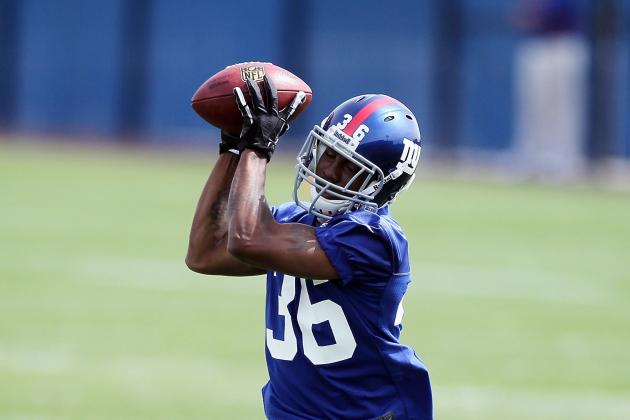 Jim McIsaac/Getty Images

General manager Jerry Reese lead New York through another successful draft night. Here are the 17 newbies kicking off their careers in Giants training camp.
Matt Broha, DE
Unlikely to make it on a team with innumerable solid ends, Broha went undrafted after receiving First-Team All WAC honors as Louisiana Tech. He recorded 45 tackles last year.
Brandon Collins, WR
Another undrafted rookie, Collins is a long shot for the final roster. He's received praise from offensive coordinator Kevin Gilbride.
David Douglas, WR
He recorded a nice 4.46 second 40-yard dash at the NFL Combine, but like Collins, he won't make the final cut.
Stephan Goodin, G
Undrafted from the University of Nebraska at Kearney, Goodin has a pro-ready body at 6'6" and 310 pounds. He'll have a chance at the Giants' practice squad.
Jayron Hosley, CB (Pictured)
A failed drug test dropped Hosley's draft stock, ultimately falling to the tail-end of the third round. He'll see some reps this season and plenty of summer playing time, likely sitting fourth on the depth chart behind Thomas, Webster, and Amukamara. Hosley lead the nation with nine picks in 2010.
Janzen Jackson, SS
Jackson went undrafted from McNeese State after being dismissed from Tennessee. He was a starter for the Vols since 2009, and recorded five interceptions in 2010. He could earn a spot as a second or third-stringer.
Markus Kuhn, DT
A seventh-rounder with potential, Kuhn may fall victim to New York's deep D-line. Should he not earn a spot on the roster, he'll be stashed away on the practice squad. He was in on 45 tackles for North Carolina State in 2011.
Joe Martinek, RB/FB
New Jersey's all-time leading high-school rusher, Martinek is a local product from Rutgers whom the Giants seem to like. He went undrafted, and carried the ball nine times for 58 yards in the PapaJohns.com Bowl.
Matt McCants, T
A 2012 sixth-rounder who provides depth and flexibility along the line, McCants should make the team. NFLDraftScout.com ranked him as the 15th best tackle in the draft class.
Brandon Mosley, T
Mosley was taken in the fourth round from Auburn. He has a pro-ready frame at 6'5" and 318 pounds. He'll back up Diehl and Beatty off the bench.
Jake Muasau, LB
Undrafted from Georgia State, Muasau should be cut before the final roster. He's the Panthers' all-time leader in tackles for loss.
Jojo Nicolas, FS
Nicolas notched a defensive touchdown and over 60 tackles for Miami last season, but went undrafted. He likely won't find room in New York's stuffed secondary.
Adewale Ojomo, DE
Another undrafted free agent who should be cut by the end of camp. Ojomo was caught in the crossfire of the Nevin Shapiro investigations at Miami.
Rueben Randle, WR
The Giants' second-round selection, Randle should make an immediate impact as the team's assumed third wideout. He scored eight times for the LSU Tigers, and looks to be a great fit for Eli Manning's system. Randle may well resemble Mario Manningham by the year's end, and he'll stay busy this summer as he assimilates to the pro level.
Adrien Robinson, TE
A speedy receiver from Cincinnati, Robinson could be a second or third tight end this year. He boasts a well-balanced blocking game and was a consistent producer in college. He sits behind Bear Pascoe and Martellus Bennett for now.
Julian Talley, WR
Another undrafted receiver from UMass, Talley will look to become 2012's Victor Cruz. His chances are slim, however, with the Giants' busy bunch of receivers. He returned kicks last year.
David Wilson, RB
Big Blue's first-rounder from April, Wilson will likely have the biggest rookie impact of all. His elusiveness and agility are enticing, and the Giants have seen promising things from him thus far. Wilson is Ahmad Bradshaw's fall-back, and has big play potential written all over him.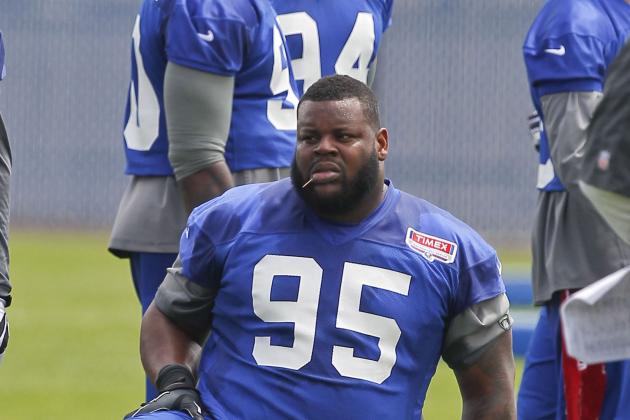 Jim O'Connor-US PRESSWIRE

Martellus Bennett, TE
Bennett inked a one year, $2.5 million contract with the G-Men this offseason, and should assume a veritable role in the offense. He's bulked up and ready to go, after seeing limited time in Dallas the past four years. Bennett hasn't scored a touchdown since 2008, and has never recorded more than 20 receptions in a season. Still, with so many other threats in the Giants' offense, he could be poised for a breakout year.
Stevie Brown, SS
Signed as a free agent, the former Michigan Wolverine spent time in Oakland, Carolina, and Indianapolis before winding up in the Big Apple. He's likely the team's third strong safety, behind Tyler Sash and starter Kenny Phillips, and could be cut after camp.
Larry Donnell, TE
Donnell played at Grambling State from 2007 through 2010, and was out of football last year. This time around, he'll likely be sequestered on the practice squad. At 6'6" and almost 270 pounds, Donnell is a big body.
Chris Horton, FS
Horton could very well end up the team's second-string safety, signed in March after a stint with NFC East rival Washington. He's notched over 100 career tackles and has three picks to his name.
Dante Hughes, CB
A corner from San Diego who the Giants signed this spring. Hughes has some NFL experience under his belt, and may squeak onto the final roster as a sixth corner.
Sean Locklear, LT/RT
A nine-year veteran from North Carolina State, Locklear had a productive career in Seattle before coming over to the Giants. He'll likely bounce around the offensive line as a back-up. Locklear also spent time in Washington last season, and has started 81 games in his career.
Antwaun Molden, CB
Molden was signed after stints with the Pats and Texans. He has two career interceptions, boasts solid speed, and will be in the mix for the final few cornerback spots on the 53-man roster.
Joel Reinders, LT
Reinders was an undrafted free agent signed by Cleveland in 2010. He was later waived from their practice squad, and now finds himself in Giants blue for the time being. He likely won't be on the team for long.
Keith Rivers, LB
The ninth overall pick in 2008's NFL Draft, Rivers was an All-American at USC. He notched ten tackles in his first pro appearance with Cincinnati, but it went all downhill from there, falling on the wrong side of the inspiration for the "Hines Ward Rule." Since then, injuries have kept him off the field and hampered his pro career. Still, he has definite upside for the G-Men, who need help at linebacker. Rivers was acquired from the Bengals in exchange for a fifth round pick, and should spend some time as a back-up outside 'backer. He may even stir a little competition with Chase Blackburn in the middle.
Shaun Rogers, DT
Rogers may not make the final cut, despite three Pro Bowl appearances on his resume. At age 34, he's the oldest player in the locker room, and has spent time in Detroit, Cleveland and New Orleans. Rogers has 37.5 career sacks, and has been in on over 500 tackles. He'll likely fall victim to the strength of competition on New York's line.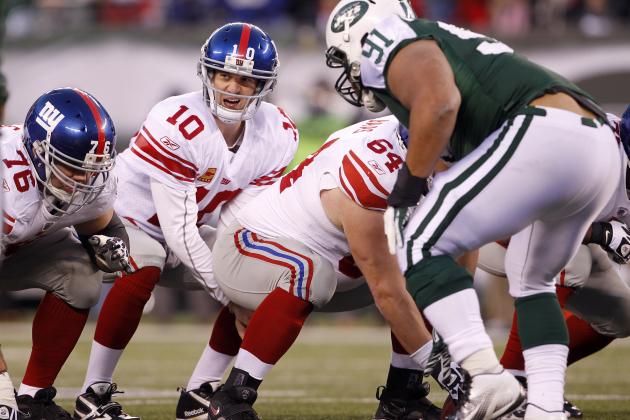 Rich Schultz/Getty Images

August 10: Giants at Jaguars
The G-Men kick off preseason play at EverBank Field. Eli and the first-stringers shouldn't see much time in this one, and Jacksonville's a paltry opponent.
What to Watch for: Despite their woebegone offense, the Jags have a solid D in place. It will be interesting to see how Martellus Bennett and the rest of the tight ends play in the opener, and David Wilson should see a lot of carries. Jacksonville will be working out a handful of potential starting wideouts, meaning plenty of work for Prince Amukamara, Jayron Hosley and the rest of the back-up corners.
Prediction: Predicting a preseason final is obviously an arduous task, given the lack of field time the starters see. Still, the Giants are an all-around better and deeper team. Even the second-stringers should get to opposing quarterback Blaine Gabbert. Giants 24, Jaguars 9
August 18: Giants at Jets
Big Blue renews its annual summer showdown with the crosstown Jets. While technically a road game for the Giants, there will be plenty of fans decked in blue and red in attendance.
What to Watch for: With Tim Tebow as the Jets' second-string quarterback, the Giants' reserve defense gets a first-team test. Important second-stringers, like Keith Rivers, Prince Amukamara, Tyler Sash, and Antwaun Molden, will look to make their minutes count. With the second preseason game comes augmented playing time for the starters. The Jets deploy interesting blitz schemes; let's see how the Giants' o-line is able to hold up.
Prediction: The Giants have lost three of the past four preseason clashes with Gang Green. But aside from Tebow, the Jets' second-string offense is nothing to write home about. Giants 16, Jets 14
August 24: Bears at Giants
Last year's preseason game against the Bears took Terrell Thomas for the season. This time, the Giants hope to come away unscathed.
What to Watch for: The Bears are one of the deepest teams in all of football, and back-ups Jason Campbell and Michael Bush anchor a serviceable second-team offense. Again, expect those duking it out for starting jobs on the Giants' defense to stay active in this one. The Bears' suspect o-line will be subjected to increased playing time from Pierre-Paul, Tuck, and the rest of New York's starters.
Prediction: The Bears are a deep team who should get the job done here. Bears 31, Giants 20
August 29: Patriots at Giants
It's time for a Super Bowl rematch in the final week of the preseason. The names may be entirely different, with starters likely sitting out from the action, but it should still be a fun one to watch.
What to Watch for: The final snaps of the preseason are the gridiron equivalent to a bar's "last call." Players on the verge of roster cuts will desperately look to make one final impression on the coaching staff. But, above all, Giants fans will hope to not have to watch a player go down with an injury before the regular season begins.
Prediction: After defeating the Patriots in Super Bowl XLII, the G-Men won the subsequent preseason match-up in 2008. Let's say history repeats itself this time around. Giants 19, Patriots 12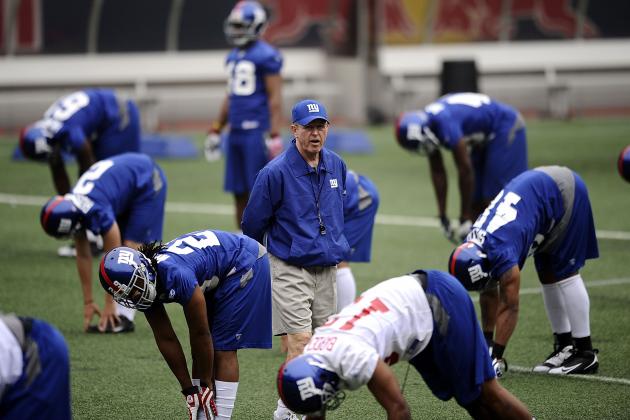 Jeff Zelevansky/Getty Images

Quarterbacks
David Carr
Eli Manning
Running Backs/Fullbacks
Ahmad Bradshaw
Henry Hynoski
Da'Rel Scott
D.J. Ware
David Wilson
Wide Receivers
Ramses Barden
Victor Cruz
Domenik Hixon
Jerrel Jernigan
Hakeem Nicks
Rueben Randle
Tight Ends
Martellus Bennett
Bear Pascoe
Adrien Robinson
Tackles
Will Beatty
James Brewer
David Diehl
Sean Locklear
Brandon Mosley
Guards
Kevin Boothe
Mitch Petrus
Chris Snee
Centers
David Baas
Jim Cordle
Defensive Ends
Jason Pierre-Paul
Justin Trattou
Osi Umenyiora
Defensive Tackles
Marvin Austin
Rocky Bernard
Chris Canty
Linval Joseph
Linebackers
Chase Blackburn
Michael Boley
Mark Herzlich
Mathias Kiwanuka
Keith Rivers
Jacquian Williams
Cornerbacks
Prince Amukamara
Jayron Hosley
Dante Hughes
Antwaun Molden
Terrell Thomas
Corey Webster
Safeties
Chris Horton
Kenny Phillips
Antrel Rolle
Tyler Sash
Special Teams
Zak DeOssie (LS)
Lawrence Tynes (K)
Steve Weatherford (P)