Wisconsin Football: How Bret Bielema Can Become Greatest Badgers Coach Ever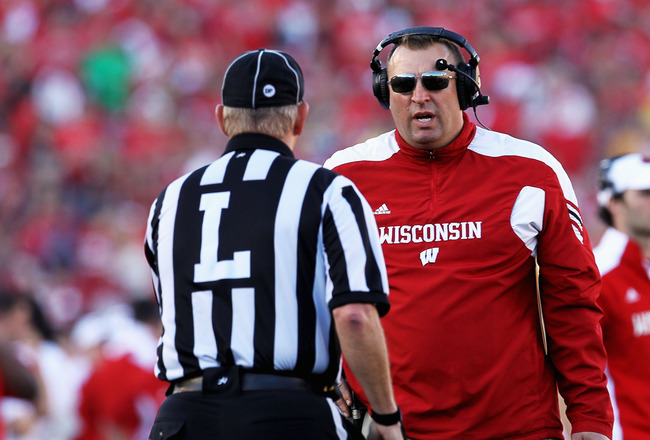 Stephen Dunn/Getty Images
Every year, most sports outlets publish a list of coaches on the "hot seat." When in actuality, every coach's chair is always a little warm that can be turned into an inferno during a bad season. Relatively speaking, Bret Bielema has little to nothing to worry about when it comes to his employment at Wisconsin.
His legacy is another story.
Bielema and company find themselves in a precarious situation. A new coaching staff with mounting expectations are cause for concern for the Badger head coach. Bielema has Wisconsin poised for a next step, and the way Bucky goes, so does Bielema.
Beef Up the Schedule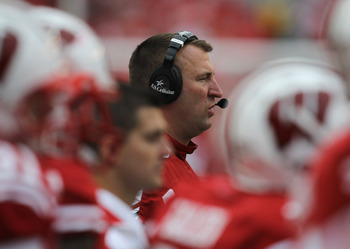 Jonathan Daniel/Getty Images
The best coaches beat the best teams. Legends have not been made on the backs of a perennial offering of "Little Sisters of the Poor"-type schools. (Hopefully, no one from TCU is reading the article.)
Now that a playoff system has emerged, Bielema can no longer look at a tough slate as a luxury, but a necessity. Even if Wisconsin starts running the table, it will be hard for the committee to put the crystal ball in Bielema's hands without a compelling reason to put him in the game.
Bielema seems to have seen the writing on the wall by calling out both Notre Dame and Alabama. Hopefully, teams like Utah State aren't the only ones to take on the challenge. Otherwise, Bielema will continue to look more like a bully than a champion.
Improve the Formula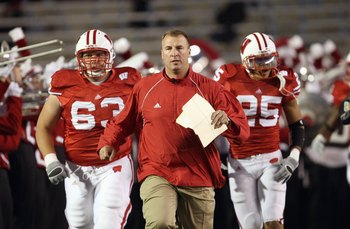 Jonathan Daniel/Getty Images
The Wisconsin recruiting formula has worked pretty well so far. Find solid players with a strong work ethic. As a result, the Badgers have been a team filled with blue-collar players leaving most opponents black and blue.
The conference is improving though. Michigan is finding its former strength while Ohio State and Nebraska continue to trend upward. With competition arming themselves with powerful recruiting class, Wisconsin needs to get in the mix for higher-ranked recuits if it wants to take the next step.
Bielema's gambles have paid off so far and player potential is far from a science. Heck, even Russell Wilson was a 2-star quarterback. But Bielema will fall behind if elite talent does not start coming to Madison in larger numbers.
Win the Big Ones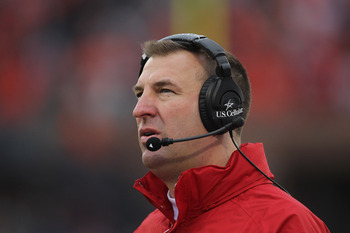 Jonathan Daniel/Getty Images
The elephant in the room is about the trophies that aren't.
Bielema has won his fair share of football games to the tune of 60-19. On the way to that record, he has dominated the school's oldest rival in Minnesota, beat Iowa on its own field, showed up Miami and revenged a Hail Mary toss in the Big Ten championship game.
All of that is somewhat tainted in the face of two Rose Bowl losses. Unless Bielema wins in Pasadena, he will be painted as the bridesmaid to Barry Alvarez's bride when the history of Wisconsin football is penned.
Keep Reading

Wisconsin Badgers Football: Like this team?